Walls Need Love: Peel and Stick Wallpaper Review (The Good & Bad)
We're in the process of remodeling our kitchen and dining room and one of the projects we decided to tackle was wallpaper. Since we once spent an entire weekend scraping wallpaper off the inside of a closet in our house, we knew we didn't want to go the traditional wallpaper route, in case we ever wanted to take it down. Thankfully, peel and stick wallpaper has come a long way.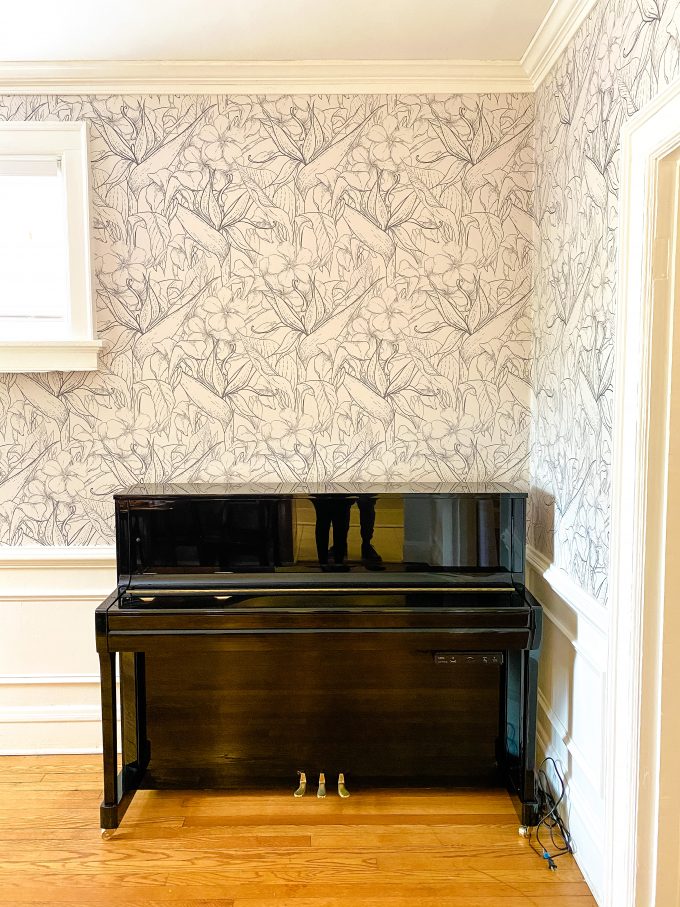 What is Peel and Stick Wallpaper?
This type of wallpaper comes with adhesive on the back of the paper. Think of it as a big, removable sticker. Some brands can be difficult to work with (I'm looking at you, Target) but the more expensive brands make it pretty easy to apply, adjust and re-apply. We decided to use Walls Need Love because I really liked their patterns and I'd heard good things about the quality of the wallpaper. (This post is not sponsored at all)
Benefits of Peel and Stick Wallpaper
If you're using a high-quality peel and stick wallpaper, you'll have the advantage of being able to stick, remove, and re-stick your wallpaper until you get it just right. I was actually shocked at how many times we were able to peel it back and try again, without the wallpaper losing any of its stickiness. This makes it much easier for a wallpaper newbie to get good results!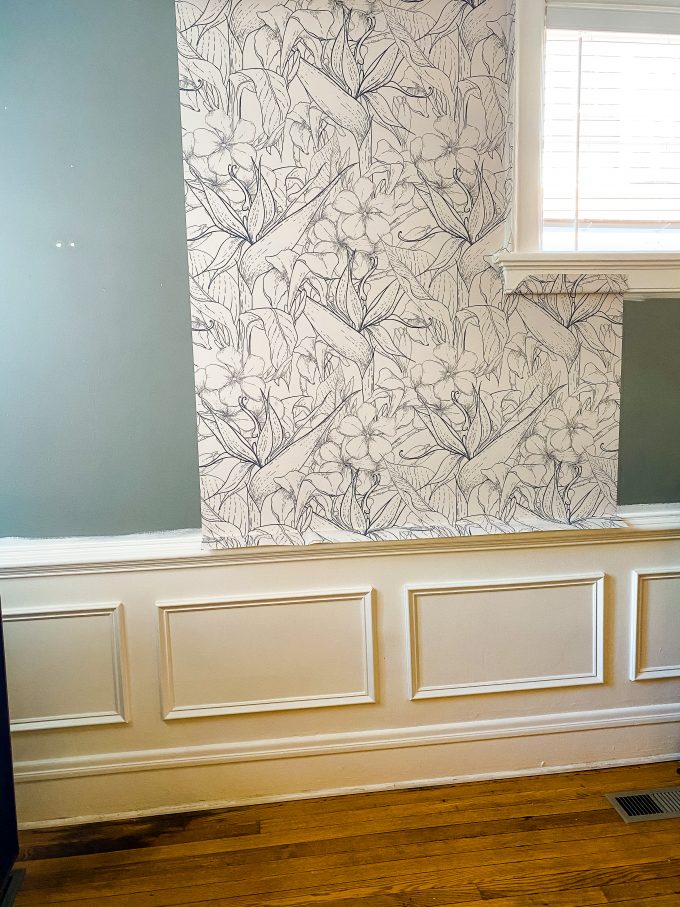 Walls Need Love Pros and Cons
I wanted to talk specifically about Walls Need Love because I think they're one of the most popular brands on the marketplace, but I had trouble finding a review online that wasn't sponsored. Not that a sponsored review won't be honest, but I wanted detailed complaints so I knew what to avoid! For this reason, I'm going to be as critical as possible, to try to help you decide if this wallpaper is right for you.
Walls Need Love Pros
The wallpaper is extremely high quality.
The adhesive backing is very forgiving, so you can stick it, remove it, and reposition it as many times as needed.
The seams blend really smoothly so it's easy to connect the paper without an obvious line.
The patterns are gorgeous and they have a big selection online.
The rolls are custom ordered to the size of your room to minimize the number of panels and seams.
Walls Need Love Cons
The wallpaper can be very expensive, especially if you're doing a large room. I did find a coupon online for 30% off which helped! But it'll probably cost around $500 for a small room and it could be over $1,000 for larger rooms.
The size and number of rolls do not account for corners, doorways, and windows, which can make things tricky.
They don't have a single tutorial video explaining how to wallpaper around corners, which is necessary if you're doing a full room. Not one. (This was very frustrating)
It's a time-consuming process. It took us 10 hours to hang wallpaper in our dining room, although we did get faster as we went along.
We ordered a sample, but the actual wallpaper wasn't the same color as the sample.
How Long Does it Take to Hang Wallpaper?
It took us 10 hours to complete the project. We spent about 2 hours just planning where to start the wallpaper, how to go around doors and windows, where we'd want the seams to be, and mapping out the whole room.
The first panel took us about 2 hours to hang. The second panel took about an hour. And then we got slightly faster after that. We had 10 panels total, so I'd estimate around 1 hour per panel if you have a complicated room. But you could go much faster if you were just doing a wall without windows and doors.
My Frustration With the Installation Process
We watched every single tutorial video online before we started. The videos explained that if you were doing a whole room, pick the "main" wall, start in the middle, and work out from there. That would make sense if you were just doing one wall without windows and doors, but for us, it ended up being bad advice. It required us to wallpaper around a corner, then add a sliver of paper before working around a window. It would have made more sense for us to start in a different spot in order to minimize cuts.
As I mentioned, they don't include any instructions for wallpapering around a corner. Since our corners (like most corners) are not perfectly square, we were worried the pattern would get crooked. Luckily we have a large doorway and a large window that helped us "reset" after the corner. But it's strange that they don't include instructions for corners since we did find the corners to be the hardest part of hanging the wallpaper.
Would I Recommend Walls Need Love?
I would! It's not cheap but the quality of the wallpaper makes it easier to install and the paper is quite forgiving of imperfections in your walls. We didn't have any issues with bubbles or wrinkles and the adhesive was great. If you have a relatively simple room with minimal doors and windows, it could be a fast and easy project. If you have a lot to cut around, just expect the project to take a bit longer.