Smoked Paprika Hummus
This smoked paprika hummus is a creamy dip loaded with flavor. It's easy to make and it's a delicious sandwich spread or vegetable dip!
Can we just take a second to talk about how hummus might be the most versatile dip ever? You scoop it up with pita, dunk some veggies in there, spread it on a sandwich, roll it up into a tortilla… and the flavors. THE FLAVORS. Normally I'm all about garlic. Gimme all the garlic. But lately, I've been craving spicy. And now I've got this smoky paprika hummus recipe to share with you and it's perfect if you like a little kick of spice. If you're not a fan of spicy, you could use regular paprika rather than hot smoked paprika but… I promise this isn't too spicy.
Types of Paprika
There are a few different types of paprika and you can use any of them for this hummus but it will give you a different type of flavor. Regular paprika is the mildest in terms of flavor. Smoked paprika will give you a deeper, smokey flavor that is delicious in hummus. Hot smoked paprika will give you a kick of spicy flavor. If you like heat, try hot smoked paprika. You can find all of these at the grocery store but they're also available online! You can easily buy hot smoked paprika on Amazon!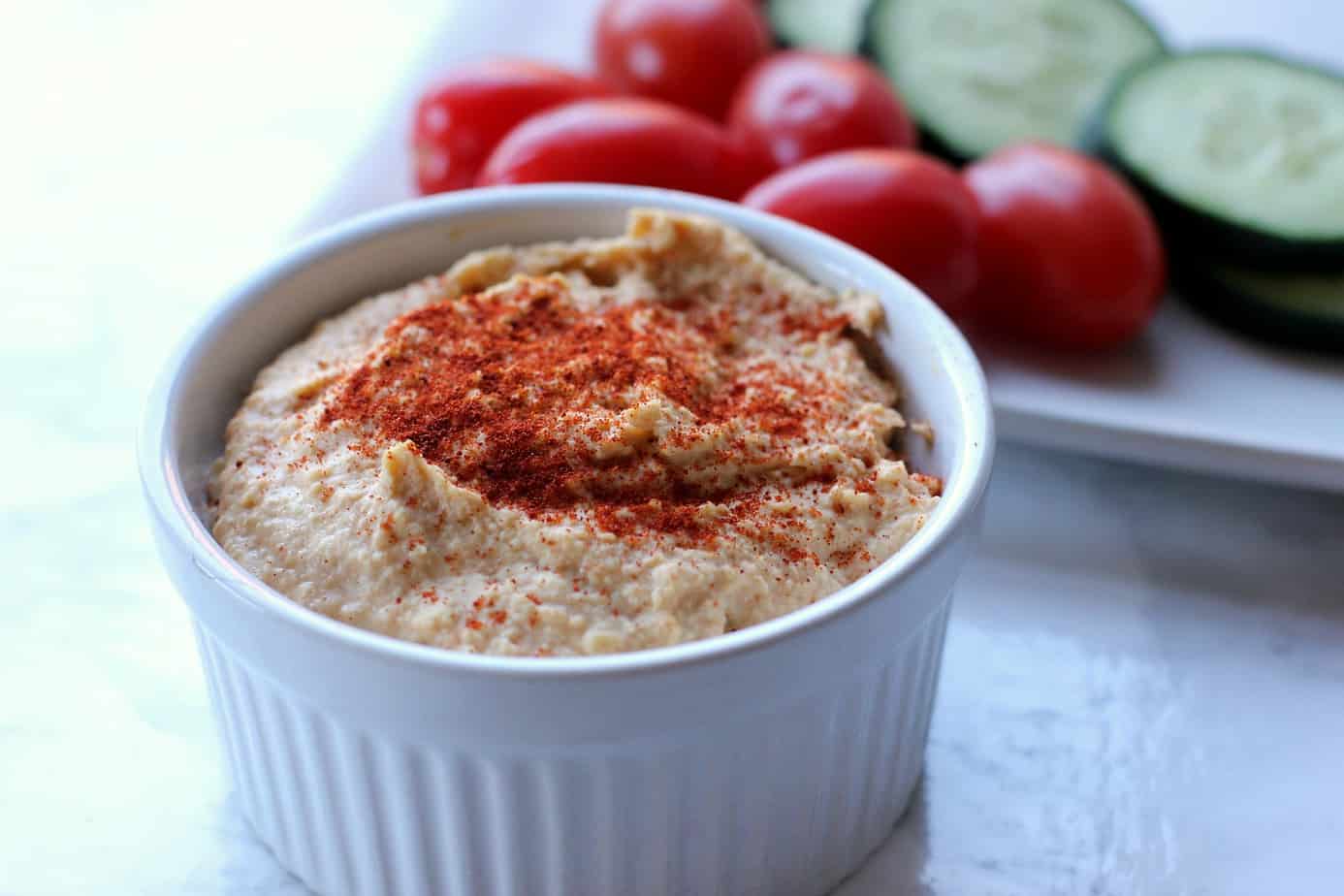 Paprika Hummus Ingredients
Chickpeas-Canned chickpeas help this recipe come together quickly. If using dried chickpeas, be sure to soak them and cook them before using in hummus.
Baking soda– A little baking soda helps break down the chickpeas and soften them.
Salt– A little salt helps enhance the flavor.
Smoked Paprika– I like using hot smoked paprika which is spicy, but you can use regular smoked paprika for a more mild flavor.
Minced garlic– You can substitute with garlic powder, for less of a bite.
Tahini– Tahini is a paste made from ground sesame seeds. It's traditionally used in hummus and it helps create a rich, silky texture.
Lemon juice– Lemon juice adds a bright, fresh flavor.
Olive oil– Olive oil adds a rich flavor and a lucious texture.
Water– You may need a little water to thin it out.
How to Make Creamy Hummus
There are two tricks that help create super creamy hummus. One option is to peel the chickpeas. Another option is to simmer the chickpeas until they're super soft. If you want extra credit, you can do both! My favorite method is to simmer the chickpeas on the stovetop until they're super soft. Then they're really easy to blend!
Add the chickpeas to a pot and cover with 1 inch of water. Add 1/4 teaspoon of baking soda. Bring to a boil then reduce the heat to a simmer and continue to cook for 20 minutes. Drain the chickpeas, then add to a food processor. Add remaining ingredients and blend until smooth.
What to Serve with Hummus
I had mine with cucumber slices and grape tomatoes but I can already tell this would be awesome slathered on top of a piece of toasted bread or scooped up with some warm pita bread. You could also use this hummus recipe for these easy hummus stuffed peppers!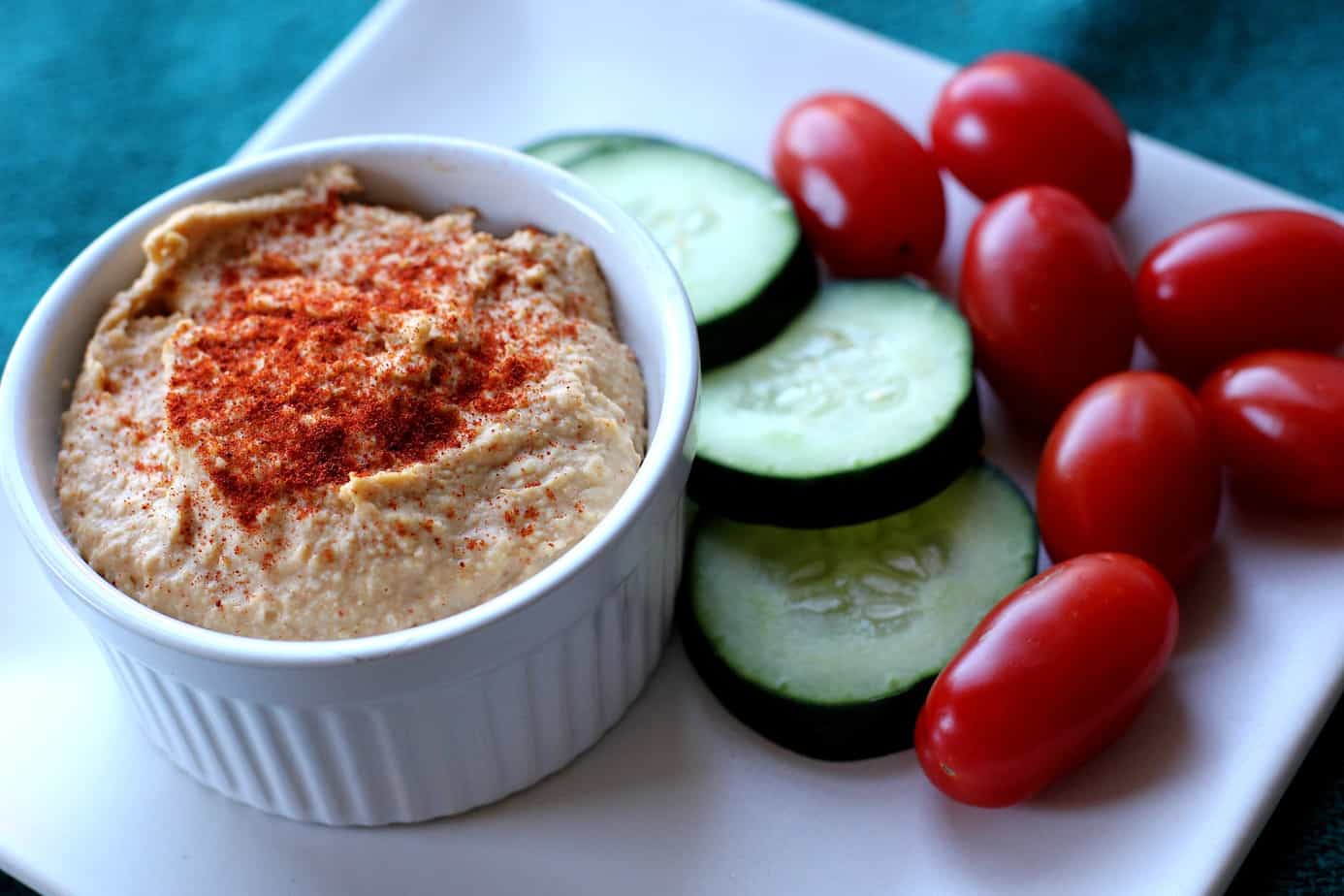 More Hummus Recipes
Print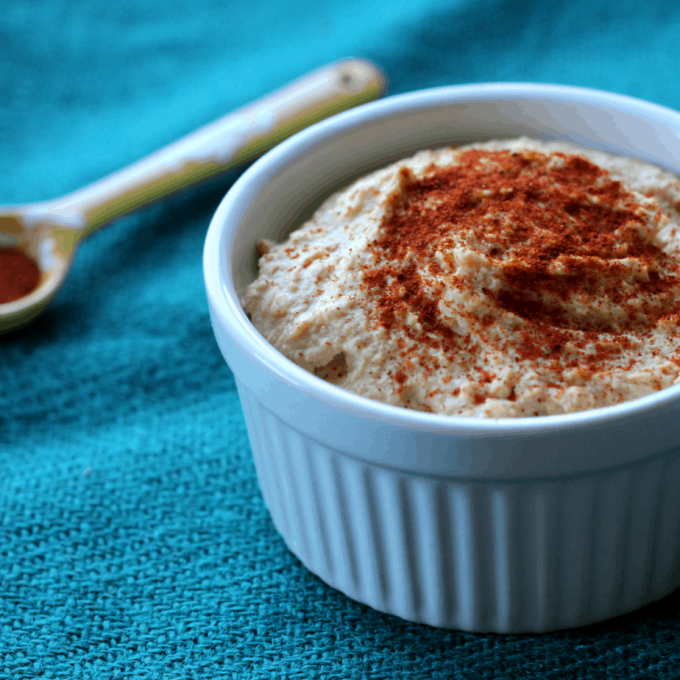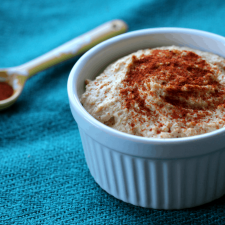 Smoky Paprika Hummus
Author:
Prep Time: 10 mins
Cook Time: 0 minutes
Total Time: 10 minutes
Yield: 3/4 cup 1x
Category: Side Dish
Method: Blending
Cuisine: Middle Eastern
---
Description
This smoky paprika hummus is delicious on sandwiches or served with fresh vegetables!
---
1 15oz can of chickpeas, drained and rinsed
1 tablespoon lemon juice
2 tablespoons tahini
2 tablespoons olive oil
1/2 teaspoon minced garlic
1/2 teaspoon salt
1 teaspoon hot smoked paprika
---
Instructions
Add the chickpeas to a pot and cover with 1″ of water. Add the baking soda and stir.
Bring the chickpeas to a boil then reduce the heat and simmer for 20 minutes, or until the chickpeas are completely softened.
Drain the chickpeas, then add them to a food processor.
While blending on low, add the lemon juice. You might need to scrape down the sides a few times.
While still blending, add in the tahini and olive oil.
Continue to blend for 45 seconds until it is smooth.
Add in the paprika and blend for a few more seconds until combined.
Transfer to a bowl and sprinkle a little more paprika on top (if desired) then serve!
---