Easy Harissa Hummus
This easy harissa hummus is a delicious way to elevate your dip. Perfect with crunchy veggies or salty pita chips, this spicy spread is great for a crowd!
The first time I tried harissa was at CAVA and I was blown away by the complex, spicy flavor. If you've never tried it, it's a chili pepper paste that is common in North African food. It's usually made with a variety of peppers along with garlic, coriander, and saffron. There are various levels of heat, so you can make it as spicy as you like. It's delicious in this harissa hummus recipe!
I used a mild harissa paste from Whole Foods because I was taking my hummus to a party and didn't want to make it too spicy! But I loved the flavor it added to a standard hummus recipe. The best part is, you can make this recipe in 5 minutes with just 5 ingredients!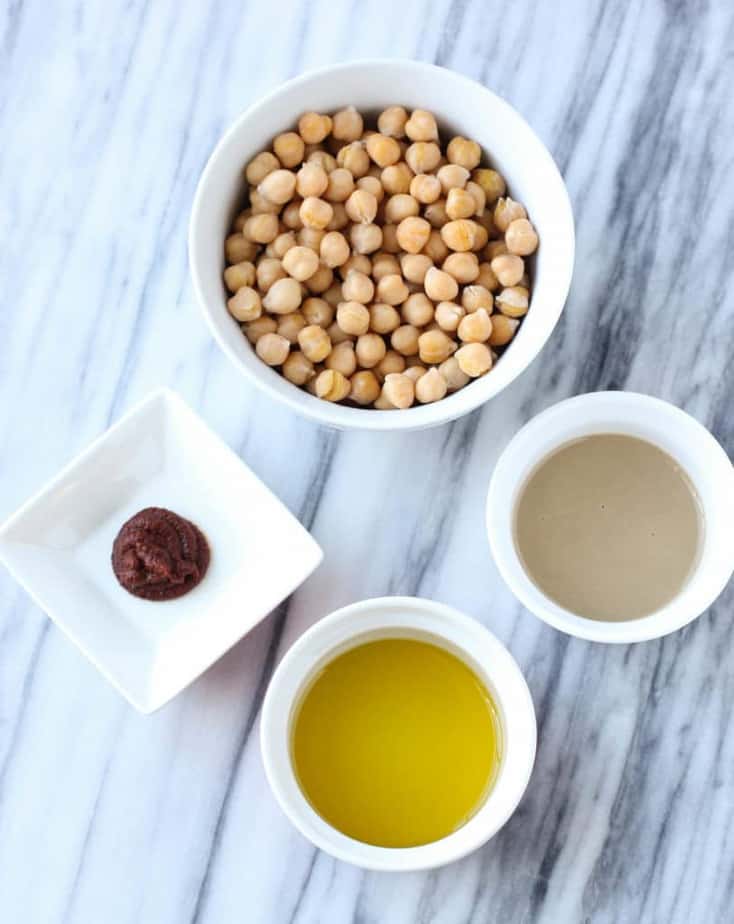 Tips for perfect harissa hummus
Heating the chickpeas before blending will result in a smoother texture. They're easier to blend when they're warm, so your hummus ends up velvety and creamy rather than grainy or lumpy. It might sound a little crazy, but I promise it works!
The amount of harissa paste you use in this recipe will depend on how spicy you like it and how spicy your harissa is, so don't be afraid to play around with the amounts. I started with two teaspoons and then stirred in additional harissa after my hummus was blended.
Similarly, the salt will depend on whether or not your chickpeas were salted, to begin with. Feel free to start with less salt and add more as needed.
Print
Easy Harissa Hummus
Author:
Prep Time: 5 minutes
Cook Time: 30 seconds
Total Time: 5 minutes
Yield: 1 1/4 cup 1x
Category: Snack
Method: Blended
Cuisine: North African
---
Description
This easy harissa hummus is a delicious way to elevate your dip. Perfect with crunchy veggies or salty pita chips, this recipe is great for a crowd!
---
1 15oz can chickpeas, rinsed and drained
2–3 teaspoons harissa paste (depending on spice level)
1/4 cup olive oil
1/4 cup tahini
1/2 teaspoon salt (or to taste)
1/4 cup water (plus more, if needed)
---
Instructions
Place the chickpeas in a microwave safe bowl and cook on high for 1 minute.
Transfer the chickpeas to a blender and blend on high for 20 seconds.
Add the rest of the ingredients and continue to blend for 2-3 minutes until completely blended.
Add an additional tablespoon of harissa paste and gently swirl in.
If you're not serving it right away, store in the fridge and stir in a bit of water before serving, as the hummus will thicken when chilled.
---
Keywords: Easy Harissa Hummus
How to serve harissa hummus
This hummus is delicious with sliced veggies. I love cucumbers, bell peppers, and carrot chips!
You can also toast pieces of naan or pita and cut them into triangles for dipping.
This flavorful hummus also makes a great sandwich spread! You could even smear it on toast for a savory and spicy breakfast.
Try it on top of falafel or smear it on top of a pita.
This is one of my favorite recipes to make for a party because it can be prepared in advance and it's always nice to have a healthy snack when you have friends and family over! If you're looking for other hummus ideas, I've got you covered.
Other homemade hummus recipes
Have you tried harissa?