Simple Chickpea Salad
This simple chickpea salad is perfect as a make-ahead lunch option, but it is also delicious tucked inside a pita or served on top of your favorite greens!
When I first started Tone It Up back in 2013, I had a lot of fun browsing through the meal plan for new ideas and recipes. If I'm honest, though, I rarely made the actual recipes. I typically just tried the follow the "lean, clean, and green" ideas. Since Chickpeas are a great source of protein and fiber, and they became one of my favorite meal staples!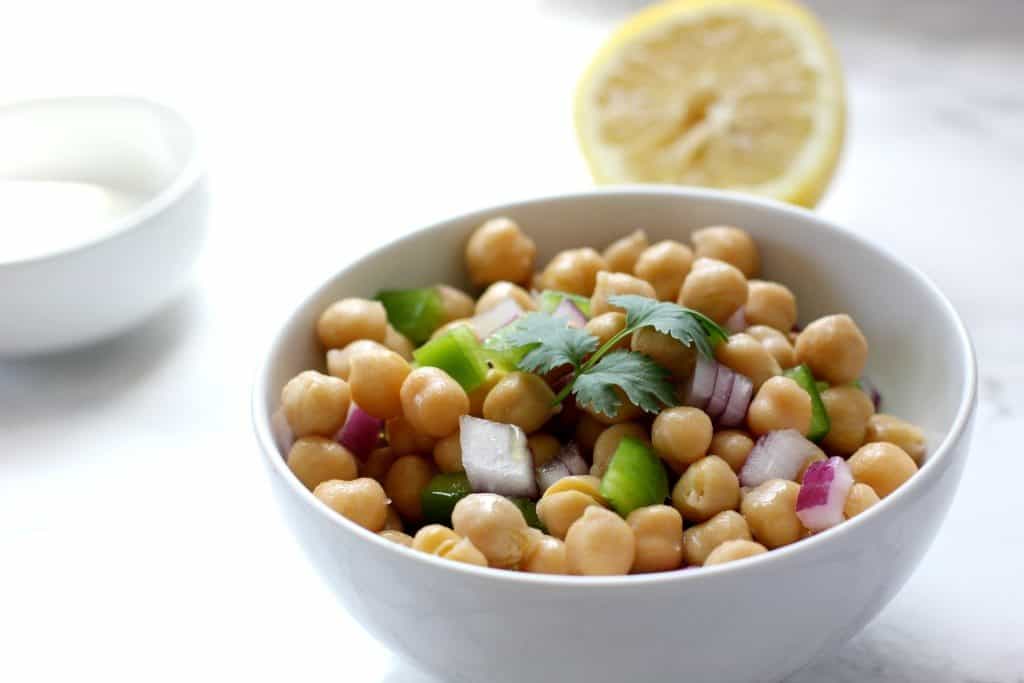 I've also tried planning out my meals a little better. Not only does that make grocery shopping easier, but it prevents me from having to eat something I don't want (or isn't so great for me) simply because I don't have things on hand. Breakfast is usually just a protein smoothie, and lunch is often a salad from the cafeteria, but dinner can be a little trickier.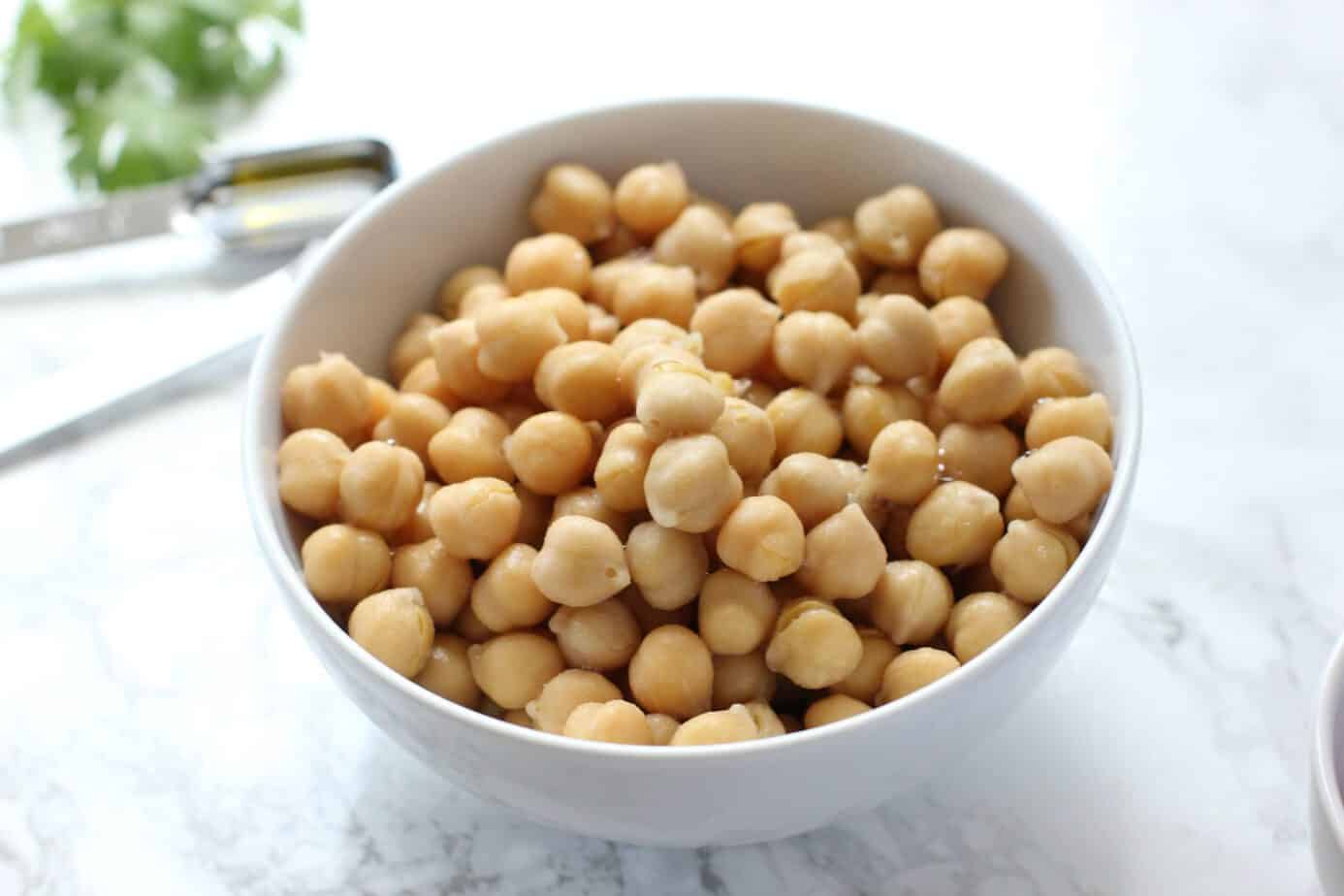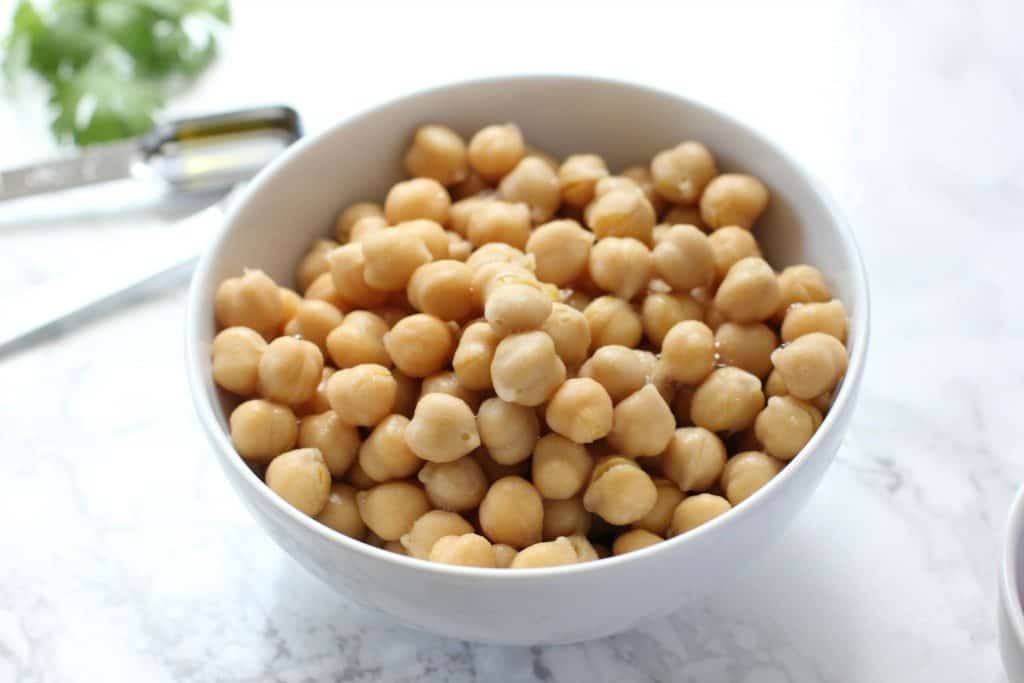 Benefits of Chickpeas
Chickpeas, also called garbanzo beans, are a great source of plant-based protein and fiber, meaning this salad will keep you full and satisfied! Chickpeas are also rich in magnesium and potassium! They're inexpensive, and you can buy them dried or canned. I prefer to get canned chickpeas, so I don't have to plan ahead and soak the beans in advance.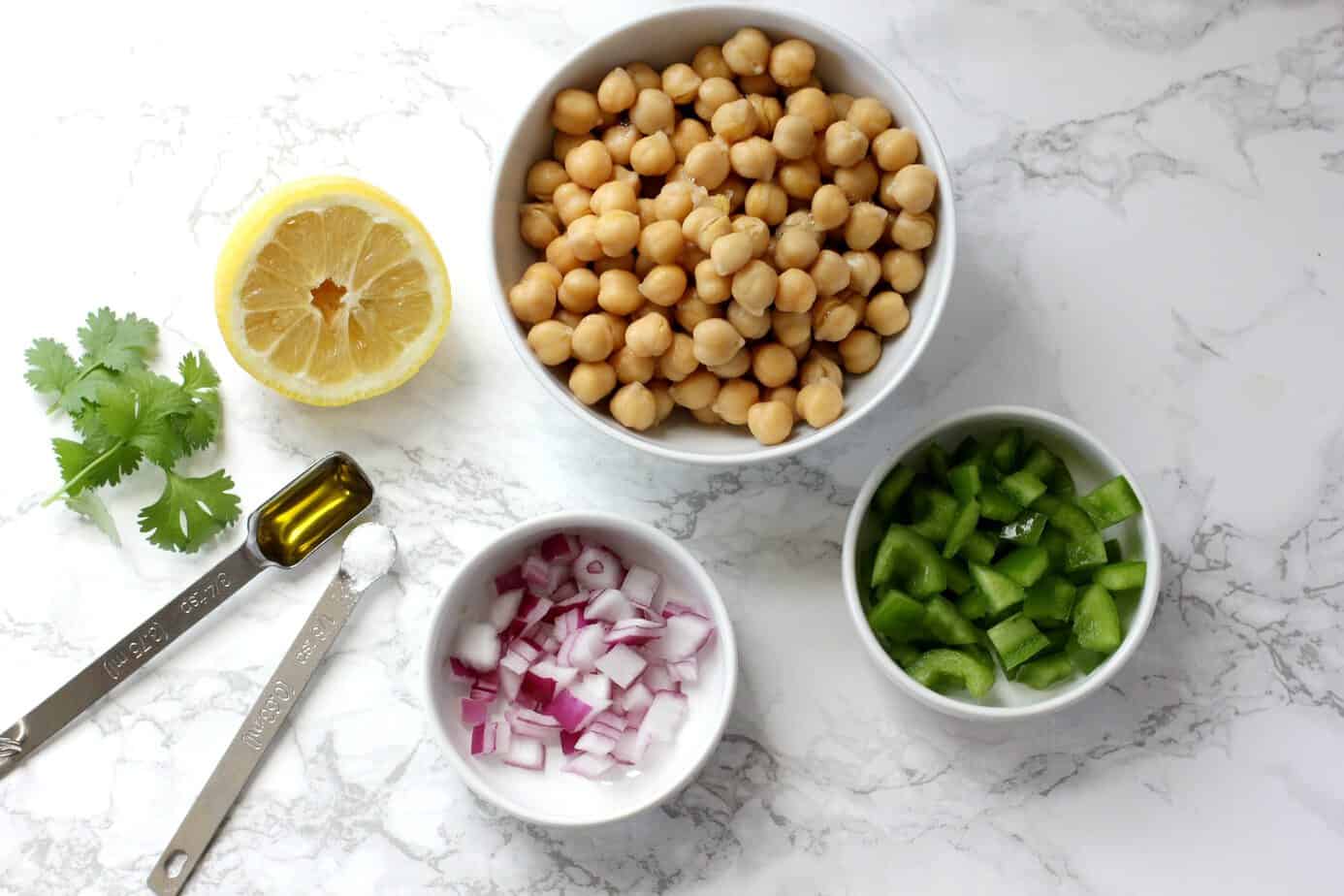 Tips for a Delicious Chickpea Salad
This salad can be made up to two days in advance, so it's a great meal prep option. It's the kind of salad that won't get soggy after a few hours in the fridge. I like making it the night before because I think it helps the flavors meld.
If you're not a big fan of red onion, you can use shallots instead. Shallots are a little milder, so it can be a good option if you don't want the sharp bite of red onion.
You can add a few additional spices if you have them on hand. A sprinkle of dried oregano or paprika can add a delicious, subtle flavor!
You can use green, red, or yellow bell pepper. Sometimes I'll use a variety to add a bit of sweetness and color to the dish.
Chickpea Salad Substitution Ideas
If you want to add more vegetables to this dish, you can serve it on a bed of mixed greens. Just add an extra drizzle of olive oil!
You can use any color bell pepper you have on hand. I like to do a combination of red and green bell peppers, but I'll use whatever I have on hand.
If you don't have bell peppers, you can substitute cucumber instead. Just chop the cucumber into 1″ pieces.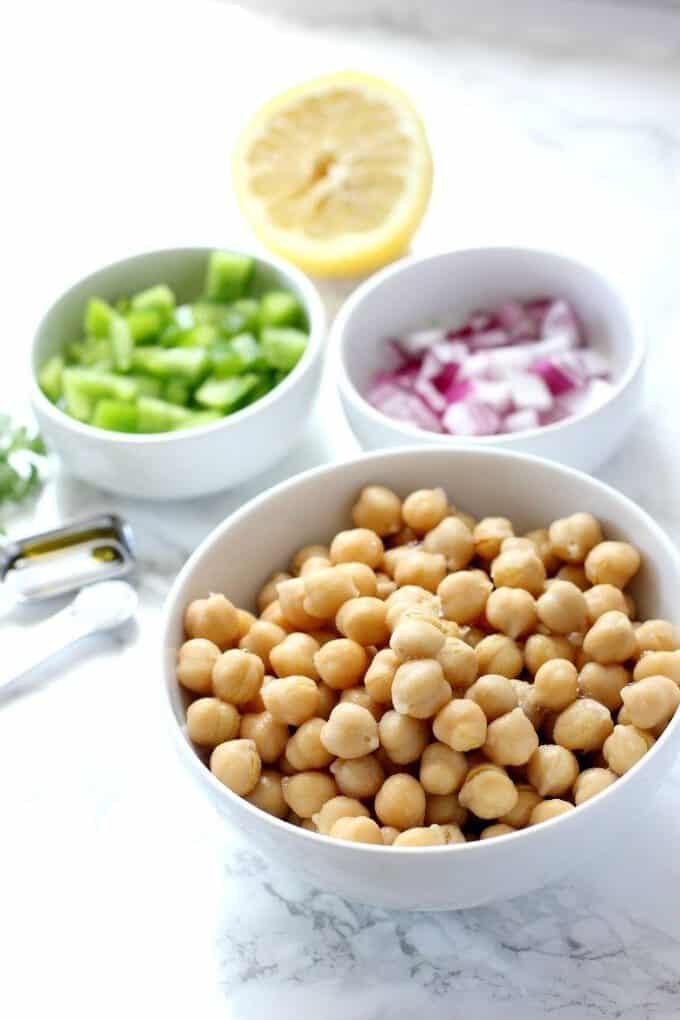 Print
Simple Chickpea Salad
Author:
Prep Time: 10 minutes
Cook Time: 0 minutes
Total Time: 10 minutes
Yield: 4 1x
Category: Salad
Method: no cook
Cuisine: Mediterranean
---
Description
This simple chickpea salad only takes a few minutes to assemble! You could eat it on its own, stuff it into a pita, or serve it on top of a pile of greens!
---
2 cups chickpeas (about 1 15oz can)
1/4 cup red onion, finely chopped
1/2 bell pepper, seeded and chopped
1/4 cup fresh parsley, chopped
1/2 teaspoon garlic powder (or 1 clove garlic, finely minced)
1 tablespoon olive oil
2 tablespoon lemon juice (about 1/2 lemon)
1/2 teaspoon coarse sea salt
Pinch black pepper
---
Instructions
Toss the chickpeas, red onion, bell pepper, and parsley in a large bowl.
Drizzle with olive oil and lemon juice, then sprinkle with salt.
Add additional salt to taste, if needed.
---
Notes
You can make this salad up to 2 days in advance.
After I made a big batch of this simple chickpea salad, I immediately portioned it out into little containers, so I can grab them on the go if needed. (It also helps with portion control. Always a good thing.)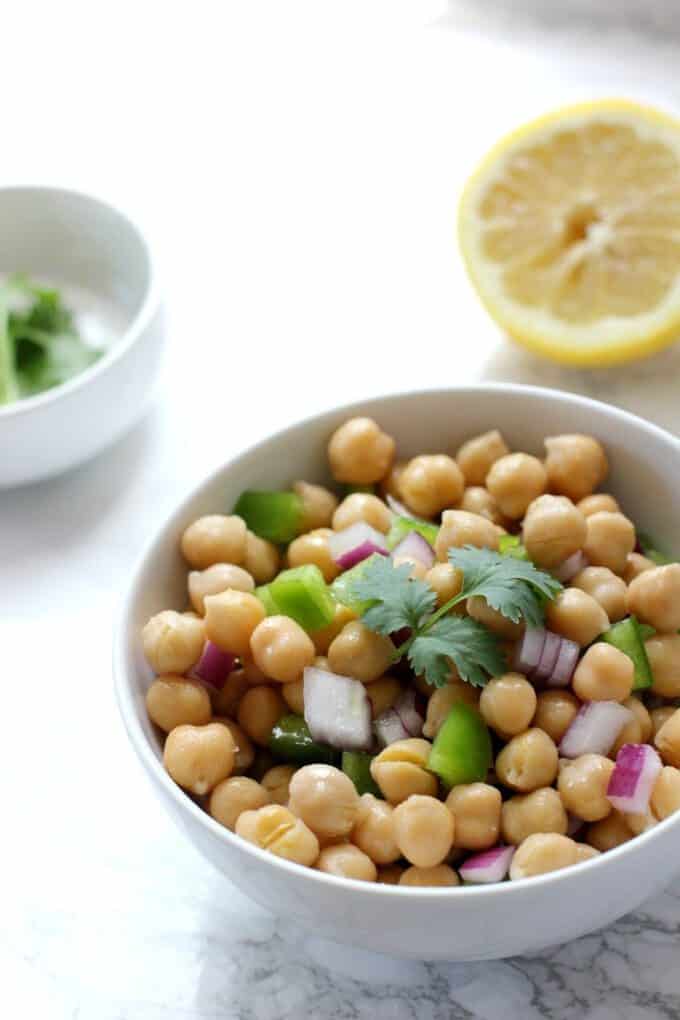 So that's what I'll be eating this week! If you're looking for a different way to use garbanzo beans, try them roasted! They're crunchy and delicious. Perfect for a snack or salad topping!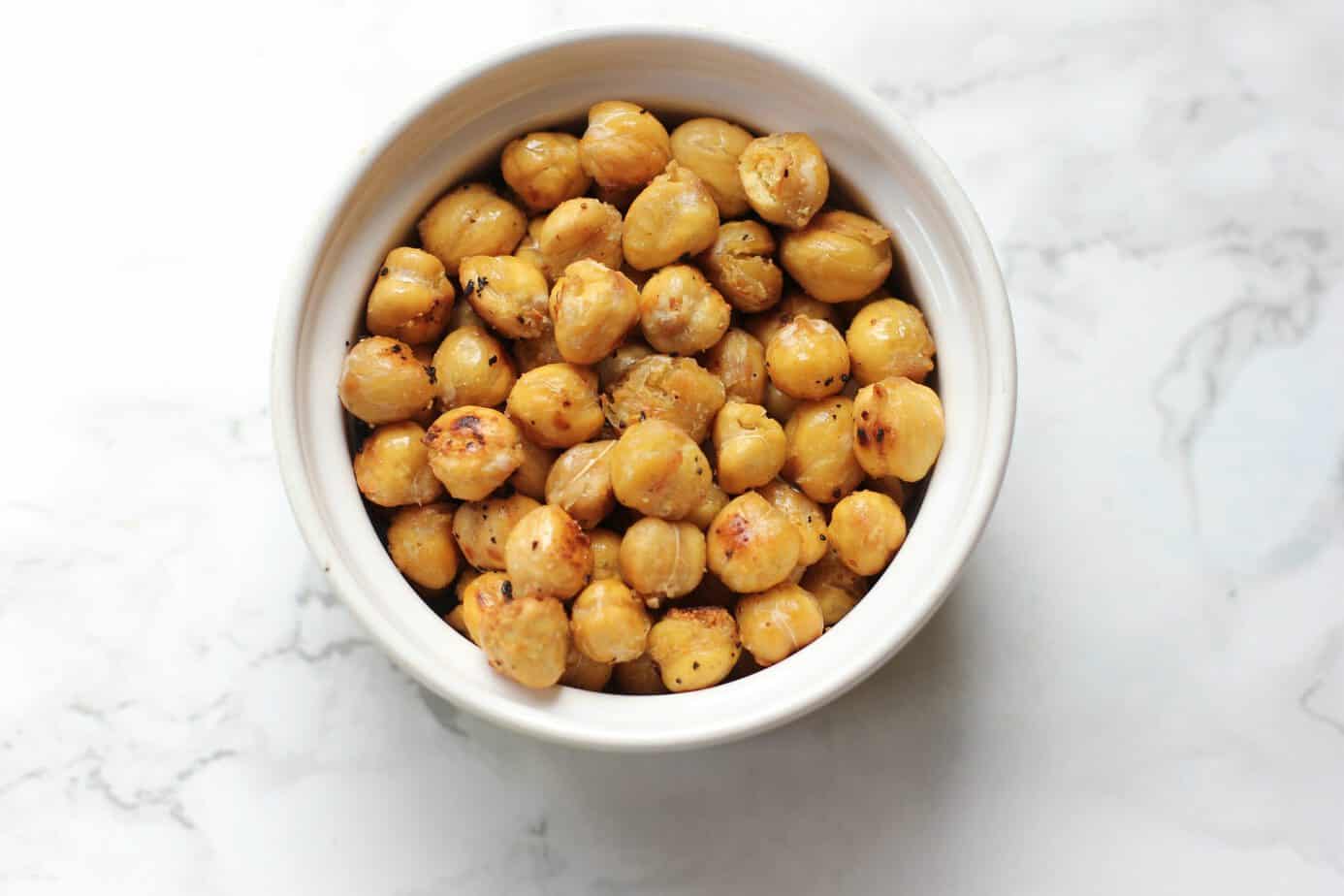 Note: I originally published this recipe in 2013, when I had just tried the Tone It Up 7 Day Slim Down. While I don't follow their meal plan anymore, I still really like the overall principles of their meals! I'm not affiliated with Tone It Up, I just really enjoy their workouts and meal ideas!
Looking for more ways to use chickpeas? Here are a few of my favorite garbanzo bean recipes!
15 Minute Chickpea Gyros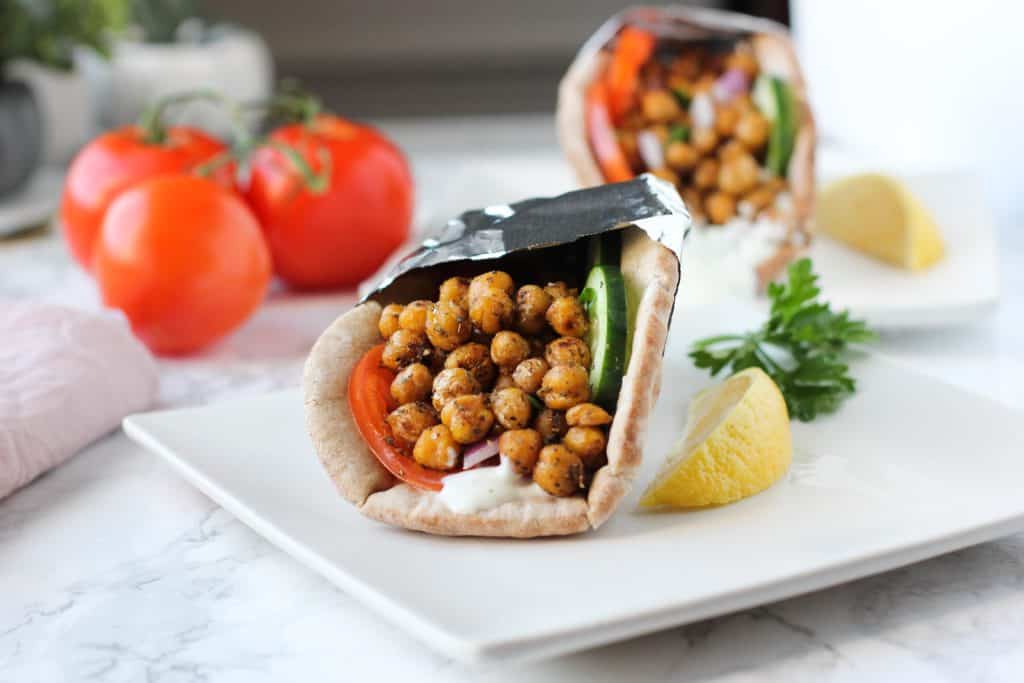 Buffalo Chickpea Tacos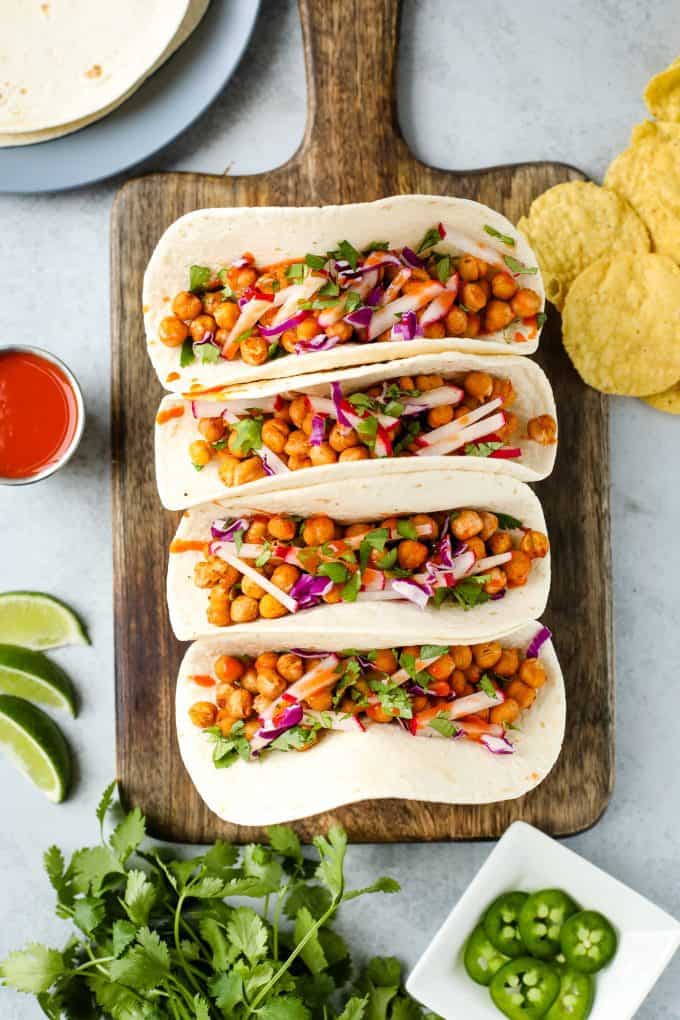 What's your favorite way to use chickpeas?