What I Ate on the 7 Day Slim Down
This is the last week of the Tone It Up challenge, so we're finishing up with the 7 Day Slim Down. It's basically a leaner & cleaner version of the standard meal plan. I'm not following it exactly, but I'm doing my best to keep it clean around here! I thought I'd give you a run down of what my typical meals look like on the Tone It Up 7 Day Slim Down meal plan. These recipes aren't taken from the plan, but it'll give you an idea of a typical day!
I usually start the day off with a simple smoothie. Yesterday mine was almond milk, 1 banana, a big scoop of PB2, and a scoop of almond butter.
For a morning snack, I've been enjoying the delicious portability of apples. They're just such a simple and easy snack. I keep forgetting to buy them at the store but luckily the work cafeteria has plenty on hand! Yesterday I snagged a granny smith apple.
Since I was gone over the weekend, I didn't have time to do any meal prep. To save some time, I grabbed a pre-made kale salad kit so I could pack my lunch easily.
The Eat Smart salad kits are really good! This one is the sweet kale salad with pumpkin seeds. So yummy and super filling!
My afternoon snacks vary a lot. Some days it's just a simple veggies + hummus combo, sometimes it's a little yogurt. Yesterday, it was a Mighty Muffin because I knew dinner would be later than normal and I really wanted something that would keep me full. This is probably a little more in the "processed food" territory which I often try to avoid on the 7 Day Slim Down, but I was in a pinch and it was all I had at my desk!
This flavor was good but I think the apple cinnamon is my favorite so far! The 20g of protein kept me pretty full!
After work last night, we had a blogger happy hour at Antler & Fin, a new restaurant in Richmond. I couldn't skip out on all the festivities so I enjoyed a little sparkling wine while chatting and catching up with other bloggers!
One I got home, I was starving so I threw together a quick dinner!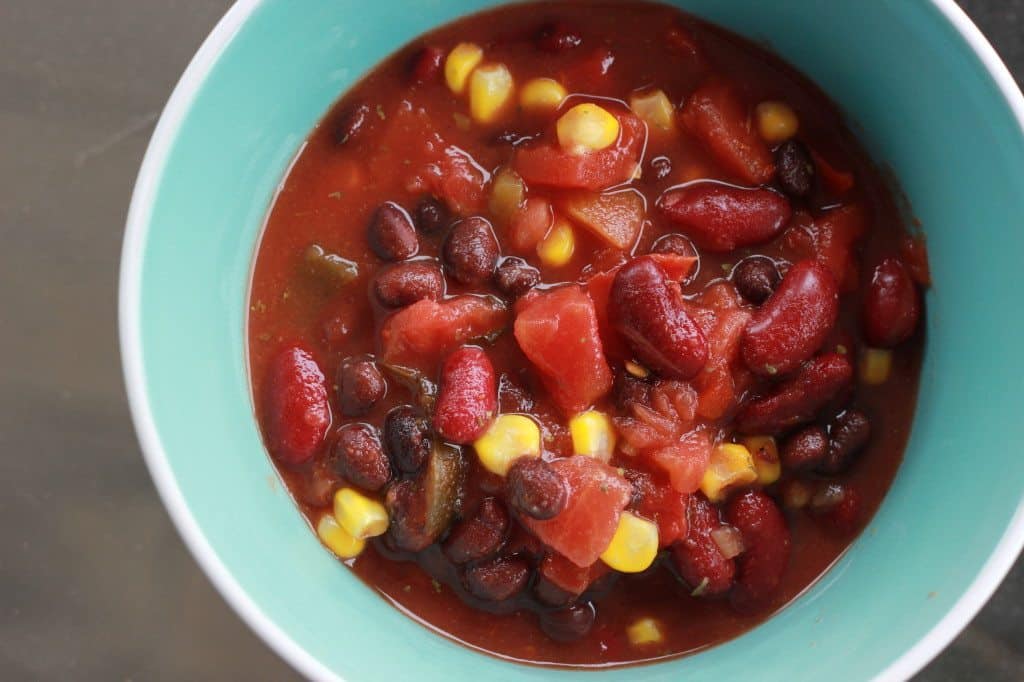 Anytime I'm trying to eat a little healthier, soup is my go-to meal! It's just so easy to toss in plenty of vegetables and fill up with protein and fiber. The bowl above is my basic vegan chili recipe. It's seriously one of the easiest recipes ever so it's one of my favorite recipes to make when I'm coming home late and I want to eat right away.
As much as I love pizza and french fries, I really do feel so energetic and happy when I'm feeding my body what it needs. I certainly make room for treats but I like focusing on healthy eating! You can see some of my previous rounds of the slim down here:
What I Ate on the Tone It Up 7 Day Slim Down
What are you eating today?
I'm linking up with Laura for What I Ate Wednesday!