Roasted Broccoli Salad
This roasted broccoli salad is made with tender broccoli, crunchy almonds, tart cranberries, and crispy panko crumbs for a uniquely delicious side dish. This salad can be served warm or at room temperature, making it a great meal prep recipe!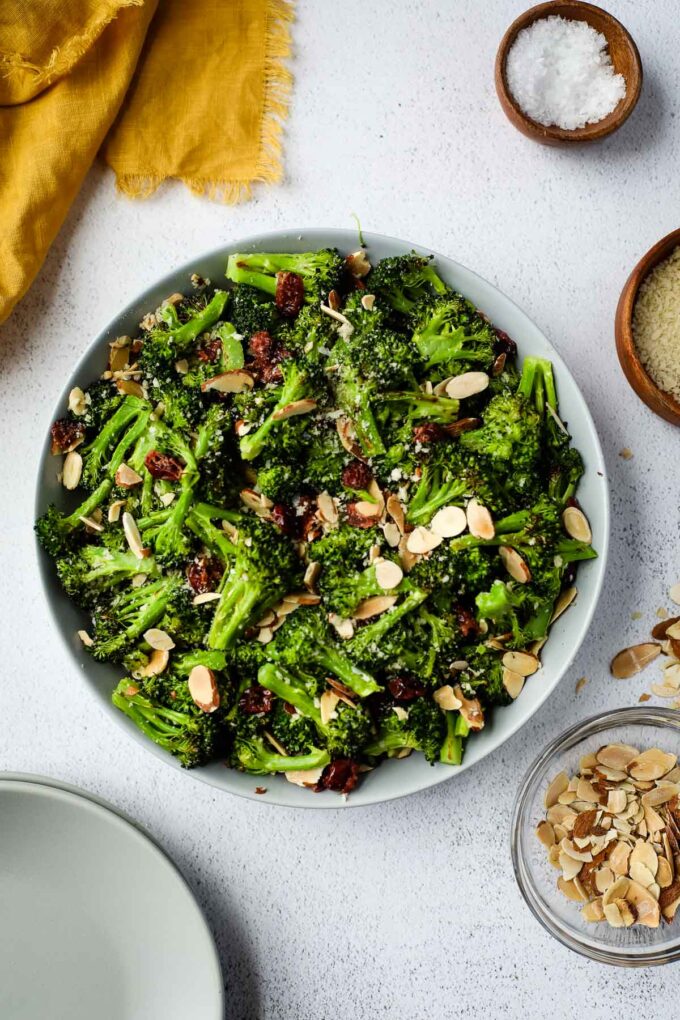 I love broccoli, and this salad has quickly become a new favorite of mine. This vibrant and flavorful roasted broccoli salad combines roasted broccoli with the crunch of sliced almonds, the sweet tang of dried cranberries, and the crispy texture of panko crumbs. It's a delicious combination of flavors and textures that will have you coming back for seconds!
Ingredients and Substitutions
Broccoli: Fresh broccoli is the star of this dish, offering a satisfying crunch and a mild, slightly bitter flavor. If you prefer, you can substitute cauliflower or Brussels sprouts for a different twist.
Sliced almonds: Crunchy almonds add a nutty and slightly sweet flavor to the salad. They also provide a boost of healthy fats, protein, and vitamin E. If you have a nut allergy or prefer a different flavor, you can replace the almonds with sunflower seeds or pumpkin seeds.
Dried cranberries: These chewy and tangy cranberries bring a burst of sweetness and a delightful tartness to the salad. If you don't have dried cranberries, you can substitute them with other fruit like raisins or cherries.
Panko crumbs: These Japanese-style breadcrumbs lend a light and crispy texture to the salad. They are made from crustless bread and add a satisfying crunch when toasted. If you don't have panko crumbs, you can substitute regular breadcrumbs or crushed croutons.
Olive oil: Used for roasting the broccoli, olive oil adds richness and helps to bring out the flavors of the other ingredients. It also provides a healthy dose of monounsaturated fats. If you prefer, you can use avocado oil or melted butter as an alternative.
Lemon juice: The tangy citrus juice adds brightness and a refreshing zing to the salad. It balances the flavors and enhances the overall taste. If you don't have lemon juice, you can substitute it with lime juice or apple cider vinegar.
Maple syrup: A touch of maple syrup adds a gentle sweetness to the salad dressing, complementing the tartness of the cranberries. It also helps to balance the flavors. You can substitute maple syrup with honey or agave nectar.
Salt: A pinch of salt is added to taste, enhancing the flavors of the ingredients and bringing out their natural flavors. You can adjust the amount of salt based on your preference.
How to Make Roasted Broccoli Salad
Tips for the Best Roasted Broccoli
There are a few simple steps you should take to make the best roasted broccoli. Be sure your oven is preheated. Cut the broccoli into uniform pieces so it all cooks at the same rate. Be sure the broccoli is dry before tossing it with oil and salt. Arrange the florets in a single layer on a baking sheet without overlapping or crowding the pan. Follow these steps and you'll have perfectly roasted broccoli with a delicious caramelized exterior and a tender, flavorful interior.
Variations and Substitutions
To make this salad quicker, roast the broccoli in the air fryer. It only takes a few minutes!
Add feta cheese or goat cheese for a creamy, tangy flavor.
This salad can be served warm or cold. Try it both ways to see which way you like it best!
Add a pinch of crushed red pepper flakes to add a little heat to the salad.
Use candied pecans instead of almonds to add a sweet crunch.
Add sliced kalamata olives to add a tangy, salty flavor.
More Broccoli Recipes to Try
If you love this roasted broccoli salad, be sure to try some of these other broccoli recipes! My vegan broccoli tacos are a fun way to add veggies to your taco night. Or enjoy a creamy bowl of this broccoli cheddar soup. You can also turn broccoli into the star of the show with these broccoli sandwiches!
What to Serve with Roasted Broccoli Salad
Pair this salad with this creamy vegan cacio e pepe, which is a plant-based twist on a classic comfort food dish. Or you can enjoy this salad with this vegan flatbread for a veggie-packed meal. Another option is this creamy cottage cheese macaroni and cheese which is a protein-packed dinner.
Print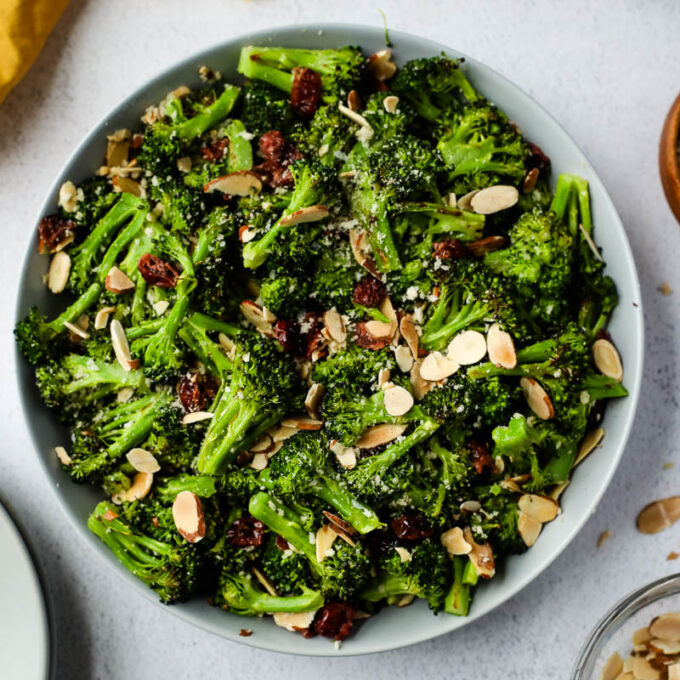 Roasted Broccoli Salad
Author:
Prep Time: 10 minutess
Cook Time: 15 minutes
Total Time: 25 minutes
Yield: 4 cups 1x
Category: Salad
Method: Oven
Cuisine: American
Diet: Vegan
---
Description
This roasted broccoli salad is made with tender broccoli, crunchy almonds, tart cranberries, and crispy panko crumbs for a uniquely delicious side dish. This salad can be served warm or cold, making it a great meal prep recipe!
---
6 cups broccoli, cut into 1" pieces (12oz)
1/3 cup sliced almonds
1/3 cup dried cranberries
1/4 cup panko crumbs
2 tablespoons olive oil, divided
1 tablespoon lemon juice
1 teaspoon honey
Salt to taste
---
Instructions
Preheat the oven to 400 degrees.
Place the broccoli on a parchment paper-lined baking sheet. Drizzle with 1 tablespoon of olive oil and toss to combine. Sprinkle with salt.
Roast the broccoli in the oven for 15 minutes or until it begins to brown.
Remove the broccoli from the oven and allow to cool slightly.
While the broccoli is roasting, whisk together the remaining olive oil, lemon juice, honey, and a pinch of salt.
In a large bowl, combine the broccoli, almonds, cranberries, and panko crumbs and drizzle with the dressing. Add additional salt to taste, if needed.
---