Brussels Sprout Caesar Salad
This crunchy Caesar salad is made with Brussels sprouts instead of lettuce. Topped with homemade croutons and a simple dressing, this recipe is a delicious side dish!
I love crunchy salads and this one might be the crunchiest yet! I picked up a bag of shredded Brussels sprouts from Trader Joe's and I planned on making this kale and brussels sprout salad but I ran out of kale. So I started brainstorming what else I could do with them.
This recipe certainly isn't a traditional Caesar salad but it has some of the salty, garlicky flavor that you might expect. It would be delicious served with pasta or pizza and you can make it a few hours in advance since the brussels sprouts won't wilt.
How to Shred Brussels Sprouts
If you can't find pre-shredded Brussels sprouts, you can either shred them in a food processor with a shredding disk or you can thinly slice them with a mandoline or a sharp knife. The food processor will certainly save you time, but a knife will work just as well.
Did you know that brussels sprouts are related to kale? They're in the same family of vegetables! Both of them are nutrient dense, which is why I love using them as a salad base. Brussels sprouts are high in Vitamin A, C, and K as well as fiber and manganese.
Tips for a Perfect Brussels Sprout Caesar Salad
Buying a bag of pre-shredded Brussels sprouts will make this recipe come together in just a few minutes!
You can dress this salad ahead of time without having to worry about it getting soggy, so it's great for a picnic or packed lunch.
I like to make these homemade whole wheat croutons but you can used packaged croutons if you prefer.
If you love crunchy salads, give this Brussels sprout salad a try!
Print
Brussels Sprout Caesar Salad
Author:
Prep Time: 15 minutes
Cook Time: 0 minutes
Total Time: 15 minutes
Yield: 2 large servings or 4 small servings 1x
Category: salad
Method: no-cook
Cuisine: Italian
---
Description
This crunchy Caesar salad is made with Brussels sprouts instead of lettuce. Topped with homemade croutons and a simple dressing, this recipe is a delicious side dish!
---
2 tablespoons olive oil
½ tsp Dijon mustard
4 drops Worcestershire sauce (optional- see note)
Pinch of garlic powder
2 tablespoons lemon juice
3 cups shredded Brussels sprouts (about 1lb of sprouts, ends trimmed, then shredded)
¼ cup shredded parmesan cheese
½ cup whole wheat croutons
---
Instructions
In a small bowl, whisk together the olive oil, Dijon, Worcestershire sauce, lemon juice, and garlic powder.
In a large bowl, toss the Brussels sprouts with the dressing until evenly coated.
Top with Parmesan cheese and croutons.
The Brussels sprouts can be tossed with the dressing up to 3 hours in advance, but wait to add the parmesan and croutons until just before serving.
---
Notes
Worcestershire typically contains fish, so be sure to find a brand that is vegetarian. Annie's makes a great vegan version.
Keywords: Brussels sprouts salad
Feel free to use store-bought croutons but these homemade whole wheat croutons are super simple to make! They only take a few minutes to prepare and they definitely take this salad to the next level! Don't be surprised if you find yourself sneaking croutons straight off the pan when you take them out of the oven!
If you find yourself with leftover Brussels sprouts, here are a few other recipes to try:
These stovetop Brussels sprouts are made in a cast iron skillet for a crispy exterior. You only need a few ingredients so they're super simple, but they're a tasty side dish!
With a bit of patience, you can turn your Brussels sprouts into chips. Don't knock it 'til you try it!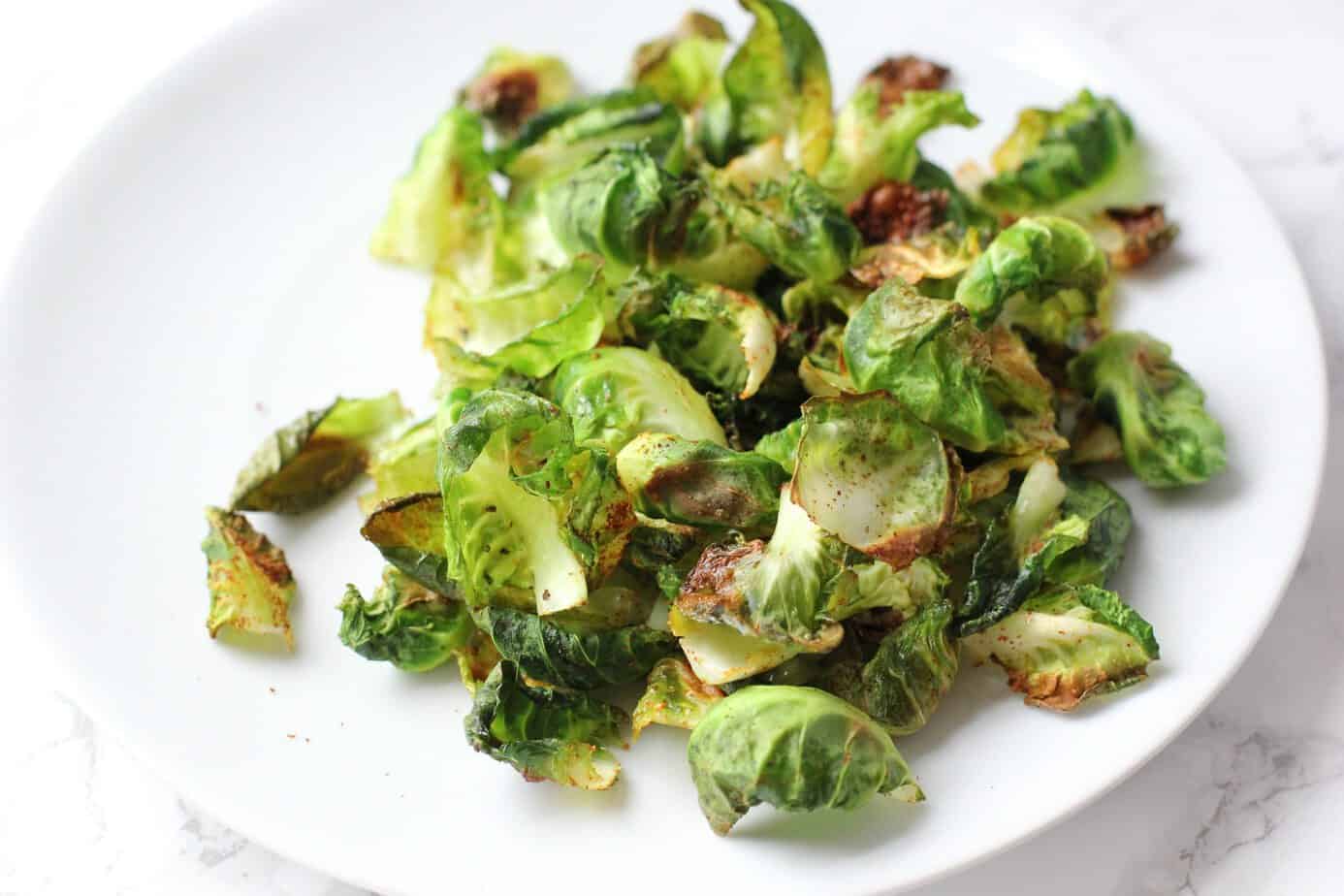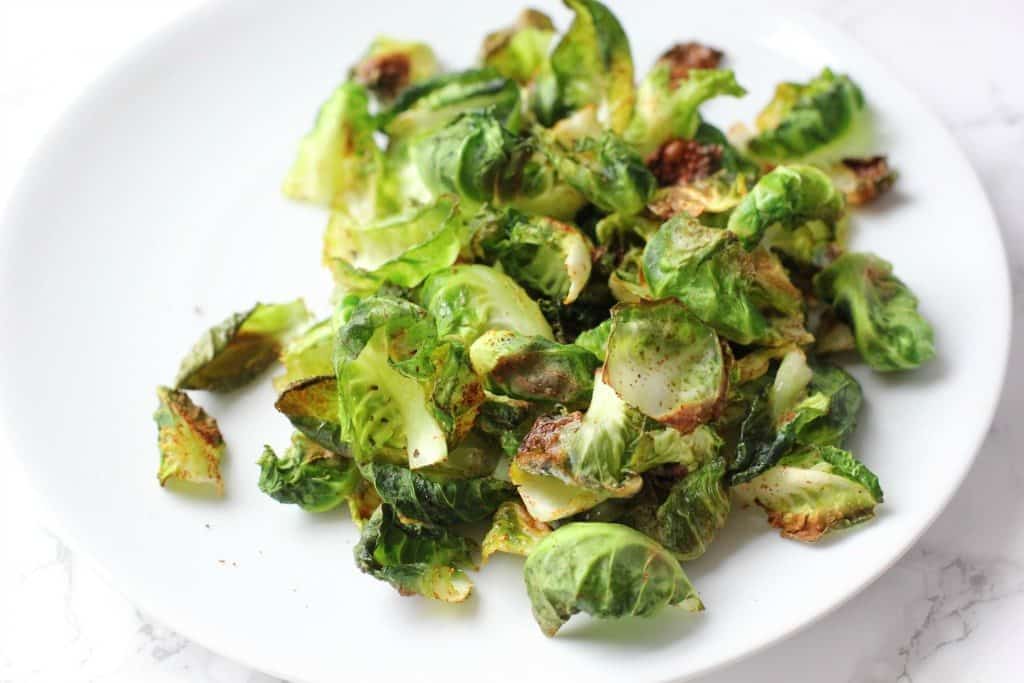 Or if you're looking for a more traditional salad, this avocado and orange combination is one of my favorites.
What's your favorite way to use Brussels sprouts?