Small Batch Candied Pecans
These easy candied pecans can be made in just 5 minutes! They're perfect for a tasty salad topping or you can enjoy these as a sweet snack!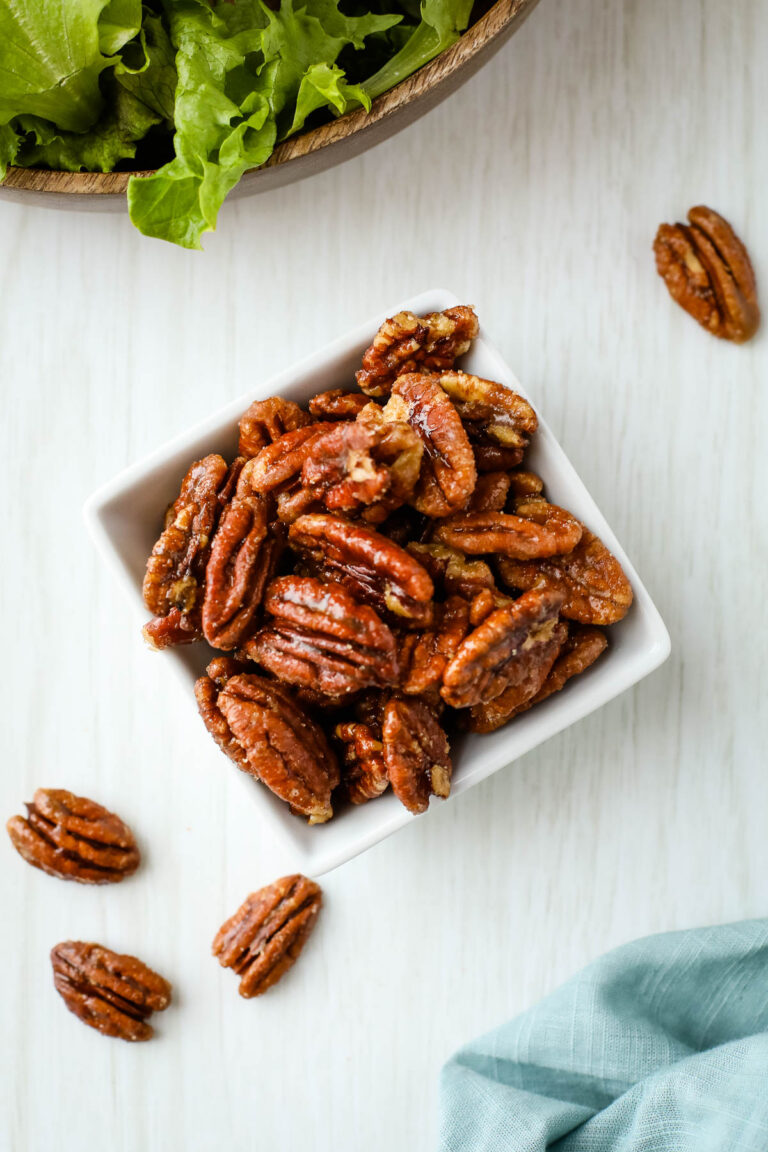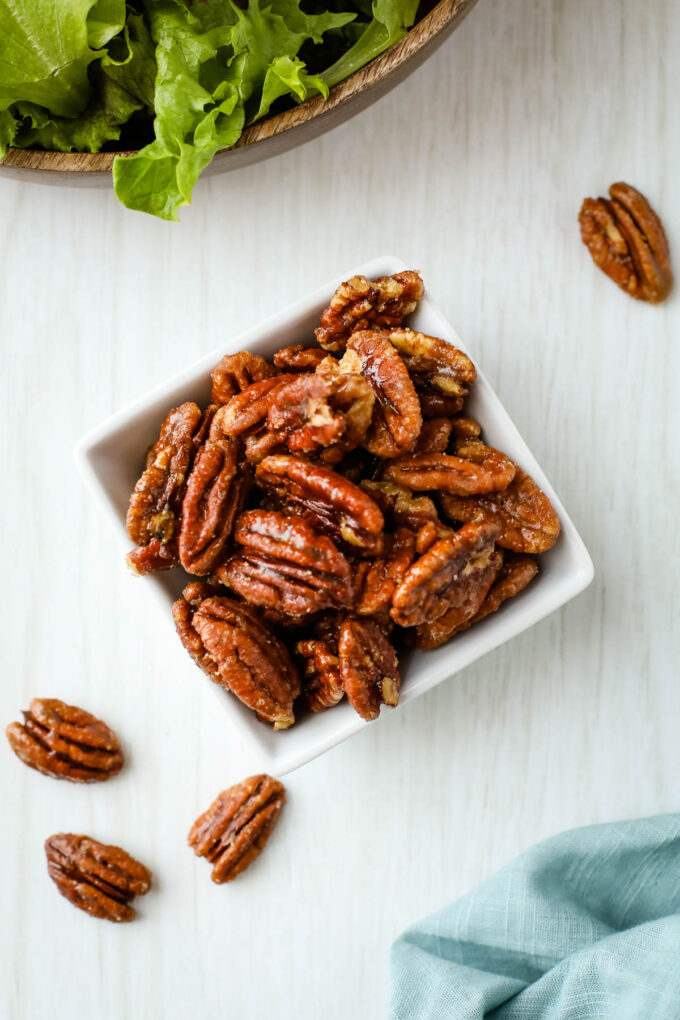 When I was making this green salad with grapes, I wanted to add candied pecans on top, but I didn't want to take a trip to the store just for one salad topping. Luckily, I had a bag of raw pecans in my pantry and I figured it couldn't be too hard to make candied pecans at home. It only took 5 minutes and these were the perfect compliment to the tangy goat cheese on my green salad with grapes. Of course, I found myself snacking on these after lunch, too. They're a delicious sweet treat!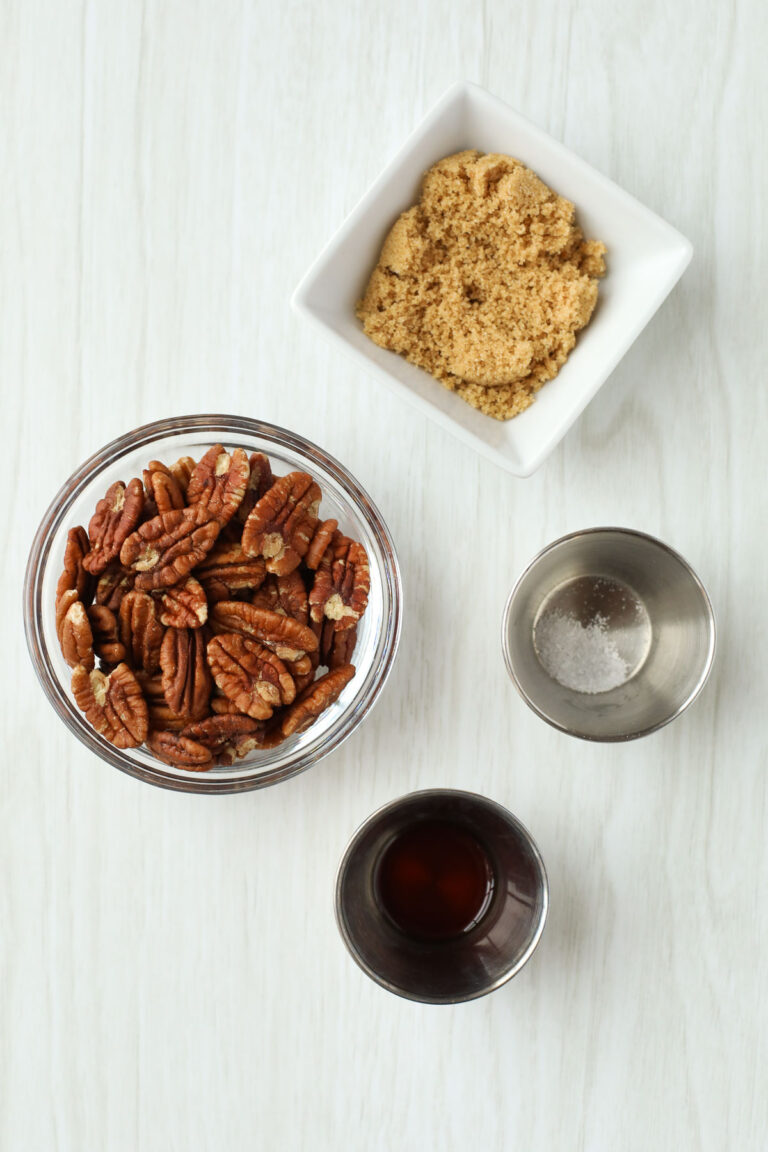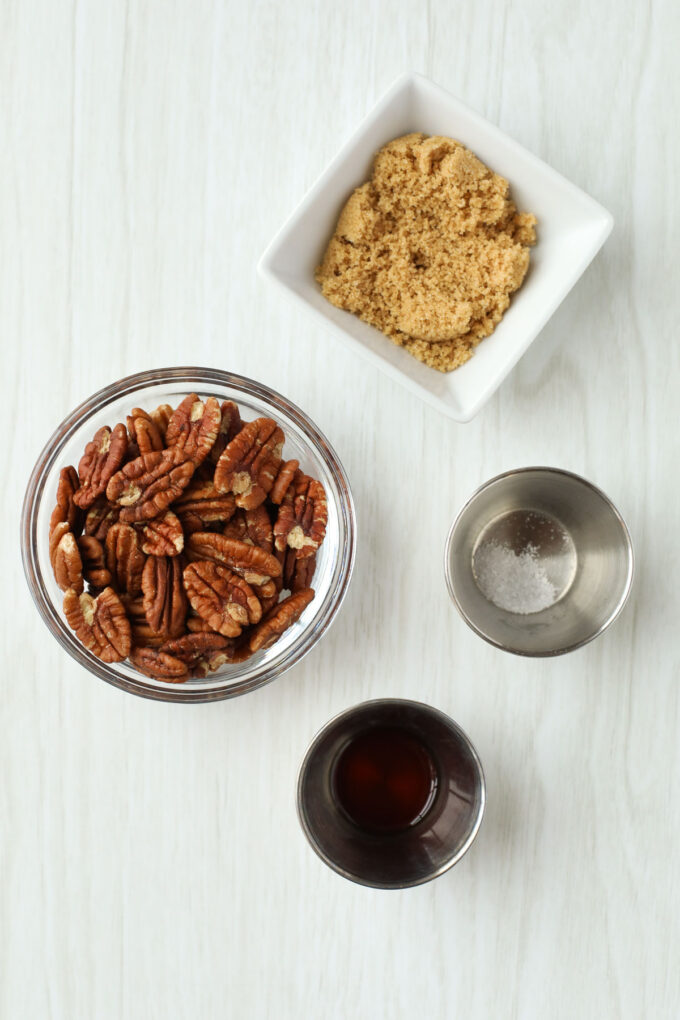 Ingredients
You only need a few basic ingredients for this recipe: Pecans, brown sugar, vanilla extract, and salt. Be sure to use raw pecans. You can use light or dark brown sugar in this recipe.
How to Make Candied Pecans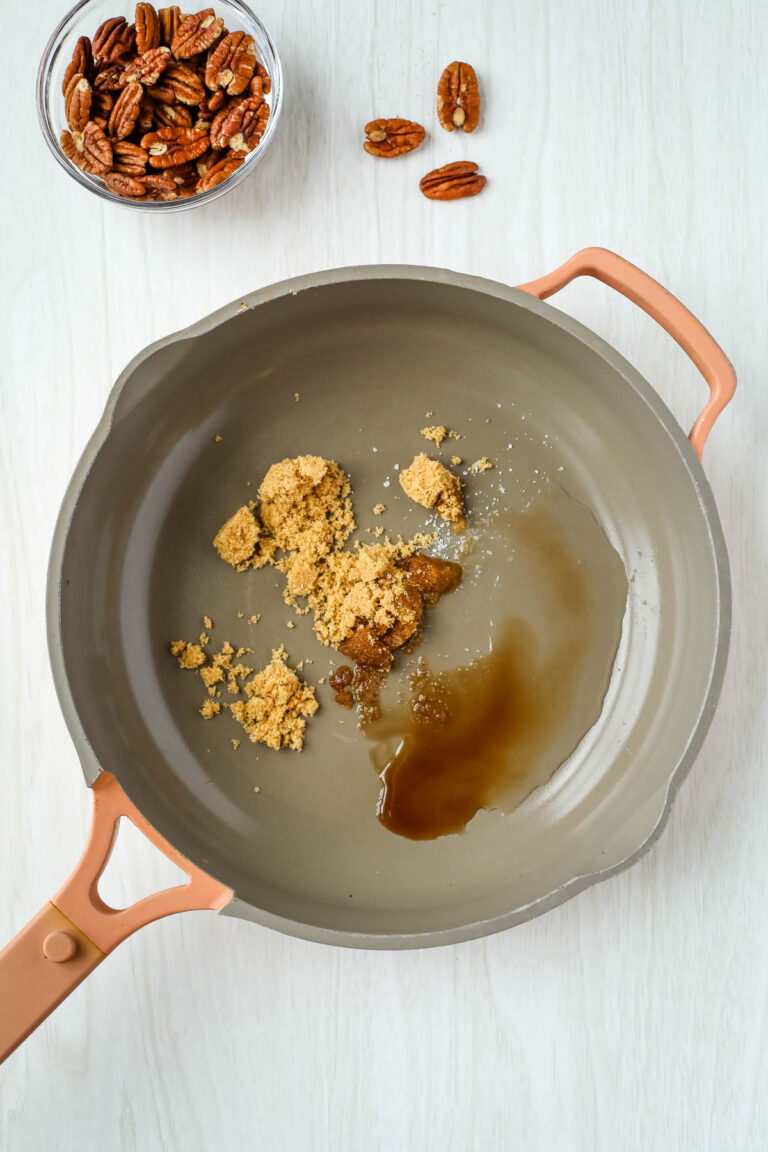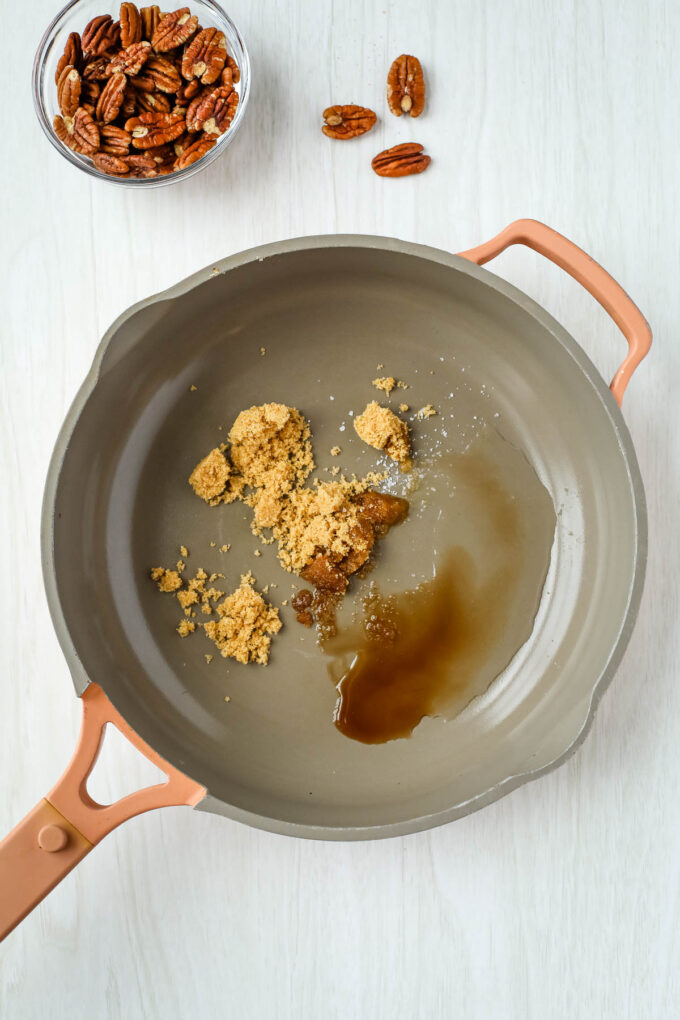 What's the difference between candied pecans and glazed pecans?
As I was researching this recipe, I found that there is a slight difference between traditional candied pecans vs. glazed pecans.
Candied pecans are coated in a mixture of sugar, spices, and sometimes corn syrup, which is cooked until it becomes sticky and then the pecans are coated in it. This gives the pecans a crunchy, sweet, and slightly chewy texture.
Glazed pecans, on the other hand, are coated in a mixture of sugar and syrup (such as corn syrup or honey) that has been melted and caramelized. The pecans are then tossed in the mixture until they are completely coated. This gives the pecans a shiny, crunchy, and sweet texture.
They don't taste all that different, so I think you could use these candied pecans anywhere you'd use glazed pecans. I did notice that some recipes used egg whites or honey, but I wanted to keep these vegan so I kept the ingredients simple.
Ways to Use Candied Pecans
I enjoyed using these candied pecans on a salad, but there are plenty of other tasty ways to use them! Try them as a sweet topping to your bowl of oatmeal or yogurt. Crumble them up into a topping for your favorite muffin. Or enjoy these by the handful for a simple sweet snack.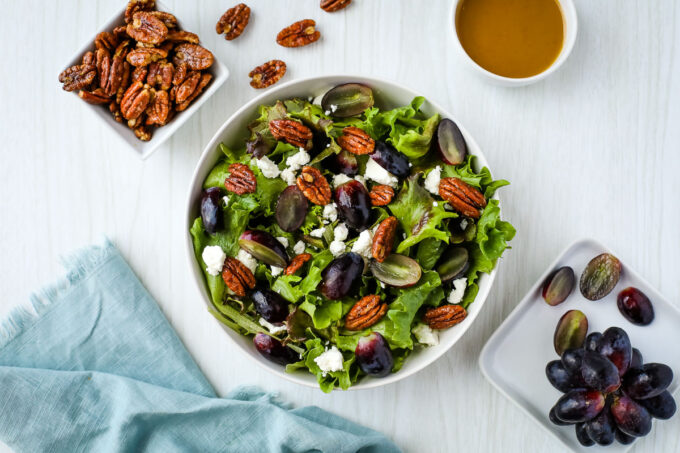 Are pecans good for you?
In moderation, yes! Pecans are rich in monounsaturated and polyunsaturated fats, which can help lower cholesterol levels and reduce the risk of heart disease. They are also a good source of fiber, which can help regulate digestion and keep you feeling full. This makes them a great salad topping! Of course, since these contain added sugar, it's best to enjoy them in moderation.
How to Store Candied Pecans
Once the pecans have been candied, allow them to cool completely on a baking sheet or a plate before storing them. Transfer the candied pecans to an airtight container, such as a plastic container or a glass jar with a tight-fitting lid.
Print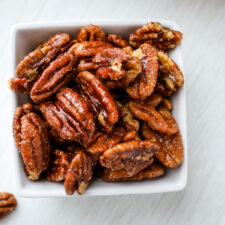 Small Batch Candied Pecans
Author:
Prep Time: 0 minutes
Cook Time: 5 minutes
Total Time: 5 minutes
Yield: 1 cup 1x
Category: Snack
Method: Stovetop
Cuisine: American
Diet: Vegan
---
Description
These easy candied pecans can be made in just 5 minutes! They're perfect for a tasty salad topping or you can enjoy these as a sweet snack!
---
2 tablespoons light brown sugar
1/2 teaspoon vanilla
Pinch of salt
2 teaspoons water
1 cup raw pecans
---
Instructions
In a small, non-stick skillet, combine the brown sugar, vanilla, salt, and 2 teaspoons of water. Cook over medium heat for 2 minutes, stirring frequently until the sugar dissolves.
Add the pecans and continue cooking, stirring continuously, for 2-3 minutes until the pecans are glazed with the coating and the mixture has thickened.
Transfer the pecans to a baking sheet lined with parchment paper or a silicone baking mat. Let cool.
---