Broccoli Cheddar Soup
This broccoli cheddar soup is rich and creamy with hearty pieces of broccoli and plenty of cheesy flavor! It only takes a few minutes to prepare and you can make this recipe with just a few pantry staples!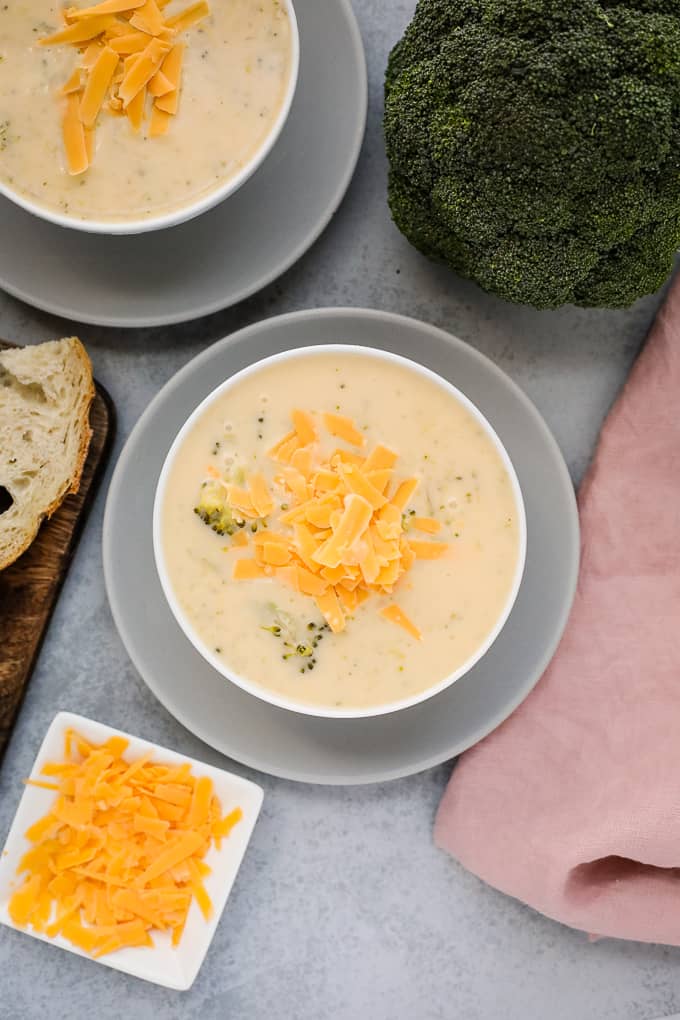 If you're looking for an easy soup recipe that packs in plenty of vegetables but tastes like your favorite comfort food, then this is the recipe for you! Even our 9 year old foster son loved this soup, and he's not a big fan of cheese! I think the flavor of the broth is what won him over. I know your family will love this recipe, too!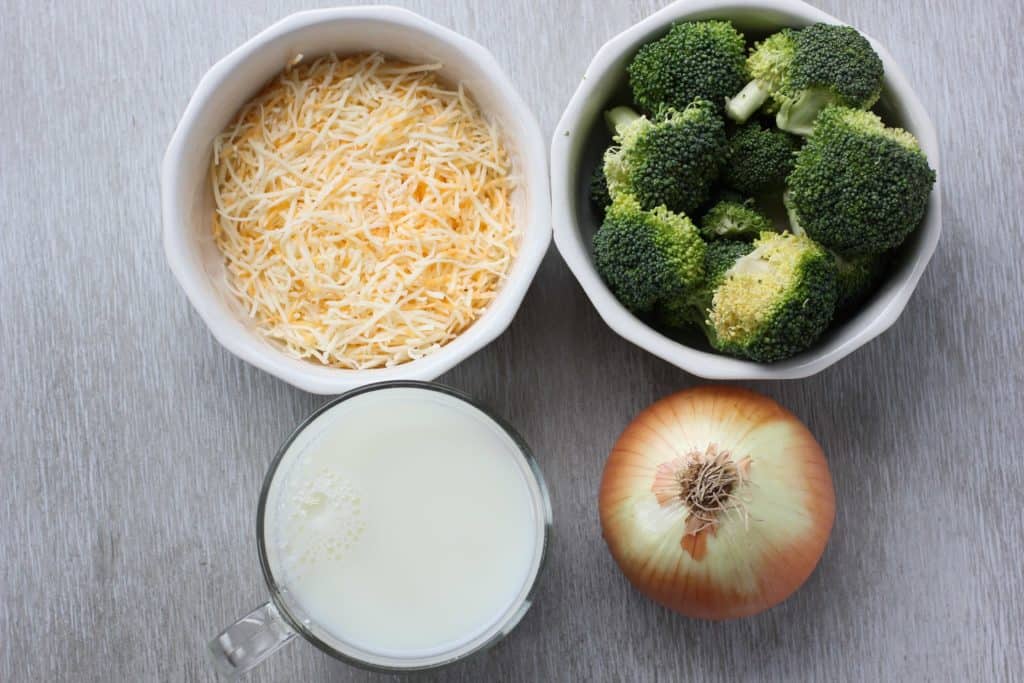 Broccoli Cheddar Soup Ingredients
Butter- I like Kerrygold butter but any brand will do
Onion- If you don't have onion, you can substitute shallots
Garlic- I prefer fresh garlic but you can use garlic powder instead
Flour- You can use gluten-free flour, if needed
Broth- I like "not chicken" style broth which is vegetarian but has a chicken broth flavor
Broccoli- I prefer to use fresh but you can use frozen if that's what you have on hand
Milk- Whole milk will give you the best flavor, but feel free to use 2% or 1% if you want a lower fat recipe
Cheddar Cheese- I recommend shredding a block of cheddar vs. using pre-shredded because it'll give you a smoother consistency
Once you have your ingredients ready to go, this soup comes together pretty quickly!
Is Broccoli Cheddar Soup Healthy?
Typically, creamy soups have more calories and fat compared to broth base soups. But since this one is loaded with broccoli, it allows you to enjoy a large serving! 1 cup of this creamy soup is less than 200 calories, and because it's so rich and creamy, you'll be satisfied after just a cup!
How to Make Lower Calorie Soup
If you wanted to lower the fat calorie count of this soup, you can substitute skim milk in place of whole milk. That would lower the calories to 140 per cup and the fat to 8g per cup.
Print
Broccoli Cheddar Soup
Author:
Prep Time: 10 mins
Cook Time: 25 mins
Total Time: 30 mins
Yield: 8 cups 1x
Category: Soup
Method: Stovetop
Cuisine: Ameircan
Diet: Vegetarian
---
Description
This broccoli cheddar soup is rich and creamy with hearty pieces of broccoli and plenty of cheesy flavor! It only takes a few minutes to prepare and you can make this recipe with just a few pantry staples!
---
2 tablespoons butter
1 large yellow onion, diced
2 large carrots, peeled and diced
1 stalk celery, diced
2 cloves garlic, minced
1/4 cup all-purpose flour (or gluten-free flour)
1/2 teaspoon smoked paprika
4 cups vegetable broth (I like the not-chicken style)
4 cups chopped broccoli
2 cups whole milk or 2% milk
6 oz cheddar cheese, shredded (about 1 1/2 cups)
Salt & pepper to taste
---
Instructions
Melt the butter in a large pot over medium heat.
Add the onion, carrot and celery and cook for 10 minutes, stirring frequently.
Add the garlic and continue to cook over medium heat for 1 minute.
Add the smoked paprika and flour and cook for 1 minute, stirring until the vegetables are coated with flour.
Add the broth and broccoli and bring to a simmer.
Simmer the broccoli for 8-9 minutes until softened.
Add the milk and cook over low heat until the soup is warm.
Add the shredded cheese and stir until melted. Be careful not to turn the heat up too high or the milk will curdle.
Transfer 1 cups of soup to a blender and blend, allowing steam to escape through the vent. Transfer the blended soup back to the pot. Alternatively, you can use an immersion blender to gently blend the soup, slightly.
Add salt to taste, if needed.
---
Keywords: Broccoli Cheddar Soup
What to Serve with Broccoli Cheddar Soup
I'd recommend serving this soup with a baguette or a slice of this vegan beer bread! You could also pair it with a salad like this apple walnut kale salad! I also wrote a whole post on what to serve with broccoli cheddar soup, so check out that post for more ideas.
What to Do with Leftover Broccoli
If you have leftover broccoli, try my roasted broccoli salad for a healthy, delicious side dish. Or make broccoli the star of the show with these broccoli sandwiches! I also love this broccoli and orzo skillet for a simple one pan recipe.
More Soup Recipes
If you're looking for more cheesy soup recipes, try this vegetarian tortilla soup! It's super creamy and spicy. Or make a pot of cheesy cauliflower soup for a veggie-packed meal!