Chia Almond Granola
This chia almond granola is crispy and crunchy with just the right amount of sweetness. Toss everything in the food processor and you'll have granola in the oven in just a few minutes!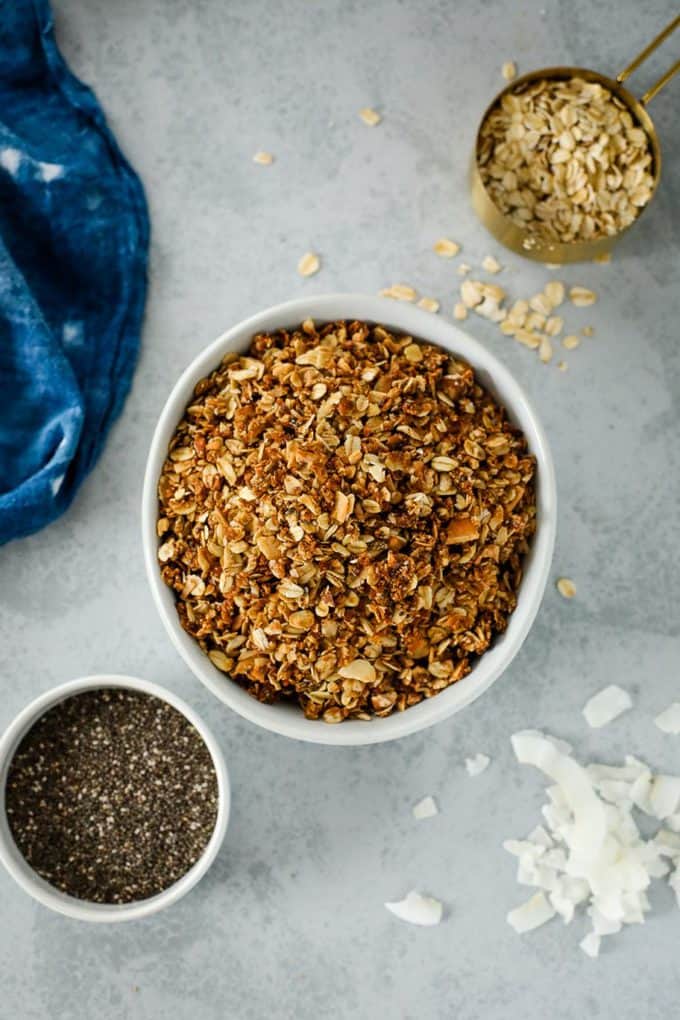 This chia almond granola is easy to make but it's SO delicious. I love the toasted coconut in this recipe. If you want to add chocolate, try this chocolate almond granola!
Chia Almond Granola Ingredients
Almonds– These add the crunchy base to our granola. They're a great source of protein.
Oats– These add bulk to the granola, and oats are a whole grain so they're very nutritious! Be sure to use rolled oats or old fashioned oats. Instant oats have a different texture.
Coconut flakes– I love the flavor toasted coconut adds to this recipe!
Coconut sugar– You can use coconut sugar or brown sugar. It adds sweetness and a caramelized flavor.
Chia seeds– These are a nutritional powerhouse that adds healthy fat and fiber to help keep you full!
Salt– A little salt enhances the sweet flavor. Adjust to taste.
Coconut oil- A small amount of oil helps the nuts and coconut toast evenly.
Maple syrup– A little liquid sweetener helps create clumps of granola. You can use honey, if you prefer.
What are Chia Seeds?
Chia seeds come from a flowering plant in the mint family. (And yes, they are the same chia seeds that were used on chia pets…) But they are an excellent source of omega-3 fatty acids, aka the "good" fats. They are also a great source of fiber at 10 grams per ounce! They contain protein as well as iron, calcium, magnesium, and zinc. It's a great way to add a nutritional boost to our granola!
Ways to Use Granola
It's delicious on top of a yogurt bowl, with chocolate as granola bark, or enjoyed by the handful! I also love using yogurt as a topping on a smoothie bowl. Some of my favorite smoothie bowls are this peach raspberry smoothie bowl and this cauliflower smoothie bowl!
How to Make Chia Almond Granola
You can make this granola quickly by using a food processor. This helps create a crunchy granola by chopping everything into smaller pieces.
Once you have everything in the food processor, you just pulse it a few times. The coconut oil and maple syrup help create little clumps as the granola bakes, so you end up with crispy, crunchy granola!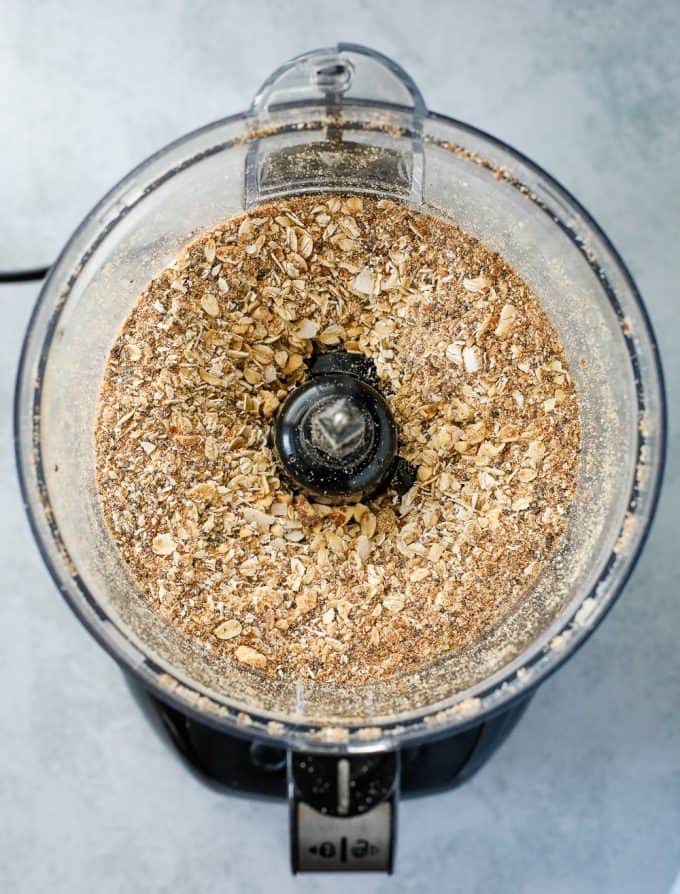 Tips for Perfect Granola
Keep a close eye on the oven temperature. This granola cooks at a low temperature so it gets crispy without getting burnt.
Stir the granola halfway through cooking, to ensure it cooks evenly. Watch out for hot spots in your oven.
If you're using roasted, salted almonds, add salt to taste, as you may not need as much salt.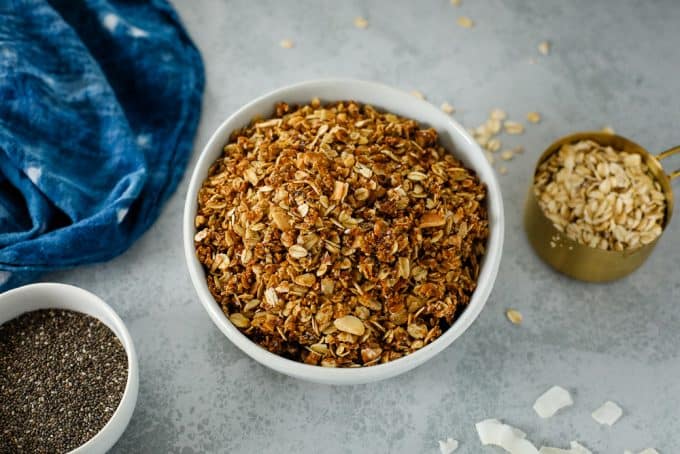 Is Granola Healthy?
That's a great question! Granola can be a healthy snack. The problem is, a lot of storebought granola is loaded with sugar and oil, making it a high-calorie snack without a lot of nutritional benefits. Luckily, with homemade granola, we can control exactly what we include in the recipe! It's easy to keep the sugar and oil in check so that we have granola that really is good for you! While everything should be enjoyed in moderation, you can feel good about going back for seconds of this granola!
Substitution Ideas
To ensure this granola is gluten-free, be sure to use gluten-free oats. Many brands are certified gluten-free, but if you have an allergy, make sure you double-check!
You can replace the maple syrup with honey or agave if needed.
Feel free to substitute walnuts or pecans in place of the almonds.
How to Store Granola
I recommend storing granola in an airtight container at room temperature. It should last 7-10 days, although it usually disappears in our house after just a few days!
Print
Chia Almond Granola
Author:
Prep Time: 10 minutes
Cook Time: 15 mins
Total Time: 25 minutes
Yield: 4 cups 1x
Category: Granola
Method: Baked
Cuisine: Breakfast
Diet: Vegan
---
Description
This chia almond granola is crispy and crunchy with just the right amount of sweetness. Toss everything in the food processor and you'll have granola in the oven in just a few minutes!
---
1/2 cup almonds
2 cups rolled oats
1/3 cup coconut flakes (unsweetened)
1/4 cup coconut sugar (or brown sugar)
2 tablespoons chia seeds
1 teaspoon salt
1/4 cup coconut oil
1/4 cup maple syrup
---
Instructions
Preheat the oven to 325.
Add the almonds to a food processor and pulse 10-15 times until roughly chopped.
Add the oats, coconut flakes, coconut sugar, chia seeds, and salt.
Pulse 8-10 times until combined.
In a microwave safe bowl, melt the coconut oil and combine with the maple syrup.
Drizzle the coconut oil mixture over the oat mixture then pulse 4-5 times until combined.
Spray a baking sheet with non stick spray or line with parchment paper, then spread out the granola across the tray.
Bake for 12-15 minutes, or until it starts to brown.
Remove from oven and let cool completely. The granola will get crunchy as it cools.
---
More Granola Recipes
Oil-Free Maple Granola– This simple granola is made with just a handful of ingredients, no oil required! It's great for a lower fat granola option.
Grain-Free Walnut Granola– This crunchy granola is made with coconut, walnuts, and almonds instead of oats or other grains. It's loaded with protein and healthy fats!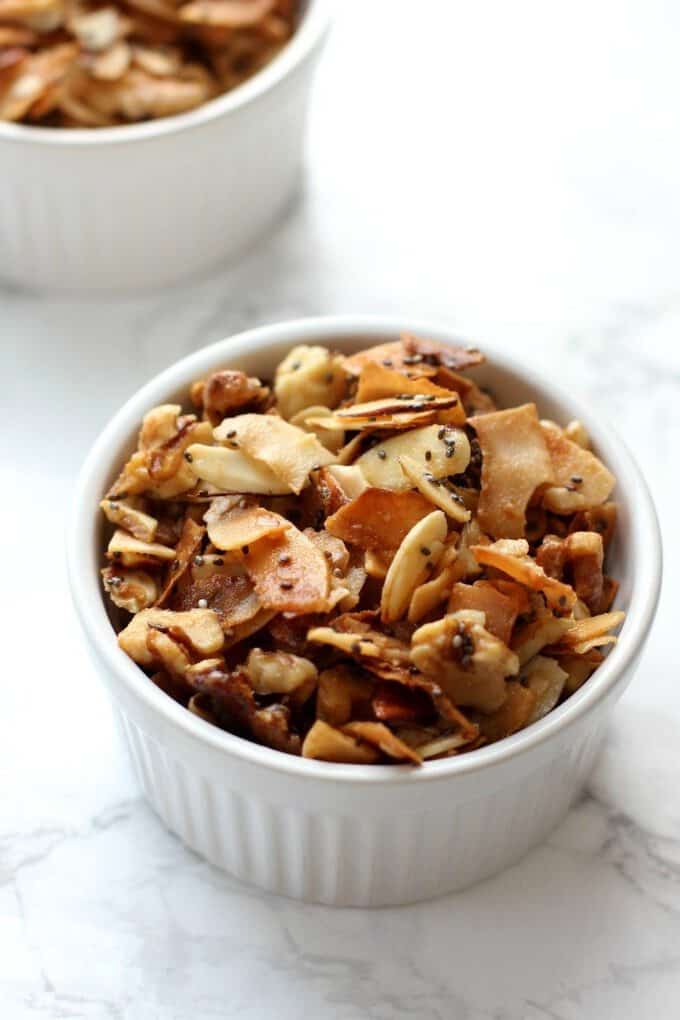 What's your favorite type of granola?