Mexican Quinoa Bake
This Mexican Quinoa Bake is a delicious vegetarian casserole made with quinoa, black beans, and plenty of vegetables! This one pan meal is filled with flavor and it's a hearty main dish!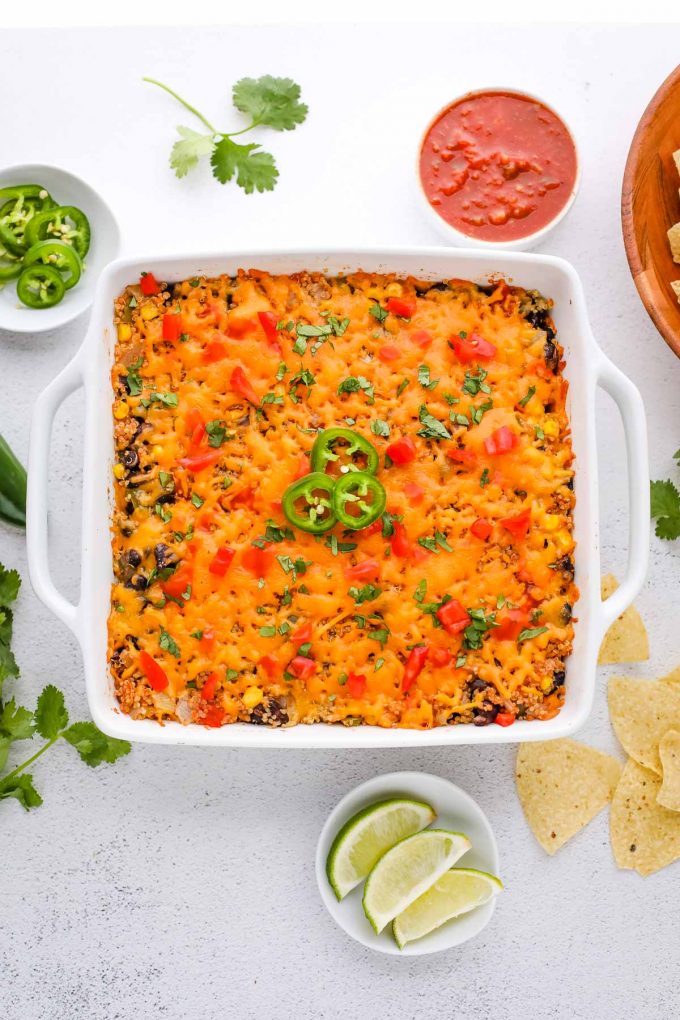 There were a few recipes from the blog that I just had to put in my cookbook. I couldn't leave out some of the staples that I find myself making on busy weeknights when I'm digging around the pantry checking to see what canned goods I can turn into a delicious dinner. This Mexican Quinoa Bake is one of those recipes. Not only is it super easy, but there are plenty of substitution options you can make with no problem!
I created this recipe years ago when I wanted to make something that was a balance of protein, carbs, and fats. I wanted to take the cheese out of the spotlight and use it for flavor rather than the main event. The quinoa is higher in protein than your typical white (or brown) rice and the beans provide both protein and fiber. It's also gluten-free! Check out this post for everything you need to know about quinoa!
Mexican Quinoa Bake Ingredients
Quinoa– While quinoa is technically a seed, it cooks like a grain! It's similar to rice and it make a great base for this casserole.
Black Beans– These add plenty of protein and fiber to make this recipe extra filling.
Onion– A small white or yellow onion works perfectly but you can use a shallot or red onion instead if that's what you have on hand.
Bell Pepper-You can use a red, yellow, green, or orange bell pepper for this recipe
salsa– I like using a chunky tomato salsa in this recipe. Feel free to grab a medium or spicy salsa for more heat!
Corn – You can use fresh, canned, or frozen corn in this recipe.
Cheddar Cheese– I like a sharp cheddar cheese or a Mexican blend of cheeses. You can use vegan cheese if you want to keep this recipe dairy free.
Toppings– My favorites are avocado, extra salsa, fresh cilantro, and/or diced red onion.
How to Make This Mexican Quinoa Bake
First, prepare your quinoa. You can make quinoa on the stovetop, as the package will typically suggest, but you can also make quinoa in an Instant Pot or you can cook quinoa in a rice cooker!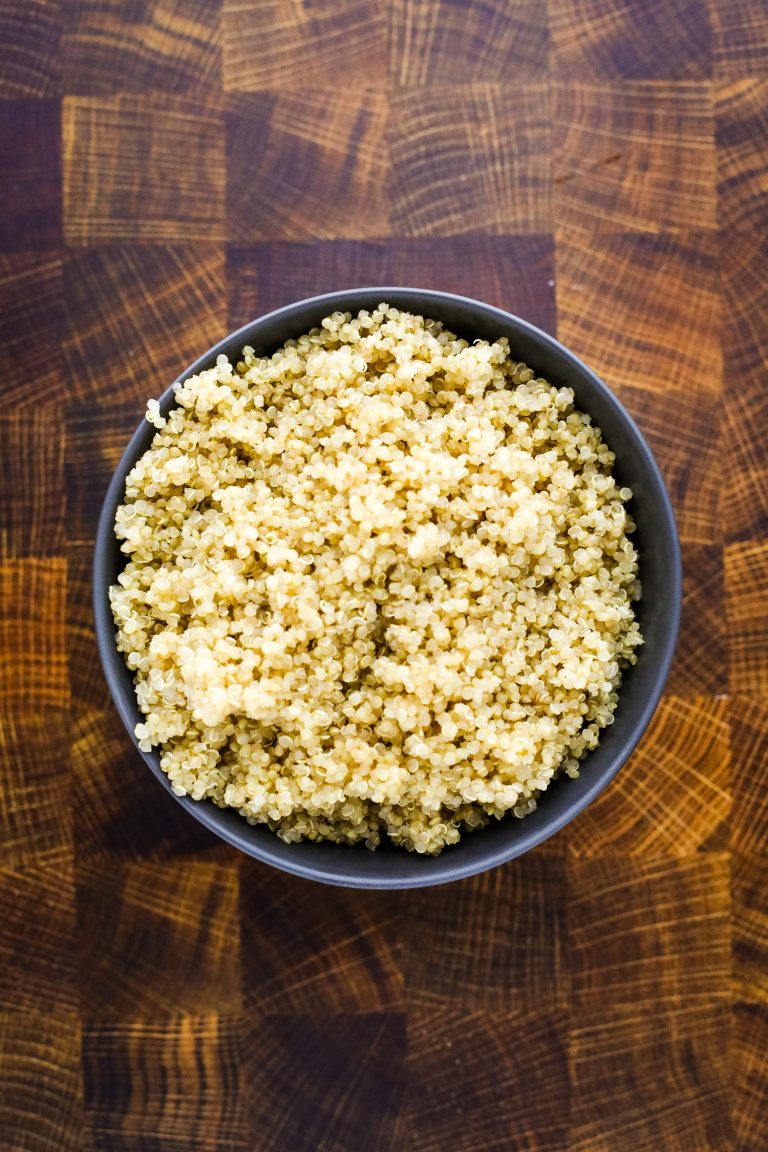 Start by sauteing the pepper and onion in a little olive oil until softened.
Then, add all the ingredients except the cheese together in a bowl.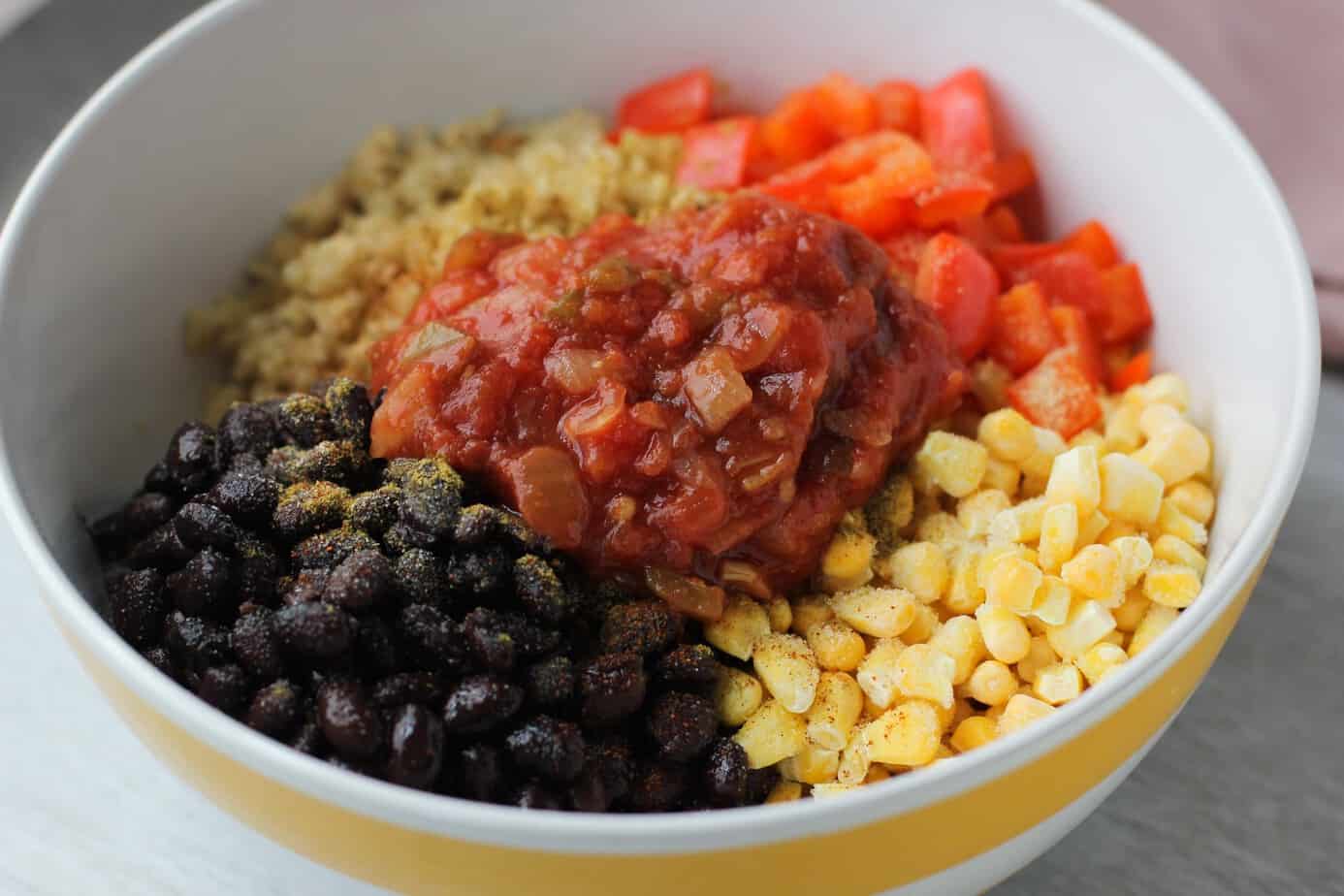 Stir it up to make sure all the spices get evenly mixed.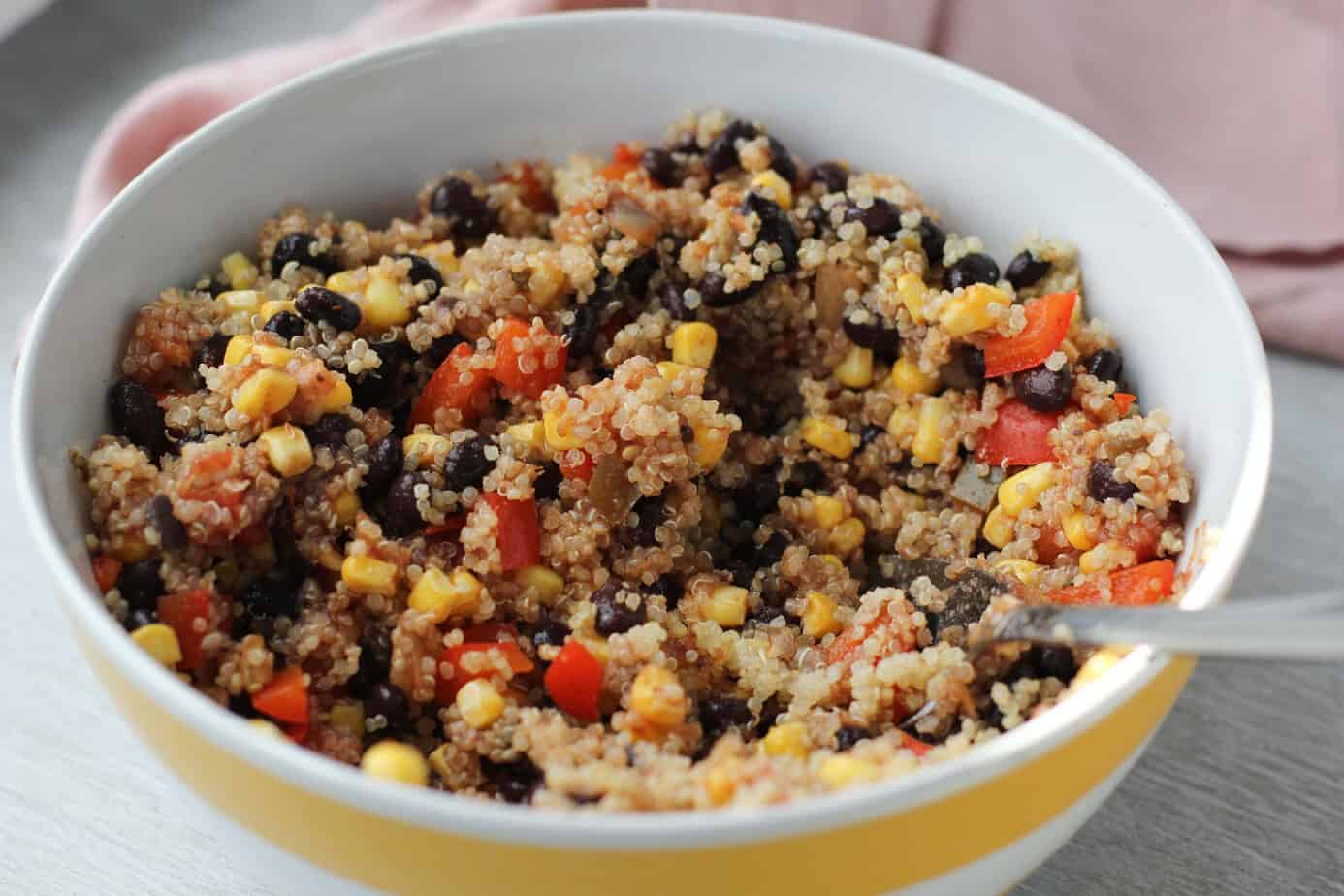 Then add everything into a pan and sprinkle with cheese. Cover with foil before baking.
Bake until the cheese is melted and the ingredients are heated through.
Top with fresh cilantro, chopped tomatoes, hot sauce, and any other toppings you like!
Substitution Ideas
If you want to make this spicier, add a jalapeno to the mix! Saute it with the onion and bell pepper, to soften it a little.
If you want to keep this recipe mild, skip the cayenne pepper and hot sauce. Be sure to use a mild sauce.
No black beans? Try pinto beans instead!
Topping Suggestions
I love customizing this Mexican Quinoa Bake with my favorite toppings! Here are some ideas to get you started:
Diced avocado or guacamole
Hot sauce
Sour cream or Greek yogurt
Additional salsa or pico de gallo
Fresh cilantro
Diced red onion
Fresh jalapenos
Print
Mexican Quinoa Bake
Author:
Prep Time: 10 mins
Cook Time: 20 mins
Total Time: 30 mins
Yield: 4 1x
Category: Dinner
Method: Baked
Cuisine: Mexican
---
Description
This Mexican quinoa bake is an easy gluten free, vegetarian dinner recipe! Loaded with vegetables, beans, and quinoa, this is a recipe that will keep you full!
---
1 cup quinoa, uncooked
2 teaspoons olive oil
1 green bell pepper, chopped
1 small yellow onion, chopped
1/2 cup tomato salsa (any type)
1 15oz can black beans, rinsed
1 cup sweet corn (frozen or canned)
1/2 teaspoon garlic powder
1/2 teaspoon cumin
Pinch cayenne pepper (optional)
1/2 cup shredded sharp cheddar cheese
1 handful fresh cilantro
Optional toppings: Avocado, sour cream, additional salsa, hot sauce, etc.
---
Instructions
Preheat the oven to 400 degrees.
Rinse the quinoa and then add it to a pot with 2 cups of water and bring to a boil. Let it simmer for 10-12 minutes or until the water is absorbed.
While the quinoa is cooking, add the olive oil to a large skillet and cook the peppers and onions over medium heat for 5 minutes, stirring frequently.
Once the quinoa is cooked, transfer to a large bowl and stir in the salsa, black beans, corn, peppers, onions, garlic, cumin, and cayenne pepper.
Add to a medium-sized casserole dish and sprinkle the cheese on top.
Cover with foil and bake for 15 minutes, or until the cheese has melted.
Remove the foil and continue to bake for 5 minutes.
Top with your favorite toppings!
Notes
This recipe was updated in August 2021.
Looking for a tasty side dish to serve with this Mexican Quinoa Bake? Try this Mexican Street Corn Salad!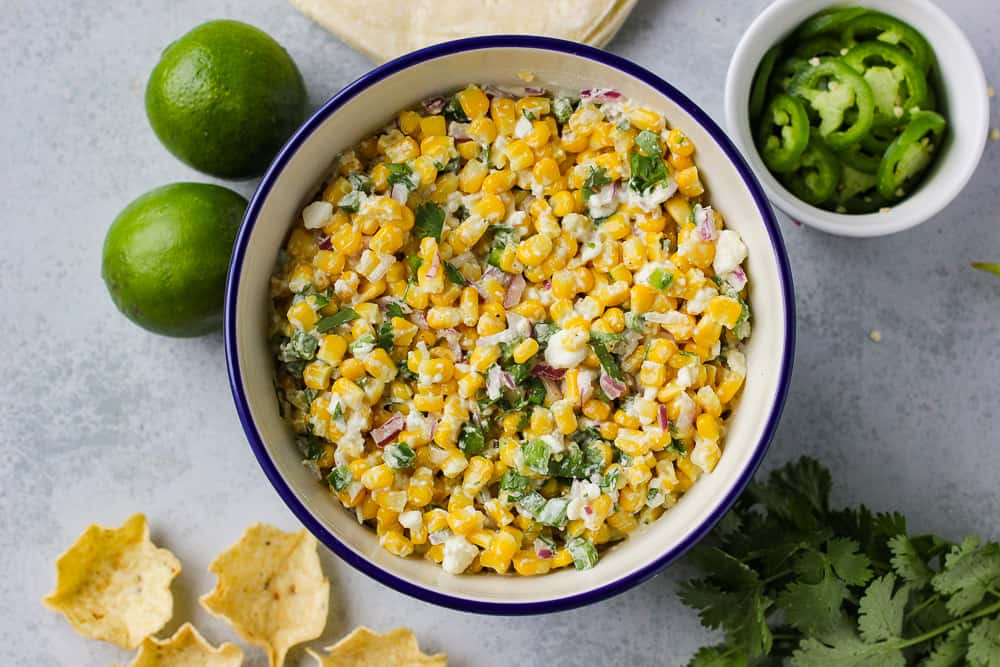 Want to make this recipe even easier? Make your quinoa in a rice cooker ahead of time!
What's your favorite kind of casserole?