Instant Pot Potato Soup
This Instant Pot potato soup is rich and creamy with tons of flavor, but it's made with just a handful of ingredients! Try this cozy soup for an easy but satisfying meatless meal!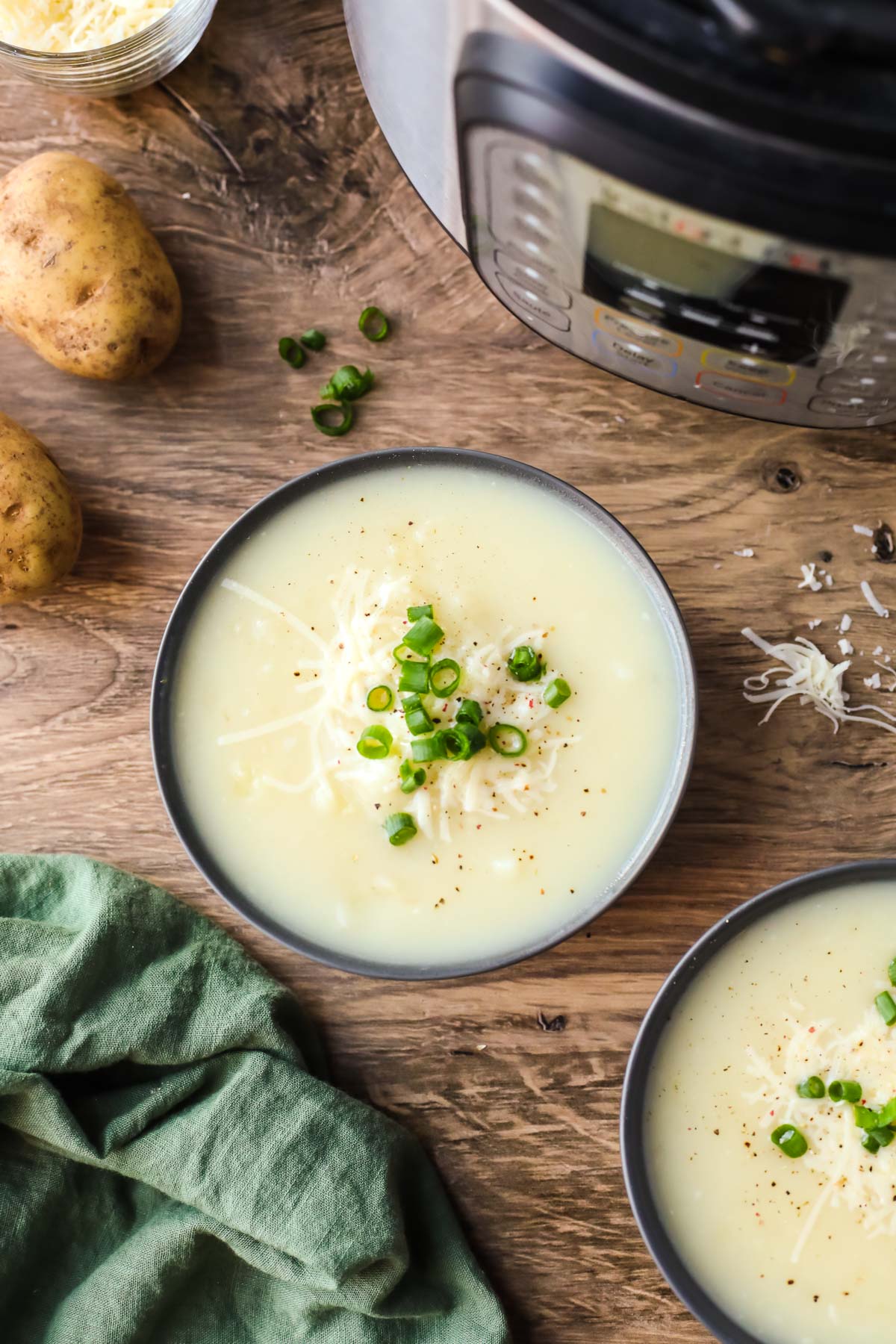 Potato soup has been a favorite of mine since my college days. I loved that for just a few dollars, I could make a soup that would last me for most of the week. With grocery prices soaring, we could all use a budget-friendly soup recipe, right? I normally make my 4 Ingredient Potato Soup on the stovetop, but I realized I could make it even faster in my pressure cooker! If you have the air fryer lid, you should also try this Instant Pot air fryer baked potato!
This potato soup is vegetarian, and it can easily be made vegan. I have a few substitutions and swaps if you want to keep this lower in calories, and I also included some of my favorite toppings to take this soup to the next level! This recipe is super rich and creamy, so a bowl of this soup is the ultimate comfort food!
Ingredients & Substitutions
Potatoes– I recommend using russet potatoes which are starchy and delicious.
Butter– I've tested this recipe with both olive oil and butter and I didn't notice a huge difference, so feel free to use either one.
Onion– I used a yellow onion, but a white onion is fine too.
Garlic– Don't skimp on the garlic! This adds tons of flavor to the soup.
Broth– You'll want a flavorful broth for this recipe. I like the vegan "not-chicken" style broth from Edward & Sons.
Milk– For a super creamy texture, use evaporated milk. For a lower fat option, use 2% or skim milk. To keep it vegan, use a vegan half-and-half or substitute with unsweetened almond milk.
What is Evaporated Milk?
Evaporated milk is just milk that has been heated so that around half of the water content evaporates. This results in milk that is extra creamy, thick and flavorful. Evaporated milk is a great way to create a creamy broth without using actual cream to get a rich flavor. It's lower in fat and calories, and since you can buy it in a can, it's shelf stable . If you want to make a vegan version of this soup, I highly recommend using Ripple's half and half. It's a great plant-based creamer! You can substitute Earth Balance or olive oil for the butter.
How to Make Potato Soup
Potato Soup Toppings
I like to get creative with my soup toppings to add a little extra flavor and texture. Here are some of my favorites to turn this recipe into a loaded baked potato soup:
Green onions- diced green onions add a lovely flavor.
Croutons- If you like texture and crunch, some garlicky croutons can be a fun topping!
Cheese- If you want to turn this into the ultimate comfort food, try adding some shredded cheddar cheese on top.
Tips and Tricks
If you like a smooth soup, use an immersion blender or regular blender to blend until smooth. I like how this soup is super thick and creamy, but if you want a thinner soup you can add additional broth.
How to Blend Hot Soup
I prefer to use an immersion blender to blend soup because it doesn't require transferring it to a blender. But if you don't have an immersion blender, you can still blend this soup in a traditional blender.
Be careful when transferring hot soup! Let the soup cool slightly before trying to transfer it to a blender. Don't attempt to pour boiling soup into a blender because it could splash and burn you.
Let the steam escape. After safely transferring it to a traditional blender, be sure to use the vent in the lid of the blender to allow steam to escape while blending. Cover with a kitchen towel to prevent splatters.
Do NOT try to blend hot soup in a bullet style blender. These blenders must be airtight before blending and hot soup can literally explode. If you want to use a bullet blender to blend soup, it must be cold or room temperature.
More Instant Pot Recipes
Print
Instant Pot Potato Soup
Author:
Prep Time: 10 minutes
Time to Pressurize: 10 minutes
Cook Time: 15 minutes
Total Time: 35 minutes
Yield: 6 cups 1x
Category: Soup
Method: Instant Pot
Cuisine: American
Diet: Vegetarian
---
Description
This Instant Pot potato soup is rich and creamy with tons of flavor, but it's made with just a handful of ingredients! Try this cozy soup for an easy but satisfying meatless meal!
---
2 tablespoons butter
1 yellow onion, diced
7 cloves garlic, minced
2lbs russet potatoes, peeled and chopped
3 cups vegetable broth (I like to use a "chicken-style" vegetable broth like this one)
1 cup milk (Skim milk or 2% works great. For a rich texture, use evaporated milk or whole milk.)
Salt and pepper to taste
---
Instructions
Press the sauté function on the Instant Pot.
Sauté the onion in olive oil or butter for 4-5 minutes until the onion begins to soften.
Add the garlic and sauté for one minute
Add the potatoes and broth and seal the lid. Be sure the vent knob is in the sealed position.
Press "Manual Pressure Cook" and set for 15 minutes.
After the timer runs out, quick-release the pressure by switching the venting knob to release.
Use an immersion blender to blend until just slightly chunky.
Stir in the milk and season with salt and pepper, to taste.
---
Keywords: Instant Pot Potato Soup
What to Serve with Potato Soup
Not sure what to pair with your potato soup? Try it with a loaf of crusty sourdough bread (I love the sourdough bread from Wildgrain because I can keep it in my freezer!) or pair it with a classic grilled cheese sandwich. You could also serve this potato soup with my warm kale salad, which is a cozy way to add more greens to your plate! For more ideas, check out my blog post on what to serve with potato soup.