Instant Pot Red Lentil Soup
This Instant Pot Red Lentil Soup is packed with flavor and filled with plenty of plant-based protein to keep you satisfied. You can whip up this recipe in just minutes!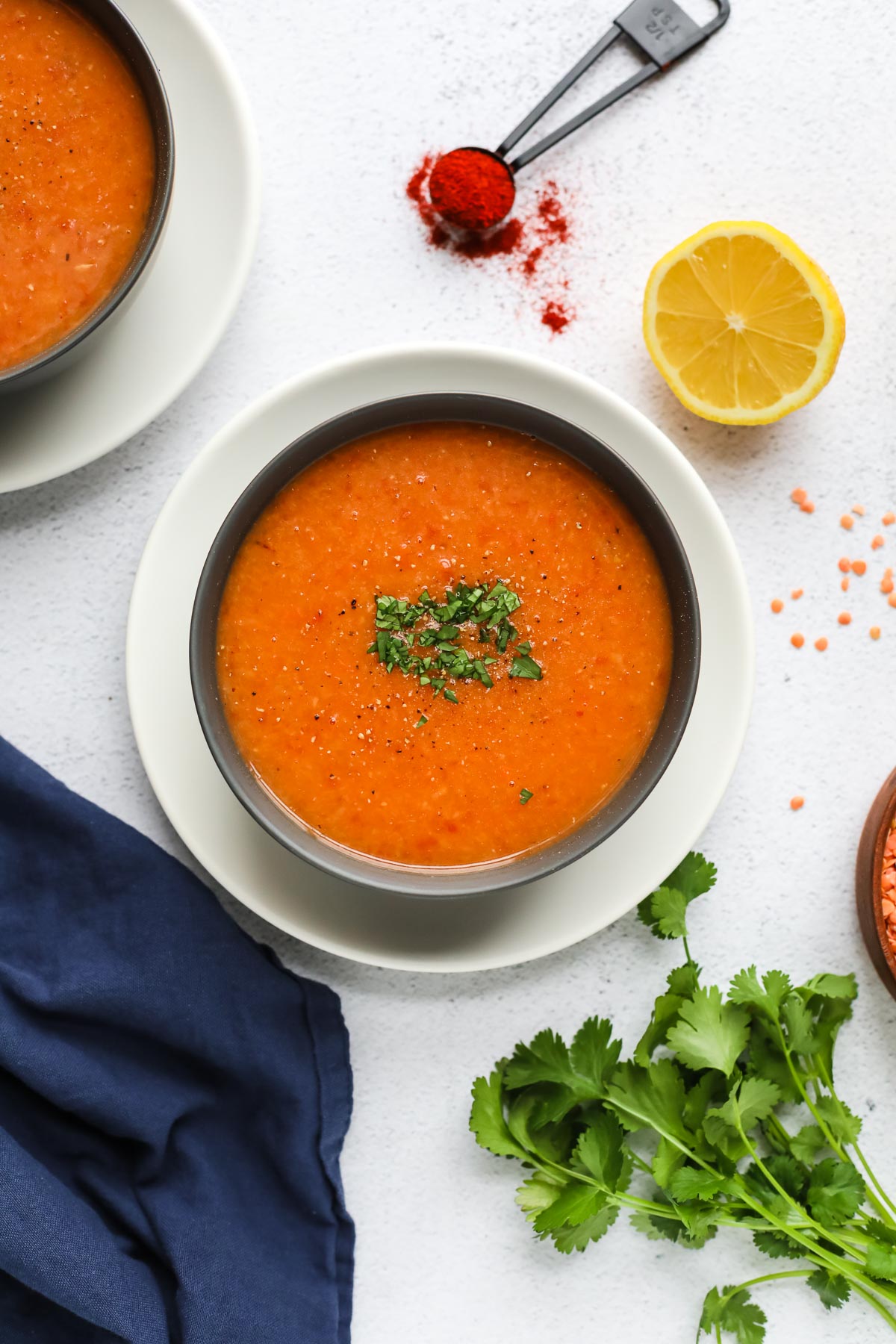 The first time I made this red lentil soup in the Instant Pot I was shocked at how delicious it was. It had so much flavor but yet, it was so simple! I fully expected to add additional spices but I loved the way the paprika and cumin added a warm spicy touch, while the lemon juice added brightness and helped all of the flavors really pop. Even though this recipe is simple, it has a lovely taste!
What are red lentils?
Red lentils are a unique type of lentil because they break down fairly quickly when cooked. While other types of lentils, like brown, green or black lentils take a long time to soften, red lentils cook quickly. Because of this, they can be prepared faster than other colors of lentils. Since they're a unique type of lentil, don't try to substitute green, brown or black lentils in their place because they won't cook at the same rate.
Are red lentils healthy?
Yes! Red lentils are very healthy. They're a great source of protein and fiber and they're rich in folate and potassium. They're also a source of iron, which is especially great for vegans and vegetarians! Red lentils are convenient to keep in the pantry because they last a long time and they're very inexpensive. You can typically find them at the grocery store near the dried beans.
Ingredients & Substituions
Onion, carrot & celery– These three ingredients are traditionally used in a mirepiox and they make up the base of the soup. It's a great way to add lots of vegetables into this recipe.
Smoked paprika– I love the warm, subtle heat of smoked paprika but you can use plain paprika, if you like.
Cumin– This adds a warm, earthy flavor to the soup.
Garlic– This adds a deeper flavor to the base of the soup.
Red lentils– Reminder, these must be red lentils! Don't substitute green or brown.
Vegetable broth– I prefer to use a vegetarian-friendly "chicken" style broth which typically has more flavor.
Fire roasted diced tomatoes– I love the added flavor that fire-roasted tomatoes provide but plain diced tomatoes work, too.
Lemon juice– The lemon juice adds a bright, bold kick that helps enhance the overal flavor of the soup. If you don't have lemon juice, try using red wine vinegar instead.
Topping Suggestions
If you want to add some toppings to this soup, feel free to get creative! It would be delicious topped with homemade croutons, crispy chickpeas, or a sprinkle of fresh cilantro.
How to Make Red Lentil Soup in an Instant Pot
For reference, I have the Instant Pot Duo 6qt model. This could be made in a slightly smaller pressure cooker, if needed.
How to Make This Soup on the Stovetop
No Instant Pot? No problem! You can make this recipe on the stovetop by adjusting the cooking time. You'll need to sauté the vegetables for about 8 minutes until softened. After you add the lentils, bring the soup to a boil then let it simmer, covered, for about 20-25 minutes to allow the lentils to fully break down. You may also need to add a little extra broth since there is more evaporation on the stovetop.
What to Serve with Red Lentil Soup
This soup would be delicious served with vegan naan or a sourdough loaf. You could also pair this soup with my Mediterranean Chopped Salad — it's a great way to get in lots of veggies in one meal!
More Red Lentil Recipes
Print
Instant Pot Red Lentil Soup
Author:
Prep Time: 10 minutes
Time to Pressurize: 10 minutes
Cook Time: 12 minutes
Total Time: 32 minutes
Yield: 8 cups 1x
Category: Soup
Method: Instant Pot
Cuisine: American
Diet: Vegan
---
Description
This Instant Pot Red Lentil Soup is packed with flavor and filled with plenty of plant-based protein to keep you satisfied. You can whip up this recipe in just minutes!
---
1 tablespoon olive oil
1 small yellow onion, diced
3/4 cup carrots, diced
3/4 cup celery, diced
1/2 teaspoon cumin
1/2 teaspoon smoked paprika
4 cloves garlic, minced
1 1/2 cups red lentils
1 15oz can fire-roasted tomatoes
5 cups vegetable broth
2 tablespoons lemon juice
---
Instructions
Add the olive oil, onion, carrots, and celery to the Instant Pot and set to sauté.
Sauté for 3 minutes, stirring frequently to avoid burning.
Add the cumin, smoked paprika, and garlic and continue to cook for 30 seconds.
Add the red lentils, diced tomatoes, and vegetable broth.
Cancel the sauté function. Then set to manual pressure cook for 12 minutes. It will take about 10 minutes for the Instant Pot to reach pressure, then the timer will begin to count down.
Once the Instant Pot is done cooking, quick-release the pressure by turning the venting knob to "vent" and allow the steam to escape. Once the steam has escaped, remove the lid.
Add the lemon juice and let cool slightly.
Use an immersion blender to blend until mostly smooth. If you do not have an immersion blender, carefully transfer the soup to a blender, allowing steam to escape through the vent, and blend until smooth. Be careful when blending hot soup.
---
Keywords: instant pot red lentil soup