Cookie Dough Overnight Oats
These overnight oats taste like cookie dough, but they're actually a healthy breakfast! They only take a few minutes to make, and you'll wake up craving this recipe!
Why I Love This Recipe
I've been on an overnight oats kick lately because I love how a recipe like this actually keeps me full until lunchtime. Since oats are a whole grain, they're a good source of protein and fiber so it's a breakfast that's really satisfying. I thought it would be fun to give these overnight oats a cookie dough twist, and I love how these turned out! There are plenty of ways to adjust the sugar and sweetness or add protein, so feel free to customize these to fit your cravings!
Ingredients & Substitutions
Oats– I use rolled oats, sometimes called old-fashioned oats. I think they're the best for overnight oats, but you can use instant oats if needed. Do not use steel cut oats, which won't soften very well.
Chia seeds– These seeds help create a thick texture, but if you don't have chia seeds, you can skip them or substitute with ground flax seeds.
Brown sugar– I used brown sugar for a more authentic cookie dough flavor, but you can substitute with honey or stevia if you prefer!
Vanilla– A little vanilla extract helps add sweetness and flavor.
Almond butter or cashew butter- This helps add healthy fats to the oats, making them more filling with a luxurious taste. You can substitute with peanut butter or sunbutter.
Milk– I used almond milk but any milk works fine.
Salt– A pinch of salt enhances the overall flavor. Don't skip it!
Chocolate chips– You can use mini chocolate chips or cacao nibs!
How to Make Overnight Oats
Do I have to use chia seeds?
You don't have to use chia seeds, but they do help make these oats extra thick. If you don't have any you can use ground flaxseeds to create a similar texture, or you can skip them altogether. You can typically find chia seeds in the organic section of the grocery store near flaxseeds and other seeds. You can also order chia seeds on Amazon. Chia seeds contain fiber, protein, healthy fats, calcium, manganese, and magnesium. When mixed with a liquid, they expand and thicken. They create a puddling-like texture in these overnight oats.
Frequently Asked Questions
Can I add other toppings? Obviously, chocolate chips taste the most like cookie dough, but I also liked adding cacao nibs for a chocolate flavor without added sugar. A little extra nut butter or granola also makes a great topping!
Do I have to soak my oats overnight? No, the oats will be ready after just a few hours. But they can be soaked overnight, so you can make the oats in advance if you like.
Can I warm them up? You can heat your overnight oats in the microwave if you prefer warm oats. But cooking them isn't necessary.
Can I add more protein? For a higher protein recipe, try my cottage cheese overnight oats!
Do I have to use a jar? Nope! You can use any container with a tight-fitting lid. You can also repurpose containers like glass yogurt containers or spaghetti sauce jars! I recommend using a container that is at least 16 ounces, so you have room to stir the ingredients together.
Can I double the recipe? Yes! Double or triple the recipe and store the leftovers in the fridge. You can even make them in one large jar and scoop out a portion when you're hungry!
Can I use steel cut oats? No, steel cut oats don't soften the same way. If you have steel cut oats, try my baked steel cut oatmeal!
More Overnight Oats Recipes
Print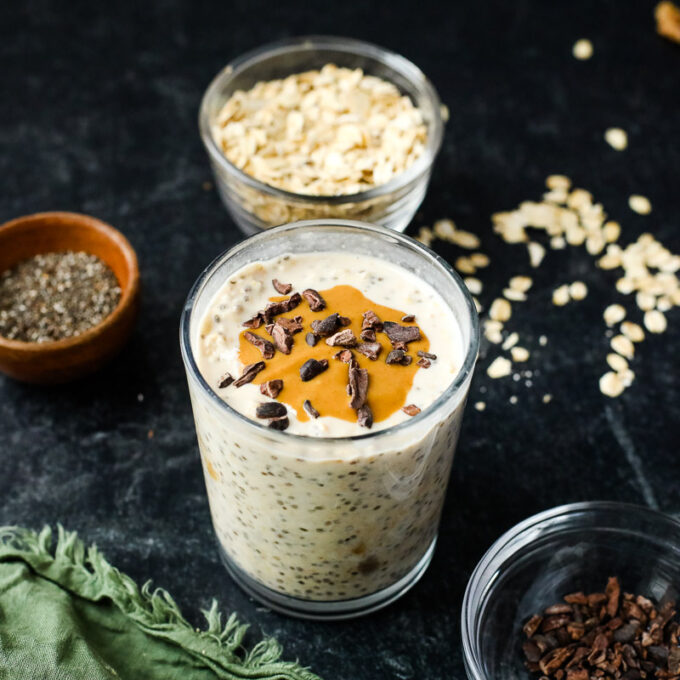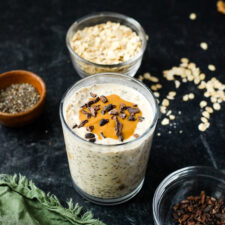 Cookie Dough Overnight Oats
Author:
Prep Time: 5 minutes
Soaking Time: 2-3 hours
Cook Time: 0 minutes
Total Time: 29 minute
Yield: 1 cup 1x
Category: Breakfast
Method: No Cook
Cuisine: American
Diet: Vegetarian
---
1/2 cup rolled oats
1 tablespoon chia seeds
1 tablespoon brown sugar (or sweetener of choice)
3/4 cup milk (dairy or almond milk)
1 tablespoon almond butter or cashew butter
1/4 teaspoon vanilla
1 tablespoon mini chocolate chips or cacao nibs
Salt to taste
---
Instructions
Add oats, milk, chia seeds, sugar, vanilla, nut butter, and salt to a jar. Stir until combined.

Let the oats sit in the fridge for 2-3 hours or overnight. Then add any additional toppings and enjoy!
---
Keywords: cookie dough overnight oats