High Protein Tomato Soup
This rich and creamy tomato soup is a great source of protein! It's easy to make, packed with vegetables, and great for a satisfying weeknight meal.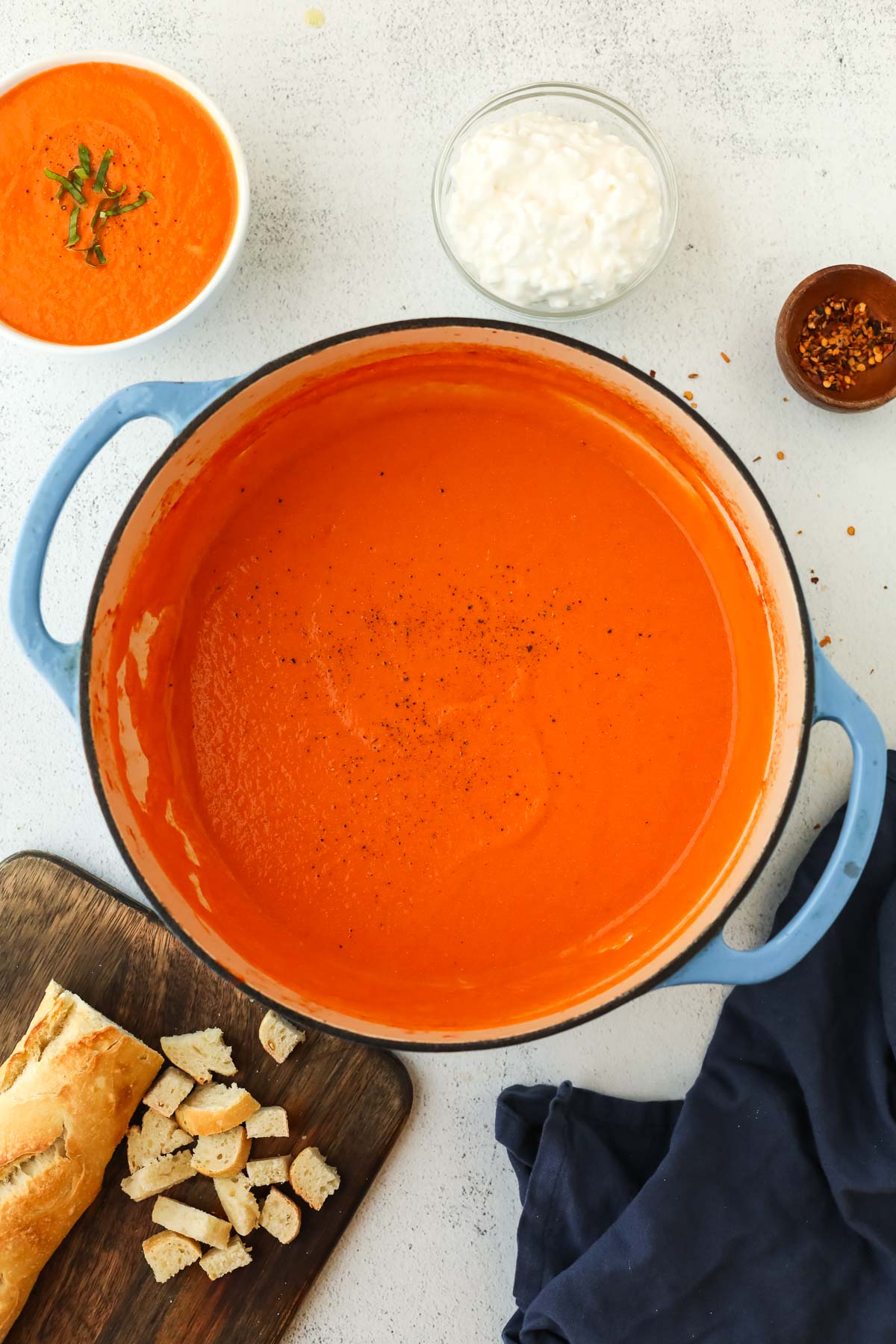 I love a classic bowl of tomato soup, but sometimes I want something a bit more filling. As a vegetarian, I'm always looking for ways to sneak a little more protein into my meals. Lately, I've been turning to cottage cheese to add protein to everything from macaroni and cheese to pasta sauce! I started thinking about how I use cream cheese for my creamy tomato soup, but why not make it a little healthier with cottage cheese? It turned out delicious and I love that each bowl of this soup has 10g of protein!
Ingredients and Substitutions
Olive oil: The olive oil is used for sautéing the vegetables and adding flavor to the soup.
Yellow onion: Diced onion adds a sweet and savory flavor base to the soup, enhancing its overall taste.
Carrots: Diced carrots provide natural sweetness and a rich orange color to the soup. They also add a subtle earthy flavor and contribute to the soup's thickness.
Celery: Diced celery contributes a mild, fresh, and slightly herbal flavor to the soup.
Garlic: Minced garlic adds a strong, aromatic flavor to the soup, enhancing its overall taste.
Tomato paste: Tomato paste intensifies the tomato flavor and thickens the soup. It also adds a depth of umami taste.
Vegetable broth: Vegetable broth is the liquid base of the soup, providing moisture and a savory, umami-rich flavor.
Whole tomatoes: Whole canned tomatoes are the main source of tomato flavor and provide the soup's texture. You can substitute with crushed or diced tomatoes.
Fire-roasted tomatoes: These add a smoky and slightly charred flavor to the soup, enhancing the overall depth and complexity of taste. Feel free to substitute with regular diced tomatoes.
Low-fat cottage cheese: Cottage cheese is an unusual ingredient in tomato soup. It creates a creamy base, offering richness and a hint of tanginess. It serves as a healthier alternative to heavy cream and adds a lot of protein to this soup.
What to Serve with Tomato Soup
I love pairing this soup with my air fryer grilled cheese, feta grilled cheese, or my grilled halloumi sandwiches. But I've also enjoyed this as a main dish paired with a crusty loaf of Wildgrain bread. You could also pair it with a chopped salad to add even more veggies to your meal.
Frequently Asked Questions
Can I freeze this soup? I actually don't recommend freezing soups with cottage cheese, as it can separate when frozen. But this will last 4-5 days in the fridge and can be reheated in the microwave or on the stovetop.
Can I make this recipe vegan? You can substitute cashew cream in place of the cottage cheese, but it won't be as high in protein. You could add nutritional yeast for a little protein boost.
What are the best tomatoes for tomato soup? I used canned tomatoes for convenience. I like the flavor of San Marzano whole tomatoes, but any high-quality canned tomatoes should be fine.
Can I add more protein? Yes! For an added protein boost, try adding 1/4 cup of nutritional yeast, which will give the soup a slightly cheesy flavor while adding protein and vitamins. If you're not vegetarian, you can swap the vegetable broth for bone broth, which also has added protein.
Other High Protein Soup Recipes
If you're looking for more high-protein soup recipes, try my high protein broccoli soup recipe! It uses a similar cottage cheese trick for a rich and creamy soup. I also love this Mediterranean lentil soup recipe, which is a great source of protein.
Print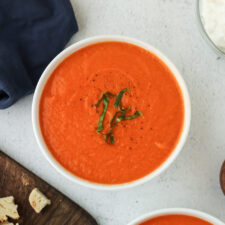 High Protein Tomato Soup
Author:
Prep Time: 10 minutes
Cook Time: 30 minutes
Total Time: 40 minutes
Yield: 8 cups 1x
Category: Soup
Method: Stovetop
Cuisine: American
Diet: Vegetarian
---
Description
This rich and creamy tomato soup is a great source of protein! It's easy to make, packed with vegetables, and great for a satisfying weeknight meal.
---
1 tablespoon olive oil
1 large yellow onion, diced
3 large carrots, diced (about 1 1/2 cups)
2 large celery stalks, diced (about 1 cup)
6 cloves garlic, minced
1 tablespoon tomato paste
1 cup vegetable broth
1 28oz can whole tomatoes
1 14 oz can fire-roasted tomatoes
1 cup cottage cheese (I used 4% milkfat)
1/2 teaspoon salt (or to taste)
---
Instructions
Heat the olive oil in a large pot over medium heat for 30 seconds.
Add the diced onion, carrots, and celery, and sauté for 10-12 minutes, or until the onion turns translucent and the vegetables soften a bit.
Stir in the minced garlic and tomato paste, continuing to cook for an additional 2 minutes.
Add the vegetable broth, whole tomatoes, and fire-roasted tomatoes. Allow the mixture to simmer for 20-25 minutes until the tomatoes begin to break down.
Allow the soup to cool slightly then carefully add it to a blender with the cottage cheese.
Blend until completely smooth. (Be careful when blending hot soup. Allow steam to release through the vent in the cap. Cover with a kitchen towel to avoid splattering.)
Transfer back to the pot and heat over low heat, until warm, if necessary.
Season with salt and pepper to taste.
---
Keywords: high protein tomato soup