Vegetarian Baked Pasta
This vegetarian baked pasta is so quick and easy! There's no need to boil the pasta so you can get this veggie-packed recipe in the oven in just a few minutes!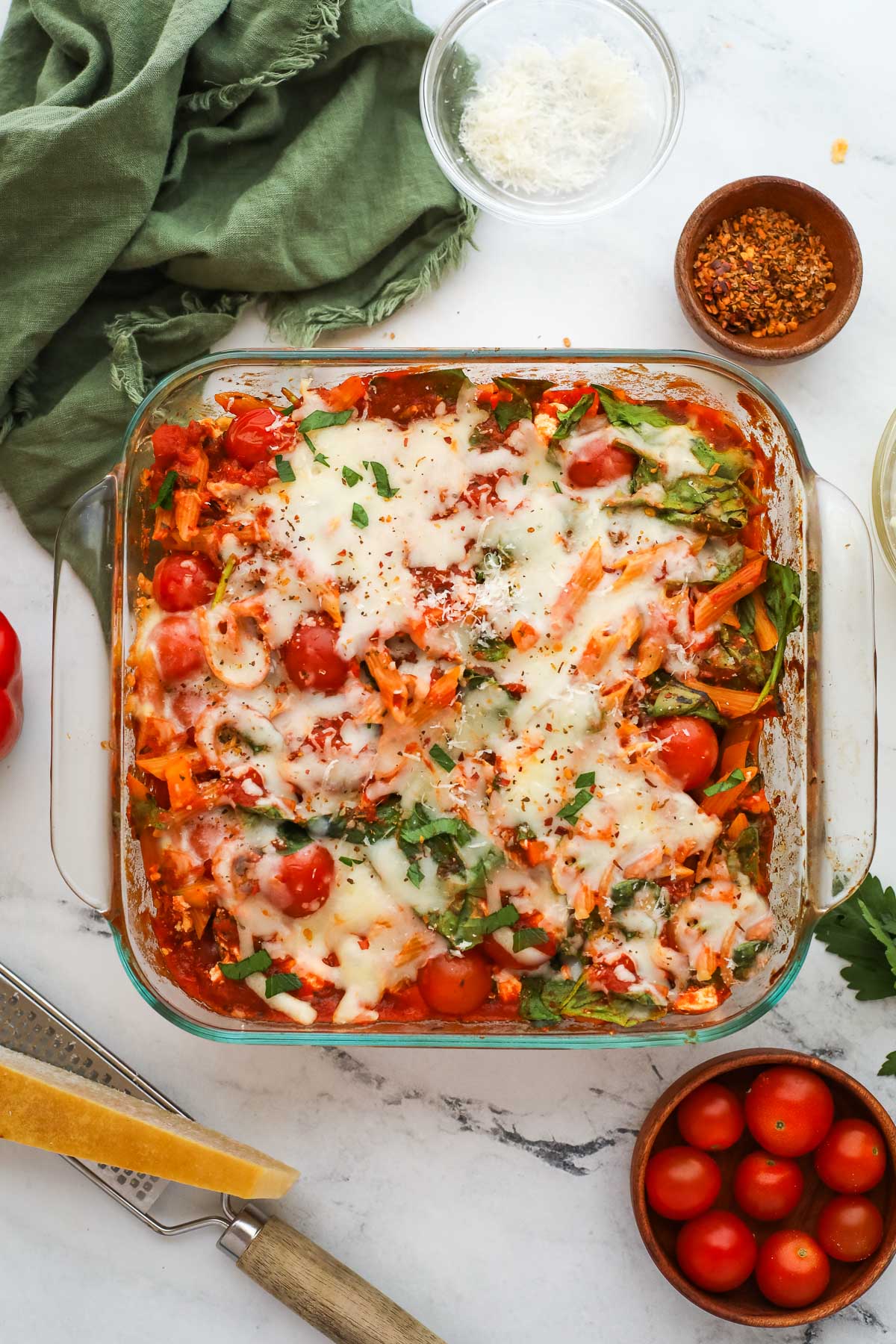 I love pasta and I'm always looking for ways to add more vegetables to my plate. I started thinking about how much I love this no-boil baked ziti and wondered if I could make something similar, with plenty of vegetables included. I started playing around with the recipe and I was surprised at how well it worked!
This recipe is great because you don't need to pre-cook the noodles. You just add everything to a pan, cover tightly with aluminum foil, and bake. This might be the ultimate busy weeknight meal.
Ingredients & Substitutions
Pasta– I used whole wheat penne pasta. I recommend using a short pasta such as penne, rotini, or ziti, to ensure it cooks evenly.
Pasta sauce– Be sure to use a high-quality pasta sauce for the best flavor. I like Rao's tomato basil sauce and Barilla's Vero Gusto tomato basil sauce.
Bell pepper– You can use any color you like. Be sure to remove the seeds and dice it into evenly sized pieces.
Shallot– This adds a mild, savory flavor. It's a little less sharp than the flavor of an onion, but you can substitute with 1/4 small yellow onion if desired.
Spinach– A few handfuls of spinach are a great way to add extra greens into this dish.
Tomatoes– Cherry tomatoes help add moisture and flavor to the dish. I recommend cutting them in half to help release the juices while cooking. You can substitute with 2-3 roma tomatoes, chopped.
Seasoning– I used a combination of Italian seasoning and garlic powder. If you don't have Italian seasoning, you can use 1/4 teaspoon each of dried basil, oregano, rosemary, marjoram, and thyme.
Feta– A little feta adds a creamy, salty flavor to the dish. If you don't have feta, feel free to substitute with ricotta or a little extra mozzarella.
Mozzarella– I recommend shredded mozzarella (or mozzarella shredded from a block) rather than fresh mozzarella, which has a little too much moisture.
Other Vegetables to Use
If you want to swap in other vegetables, try using shredded zucchini, finely chopped broccoli or cauliflower. You can swap the spinach for other greens like kale or swiss chard, just be sure to chop it and remove the stems.
How to Make Veggie Baked Pasta
How to Store and Reheat Leftover Pasta
To store and reheat leftover baked pasta, first let it cool for about 30 minutes, then refrigerate it in an airtight container. When reheating, you can use the oven (350°F for 20-30 minutes), microwave (in one-minute intervals, stirring), or stovetop (10-15 minutes on medium-low heat with occasional stirring) until heated through. I don't recommend freezing this recipe.
What to Serve with Pasta
If you're looking for some side dish ideas, try my panko crusted asparagus, green bean fries, or chopped salad! If you love bread like I do, a crust loaf of Wildgrain sourdough is also great with this dinner. For more ideas, check out my list of sides to serve with pasta!
Print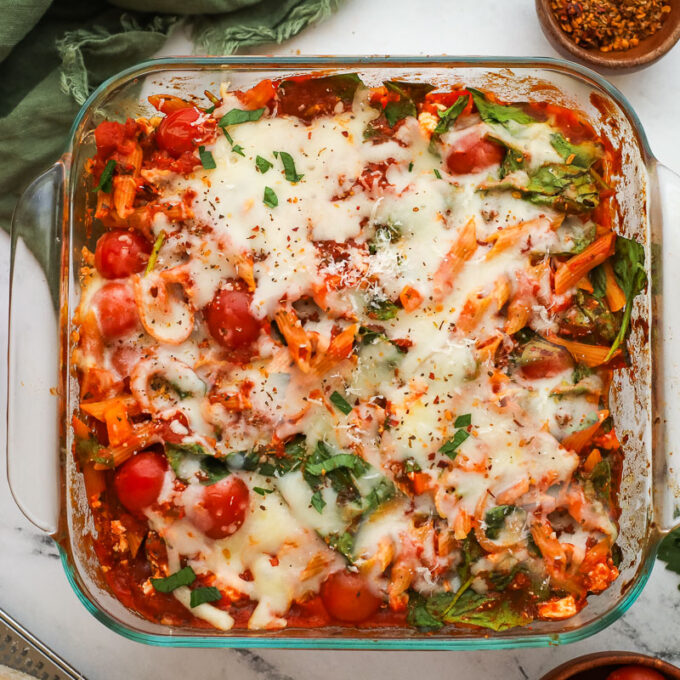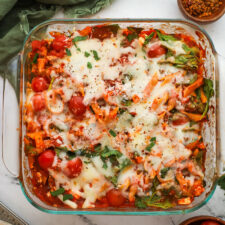 Vegetarian Baked Pasta
Author:
Prep Time: 10 minutes
Cook Time: 40 minutes
Total Time: 50 minutes
Yield: 6 cups 1x
Category: Dinner
Method: Oven
Cuisine: American
Diet: Vegetarian
---
8 ounces whole wheat penne (half a pound)
24 oz pasta sauce
1 teaspoon Italian seasoning
1/2 teaspoon garlic powder
1/4 teaspoon salt
1 cup baby spinach
2 cups cherry tomatoes, halved
1 bell pepper, diced
1 shallot, diced
1 oz crumbled feta (about 1/4 cup)
2 oz shredded mozzarella
---
Instructions
Preheat your oven to 400 degrees.
In an 8×8 baking dish, add the pasta, pasta sauce, seasoning, vegetables, and feta and stir to combine.
Top with shredded mozzarella.
Cover your baking dish tightly with foil.
Bake for 40 minutes. Remove from the oven and check the pasta to ensure it's tender.
Top with Parmesan cheese and fresh basil, if desired.
---
Keywords: pasta bake, veggie pasta bake, vegetarian baked pasta