High Protein Broccoli Cheddar Soup
This rich and creamy broccoli cheddar soup is secretly healthy, with 20 grams of protein per serving! It's the perfect comfort food recipe, filled with good-for-you ingredients.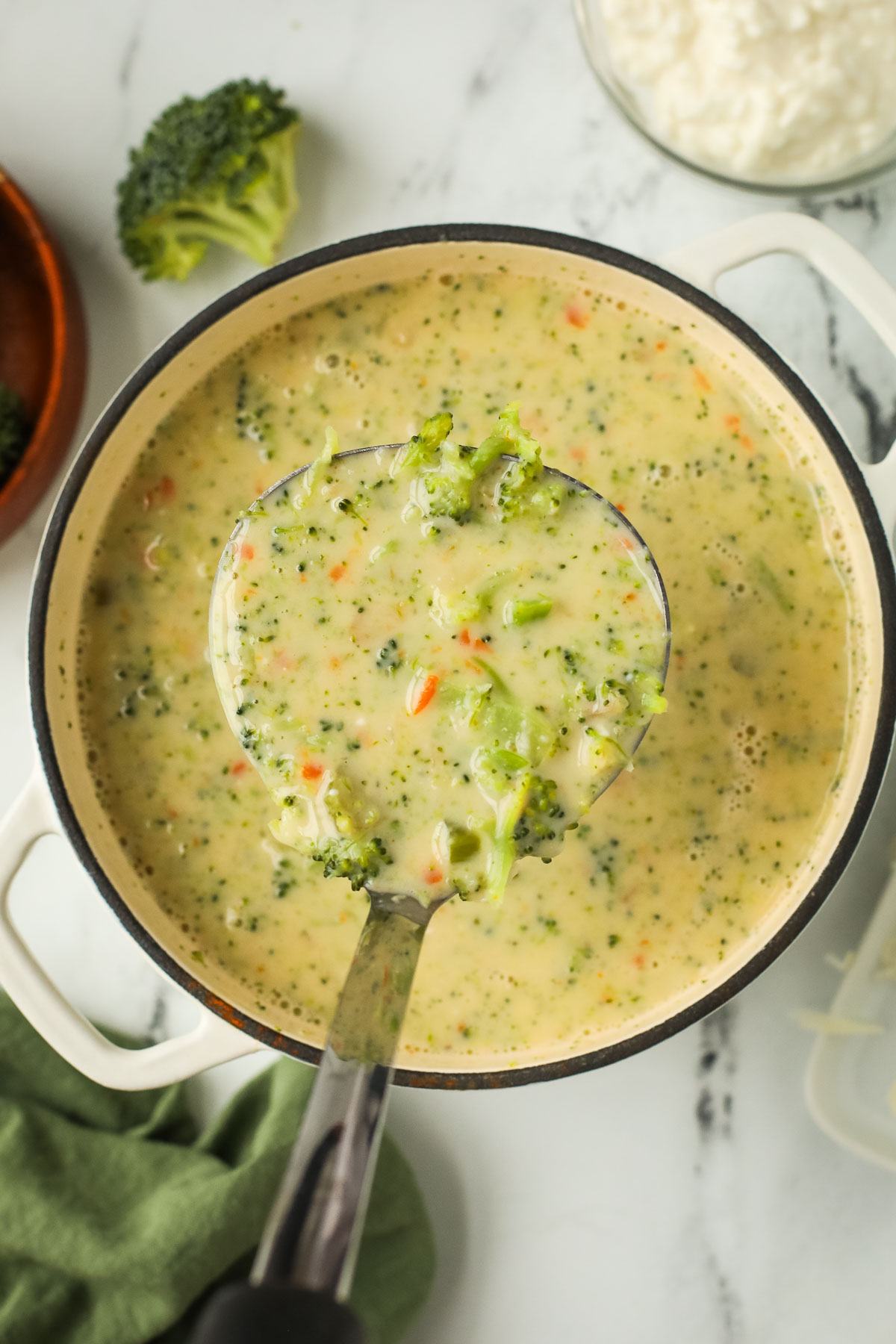 I love broccoli cheddar soup and while my regular recipe is a family favorite, I wanted to make a protein-packed version. Sometimes I want something cozy and filling but I also want to add a little more protein to my diet. This soup recipe is the perfect answer!
The trick to this soup shouldn't surprise you. I turned to cottage cheese to add a rich, creamy texture to this soup without adding saturated fat. I added enough cheddar cheese to give it a cheesy flavor, but the cottage cheese helps add richness while giving it a protein boost.
If you're looking for more healthy recipes using cottage cheese, try my cottage cheese pasta sauce, cottage cheese macaroni and cheese, and cottage cheese overnight oats!
Ingredients & Substitutions
Butter– A little butter is used to sauté the vegetables. Feel free to substitute olive oil, if you prefer.
Onion– A yellow or white onion is fine.
Garlic– I prefer fresh garlic but you can use garlic powder instead.
Flour– You can use gluten-free flour if needed.
Smoked paprika– This adds a slightly smoky flavor that I love. Feel free to use regular paprika, if that's what you have.
Broth– I like Edward & Son's "not chicken" style broth which is vegetarian, but has a chicken broth flavor.
Broccoli– I prefer to use fresh, but you can use frozen if that's what you have on hand.
Milk– I used 1% milk to keep this lower in fat, but whole milk or 2% is fine too.
Cottage cheese– This is an easy way to add protein and creaminess to the soup. I used low-fat cottage cheese.
Cheddar cheese– I recommend shredding a block of cheddar vs. using pre-shredded because it'll give you a smoother consistency. I like Cabot's extra sharp cheddar cheese.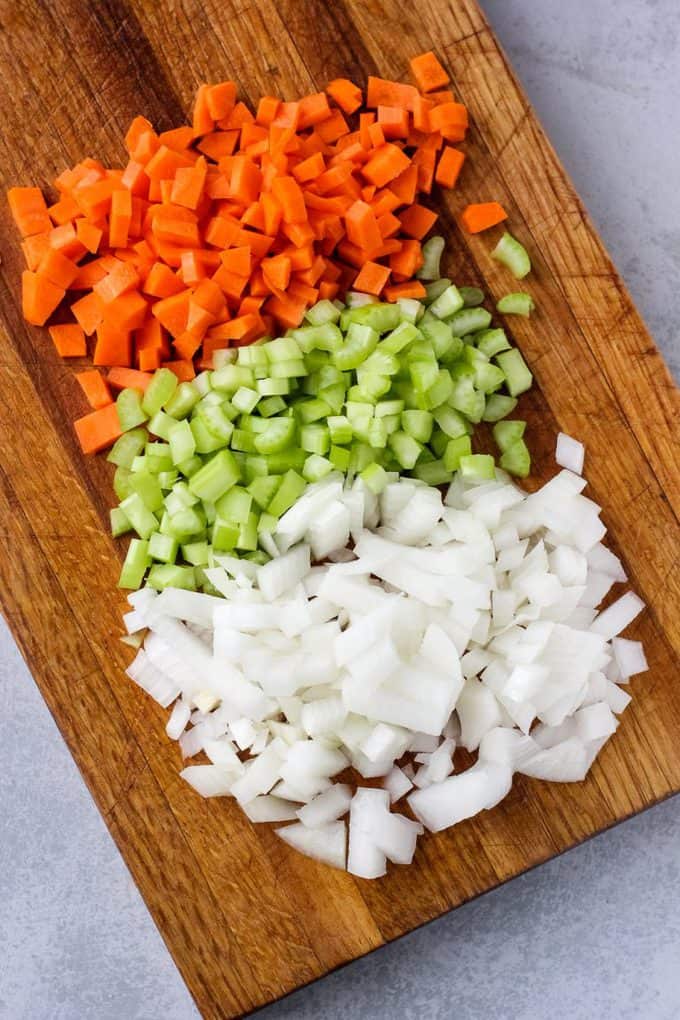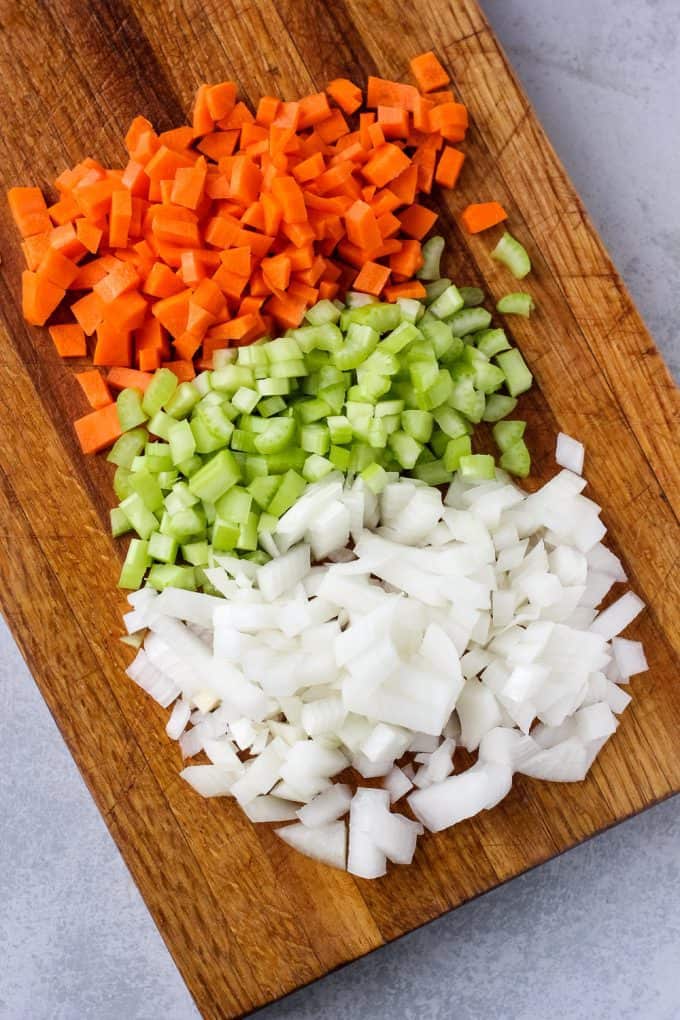 Frequently Asked Questions
Is broccoli cheddar soup healthy? Normally, this creamy classic is loaded with saturated fat and not a lot of vegetables. But in this case, we're adding in lots of vegetables and bumping up the protein with cottage cheese.
What's the best cheese for broccoli cheddar soup? Just a little cheese goes a long way when you're using extra-sharp cheddar cheese, so it's a great way to add lots of flavor with minimal cheese. I like the Cabot brand. I recommend buying a block of cheese and shredding it yourself. Pre-shredded cheese doesn't melt as well.
Can I make this recipe vegan? Unfortunately, vegan substitutions don't work very well in this recipe. But if you're looking for a tasty vegan soup recipe that tastes creamy, try my creamy quinoa soup!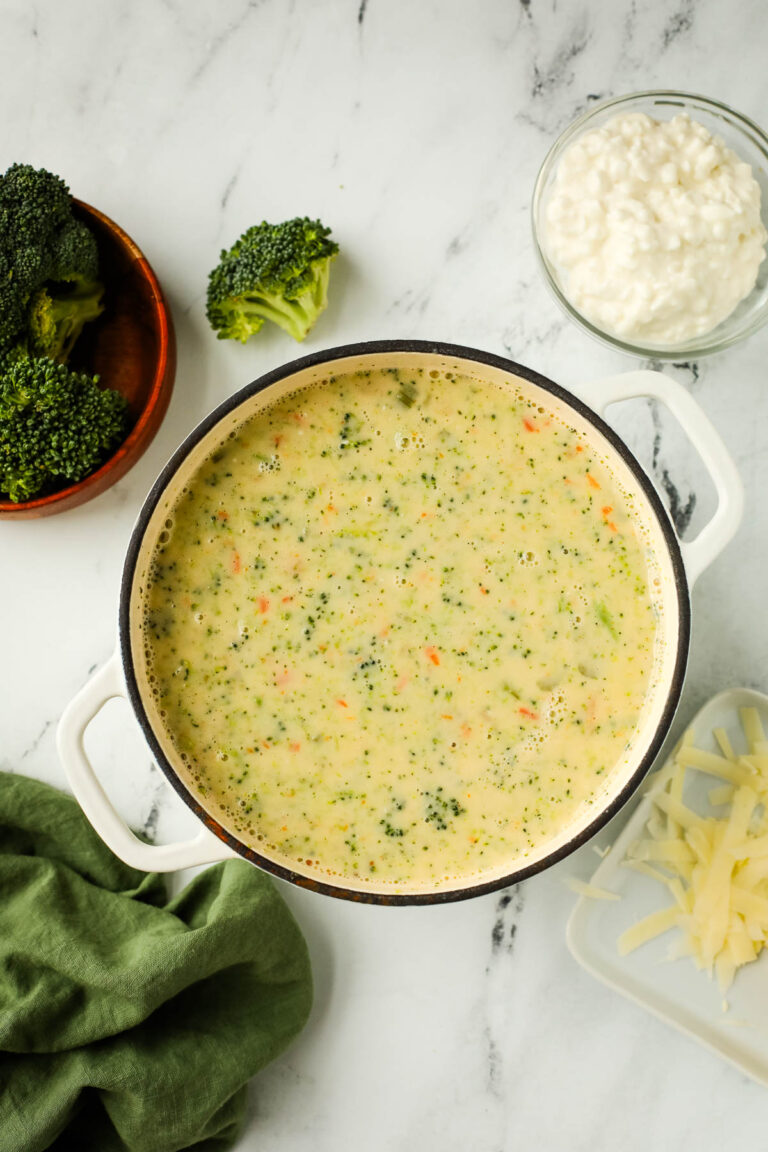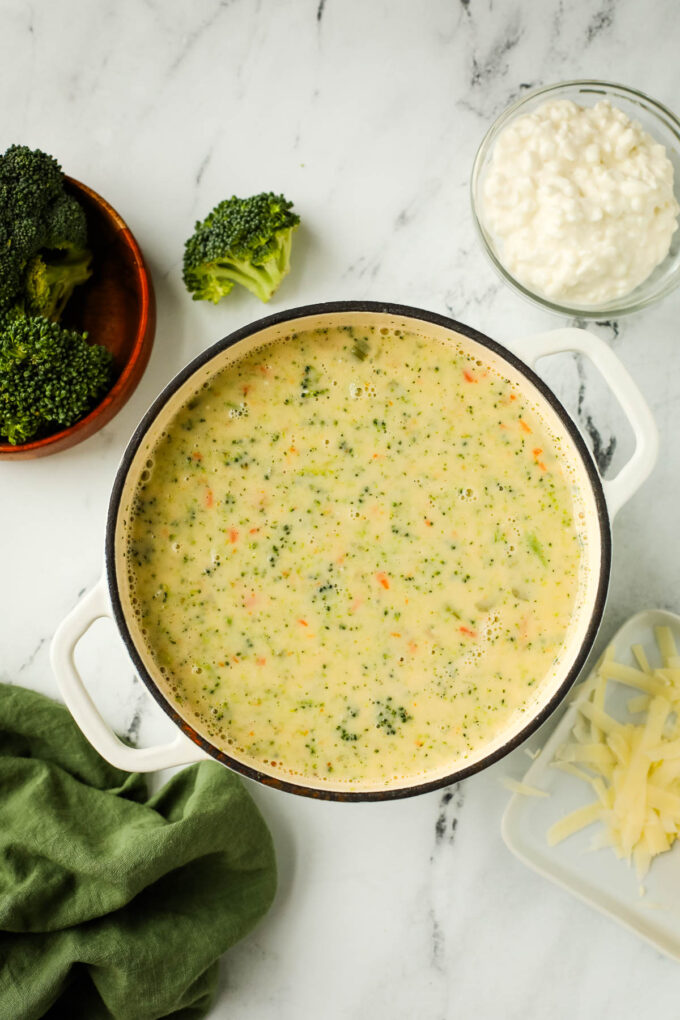 Healthy Sides to Serve with Broccoli Cheddar Soup
For a healthy meal, pair this soup with a salad like this apple walnut kale salad or this vegan chopped salad. It's a great way to add even more veggies to your meal. I also wrote a whole post on what to serve with broccoli cheddar soup, so check out that post for more ideas.
How to Store Leftovers
This soup will keep well in the fridge for up to 3 days. Reheat in the microwave, stirring frequently. Do not try to freeze this soup. Dairy-based soups tend to separate when frozen and the texture won't be the same.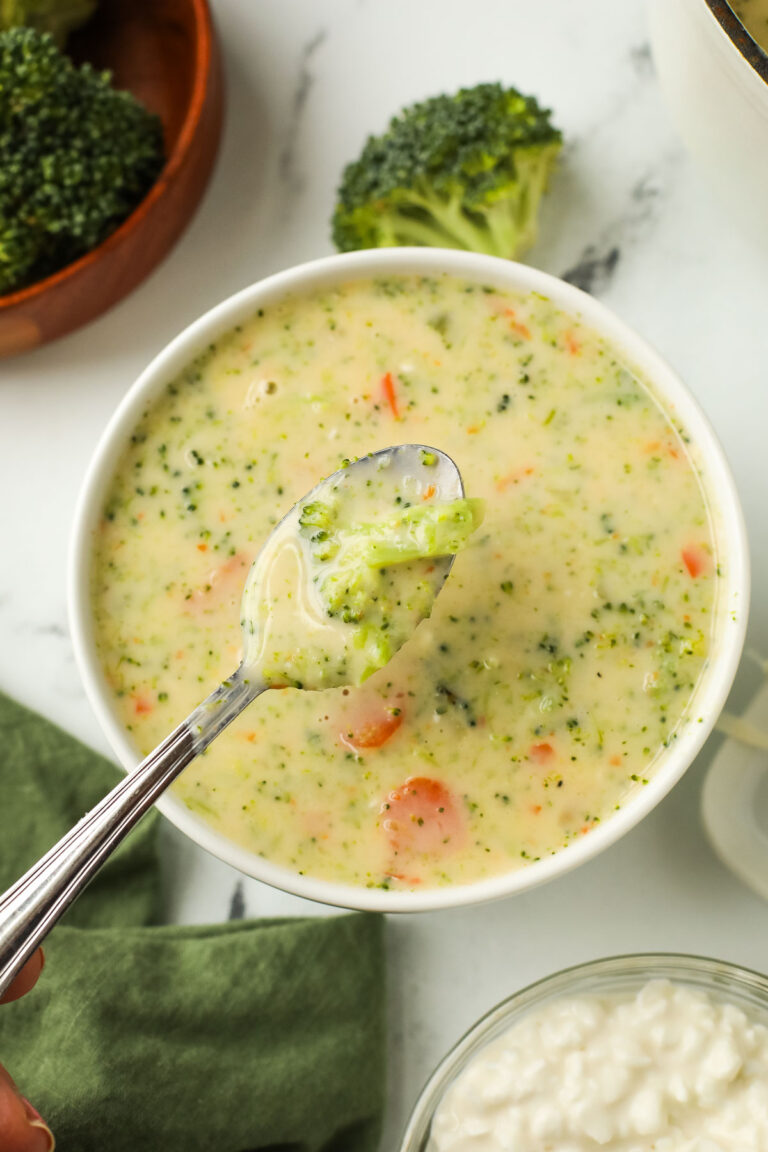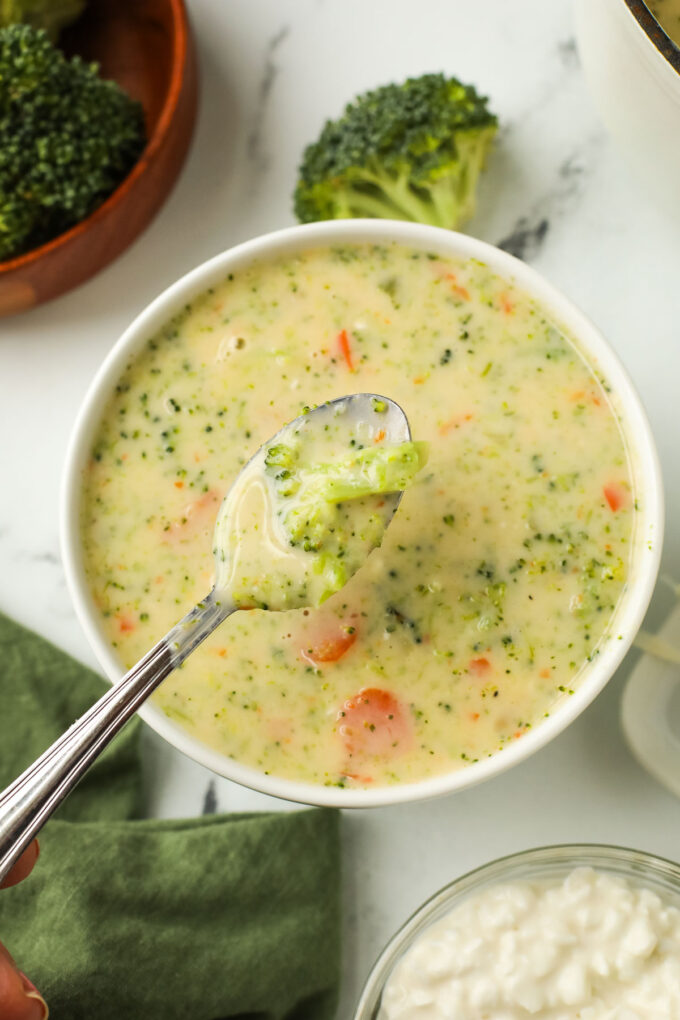 What to Do with Leftover Broccoli
If you have leftover broccoli, try my roasted broccoli salad for a healthy, delicious side dish. Or make broccoli the star of the show with these broccoli sandwiches! I also love this broccoli and orzo skillet for a simple one-pan recipe. Give them a try!
Print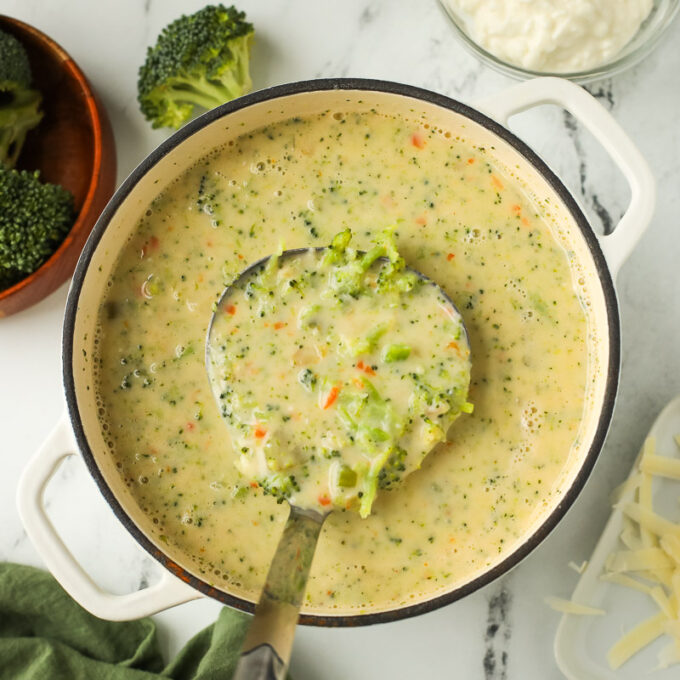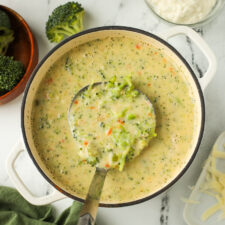 High Protein Broccoli Cheddar Soup
Author:
Prep Time: 10 minutes
Cook Time: 25 minutes
Total Time: 35 minutes
Yield: 8 cups 1x
Category: Soup
Method: Stovetop
Cuisine: American
Diet: Vegetarian
---
Description
This rich and creamy broccoli cheddar soup is secretly healthy, with 20 grams of protein per serving! It's the perfect comfort food recipe!
---
1 tablespoons butter
1 large yellow onion, diced
2 large carrots, peeled and diced
1 stalk celery, diced
2 cloves garlic, minced
1/4 cup all-purpose flour (or gluten-free flour)
1/2 teaspoon smoked paprika
4 cups vegetable broth (I like the not-chicken style)
4 cups chopped broccoli
2 cups 1% milk
4 oz cheddar cheese, shredded (about 1 cup)
1 cup low fat cottage cheese, blended
Salt & pepper to taste
---
Instructions
Melt the butter in a large pot over medium heat.
Add the onion, carrot and celery and cook for 10 minutes, stirring frequently.
Add the garlic and continue to cook over medium heat for one minute.
Add the smoked paprika and flour and cook for one minute, stirring until the vegetables are coated with flour.
Add the broth and broccoli and bring to a simmer.
Simmer the broccoli for 8-9 minutes until softened.
Add the milk and cook over low heat until the soup is warm.
Add the blended cottage cheese and shredded cheese and stir until melted. Be careful not to turn the heat up too high or the milk will curdle.
Transfer one cup of soup to a blender and blend, allowing steam to escape through the vent. Transfer the blended soup back to the pot. Alternatively, you can use an immersion blender to gently blend the soup.
Add salt to taste, if needed.
---
Keywords: high protein broccoli cheddar soup, healthy broccoli cheddar soup, healthy cheesy broccoli soup