Guacamole Stuffed Peppers
These guacamole stuffed peppers are a great appetizer or side dish for your next taco night! They're easy to make and a healthy addition to your plate!
I love guacamole, so I'm always looking for new ways to incorporate it into my meals! After making these hummus stuffed peppers, I realized that guacamole stuffed pepper would be a great twist. This recipe also makes a great vegan, low-carb, and keto-friendly snack so anyone can enjoy it. For this recipe, you'll need mini sweet peppers and guacamole.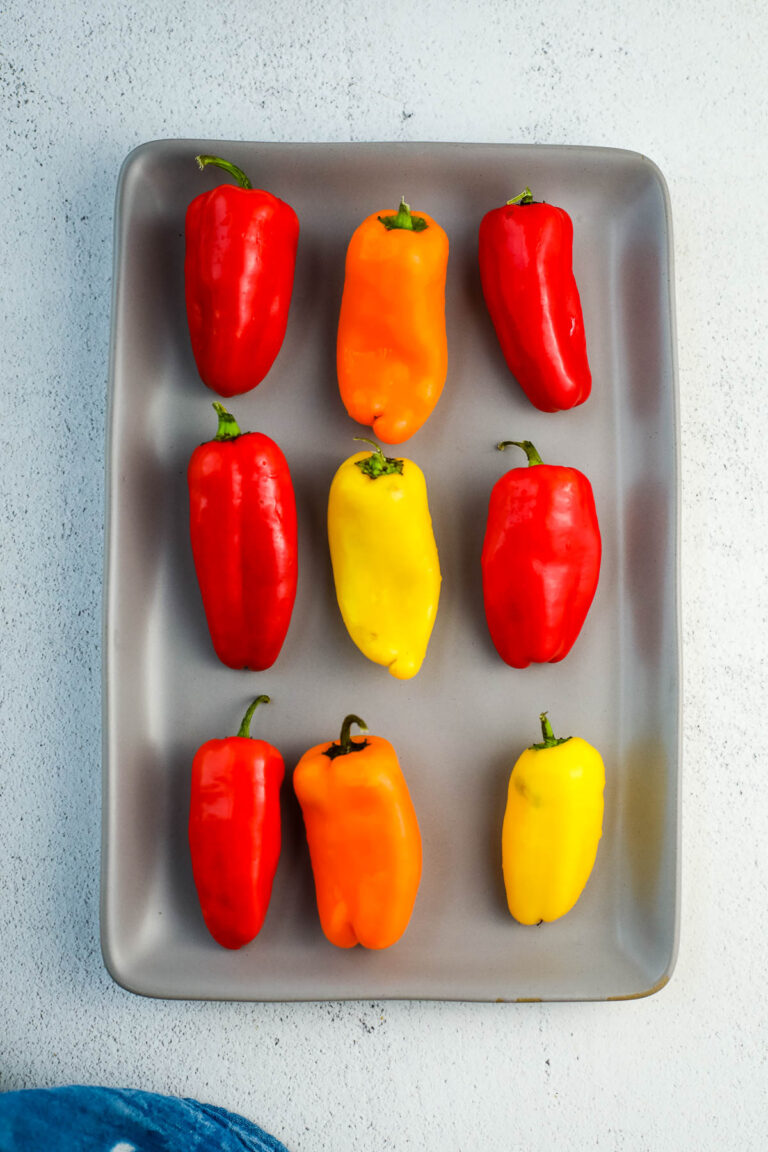 What are Mini Sweet Peppers?
Mini sweet peppers are a variety of bell pepper that are smaller in size. They come in a variety of colors, including red, yellow, and orange, and have a sweet, mild flavor. They can be eaten raw or cooked, and they're delicious in salads, sandwiches, and as a topping for pizza or tacos. They have thin skin and are sweeter than regular bell peppers. They can be stuffed, grilled, or sautéed. They are a good source of vitamin C and other nutrients.
Tips for the Best Guacamole
I recommend making my simple 4 ingredient guacamole which is easy to make, but has lots of flavor! If you want to make your own, here are my tips for the best guacamole:
Start with ripe avocados: The key to great guacamole is using ripe avocados. They should be slightly soft to the touch and have a dark, even color. If they are too hard, they will be difficult to mash and the guacamole will be lumpy and flavorless. If they are overripe, they will be brown and mushy.
Use fresh ingredients: To get the best flavor, it is essential to use fresh ingredients. This includes using fresh lime juice and fresh cilantro.
Mash the avocados with a fork: This will give the guacamole a nice texture, instead of using a food processor, which will make the guacamole too smooth.
Add salt to taste: Salt brings out the flavors of the other ingredients and helps balance the acidity of the lime or lemon juice.
Add seasoning: If you're short on ingredients, this guacamole seasoning can be a great shortcut to flavor.
Cover and refrigerate: If you're not eating the guacamole right away, press plastic wrap against the surface of the guacamole and refrigerate. This will help prevent browning.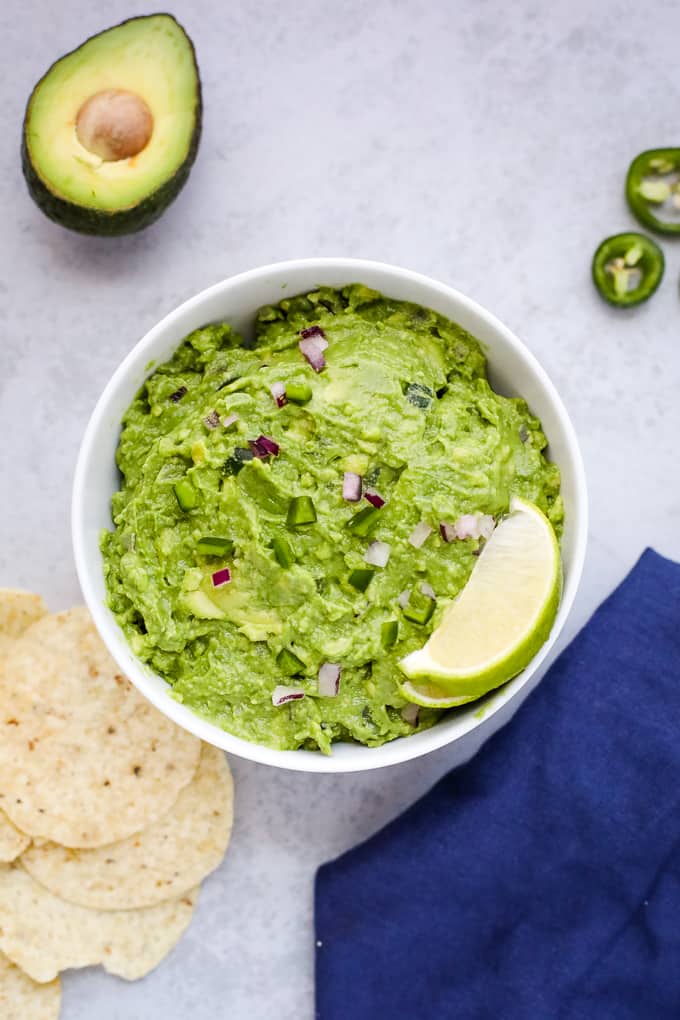 Tips & Tricks
I prefer to buy avocados before they're ripe, then I let them ripen in the fridge. It typically takes 5-7 days before they're ready, but this helps them ripen evenly. It takes a bit of planning but it's worth it!
Storebought guacamole can be hit or miss. I recommend buying guacamole somewhere that makes it fresh like Whole Foods. I also really like Wegman's guacamole.
Frequently Asked Questions
Can I make this lower in fat? Avocados are naturally high in healthy fat, but if you want a lower fat option, try my hummus stuffed peppers! Or you could stuff the peppers with a combination of guacamole and pico de gallo.
Can I make this recipe with regular bell peppers? Bell peppers are much larger, but you can slice the bell peppers into wide strips and serve with guacamole for dipping!
Can I make these ahead of time? I recommend serving these peppers immediately, as the guacamole will start to turn brown. If you do want to make them an hour or two in advance, cover them tightly with plastic wrap.
More Stuffed Pepper Recipes
Print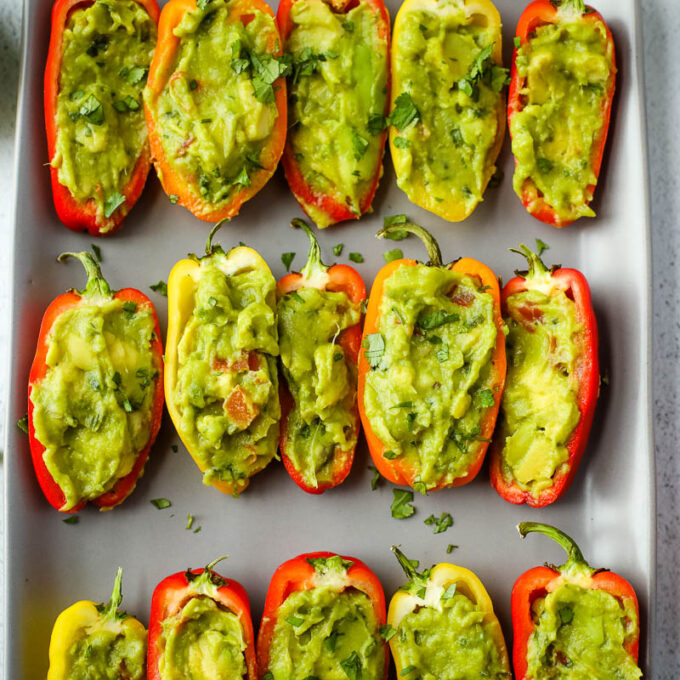 Guacamole Stuffed Peppers
Author:
Prep Time: 10 minutes
Cook Time: 0 minutes
Total Time: 10 minutes
Yield: 16 stuffed pepper halves 1x
Category: Snack
Method: No Cook
Cuisine: American
Diet: Vegan
---
Description
These guacamole stuffed peppers are a great appetizer or side dish for your next taco night! They're easy to make and they're a healthy addition to your plate!
---
8 sweet mini peppers
3/4 cup homemade or storebought guacamole
Fresh cilantro for garnish (optional)
---
Instructions
Slice each mini pepper in half and use a small spoon to scoop out any seeds.
Use a spoon to add a dollop of guacamole inside each pepper. (I added about 2-3 teaspoons of guacamole per pepper, depending on the size.)
Sprinkle with cilantro, if desired.
Enjoy immediately or cover tightly with plastic wrap to prevent browning.
---
Keywords: guacamole stuffed peppers, mini peppers, stuffed mini peppers