Green Sauce Recipe
This deliciously creamy green sauce is perfect for pasta! It's simple to make, packed with flavor, and a great way to add veggies to your pasta sauce!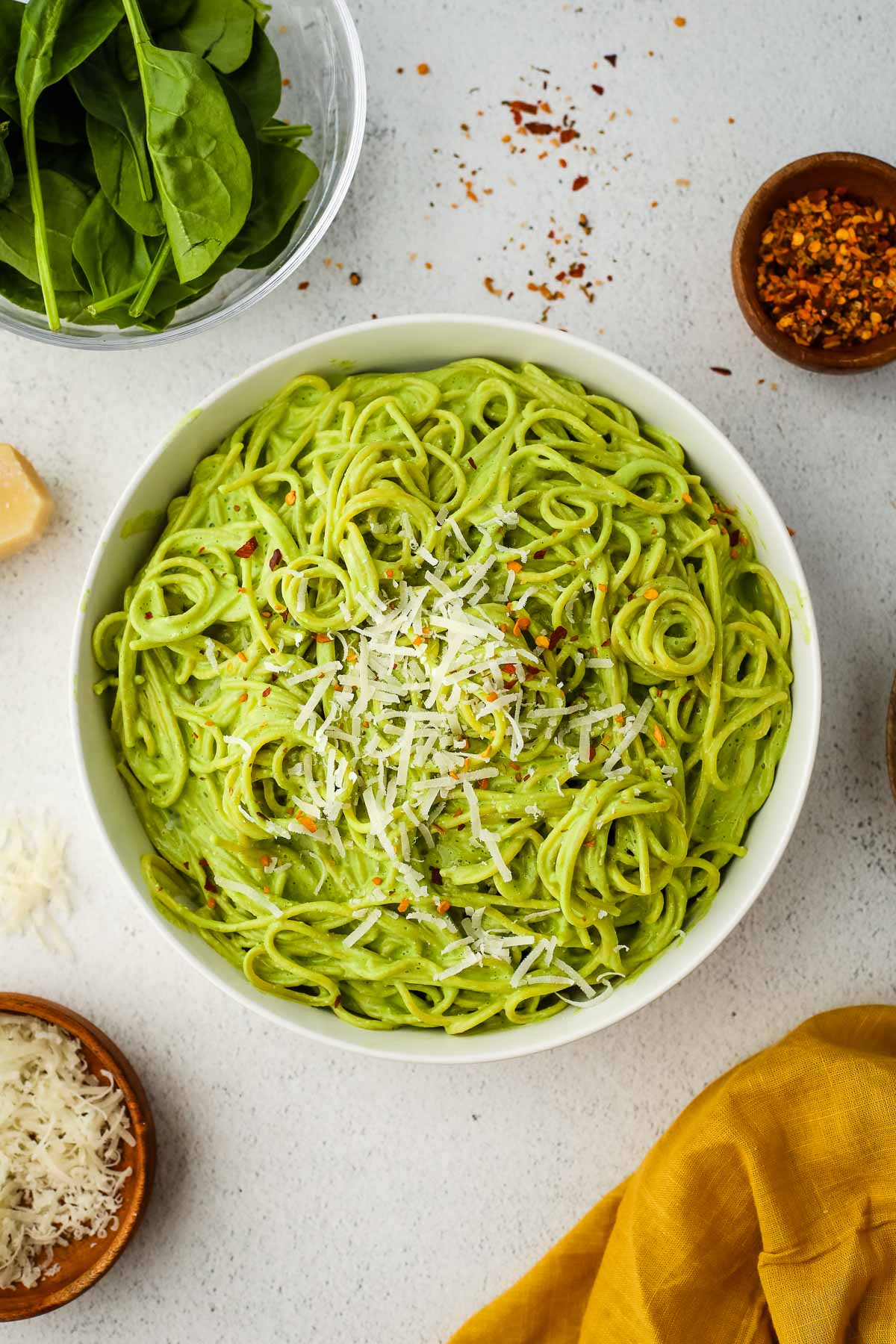 I love this green sauce because it's easy to make, has a lot of flavor, and is a great way to add some more greens to your pasta! I based it off of my cream cheese pasta recipe, but I added cottage cheese for protein and spinach for extra leafy greens! If you're looking for another high protein pasta sauce recipe, try my cottage cheese patsta sauce! For a more traditional recipe, try my meatless spaghetti sauce.
Ingredients & Substitutions
Cream cheese adds a rich and creamy texture to the pasta sauce. It contributes to the overall creaminess and smoothness of the sauce. You can use low-fat cream cheese, if desired.
Cottage cheese adds a salty, slightly tangy flavor to the pasta sauce. It also helps to thicken the sauce. If you don't have cottage cheese, you can use ricotta cheese as a substitute.
Spinach gives the sauce a vibrant green color, earthy flavor, and a nutritional boost to the pasta sauce. The flavor is very mild but if you prefer a different green, you can substitute spinach with kale or Swiss chard, just be sure to remove the stems.
Italian seasoning is a blend of herbs that typically includes basil, oregano, rosemary, and thyme. If you don't have Italian seasoning, you can use a combination of the individual herbs mentioned.
Parmesan cheese is a hard, aged cheese with a strong and savory flavor. It adds a salty and nutty taste to the pasta sauce. If you don't have parmesan cheese, you can substitute it with pecorino Romano or Grana Padano.
Pasta water helps create a silky consistency. The starchy pasta water also helps the sauce adhere to the pasta. There is no direct substitution for pasta water, but you can use vegetable or chicken broth if needed.
Variations and Substitutions
I used Barilla's Protein Plus pasta which has extra protein and fiber. It's one of my favorite types of pasta because the texture is very similar to regular pasta. I also like chickpea pasta, if you want even more protein and fiber, but since the pasta water won't be as starchy, the sauce might be a bit thinner.
You can add even more veggies to this dish by adding steamed broccoli, roasted tomatoes, peas and/or roasted cauliflower.
Is Green Sauce Healthy?
This sauce does contain cream cheese, which is pretty high in fat. But it also contains cottage cheese, which is an excellent source of protein. Plus, the spinach helps add vitamins and minerals. Using whole wheat spaghetti also adds protein and fiber. So this dish can be a great healthy option, just be mindful of portion sizes.
How to Store and Reheat Leftovers
To store leftover pasta, let it cool at room temperature for 30 minutes, then transfer it to an airtight container. You can keep it in the fridge up to 4 days. To reheat the pasta, microwave it in short intervals, adding a bit of water or oil to prevent it from drying out. I don't recommend freezing this recipe.
Is Parmesan Cheese Vegetarian?
Traditional Parmesan cheese is technically not vegetarian. It is typically made using animal rennet, which is an enzyme that is derived from the stomach lining of calves. So while many vegetarians still eat Parmesan cheese, some strict vegetarians will avoid it. Luckily, there are some brands of cheese, like BelGioioso, that make vegetarian-friendly versions of Parmesan cheese that use microbial or vegetable-based rennet instead.
What to Serve with Pasta
If you're looking for side dish idea, I have a list of the best sides to serve with pasta! But some of my favorites are Wildgrain sourdough bread, air fryer broccoli, and miso glazed carrots.
Print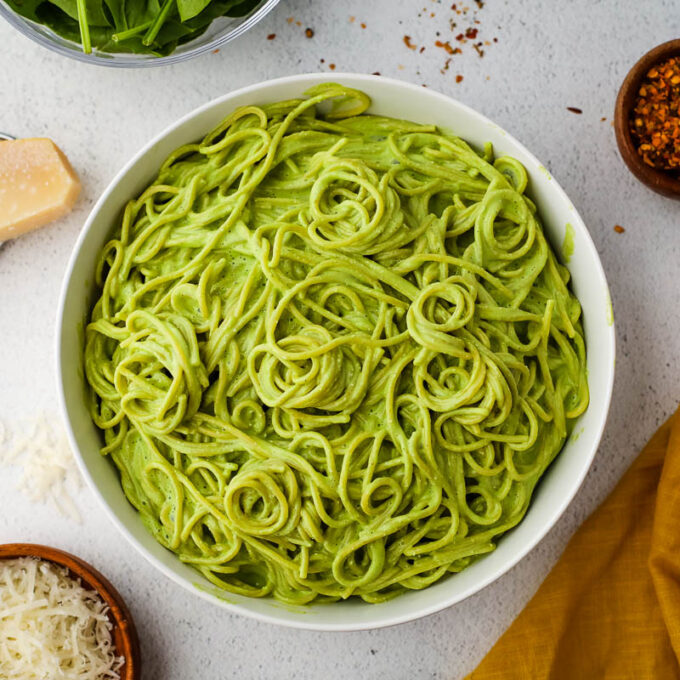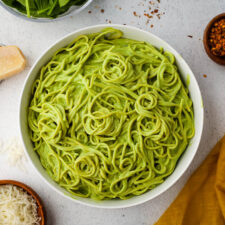 Green Sauce
Author:
Prep Time: 5 minutes
Cook Time: 15 minutes
Total Time: 20 minutes
Yield: 2 cups 1x
Category: Dinner
Method: Blended
Cuisine: American
Diet: Vegetarian
---
Description
This deliciously creamy green sauce is perfect for pasta! It's simple to make, packed with flavor, and a great way to add veggies to your pasta sauce!
---
1 lb pasta (I used whole wheat spaghetti)
4oz cream cheese
6oz cottage cheese
1 cup spinach
1 teaspoon Italian seasoning
1 oz (1/2 cup) parmesan cheese, plus more for garnish
1/2 cup pasta water
---
Instructions
Cook the pasta according to package directions. Reserve 1 cup of pasta water before draining the pasta.
In a blender, add 1/2 cup pasta water, cream cheese, cottage cheese, spinach, Italian seasoning, and Parmesan cheese.
Blend until the sauce is smooth. You can add an additional splash of pasta water to thin the sauce, if needed.
Toss the pasta with the sauce and add additional Parmesan cheese, if desired.
---