Cream Cheese Pasta
This garlicky cream cheese pasta is made with just a handful of ingredients but it's rich and delicious! This easy recipe is made in just 15 minutes for an easy, tasty dinner in no time!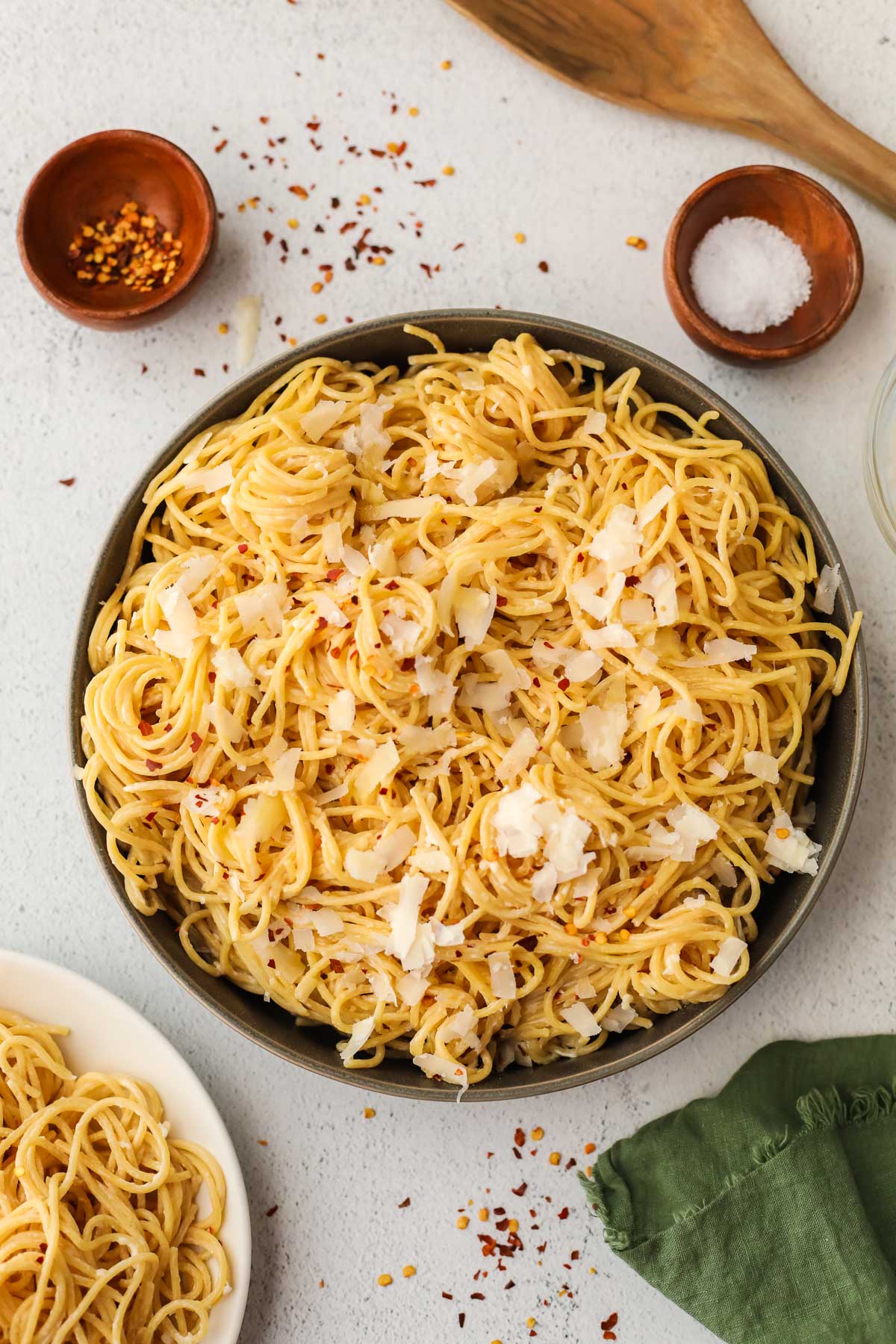 You know I love pasta, and this recipe is one of my new favorites because it's ready in just 15 minutes — and it only requires a few fridge and pantry staples. The first time I tested this recipe, my husband gave it rave reviews so I knew I was on to something! I wanted to make a creamy pasta dish, but I wanted something that was foolproof. I've seen a lot of recipes for cream cheese pasta floating around the internet but many of them call for a large amount of cream cheese and I wanted something a little lighter. With high-quality Parmesan and plenty of garlic, I was able to get lots of flavor into this dish without needing much cream cheese. I think you'll love this recipe!
To add more protein and fiber to the dish, I used Barilla's high-protein pasta. It's made with some legumes and lentils, but it still has enough gluten in there to create starchy pasta water. This was my number one choice of pasta to use for the recipe! I've tested it with penne and spaghetti and either one works.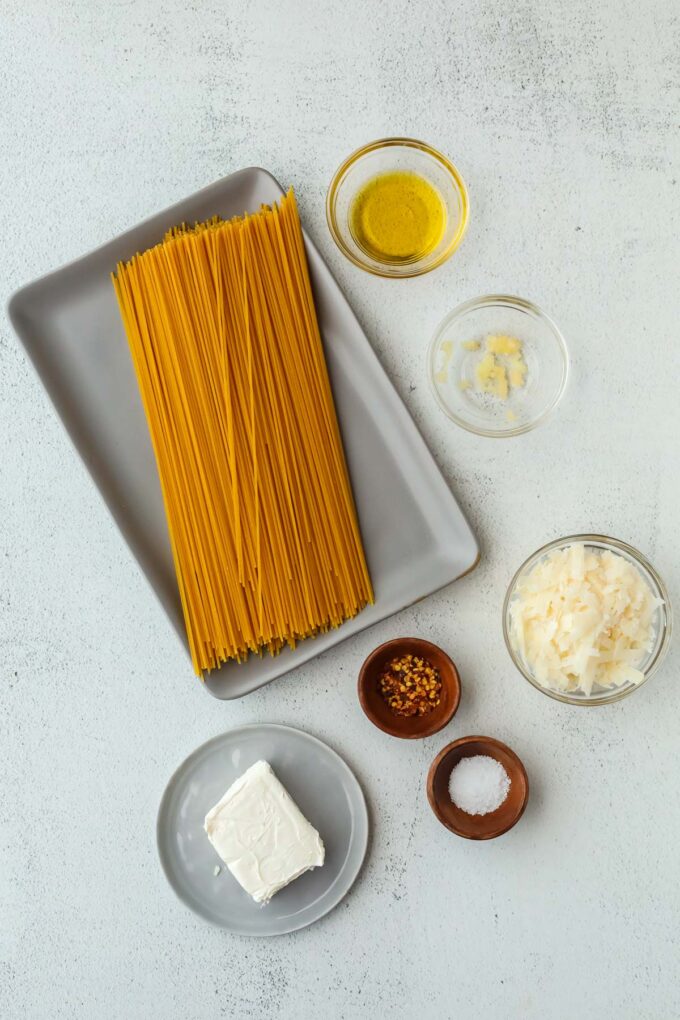 Ingredients
Pasta– It's important to use a wheat based pasta as the starch from the pasta water helps create a creamy sauce. I've tested this with chickpea pasta but I wouldn't recommend it.
Cream cheese– This creates a rich and creamy sauce. You can use low-fat or Greek yogurt cream cheese.
Olive oil– A little high-quality olive oil helps create a rich sauce.
Garlic– This adds additional flavor to the simple sauce. I recommend fresh garlic, but pre-minced garlic can be used.
Parmesan– I highly recommend shredding your own Parmesan cheese as pre-shredded cheese contains anti-caking agents that prevent it from melting. If you can't find real Parmesan, you can substitute it with Pecorino Romano.
Red pepper flakes– I love the spicy kick of red pepper flakes, but if you're making this for little ones or anyone sensitive to spice you can skip them.
How to Make Cream Cheese Pasta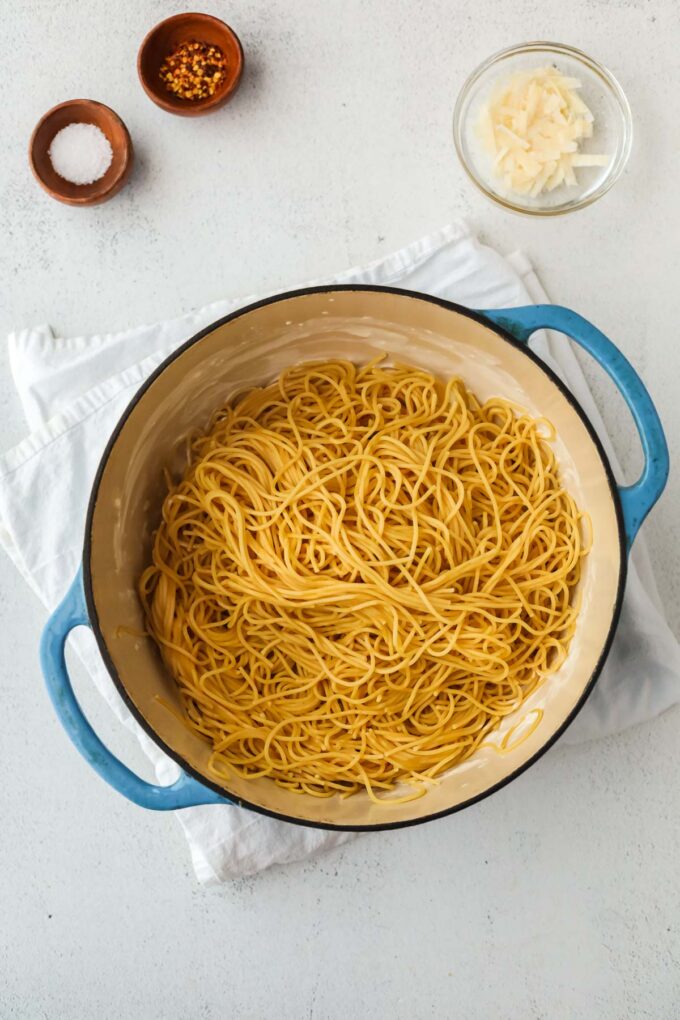 The Best Pasta for Cream Cheese Pasta
This recipe requires a gluten-based pasta, as the starch from the pasta water is essential to the sauce. So chickpea or legume based pastas don't work very well for this recipe. Luckily, whole wheat pasta works just fine! I like using whole wheat pasta like Barilla's protein plus pasta. It has a great texture, lots of protein and fiber, but still has enough starch to create starchy pasta water.
How to Make a Cream Cheese Sauce
The trick to this sauce is using a combination of cream cheese and pasta water to create a rich, smooth sauce. We also whisk in sautéed garlic and a little olive oil, along with freshly grated Parmesan cheese. This sauce becomes rich and smooth with lots of flavor. Whisk it together over low heat until the cream cheese is completely melted. Then toss with the warm pasta.
Frequently Asked Questions?
Can I make everything in one pot? Sure! You can cook the pasta, then reserve the pasta water and drain the noodles. Then continue preparing the recipe in that same pot. Or you can cook things a bit faster by preparing the sauce in a separate pan while the pasta cooks.
Can I use low fat cream cheese? Yes! You can use low-fat or Neufchâtel cream cheese. I don't recommend fat-free cream cheese. I also like Greek yogurt cream cheese, which is slightly lower in fat and higher in protein.
How to Reheat Leftovers
To reheat leftovers, add a splash of water to the pasta then microwave at 50% power for one minute intervals, stirring after each interval, until heated through. The pasta tends to dry out a bit when reheating, so adding a splash of water can help with the consistency. For the creamiest leftovers, you could add a bit more cream cheese. If you plan to reheat leftovers frequently, reserve additional pasta water and add a splash of the pasta water to the pasta before heating.
Variations and Additions
You can easily add vegetables to this pasta, if desired. Try adding a few handfuls of baby spinach when tossing the pasta with the sauce. Cook over low heat for one minute to help wilt the baby spinach. Or toss in cooked broccoli or peas to the pasta. For a similar creamy pasta dish, try this sun-dried tomato pasta recipe!
Side Dish Ideas
Looking for the perfect side dish? Try this Spicy Kale Salad, which is a great way to round out your meal! Or enjoy this pasta with a bowl of Instant Pot Minestrone Soup. Still not sure what else to add to the dinner table? Check out my post about the perfect side dishes to serve with pasta! There are tons of ideas on the list!
More Easy Pasta Recipes
Print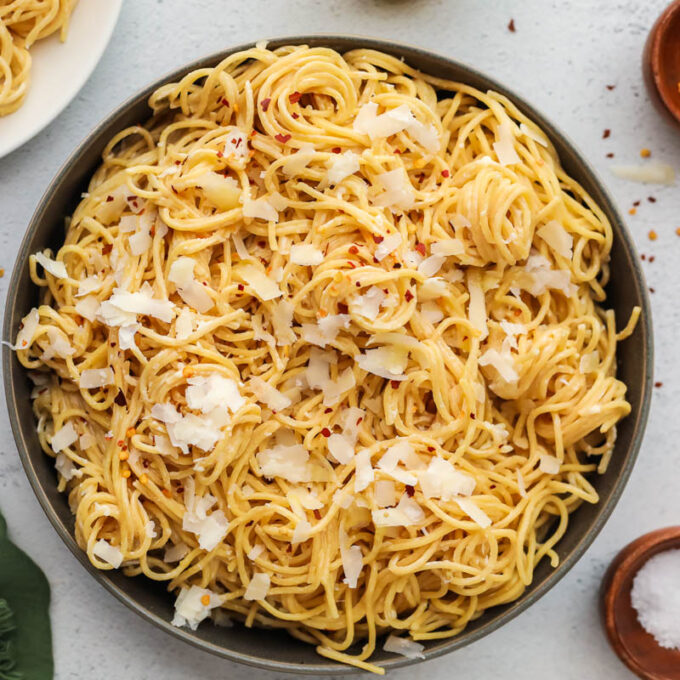 Cream Cheese Pasta
Author:
Prep Time: 5 minutes
Cook Time: 10 minutes
Total Time: 15 minutes
Yield: Serves 6
Category: Dinner
Method: Stovetop
Cuisine: American
Diet: Vegetarian
---
Description
This garlicky cream cheese pasta is made with just a handful of ingredients but it's rich and delicious! This easy recipe is made in just 15 minutes for an easy, tasty dinner in no time!
---
16oz spaghetti (whole wheat or regular pasta)
1 cup reserved pasta water
1 tablespoon olive oil
4 cloves garlic, minced
4oz cream cheese
2oz grated parmesan
1/4 teaspoon crushed red pepper flakes
---
Instructions
Cook the pasta according to package directions. Reserve one cup of pasta water, then drain the pasta.
In the now empty pot, heat the olive oil over low heat and add the garlic. Sauté for 2 minutes, sitting frequently.
Add the cream cheese and 1/2 cup of pasta water and stir until the cream cheese is melted.
Add the Parmesan cheese and whisk until the cheese is melted.
Toss the pasta in the sauce until the pasta is evenly coated. Add additional pasta water if the pasta is too dry. Top with additional Parmesan cheese and red pepper flakes.
---
Keywords: cream cheese pasta