15 Minute Chickpea Tacos
This post is sponsored by Patient First.
These tasty chickpea tacos are full of flavor and so easy to make! This is a perfect meal for a busy weeknight!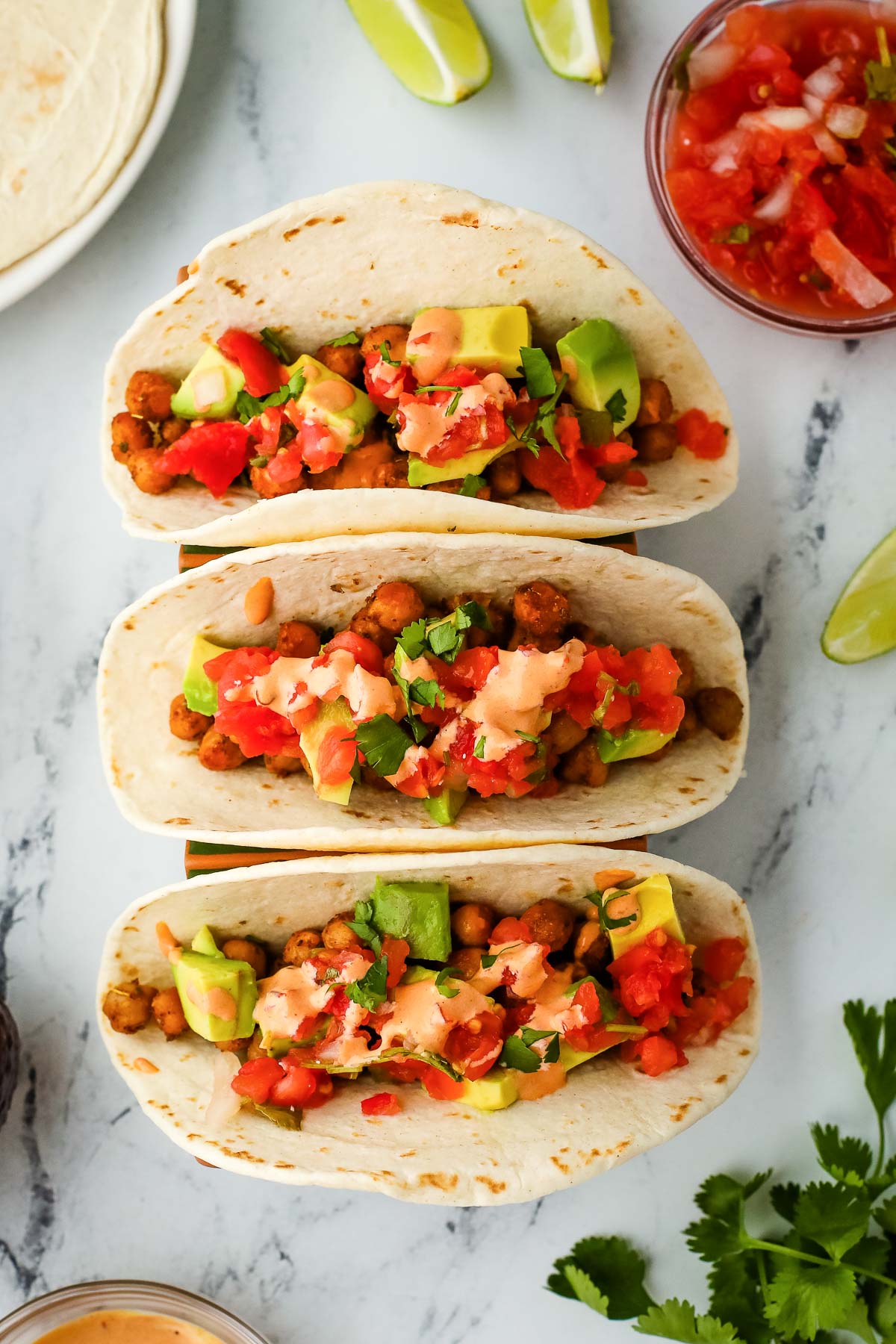 I'm so excited to share another easy 15 minute recipe with you! I've partnered with Patient First for this series of deliciously healthy recipes. Just like this vegetable curry recipe, these chickpea tacos are quick and easy to make but they're a satisfying meatless meal. These tacos can also be customized with your favorite toppings, so they're great for the whole family!
Patient First has been my go-to urgent care ever since my first DIY mishap when I first moved to Richmond! Now, as the mom of a very active toddler, I love that they're open every day, including weekends and holidays! Be sure to check out a few of my other recipes in collaboration with Patient First including my immunity-boosting soup, apple cinnamon bread, and Mediterranean lentil soup!
Why I Love This Recipe
These chickpeas tacos are perfect for Meatless Monday or Taco Tuesday! Chickpeas are an inexpensive and healthy taco filling. They're a good source of protein and fiber. The avocado is a healthy source of fat and fiber so it makes these tacos extra satisfying. If you're looking for other ways to add healthy ingredients to your meals, try these simple healthy swaps!
Ingredients & Substituions
Chickpeas– I used canned chickpeas. Be sure to drain and rinse them. I recommend patting them dry with a clean kitchen towel or paper towels. This helps them get extra crispy.
Olive oil– I used olive oil but avocado oil can be substituted.
Spices– I used a combination of cumin, chili powder, dried oregano, smoked paprika, and garlic powder. If you don't have all these spices, you can substitute them for 1 tablespoon of taco seasoning.
Avocado- I used avocado but you can also use guacamole for even more flavor. This is a great way to add healthy fat to your meal.
Pico de gallo– I love the flavor of fresh tomatoes but any tomato salsa works great!
Mayonnaise– You can use veganaise if you want to keep this recipe plant based.
Adobo sauce– If you can't find adobo sauce, you can buy canned chipotle chilies in adobo sauce and just use 1 tablespoon of sauce from the can. You can refrigerate or freeze any remaining peppers and sauce for another use.
Tortillas– I used flour tortillas but corn tortillas work great too if you want a gluten free option.
Cilantro– This is optional but I love the flavor of a little fresh cilantro sprinkled on top!
How to Make Chickpea Tacos
Variations
Feel free to get creative with these tacos! There are endless topping combinations but here are a few of my favorites to pair with crispy chickpeas:
Pickled onions
Queso fresco or cotija cheese
Hot sauce
Shredded cabbage
You can also enjoy these chickpeas in a lettuce wrap for a lower-carb option. It's a great way to add extra veggies to this meal!
Benefits of Plant Based Eating
Adding more plant-based recipes into your routine can be great for your health! Dr. Melissa Aquilo, of Patient First Mechanicsville, says "Who doesn't love a good taco? I love that this recipe uses all sorts of spices that offer up wonderful flavors. I often talk to my patients about using other spices instead of salt for flavor and this is a good example. The protein and fiber from the chickpeas and healthy fats from the avocado are filling. And the addition of tomatoes or other veggies provides more of the rainbow of nutrients the body needs."
Frequently Asked Questions
Can I double the recipe? Yes! But I recommend using a very large skillet to avoid crowding the pan when cooking the chickpeas.
Can I make these in advance? I don't recommend making this recipe in advance since the chickpeas won't stay crispy. But luckily, this recipe only takes 15 minutes to make!
Can I make this in an air fryer? Yes! Follow my directions for crispy air fryer chickpeas, using the seasonings in this recipe.
Can I use something other than adobo sauce? If you don't have adobo sauce, you can make a different sauce. Try this cilantro sauce or quesadilla sauce instead!
Print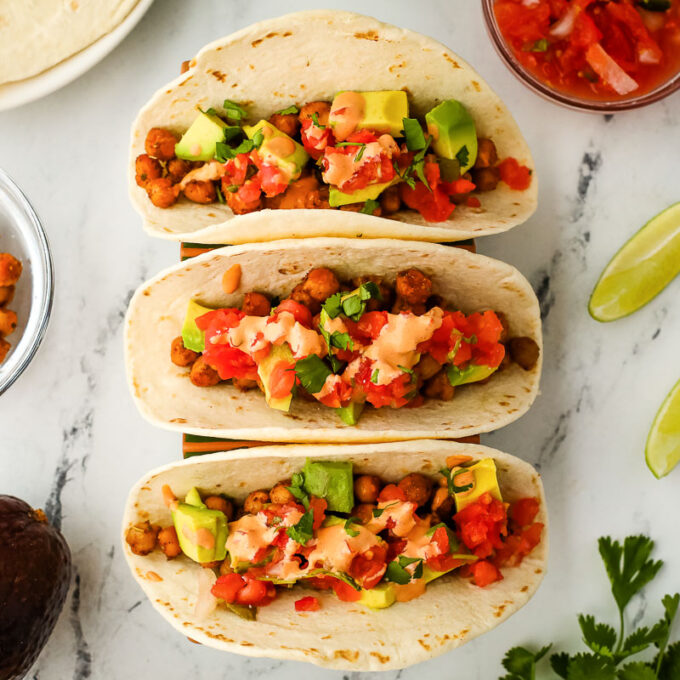 15 Minute Chickpea Tacos
Author:
Prep Time: 7 minutes
Cook Time: 8 minutes
Total Time: 15 minutes
Yield: Serves 2
Category: Dinner
Method: Stovetop
Cuisine: American
Diet: Vegetarian
---
Description
These tasty chickpea tacos are full of flavor and so easy to make! This is a perfect meal for a busy weeknight!
---
1 15 oz can chickpeas, drained, rinsed, and patted dry
2 tablespoons olive oil
1/2 teaspoon ground cumin
1/2 teaspoon chili powder
1/2 teaspoon dried oregano
1/2 teaspoon smoked paprika
1/2 teaspoon garlic powder
4 taco sized tortillas
1 avocado, sliced or chopped
1/4 cup pico de gallo
2 tablespoons mayonnaise or Greek yogurt
1 tablespoon adobo sauce (see note)
Fresh cilantro for garnish
---
Instructions
Drain the chickpeas and pat dry with a clean kitchen towel or paper towel.
Add the olive oil, cumin, chili powder, dried oregano, paprika, and chickpeas to a large skillet.
Cook over medium heat for 8 minutes, stirring occasionally.
While the chickpeas are cooking, warm the tortillas in the microwave.
Whisk together the mayonnaise and adobo sauce.
Divide the chickpeas between the tortillas, top with avocado, pico de gallo, and sauce mixture.
Notes
Note: If you can't find adobo sauce, you can buy chipotle peppers in adobo sauce, which are usually sold near the salsa and canned beans. Use the sauce from the can of peppers and save the peppers for another use!