Spinach Phyllo Cups
These bite-sized spinach phyllo cups are perfect for a tasty appetizer. They only take a few minutes to assemble and they're a great make-ahead snack for a party!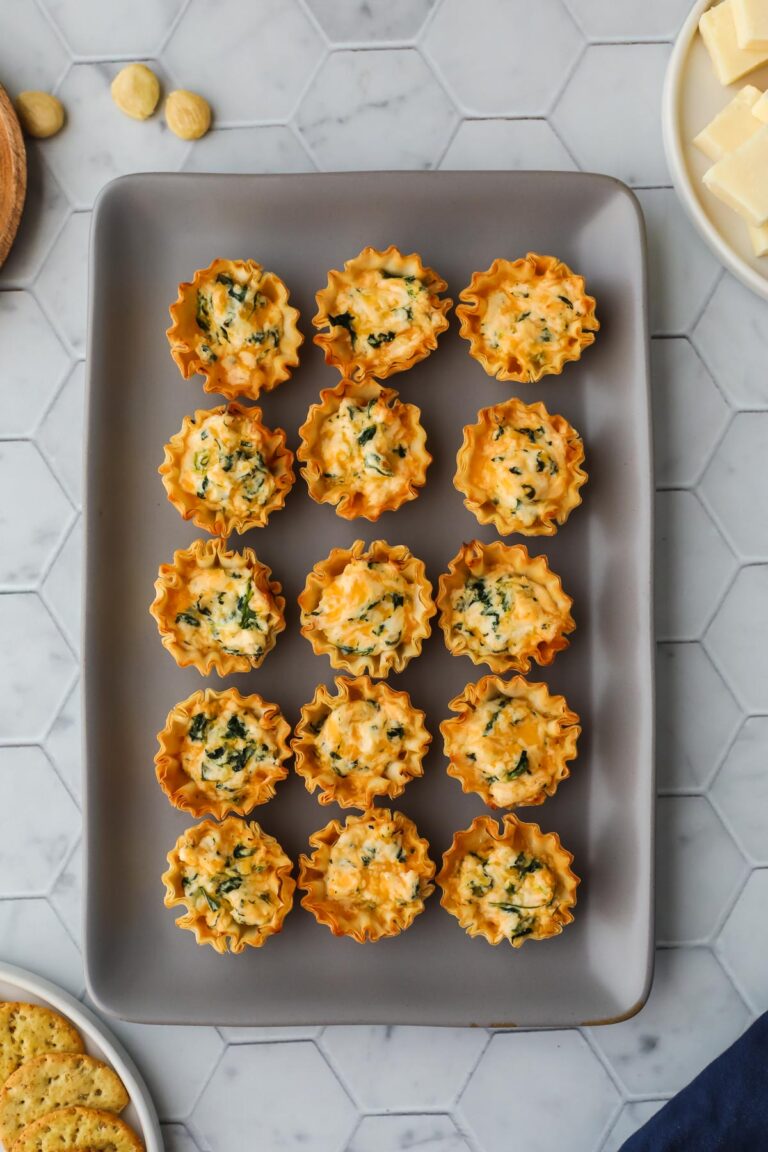 Why I Love This Recipe
I've been making my Greek yogurt spinach dip for years and I love it, but it's not always the right thing to take to a party. Lately, I've been hesitant to put out dips (for obvious reasons) and I wanted to turn this dip into a bite-sized snack that friends could enjoy, without any worry of sharing germs. That's how these spinach phyllo cups were born!
The other reason I love this recipe is that you can make the dip up to 2 days in advance, then assemble the cups when you're ready to bake them. Once baked, they can be served right away or you can allow them to cool and serve at room temperature.
Despite its name, spinach dip doesn't exactly have a reputation for being healthy. Many dips are loaded with cream cheese and sour cream and they're not exactly a light snack. But I lightened up this dip by using Greek yogurt cream cheese and plain Greek yogurt in place of sour cream. While it may not be the healthiest recipe on my site, it's great for a healthier twist on a classic recipe!
Ingredients & Substituions
Greek Yogurt Cream Cheese– If you can find Greek yogurt cream cheese, it's perfect for this recipe! It's creamy and delicious but it's higher in protein and lower in fat than traditional cream cheese. If you can't find it, feel free to use low-fat cream cheese or Neufchâtel cheese.
Plain Greek Yogurt– I used this to give the dip some tang. You can also substitute with sour cream.
Cheese– I used shredded sharp cheddar cheese. Mild cheddar is fine, too.
Spinach– I like using baby spinach which is slightly more tender with smaller leaves and stems, but since we're sautéing it, regular spinach works fine too. You could also use frozen spinach. Just thaw it and be sure to squeeze out any excess moisture.
Garlic powder– I actually prefer garlic powder to fresh garlic in this recipe because it's a bit less harsh.
How to Make Spinach Phyllo Cups
What are Phyllo Cups?
Phyllo cups are small bite-sized pastry cups that are empty. They are usually found in the frozen section. It's the same type of dough you would use to make a puff pastry, but it's already shaped into individual bites. It's perfect for these little treats! They're usually in the frozen food section near the pie dough and whipped cream. I used Athen's Mini Phyllo Shells. There are 15 per pack and the filling made enough for about 30 pastries, so I recommend using two boxes.
Can I make these in advance?
Yes! You can make the filling up to 2 days in advance. Just keep it in an airtight container in the fridge until you're ready to use it. Once you've baked the pastry cups, I recommend serving them the same day. They can be served warm or at room temperature. But keep in mind these contain dairy, so don't leave them out for more than two hours for food safety reasons.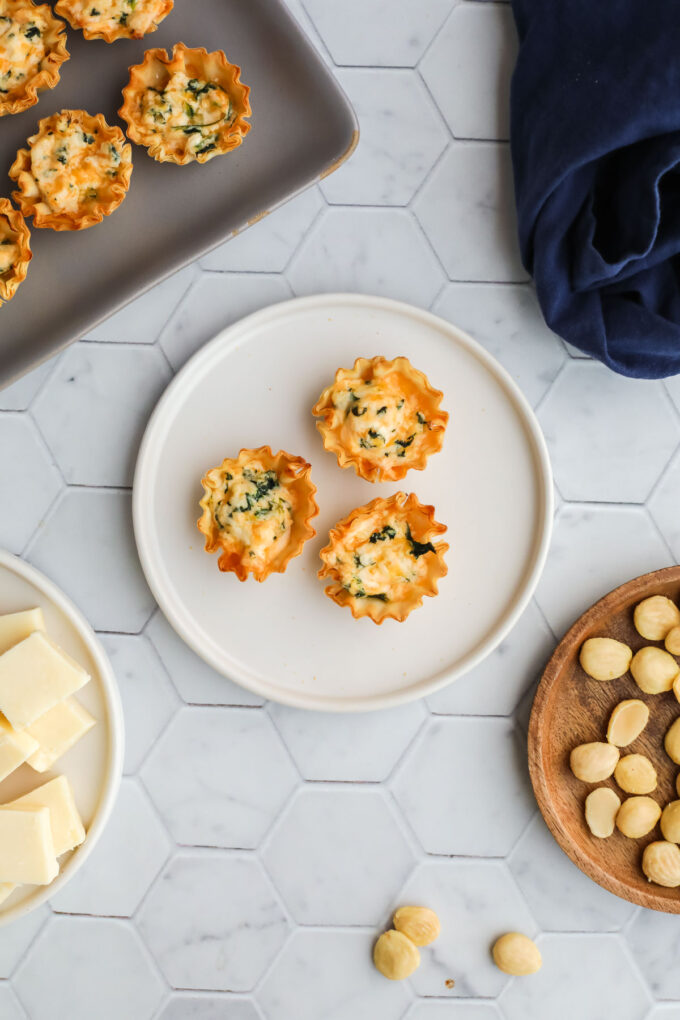 More Appetizer Ideas
Print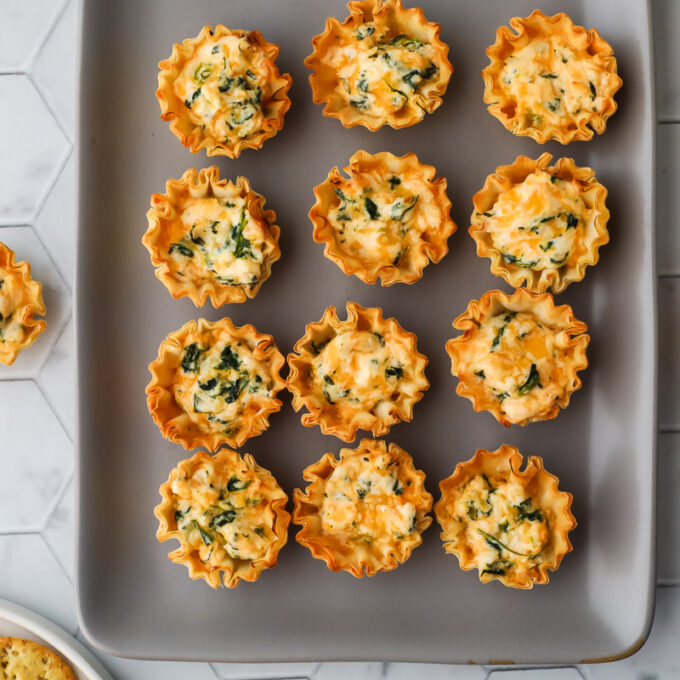 Spinach Phyllo Cups
Author:
Prep Time: 10 minutess
Cook Time: 10 minutes
Total Time: 6 hours 20 minutes
Yield: 30 bites 1x
Category: Appetizer
Method: Baked
Cuisine: American
Diet: Vegetarian
---
Description
These bite-sized spinach phyllo cups are perfect for a tasty appetizer. They only take a few minutes to assemble and they're a great make-ahead snack for a party!
---
2 cups fresh spinach
8 oz low-fat cream cheese or Greek yogurt cream cheese
2 tablespoons plain Greek yogurt
3/4 cup shredded cheddar cheese
1/4 cup shredded Parmesan cheese
1/4 teaspoon garlic powder
1/2 teaspoon salt
2 (1.9 oz) packages of frozen phyllo shells (about 30 small pastry cups)
---
Instructions
Preheat oven to 325 degrees.
Add the spinach to a large skillet and cook over medium heat for 2-3 minutes, stirring frequently until the spinach has wilted.
Let the spinach cool slightly then transfer to a paper towel and wring out the excess water.
Place the spinach on a cutting board and roughly chop.
In a large bowl, mix the cream cheese and Greek yogurt until combined.
Stir in the cheddar, parmesan, garlic powder, & salt, and mix well.
Stir in the spinach.
Add 1 tablespoon of filling to each pastry cup
Bake for 10 minutes. Allow to cool slightly, then serve. These can be served warm or at room temperature. Be sure to chill any leftovers.
---
Keywords: spinach phyllo cups
If you love these spinach phyllo cups, you have to try this creamy spinach artichoke pasta! It's a delicious way to enjoy these flavors in a pasta dish!