Lemon Blueberry Pancakes
These lemon blueberry pancakes are soft and fluffy with juicy berries and a hint of citrus flavors. These are great for a quick breakfast or weekend brunch!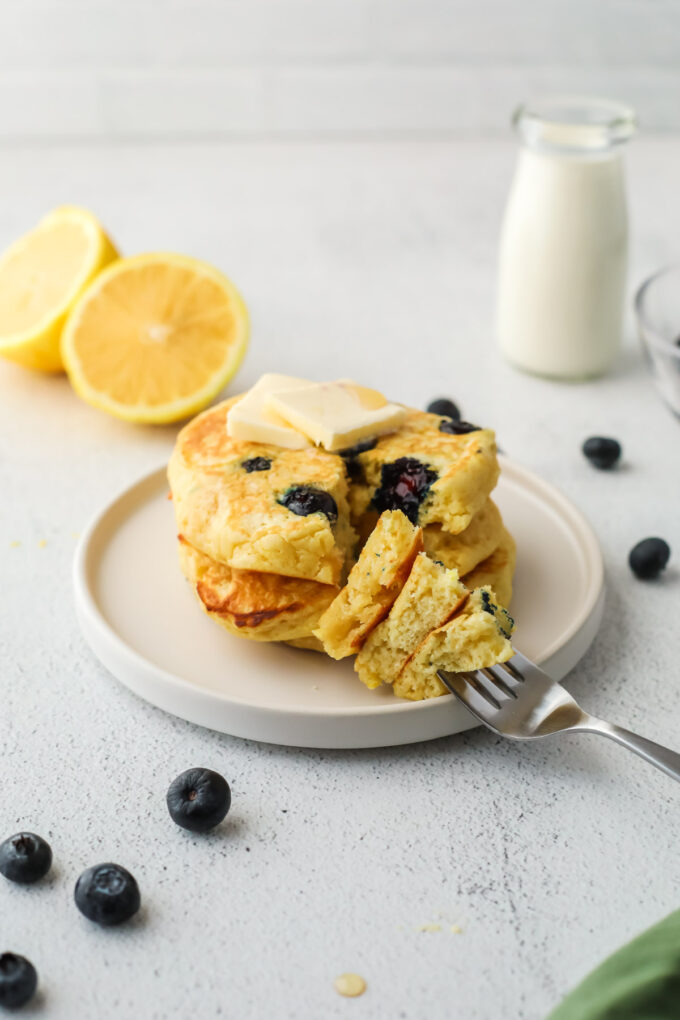 I love making pancakes and I've found myself craving these lemon blueberry pancakes on repeat! They're so perfect for spring and they have so much flavor, I find that I don't even use syrup when enjoying these.
While I love these pancakes fresh from the skillet, these also reheat well, so they're a great recipe to make on a Sunday and then enjoy throughout the week! Plus, they're one of the few foods my picky toddler will eat, so we make pancakes a lot!
If you're looking for a high-protein option, try my cottage cheese pancakes. Or if you need a gluten-free recipe, try these gluten free blueberry pancakes!
Lemon Blueberry Pancake Ingredients
Flour– I use all-purpose flour but you can also use a combination of half all-purpose flour and half whole wheat pastry flour if you want to add a little more protein and fiber to the recipe.
Sugar– A little granulated sugar adds sweetness to the batter.
Baking powder- This is essential for providing lift and making them light and fluffy.
Baking soda– This assists in the lift as well as developing browning.
Salt– A little salt helps bring out all the flavors.
Egg– This helps bind the pancakes and create a fluffy texture.
Butter– A little butter helps add richness to the pancakes.
Milk– I used whole milk, but 2% or skim milk is fine too.
Lemon juice– Fresh lemon juice adds a lovely citrus flavor.
Lemon zest– Lemon zest boosts the flavor without adding too much moisture.
Blueberries– Fresh or frozen blueberries both work in this recipe.
If you have leftover lemons, try some of these other delicious lemon recipes like my lemon blueberry muffins or this Lemon Bread Recipe. If you're looking for other ways to make pancakes, try my cottage cheese pancakes or make a big batch of sheet pan pancakes!
How to Make Lemon Blueberry Pancakes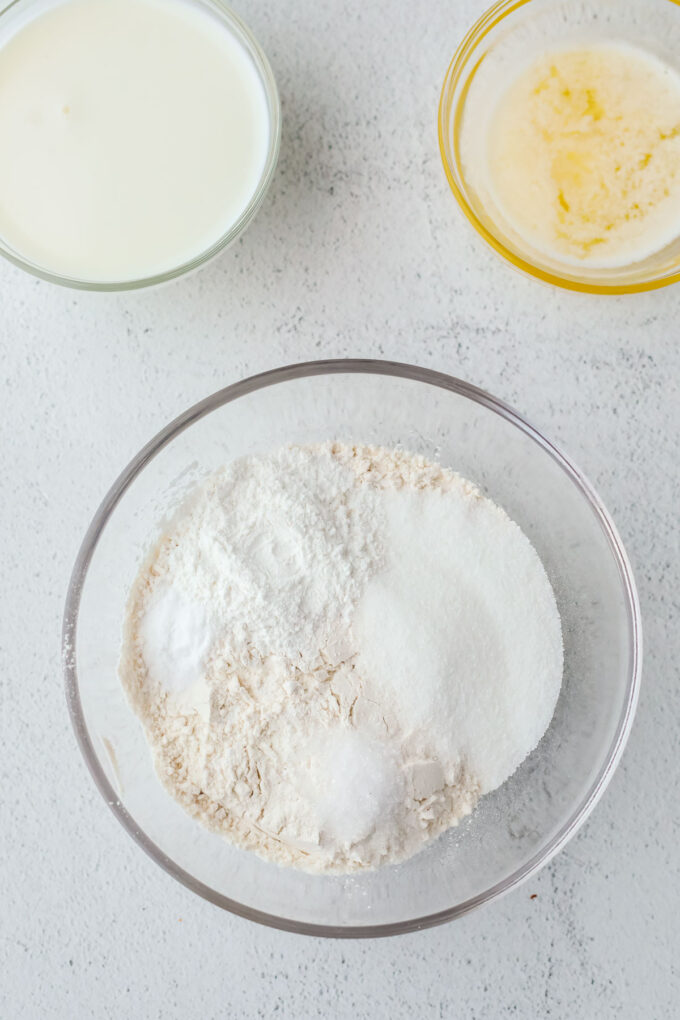 Tips & Tricks
Avoid over mixing the batter, which can lead to tough, rubbery pancakes. Fold the ingredients together just until combined.
Melt the butter, then allow to cool to room temperature before mixing with the egg. If the butter is too warm, you may accidentally scramble the egg white.
Frozen blueberries work just as well as fresh berries but they do have a tendency to "bleed" into the batter, which can slightly discolor the pancake batter. But it will still taste just as good! If you want to keep the berries from bleeding color into the batter, I recommend adding the blueberries to the batter once it's been poured into the skillet.
How to Store Leftover Pancakes
Leftover pancakes can be stored in the fridge in an airtight container for up to 3 days. They can also be frozen for up to 1 month. First, allow the pancakes to cook. I recommend layering parchment paper between the pancakes so they're easy to separate after they're frozen. You can store them in a freezer-friendly container or a larger zipper-top freezer bag. To reheat, microwave on 50% power for 30-second intervals until heated through.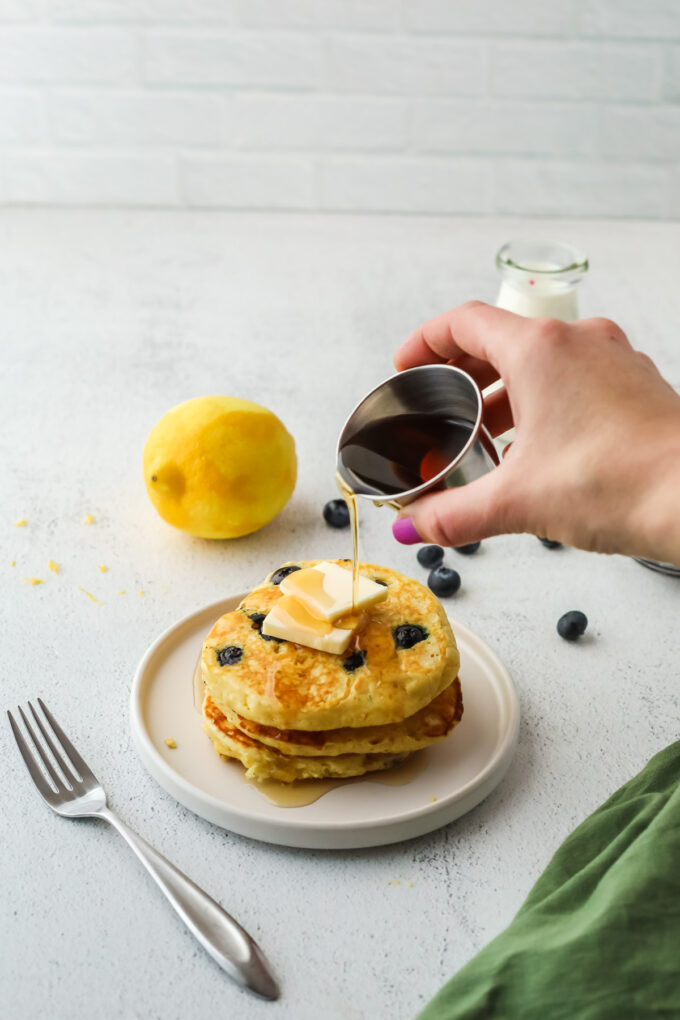 Pancake Toppings
Of course, pancakes are traditionally served with butter and maple syrup, but you can also get creative with toppings! If you don't have syrup, use a drizzle of honey. Or add a swirl of almond butter. For a sweeter treat, add a dollop of whipped cream. For more lemon flavor, try adding a dab of lemon curd on top!
How to Keep Pancakes Warm
If you're making a lot of pancakes and you're not serving them right away, place them on a sheet pan and set the oven to 200 degrees. Keep the pancakes in the oven for up to 10 minutes, until ready to serve. Avoid keeping the pancakes in the oven for more than 10 minutes.
More Brunch Recipes
Print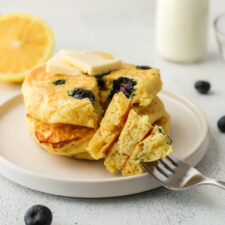 Lemon Blueberry Pancakes
Author:
Prep Time: 10 minutes
Cook Time: 10 minutes
Total Time: 20 minutes
Category: Breakfast
Method: Stovetop
Cuisine: American
Diet: Vegetarian
---
Description
These lemon blueberry pancakes are soft and fluffy with juicy berries and a hint of citrus flavors. These are great for a quick breakfast or weekend brunch!
---
1 cup all-purpose flour
1 1/2 tablespoons sugar
2 teaspoons baking powder
1/4 teaspoon baking soda
1/2 teaspoon salt
1 large egg
2 tablespoons melted butter, cooled
3/4 cup milk
1/2 tablespoon lemon juice
Zest of 1 lemon
1/3 cup blueberries
Nonstick spray or 1 tablespoon butter
---
Instructions
Mix the flour, sugar, baking powder, baking soda, and salt in a large bowl
In a small bowl, whisk the egg, melted butter, milk, lemon zest, and lemon juice.
Fold the wet ingredients into the dry ingredients. Then add the blueberries.
Mix until just combined. You should still see streaks of flour in the batter.
Spray a large non-stick skillet with non-stick spray or melt 1 tablespoon of butter in the pan
Scoop 1/4 cup of batter into the skillet to make a pancake. You should be able to cook 2-3 at a time.
Cook over medium heat until the pancake begins to bubble. Flip and continue to cook until golden brown on both sides.
---
Keywords: lemon blueberry pancakes