Easy Baked Gigantes (Giant Greek Lima Beans)
Baked Gigantes is an easy side dish made with giant Greek lima beans and tomatoes. It's a simple side dish full of flavor.
What are Gigantes?
Gigantes is a Greek dish known in English as giant baked beans. The first time I tried a version of Gigantes, it was at Stella's, a fantastic Greek restaurant in Richmond. (If you're in the area and you haven't gone yet, you must go.) Ever since I tried them, I kept thinking I should try making them, but honestly, I had trouble finding the beans!
Where to Find Gigantes Beans
The beans for Gigantes can be a little hard to find because they go by a lot of different names. Sometimes they're called "large butter beans" sometimes they're "giant lima beans," but basically you're looking for really big white beans. Clear as crystal, right? (Here's the kind I found at Kroger's.)
The good news is, finding the beans is the hardest part of this recipe. The rest is simple! These easy baked Gigantes are the easiest weeknight side dish or vegetarian main dish.
More Bean Recipes
Print
Easy Baked Gigantes
Author:
Prep Time: 5 mins
Cook Time: 25 mins
Total Time: 30 mins
Yield: 4 1x
Category: Side Dish
Method: Baked
Cuisine: Greek
---
Description
Baked Gigantes is an easy side dish made with giant Greek lima beans and tomatoes. It's a simple side dish full of flavor.
---
1 15oz can large butter beans
1 15oz can diced tomatoes
3 tablespoons olive oil
1/2 teaspoon dried dill
1/4 teaspoon dried parsley
salt + pepper to taste
---
Instructions
Preheat the oven to 425 degrees.
In an oven-safe dish, combine the beans, diced tomatoes, olive oil, dill, parsley, and salt and pepper.
Stir gently to combine.
Bake in the oven for 25 minutes.
Remove from the oven and let cool for 5-10 minutes.
Serve with additional dill or feta. Eat with a spoon or with crusty bread.
---
Keywords: Easy Baked Gigantes
Our small group bible study just started up again for the fall season, and we make a potluck style dinner together. Across the group, we have someone that is gluten-free, someone that is allergic to dairy, and me, a vegetarian. It can be a little tricky to think of a dish that satisfies all those restrictions, but this one nails it! If you're not avoiding dairy, you can add a little feta on top.
I liked it best, just plain and simple! It's especially good with a chunk of crusty bread on the side. That way, you can get every drop of the sauce!
What to Serve with Baked Gigantes
Try serving baked Gigantes with one of these delicious recipes!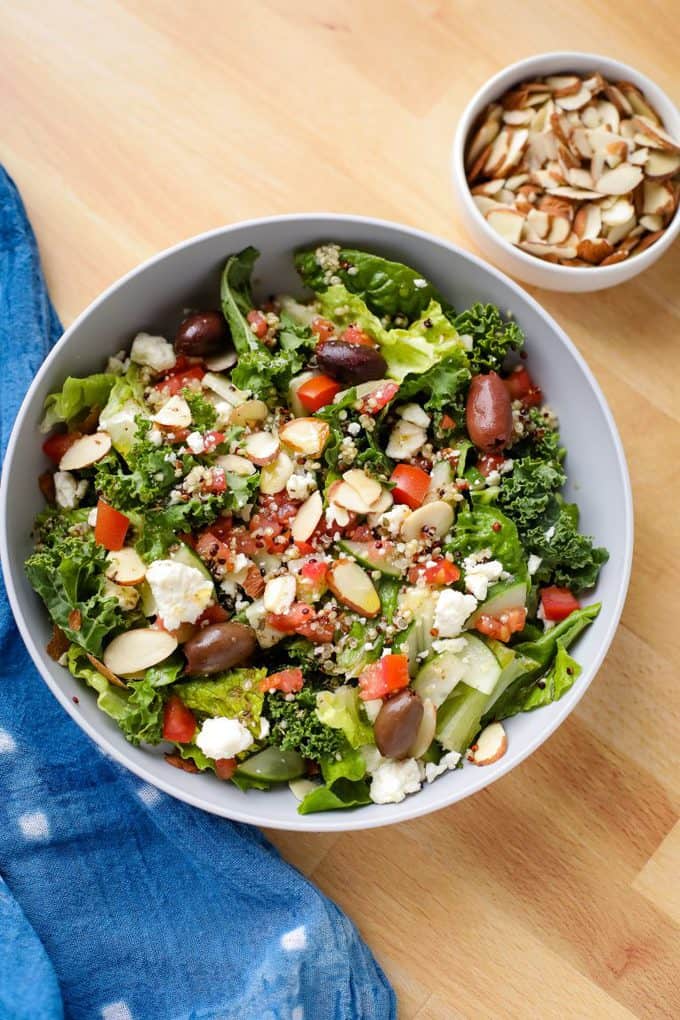 Modern Greek Salad with Quinoa
Have you ever tried giant white beans?