White Bean Casserole
This white bean casserole is made with toasted bread, fire-roasted tomatoes, and plenty of seasoning to create a uniquely delicious meal! It's a great way to use up day-old bread.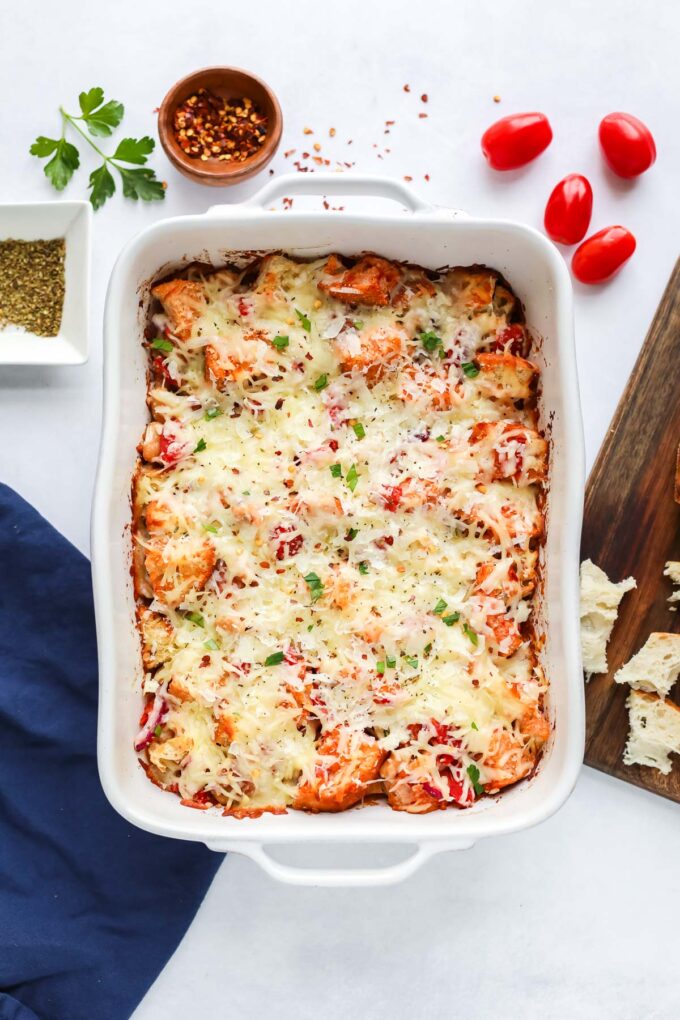 I love fresh bread but sometimes it's hard for us to eat a whole loaf before it starts to get stale. Since I hate to see anything go to waste, I was looking for a new way to use up leftover bread. Sometimes I'll slice it and freeze it and sometimes I'll turn it into croutons, but this White Bean Casserole might be my new favorite way to use up the other half of a crusty loaf.
This casserole comes together quickly and easily with just a few pantry staples. The bread is toasted, which helps it retain its shape after being mixed with the cannellini beans and tomatoes. Red onion and spices create an additional layer of flavor and mozzarella creates a cheesy top that is irresistible. The pieces of bread on top keep their crunch while the bread on the bottom helps soak up the juices from the tomatoes.
What are Cannellini Beans?
These small, creamy white beans may also be called white navy beans. They're soft and tender and their texture is perfect in this casserole. If you can't find cannellini beans, you can substitute them with great northern beans. While dried beans could be used in this recipe, they'd need to be soaked and cooked ahead of time. I typically rely on canned beans because they're convenient and don't require planning ahead.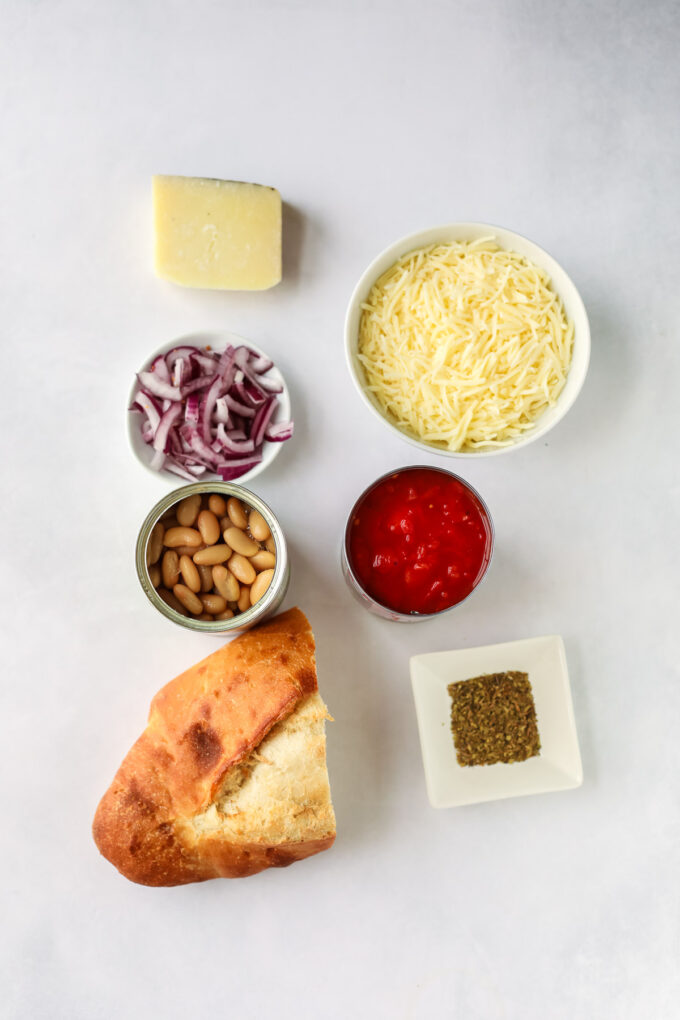 White Bean Casserole Ingredients
Bread– I recommend using a rustic loaf like a crusty baguette or Italian loaf. You'll need about 8oz of bread, which is typically half of a large loaf of bread.
Olive oil- A little olive oil enhances the flavor of the bread and helps it toast to a golden brown.
Cannellini beans– Cannellini beans, also called white navy beans, are small creamy white beans.
Tomatoes– I prefer fire-roasted diced tomatoes but any diced tomato is fine.
Red onion– Thinly sliced red onion adds a sharp, flavorful bite.
Garlic– Minced garlic adds additional depth of flavor.
Oregano– You can use dried oregano or an Italian seasoning blend.
Mozzarella– I used shredded mozzarella but you can also use fresh mozzarella, torn into small pieces.
Pecorino Romano– This sheep's milk adds a salty flavor. You can substitute for Parmesan cheese if you prefer.
How to Make White Bean Casserole
Tips & Tricks
I used a 2.5 qt casserole dish that is roughly 9 x 12 inches. Feel free to use a dish that is slightly larger or slightly smaller.
I recommend using fire-roasted diced tomatoes which have a little more flavor than regular diced tomatoes.
I used shredded mozzarella cheese but fresh mozzarella is fine, too.
I like to top this casserole with a little crushed red pepper and parsley or basil for a pop of color.
More White Bean Recipes
Print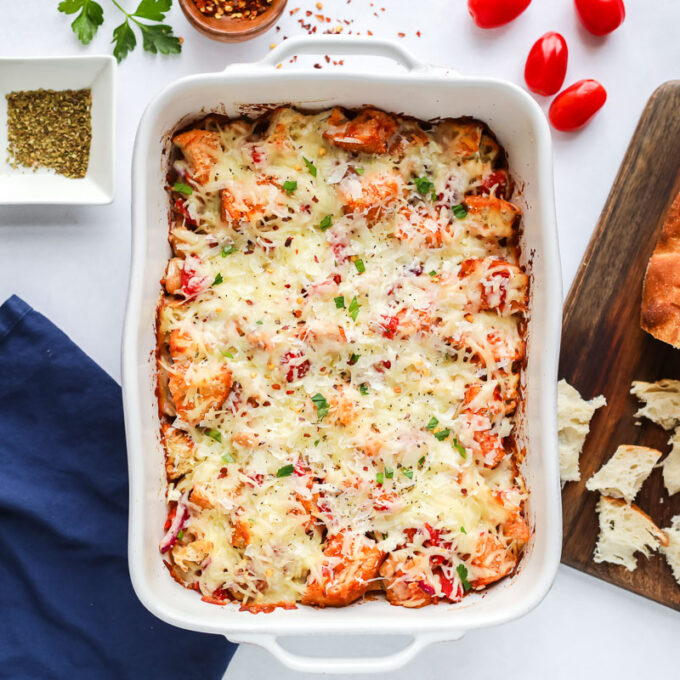 White Bean Casserole
Author:
Prep Time: 10 minutes
Cook Time: 30 minutes
Total Time: 40 minutes
Yield: Serves 4
Category: Dinner
Method: Oven
Cuisine: American
Diet: Vegetarian
---
8 oz crusty bread, cut into 1″ cubes
2 tablespoons olive oil
1 14 oz can fire-roasted diced tomatoes
1 14 oz can cannellini beans
1/4 cup thinly sliced red onion
3 cloves garlic, minced
1/2 teaspoon dried oregano
1 cup shredded mozzarella
1/4 cup grated Pecorino Romano
Crushed red pepper and salt and pepper, to taste
---
Instructions
Preheat oven to 350 degrees.
Spread the bread onto a baking sheet, drizzle with olive oil, and season with salt and pepper.
Bake for 10 minutes until golden brown.
Add the toasted bread to an 9 x 12 casserole dish.
Combine with tomatoes, cannellini beans, red onion, garlic, and oregano. Stir until mixed.
Sprinkle with mozzarella and Pecorino Romano.
Bake for 20 minutes until cheese is melted.
Sprinkle with crushed red pepper and salt and pepper, to taste.
---
Keywords: white bean casserole