Caprese Grilled Cheese
This Caprese grilled cheese sandwich is made with fresh mozzarella, juicy tomato slices, and a smear of salty pesto for a combination that takes your sandwich to the next level!
I've been having fun making different grilled cheese sandwich variations and this Caprese version quickly became a favorite. Creamy mozzarella, savory pesto, and juicy tomato create a simple but delicious sandwich!
The Best Mozzarella Cheese for a Caprese Sandwich
I recommend using fresh mozzarella cheese instead of the shredded mozzarella cheese that comes in a bag. The main difference is the texture and moisture content. Fresh mozzarella, the kind that is typically sold in a ball or a log, is soft and moist. It has a delicate, creamy flavor and a stretchy texture that works so well in this sandwich.
Shredded mozzarella cheese, like the kind that comes in a bag, is a firmer and drier cheese. It's made from low-moisture mozzarella cheese, which is pressed to remove excess moisture and then shredded. The texture isn't quite the same for this sandwich, but if that's all you have in your fridge, it can work in this recipe.
The Best Store-Bought Pesto
I've tried a lot of store-bought pesto and the Buitoni brand is my favorite. It's typically sold in the refrigerated section of the grocery store. (I've seen it at Kroger and Publix and I think it's pretty widely available.) I also like the Kale and Pine Nut pesto from Trader Joe's.
The Best Bread for Grilled Cheese
You can use any bread you like but I like a hearty sourdough bread. It can stand up to the moisture of the pesto and I love the way it gets crispy when toasted. I get my sourdough bread from Wildgrain and it's great to keep in the freezer! Feel free to use gluten-free bread or whole wheat bread. That works, too!
How to Make a Caprese Grilled Cheese
How to Quickly Soften Butter
If your butter is chilled or frozen, it can be hard to spread onto your bread. To quickly soften it, use a cheese grater to grate the butter into small pieces. This will help the butter soften quickly as it will have more surface area exposed to room temperature. Within a few minutes, it will be ready to spread!
What to Serve with a Caprese Sandwich
Not sure what to pair with this sandwich? You could go with a classic bowl of creamy tomato soup or pair this sandwich with a simple chopped salad.
Variations and Substitutions
If you love garlic, rub a clove of garlic on the bread before toasting to add a subtle savory flavor.
If you don't have pesto, add a handful of fresh basil leaves on top instead.
No tomatoes? Try using jarred roasted red peppers instead!
If you don't have butter, you can use mayonnaise instead. Spread it on the outside of the bread just like butter, to create a golden brown texture.
Add a drizzle of balsamic vinegar or balsamic glaze to add a tangy, umami flavor to your sandwich.
If you like this sandwich, be sure to check out my feta grilled cheese recipe!
More Vegetarian Sandwich Recipes
Looking for more sandwich ideas? Try my tempeh sandwich for a tasty vegan option or give these open-faced broccoli sandwiches a try to add more veggies to your plate!
Print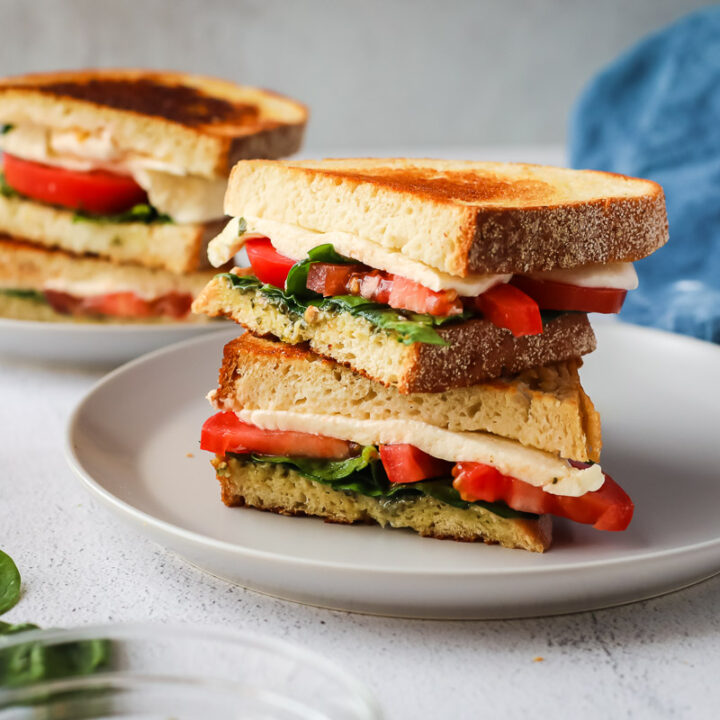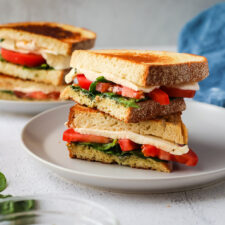 Caprese Grilled Cheese
Author:
Prep Time: 5 minutes
Cook Time: 8 minutes
Total Time: 13 minutes
Yield: 2 sandwiches 1x
Category: Dinner
Method: Stovetop
Cuisine: American
Diet: Vegetarian
---
4 slices sourdough bread
2 tablespoons butter, softened
4 oz fresh mozzarella, sliced
1 Roma tomato, thinly sliced
1/2 cup baby spinach
2 tablespoons pesto
---
Instructions
Brush one side of each slice of bread with butter.
Place 2 pieces of toast butter side down on a skillet.
Top with mozzarella, tomato, and spinach.
Brush the second slices of bread with pesto on the side without butter.
Top with the second slices of bread, butter side facing out.
Press down on the top of the sandwich with a spatula.
Toast for 3 minutes over medium heat. Flip and continue to cook until the cheese is melted and the bread is golden brown.
---
Keywords: Caprese sandwich, caprese grilled cheese, tomato mozzarella sandwich, tomato mozzarella grilled cheese