What I Ate Wednesday
It's been ages since I've done a "full day of eating" style post, but I thought it would be fun to jump back into it. My eating style has evolved over the years and I'd consider myself in the intuitive eating camp. If you're not familiar with intuitive eating, it's exactly what it sounds like: it means listening to hungry cues from the body rather than counting calories or macros. You can read more about my journey to intuitive eating here. If you guys have more questions, let me know and I'm happy to write a post about it!
Anyway, on to the food! Lately, I haven't been snacking much. I've been enjoying larger meals rather than eating small meals throughout the day. I used to be a huge snacker so it's funny how much my eating style has changed over the years!
Sunday morning, we woke up early and decided to go get breakfast. Alex had a tee time with my dad scheduled for later in the morning but we had time for a quick breakfast date. A friend from our church opened up a new bagel shop in town and I'd been dying to try it. We got to Nate's Bagels just minutes after they opened and there was already a line wrapped around the building!
We secured our spot and browsed the menu while we waited. Alex ended up getting the Lox bagel and I got a Veggie sandwich with hummus rather than cream cheese. (Am I the only weirdo who doesn't really like cream cheese?) We both had our sandwiches on an everything bagel because that's literally the best kind.
This actually kept me full for hours. After a few cups of coffee, I worked out with my friend Carin and then I came home and relaxed on the couch. I had just started reading Girl, Wash Your Face and it was so good I couldn't put it down.
Alex came home around 2:00 and we ate a late lunch together. I made one of the lentil recipes from my cookbook but swapped in red potatoes for the sweet potatoes because Alex isn't a sweet potato fan. We also had some sugar snap peas and carrots with a side of Stella's hummus. We went to Stella's Market on Friday night and I couldn't resist a tub of hummus to-go!
Despite the fact that it had been raining nearly every day, there appeared to be a break in the clouds so I made some pizza dough before we left for church. We used this pizza dough recipe from the New York Times and it was perfectly thin and crispy.
We recently got an Uuni pizza oven and I've been loving it. It took us a few tries to get the hang of it, but I'd say we're nearly pizza pros at this point. We made a couple of pizzas with mozzarella and ricotta plus some roasted asparagus on the side.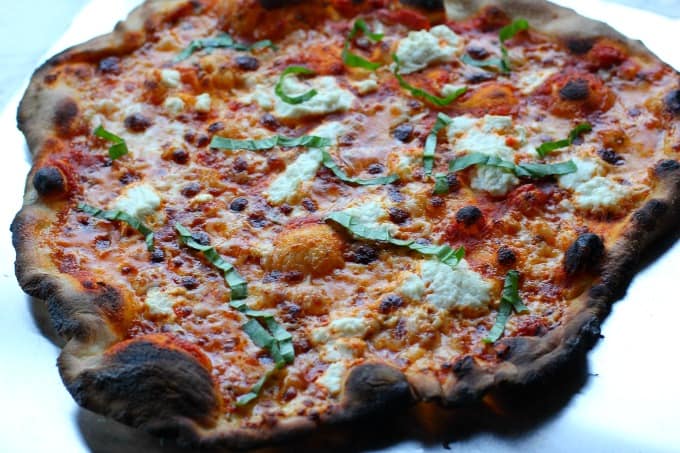 The pizza was so good. We didn't have a single slice left! I ended up doing blog work for most of the evening and then I had a piece of dark chocolate while Alex and I watched TV just before bed.
Every time I go to Trader Joe's, I snag a couple of bars of dark chocolate. I like anything over 70% cacao, but the 85% is my favorite! Overall, it was a super relaxing Sunday which was a nice way to start the week!
What's the best thing you've eaten this week?