Mexican Caesar Salad
This Mexican-inspired Caesar Salad is made with creamy avocado, salty cotija cheese, spicy jalapeños, and crunchy pepitas, then drizzled with a spicy chipotle-infused dressing! You're going to fall in love with this flavorful salad!
The inspiration for this salad came from the Mexican Caesar dressing from Chopt. Their dressing is creamy, spicy, and smoky, and it's the perfect dressing paired with crunchy romaine, creamy avocado, and spicy jalapeños. While this certainly isn't a traditional Caesar salad, I think this is a fun twist on a classic recipe!
I love that this salad is flexible, so you can easily substitute ingredients based on what you have in your fridge. Here's a quick rundown of the ingredients and some possible substitutions.
Ingredients and Substituions
For the Salad
Romaine– I love crunchy romaine as the base of this salad but you could use kale, butter lettuce, or any other leafy green. I don't recommend spinach as the leaves are a little too soft to stand up to this creamy dressing.
Jalapeños– I used fresh jalapeños to give this salad a spicy kick. You could substitute with pickled jalapeños or swap them for a green bell pepper if you want a more mild flavor. I recommend tasting the jalapeño to see how spicy it is and then decide how much to add based on the heat level. Some are spicy and some are quite mild.
Pepitas– Pepitas are a variety of pumpkin seeds without a shell, so they're smaller than the type of pumpkin seed you might see when you carve a pumpkin. I prefer to use roasted, salted pepitas for the best flavor. You could substitute with sunflower seeds or sliced almonds.
Cotija cheese– This Mexican cheese is a crumbly and salty cheese that adds a nice flavor to this salad. If you can't find Cotija, you can substitute with queso fresco or even feta cheese.
Tomatoes– I used grape tomatoes, but any chopped tomato works great! If you don't have tomato, you could add some red bell pepper instead. The flavor isn't the same, but it will give you a nice pop of color and it's an easy way to add in extra veggies!
Avocado– This adds a creamy flavor and helps balance out the spiciness of the dressing. Be sure you have a ripe avocado for the best flavor. Unfortunately, there isn't a great substitute for avocado but you can just skip it if you don't have one.
For the Dressing
Cottage cheese– I used blended cottage cheese as the base of this dressing. It's super creamy, but it's a great way to keep this dressing lower in fat and calories compared to a dressing made with mayonnaise. If you don't have cottage cheese (or you don't want to get out your blender), you can substitute with full-fat plain Greek yogurt.
Adobo sauce– I used the sauce from a can of chipotle peppers. You can also buy adobo sauce, but it might be a little harder to find. You can also add the chilies from the can, but you'll need to blend them or chop them up.
Mayonnaise– Just a little mayonnaise helps add a creamy flavor. It's not totally necessary since the cottage cheese does make this creamy, so you can skip it if you must, but I do think it enhances the flavor.
Olive oil– This helps add a little more fat to the dressing for the best flavor and consistency.
Lime juice– Fresh lime juice gives the dressing a flavorful punch. If you don't have lime juice, substitute lemon juice or red wine vinegar.
Garlic powder– This is a great way to add garlic flavor without the sharp bite that comes from raw garlic.
Dijon mustard– This adds a savory, slightly spicy flavor to the dressing. There isn't a great substitute for mustard but this dressing has a lot of flavor going on so if you don't have dijon, you can skip it.
Honey– This helps balance the heat of the dressing. Feel free to substitute with maple syrup or agave.
Salt– I recommend adding this to taste because it will depend on the saltiness of your cottage cheese. (If you're using Greek yogurt, you'll need to add additional salt.)
How to Make the Dressing
Add all the ingredients to a blender or food processor and blend until smooth. You'll need to blend it until there are no lumps of cottage cheese remaining.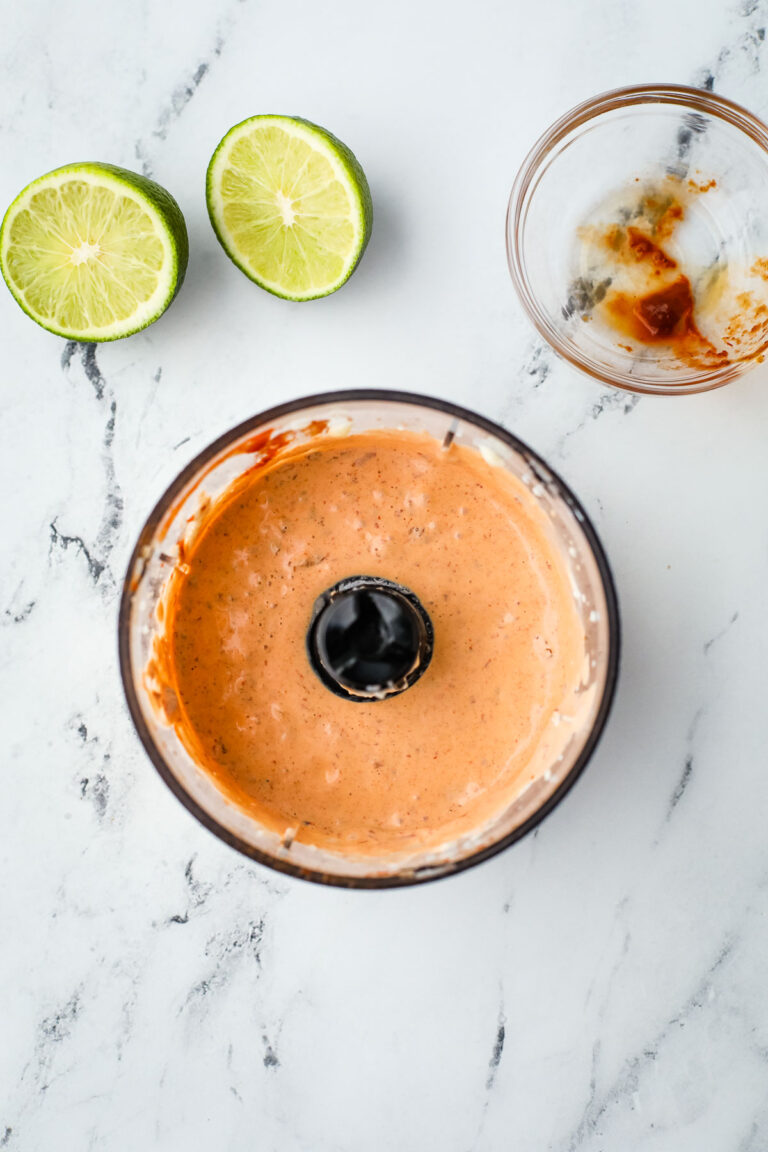 How to Get Perfectly Ripe Avocados
I like to buy avocados before they're even close to being ripe. If they're already ripe in the store, they'll be bruised from people squeezing them. Gently squeeze the avocado without applying too much pressure. A ripe avocado will give slightly when you press it, but it shouldn't be mushy or hard.
Check for blemishes and avoid buying avocados with large brown spots or bruises, which may mean the fruit is overripe or damaged. The stem should be firm and not easily removed. If it comes off easily, the avocado may be overripe.
To ripen them faster, I keep them in a bowl with bananas! The ethylene gas released from the bananas will help soften the avocados quickly.
Once the avocados are soft, I put them in the fridge. This will keep them at their peak of ripeness for a bit longer! You'll be surprised how much longer avocados last in the fridge!
Variations & Other Toppings
Feel free to get creative with this salad! Try adding croutons or crushed tortilla chips for added crunch! Or top it with roasted chickpeas, cooked quinoa, or black beans for a little added protein. You can also add in extra veggies like cucumbers, carrots, bell peppers, or cabbage. I usually just add whatever veggies I have left over in my crisper drawer!
More Salad Recipes
If you like this salad, be sure to try my tempeh taco salad, southwestern quinoa salad, and vegan chopped salad. They're all packed with a rainbow of vegetables! If you're looking for other spicy recipes, be sure to try my burrito sauce, spicy Brussels sprout tacos, or spicy red lentil stew. And while you're at it, pair it with a spicy ranch water cocktail!
Print
Mexican Caesar Salad
Author:
Prep Time: 15 minutes
Cook Time: 0 minutes
Total Time: 15 minutes
Yield: Serves 4
Category: Salad
Method: No Cook
Cuisine: Mexican Inspired
Diet: Vegetarian
---
Description
This Mexican-inspired Caesar Salad is made with creamy avocado, salty cotija cheese, spicy jalapeños, and crunchy pepitas, then drizzled with a spicy chipotle-infused dressing! You're going to fall in love with this flavorful salad!
---
For the salad
8 cups chopped romaine lettuce
1/2 cup cherry tomatoes, chopped
2 tablespoons pumpkin seeds
3 tablespoons cotija cheese
1 jalapeño, thinly sliced
1 avocado, chopped
For the dressing
1/2 cup cottage cheese (I used 4% milkfat) or plain full fat Greek yogurt
2 chipotle peppers in adobo sauce plus 1 tablespoon of the adobo sauce
2 tablespoons mayonnaise
2 tablespoons olive oil
1 tablespoon lime juice
1/2 teaspoon garlic powder
1 tablespoon Dijon mustard
2 teaspoons honey or maple syrup
1/2 teaspoon salt (or to taste, depending on the saltiness of the cottage cheese)
---
Instructions
In a blender or food processor, blend the dressing until smooth. This will make about 3/4 cup of dressing, so you'll have extra salad dressing left over.
Combine the lettuce, tomatoes, pumpkin seeds, cheese, jalapeño, and avocado in a large bowl.
Drizzle with your desired amount of dressing and toss to combine.
Notes
This will make about 3/4 cup of dressing, so you'll likely have extra salad dressing leftover.
Keywords: Mexican Caesar Salad, Spicy Caesar Salad, Chopt Mexican Caesar Dressing, Chopt Mexican Caesar Salad