Caesar Brussels Sprouts
These roasted Brussels sprouts are tossed with homemade croutons, shaved Parmesan cheese, and a drizzle of Caesar dressing to create a delicious and flavorful side dish!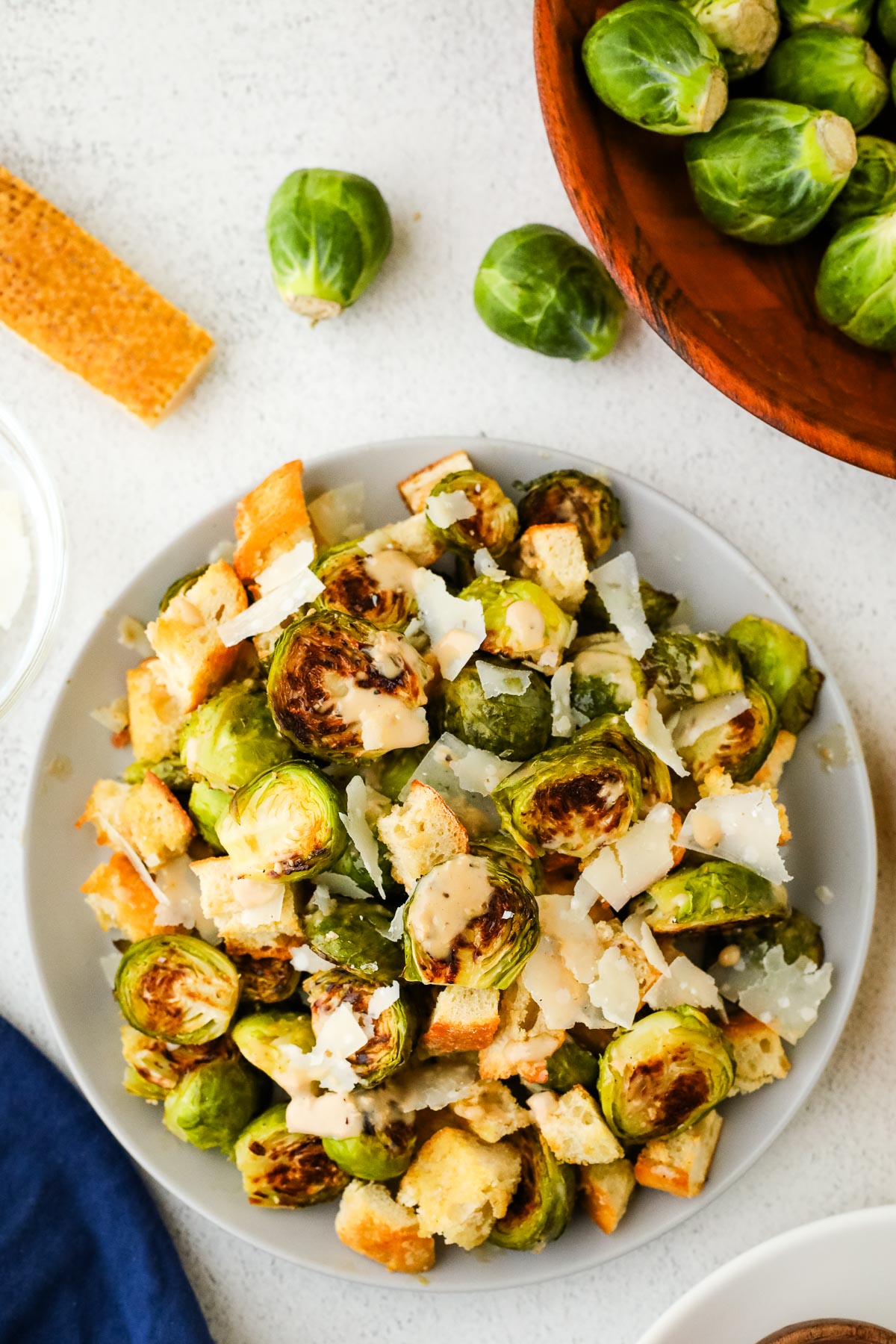 I love roasted Brussels sprouts and I wanted to find a way to take them to the next level using some of my basic pantry staples. I've been on a Caesar salad kick so I thought it would be fun to do a twist with Brussels sprouts. Rather than shredding them and serving them raw, I roasted them in the oven until they were perfectly tender and caramelized. When tossed with freshly made croutons and salty Parmesan, then drizzled with a tangy dressing, they become irresistible!
How to Roast Brussels Sprouts
I learned a great tip from America's Test Kitchen to ensure perfectly roasted Brussels sprouts. The key is to cover them with foil during the first half of the cooking process. This steams the Brussels sprouts and helps soften them so they're nice and tender. Then removing the foil allows them to roast and caramelize so it brings out some of the sweetness.
Ingredients & Substitutions
Brussels sprouts– You can buy pre-cut Brussles sprouts or cut your own. Look for sprouts that are all similar in size so they roast evenly. Smaller sprouts tend to have a more mild flavor.
Olive oil– A little olive oil helps roast the Brussles sprouts and toasts the baguette.
Baguette– I used a sourdough baguette but any kind of crusty bread works great. You can even use storebought croutons in a pinch, although they won't have quite the same texture. If you're looking for a gluten-free option, try my polenta croutons.
Parmesan cheese- Bel Gioso makes a Parmesan cheese that does not use animal rennet, if you want a vegetarian-friendly cheese. I used a vegetable peeler to create Parmesan shavings.
Caesar dressing– You can use a homemade dressing like my vegan Caesar dressing or store-bought. Keep in mind that most store-bought dressing contains anchovies and is not vegetarian. I do like Brianna's Asiago Caesar, which is vegetarian friendly.
How to Make Caesar Brussels Sprouts
Health Benefits of Brussels Sprouts
Brussels sprouts are a nutritional powerhouse, offering tons of health benefits. They're packed with vitamins, minerals, and fiber. These mini-cabbages are a rich source of vitamin C, which boosts the immune system, and vitamin K, essential for blood clotting and bone health. Additionally, they provide folate for cell division and iron for oxygen transport in the blood. Brussels sprouts also contain antioxidants that may help reduce inflammation and protect against chronic diseases. If you're not already eating Brussels sprouts, now is the time to start!
Other Brussels Sprout Recipes
If you're looking for more ways to enjoy Brussels sprouts, try my shredded Brussels sprout salad which doesn't require any cooking at all! To make them the star of the show, try my spicy Brussels sprout tacos, which have a deliciously spicy sauce.
What to Serve with Caesar Brussels Sprouts
You can serve these as a side dish with any of your favorite main dishes. Try them with this penne rosa pasta or cavatappi pasta for an easy weeknight meal. They're also a delicious side dish with this creamy tomato soup.
Print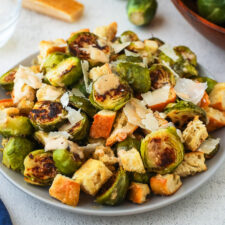 Caesar Brussels Sprouts
Author:
Prep Time: 10 minutes
Cook Time: 20 minutes
Total Time: 30 minutes
Yield: 4 cups 1x
Category: Salad
Method: Oven
Cuisine: American
Diet: Vegetarian
---
Description
These roasted Brussels sprouts are tossed with homemade croutons, shaved Parmesan cheese, and a drizzle of Caesar dressing to create a delicious and flavorful side dish!
---
1 pound Brussels sprouts, trimmed and halved
2 tablespoons olive oil, divided
Salt and freshly ground black pepper to taste
1 small baguette cut into 1″ cubes (about 2 cups)
1 ounce Parmesan cheese, shaved
2 tablespoons Caesar dressing
---
Instructions
Preheat oven to 450 degrees.
Toss the Brussels sprouts in one tablespoon of olive oil.
Spread cut side down on the baking sheet and sprinkle with salt and pepper.
Cover the baking sheet with foil and bake for 10 minutes.
While the Brussels sprouts are roasting, spread the baguette pieces onto a second baking sheet. Drizzle with the remaining olive oil and season with salt.
Carefully remove the foil then continue to roast for 6-8 minutes until tender and browned.
Add the baguette pieces to the oven and bake the baguette for 8 minutes or until golden brown.
Combine the Brussels sprouts and baguette, sprinkle with Parmesan cheese, and drizzle with Caesar dressing.
Season with additional salt and pepper to taste.
---
Keywords: Caesar Brussels Sprouts