Almond Flour Pumpkin Muffins
These almond flour pumpkin muffins are a deliciously sweet treat! They're low in sugar but full of flavor. The almond flour gives these muffins a uniquely light and tender texture!
I originally created this pumpkin muffin recipe for my cookbook but I love it so much, I had to share it on the blog!
Why I Love This Recipe
I don't do a lot of gluten-free baking but I love these almond flour muffins because they're so light and fluffy. The almond flour adds more protein to this recipe and it's lower in carbs than most muffins. Although these muffins might look high in fat, most of that fat is coming from almonds, which is a good kind of fat!
Pumpkin Muffin Ingredients
Pureed Pumpkin– Be sure to use 100% canned pumpkin, not pumpkin pie filling, which has added sugar and flavors.
Eggs– The eggs help bind the muffins so they're not too crumbly.
Coconut Oil– Just a small amount of coconut oil helps keep these muffins moist.
Honey– A little honey adds sweetness. You can also use maple syrup.
Vanilla– This enhances the sweetness of the muffins.
Almond Flour– Using almond flour instead of regular flour adds more protein and fewer carbs, but it also creates a deliciously tender texture.
Baking Powder & Baking Soda– These add lift and promote browning.
Salt– A little salt enhances the flavor.
Cinnamon– A little cinnamon adds a warm, spicy flavor to the muffins.
Pecans– Pecans add add a lovely crunch and texture.
What is Almond Flour?
Almond flour is made from finely ground-blanched almonds. It's not really a "flour" but it's useful as a gluten-free substitute in baked goods. Almond meal is similar to almond flour but is typically made from raw almonds. I prefer to use almond flour for this recipe, which is finer and lighter than almond meal. But you can use either one for these muffins.
Where to Buy Almond Flour
You can usually find almond flour or almond meal with other gluten-free and specialty flours at most larger grocery stores like Kroger, Whole Foods, Wegman's, and Publix. Sometimes you can find it at places like Trader Joe's and Aldi. You can also order it online on Amazon!
How to Make Almond Flour Pumpkin Muffins
Mix together the pumpkin, eggs, coconut oil, and vanilla. Stir until smooth.
Add the remaining ingredients and stir until combined.
Scoop into a silicone muffin tray or muffin liners. Bake until golden brown.
Let them cool for a few minutes, then remove them from the muffin tray and let them cool completely before storing.
How to Store Leftover Muffins
Keep leftover muffins in an airtight container for up to 4 days. You can also freeze these muffins for up to 3 months. Let thaw on the counter overnight or defrost in the microwave.
Substitution Ideas
You could use chocolate chips or walnuts instead of pecans. You could also skip the pecans all together, if you wanted a lower calorie recipe.
For a stronger pumpkin flavor, replace the cinnamon with 1 teaspoon of pumpkin pie spice mix. This is a blend of cinnamon, nutmeg, cloves, and ginger which will enhance the flavor of these muffins to taste more like your favorite pie!
Pumpkin Pie Spice Mix Recipe
If you want to enhance the pumpkin pie flavor of these muffins, try using a teaspoon of this spice blend in place of the cinnamon. To make your own blend, combine:
2 tablespoons cinnamon
1 teaspoon ground ginger
1/2 teaspoon ground nutmeg
1/2 teaspoon ground allspice
More Almond Flour Recipes
Print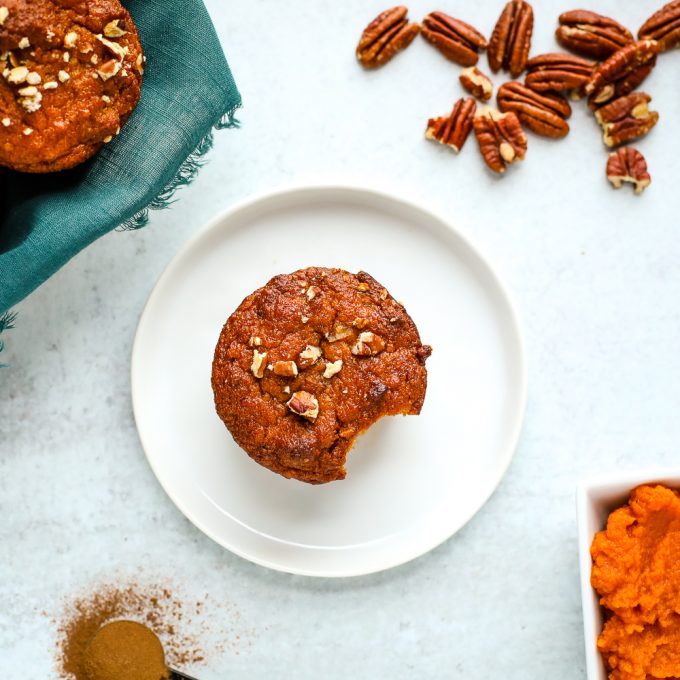 Almond Flour Pumpkin Muffins
Author:
Prep Time: 10 minutes
Cook Time: 20 minutes
Total Time: 30 minutes
Yield: 8 muffins 1x
Category: Breakfast
Method: Baked
Cuisine: Muffin
Diet: Gluten Free
---
Description
These almond flour pumpkin muffins are a deliciously healthy sweet treat! They're low in sugar but full of flavor. The almond flour gives these a uniquely light texture!
---
2/3 cup canned pumpkin
2 large eggs
1/4 cup honey or maple syrup
1 tablespoon coconut oil, melted
1 teaspoon vanilla extract
1 1/3 cup almond flour
1 teaspoon baking powder
1 teaspoon baking soda
1 teaspoon ground cinnamon
1/2 teaspoon salt (see note)
1/2 cup chopped pecans
---
Instructions
Preheat oven to 350 degrees.
In a large bowl, combine the pumpkin and eggs. Mix in the honey, coconut oil, and vanilla.
Add the almond flour, baking powder, baking soda, cinnamon, salt, and pecans (if using).
Stir until just combined. The batter will be slightly lumpy.
Spray a nonstick muffin pan with nonstick cooking spray. Evenly fill 8 muffin cups with the batter.
Bake for 19 to 22 minutes until browned on the edges and set in the middle.
Let the muffins cool slightly, then remove the muffins from the pan and cool on a cooling rack. 
Notes
Be sure your pecans, almond flour, and pumpkin don't contain any added salt. If they do, you'll want to reduce the salt.
Keywords: almond flour pumpkin muffins
More Healthy Muffin Recipes