Almond Flour Brownies
These double chocolate almond flour brownies are so fudgy and delicious! Packed with tons of chocolate, these gluten-free brownies will be your new favorite!
I love a good brownie. Preferably one that is not only deep, dark chocolate but one that also has chunks of actual chocolate inside. The more chocolate, the better. I've made a lot of brownies in my lifetime, but for the first 16 years of my life, it was always a Betty Crocker mix. My mom and I would add in chocolate chips, and I would feel like a little bit of a rebel since the box didn't call for chocolate chips. Clearly, I was a rebellious child.
What is almond flour?
Almond flour is made from finely ground blanched almonds. Almond meal is similar but is typically made from raw almonds. I prefer to use almond flour for this recipe, which is finer and lighter than almond meal. But feel free to use either one for this recipe.
Where to buy almond flour
You can usually find almond flour with other gluten-free flours at most larger grocery stores. Bob's Red Mill makes a great almond flour, but you can also find it at places like Trader Joe's and Aldi.
You may also see almond meal, which is similar to almond flour, but slightly more coarse. Although almond flour and almond meal aren't always interchangeable, you can use either for this recipe.
How to bake with almond flour
Almond flour works a bit differently than traditional flour. Since it's high in fat, it makes baked foods like brownies super moist and tender. It's not great for things like bread, but it's perfect for baked goods like brownies or muffins! When measuring almond flour, gently fill a measuring cup with almond flour and use a knife to level it. Do not pack the flour into the cup.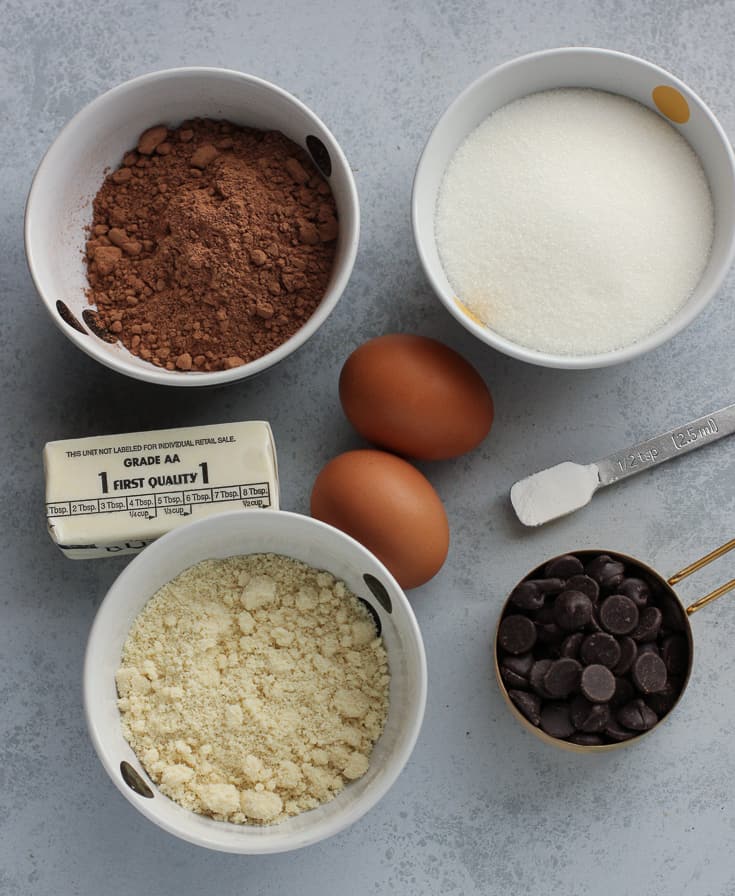 Almond Flour Brownie Ingredients
Unsalted butter– Butter is a must! I've tested this recipe with coconut oil and I do not recommend it. Unfortunately. I haven't found a vegan option for this.
Cocoa powder– This adds a deep, rich chocolate flavor.
Sugar– Since cocoa powder isn't sweetened, we need sugar to sweeten the brownies.
Eggs– These help the brownies stay together, without flour.
Vanilla– This helps enhance the chocolate flavor.
Cornstarch– This helps the brownies from being too crumbly.
Almond flour- This is the base of the brownies. It makes them tender, yet rich.
Baking powder– Baking powder is necessary for lift.
Salt– A little salt enhances the sweetness.
Chocolate chips– I like using mini chocolate chips but regular chips are fine too!
Tips for making almond flour brownies
Make sure you spray your brownie pan with non-stick spray before baking. This step will ensure it's easy to remove your brownies once they're baked!
Let the almond flour brownies cool completely before removing them from the tray. This will ensure they're fully set.
You can use any chocolate chips you like, but I prefer using dark chocolate because they make these almond flour brownies super rich!
Can these brownies be made without eggs?
I've tried making these with chia seeds but I don't recommend it. It changes the texture and the end result won't be deliciously fudgy brownies! They'll be a crumbly, gooey mess. Stick to eggs! But if you need a vegan recipe, try these vegan chocolate muffins!
Print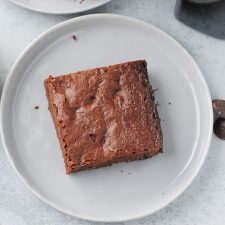 Almond Flour Brownies
Author:
Prep Time: 10 mins
Cook Time: 30 mins
Total Time: 40 mins
Yield: 16 1x
Category: Dessert
Method: Baking
Cuisine: Dessert
Diet: Vegetarian
---
Description
These double chocolate almond flour brownies are so fudgy and delicious! Packed with tons of chocolate, these gluten free brownies will be your new favorite!
---
1/2 cup unsalted butter, melted
1/2 cup cocoa powder
1 cup sugar
2 eggs
1 teaspoon vanilla
2 tablespoon cornstarch
1/2 cup almond flour
1/2 teaspoon baking powder
1/4 teaspoon salt
1/4 cup mini chocolate chips
---
Instructions
Preheat oven to 350°F.
Spray a 9-inch square pan with cooking spray and set aside.
Combine the melted butter and cocoa, stirring to combine.
Add sugar, eggs and vanilla and beat until smooth.
Add the almond meal, corn starch, baking powder and salt and mix to combine.
Spread into the prepared baking pan and bake 30 minutes.
Notes
Adapted from the Bob's Red Mill Almond Flour Brownie Recipe
Keywords: almond flour brownies

I really couldn't believe how well these almond flour brownies turned out. I was afraid they wouldn't hold together, or they'd be too crumbly, which is a pretty common problem with gluten-free desserts. But these held up just fine.
How to store almond flour brownies
Although they're best served just after they've cooled, these almond flour brownies will keep for a few days in an airtight container at room temperature.
Honestly, I think these almond flour brownies were even better than a traditional brownie, so even if you're not avoiding gluten, I'd give these a try. Bring them to a party or keep them at home and eat the whole pan yourself. (Just kidding. Kind of.)
Looking for other ways to bake with almond flour? Try these applesauce almond flour muffins!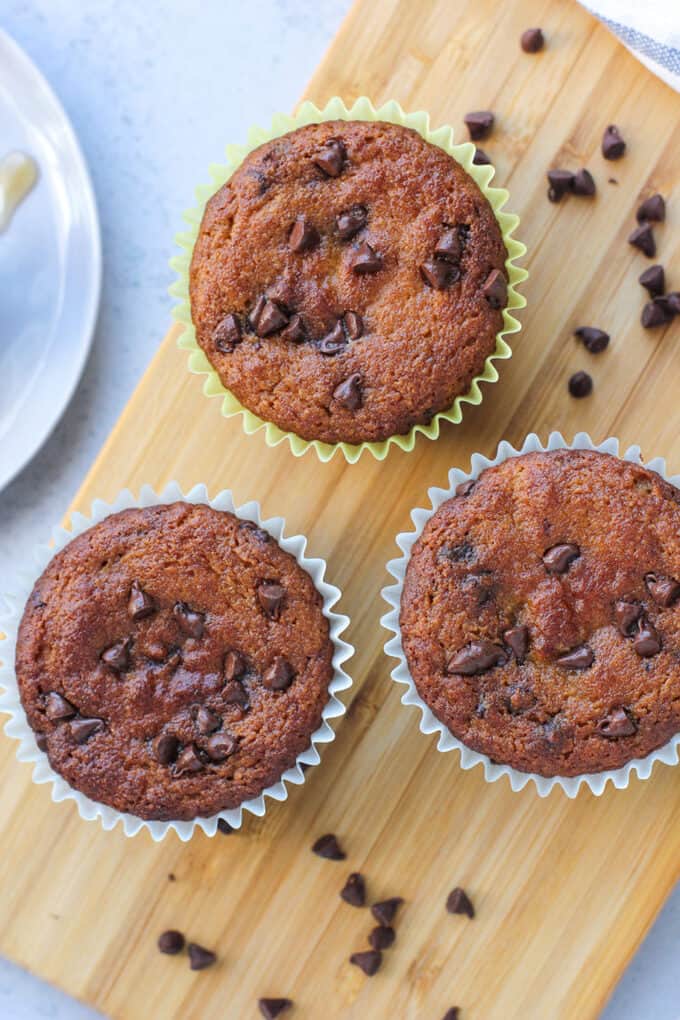 This post was originally published in December 2015. Updated May 2019.