Whole Wheat Chocolate Chip Biscotti
This whole wheat chocolate chip biscotti is the perfect treat to enjoy with a cup of coffee or tea! These crunchy cookies are easy to make and they're delicious with your favorite warm drink!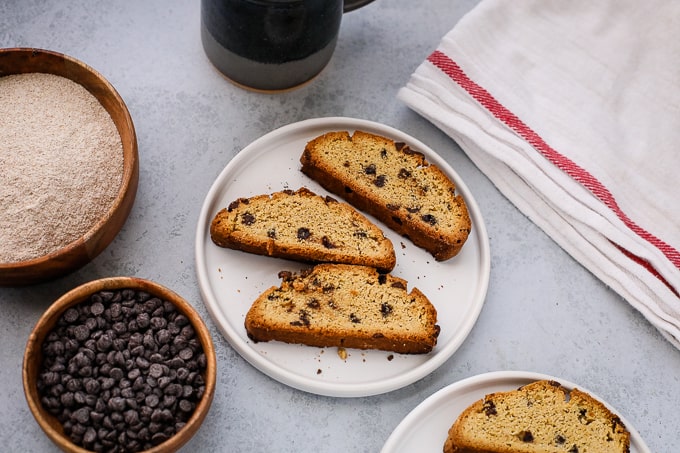 Biscotti is a fun treat to make because it's tasty as a dessert but you can get away with enjoying one or two with your morning coffee! I love having a batch of this on hand when we have visitors around, because it's a nice little treat to start the morning!
Why You'll Love this Biscotti Recipe
This whole wheat biscotti is easy to make and doesn't require any fancy ingredients. I'm willing to bet you already have all the ingredients in your pantry right now!
Using whole wheat flour is an easy way to add a little more protein and fiber to these cookies, so you can feel good about enjoying these for breakfast! They also have enough chocolate to really make them feel like a treat.
Whole Wheat Biscotti Ingredients
Butter- Butter is essential for adding fat to the recipe, which helps prevent the biscotti from being too dry.
Sugar- Obviously, we need a little sugar for sweetness!
Baking powder- This gives this biscotti just the right amount of lift for the perfect texture.
Salt- A hint of salt helps amplify the other flavors.
Vanilla- Vanilla extract adds an additional layer of sweetness.
Eggs- The eggs help bind the biscotti so it's not too crumbly.
Whole wheat flour- I like using whole wheat flour for more protein and fiber but you can use all purpose flour if you want a lighter texture. You can also use whole wheat pastry flour for a lighter texture with all the same nutritional benefits of whole wheat flour!
Almond flour- This creates a light texture but with additional protein.
Chocolate Chips- Obviously, I can't resist a little chocolate!
What is Whole Wheat Pastry Flour?
Anytime I use whole wheat pastry flour in a recipe, it typically sparks the question "What is whole wheat pastry flour and how is it different from other flours?" Whole wheat pastry flour is milled from a different kind of wheat. It's made from white soft wheat rather than red hard wheat. Even though it's called white wheat, it is still 100% whole wheat flour. It has a lower protein content than regular whole wheat flour so it has a better texture for things like baked goods. I like the Bob's Red Mill brand.
How to Make Biscotti
Once the ingredients are mixed, shape into a log about 2″ thick and 4″ wide.
Bake until golden brown, then let cool for at least 2 minutes. Slice into 2″ thick slices and place on a baking sheet.
I like to use this silicone mat which is easy to clean! Bake until the slices are dry and golden brown. They should be quite crunchy as soon as they're removed from the oven.
Tips for Perfect Biscotti
Make sure your oven rack is placed in the middle of the oven for even cooking.
Be sure to keep the oven temperature at 325 degrees. This biscotti needs to cook slowly at a low temperature, in order to get crispy without burning.
I like to use mini chocolate chips in order to get a little bit of chocolate in every bite.
This whole wheat chocolate chip biscotti is the perfect thing to make if you have friends or family visiting. You can leave a jar of these cookies out for your guests to help themselves while they enjoy a cup of coffee!
What to Serve with Biscotti
I love enjoying this biscotti with a cup of coffee but it's also delicious with tea or any warm drink! If you're serving this as part of a brunch spread, try it with these grapefruit and avocado salad! This is one of my favorite brunch recipes because it's a wonderful combination of flavors and textures!
How to Store Leftovers
Store leftover biscotti in an airtight container at room temperature. It will stay fresh for 3-4 days.
Other Healthy Dessert Recipes
If you love this whole wheat biscotti, I bet you'll enjoy my low calorie zucchini bread or my almond flour brownies!
Print
Whole Wheat Chocolate Chip Biscotti
Author:
Prep Time: 20 mins
Cook Time: 45 mins
Total Time: 1 hour 5 mins
Yield: 2 dozen pieces 1x
Category: Breakfast
Method: Baked
Cuisine: Biscotti
---
Description
This whole wheat chocolate chip biscotti is the perfect treat to enjoy with a cup of coffee or tea! These crunchy cookies are easy to make and they're delicious with your favorite warm drink!
---
6 tablespoons butter
2/3 cup sugar
1 1/2 teaspoons baking powder
1/4 teaspoon salt
1 teaspoon vanilla extract
2 large eggs
1 cup whole wheat flour (or whole wheat pastry flour)
2/3 cup almond flour
1/2 cup mini chocolate chips
Pinch of coarse or flaky sea salt
---
Instructions
Preheat the oven to 325°F. Line a baking sheet with parchment paper or a silicone baking mat.
In a medium-sized bowl, beat together the butter, sugar, baking powder, salt, and vanilla till smooth.
Add the eggs and beat till the mixture is well combined.
Add the flour and almond flour, mixing to combine.
Stir in the chocolate chips.
Divide the dough into four equal pieces, placing them on the baking sheet.
Shape each piece into a rough log about 8″ long, and about 2″ apart.
Wet your fingers and flatten them until they're about 3/4″ thick and 1 1/4″ wide.
Sprinkle with salt.
Bake the logs for 23 to 25 minutes, until they're beginning to brown around the bottom edges. Remove them from the oven, and allow them to cool on the pan for about 10 minutes.
While the logs are cooling, reduce the oven temperature to 325°F.
Slice the logs into 1/2″ to 3/4″ slices, using a sharp serrated knife.
Place the biscotti back on the baking sheet, spacing them close together without touching.
Bake the biscotti for 25 minutes, until their cut edges are a light golden brown.
Remove them from the oven, and cool before serving.
Note: Mine were a little done on the bottom, so I'd either make sure your oven rack isn't too low, or user a lighter pan. (I was using a pretty dark one.) Since you're baking them so long to get them crispy, you have to be careful about the bottoms!
---
Keywords: whole wheat biscotti

What's your favorite thing to enjoy with coffee or tea?