Vegetarian Lasagna Soup
This post is sponsored by Barilla®. As always, all opinions are my own.
You know I love easy meals and this vegetarian lasagna soup is a delicious one-pot meal that only requires a few minutes of prep! It includes all the flavors of lasagna without the fuss and the star ingredient is the Vero Gusto® Tomato and Basil sauce!
Soup season is around the corner and I can already tell this vegetable lasagna soup is going to be in our regular rotation! It's super easy to make and this one is a crowd-pleaser! The Vero Gusto® sauce by Barilla® adds delicious flavor to the base of the soup, and plenty of vegetables, lasagna noodles, and cheese turn this soup into a hearty meal! By cooking the noodles in the sauce, they soak up even more flavor!
If you haven't tried the Vero Gusto® by Barilla® sauce, you have to pick some up! It's made in Parma, Italy and it doesn't contain anything artificial or any added sugar. It's made with a flavorful soffrito base comprised of onion, garlic, and finely chopped carrot, with 100% Extra Virgin Olive Oil. It tastes just like homemade sauce but without all the work!
How to Make Lasagna Soup
Begin by sauteing the carrots and onion in a little bit of olive oil until softened.
Add the garlic and continue to cook until fragrant.

Break the noodles into smaller pieces, but be careful! The noodle pieces can go flying! I recommend you slide the end of a noodle under your palm, then lift your wrist upward to crack the pieces of pasta into your hand. This was the least messy strategy I tried!
Add the broth, Vero Gusto® pasta sauce, Italian seasoning, lasagna noodles, and zucchini and simmer until the noodles are al dente.
While the soup is cooking, combine the ricotta, mozzarella, and Parmesan cheese.
Once the noodles are finished, divide into servings and add a dollop of the cheese mixture to each bowl!
Substitution Ideas
If you want to make this recipe vegan, use vegan ricotta and vegan mozzarella cheese. You can skip the Parmesan, just add an extra pinch of salt, if necessary.
If you want to make this with extra veggies, add a handful of spinach to the pot as you stir in the ricotta cheese. It will cook quickly in the hot soup.
For a little heat, add a pinch of red pepper flake on top of each bowl.
How to Store Leftovers
If you're making this recipe in advance, I recommend cooking the noodles separately and stirring them into each portion when ready to serve. This helps prevent the noodles from getting soggy. This isn't necessary if you're planning to eat most of it when you first cook it, but if you like to meal prep for the week, you may want to consider that option!
Print
Vegetarian Lasagna Soup
Author:
Prep Time: 10 minutes
Cook Time: 20 minutes
Total Time: 30 minutes
Yield: 6 servings 1x
Category: Soup
Method: Stovetop
Cuisine: American
Diet: Vegetarian
---
Description
You know I love easy meals and this vegetarian lasagna soup is a delicious one-pot meal that only requires a few minutes of prep! It includes all the flavors of lasagna without the fuss.
---
1 20 oz jar Vero Gusto® Tomato and Basil pasta sauce
1 tablespoon olive oil
1 yellow onion, chopped
1 large carrot, peeled and chopped
3 cloves garlic, minced
4 cups vegetable broth
1 teaspoon Italian seasoning
8oz uncooked Barilla® lasagna noodles, broken into pieces
1 zucchini halved lengthwise and thinly sliced
1 cup shredded mozzarella
1 cup ricotta cheese
1/2 cup shredded parmesan
Fresh basil for garnish
---
Instructions
In a large pot, heat the olive oil over medium heat for 30 seconds.
Add the onion and carrot and cook for 8 minutes until the vegetables have softened.
Add the garlic and continue to cook, for 1 minute.
Add broth, tomatoes, seasoning, and noodles
Cover and bring to a boil then reduce the heat to simmer. and cook until noodles are soft and zucchini is tender, about 12 minutes.
Remove from heat and stir in half the ricotta cheese.
Combine remaining cheese together.
Divide the soup into bowls and top with cheese mixture.
---
Notes
The soup will continue to thicken as it cools. Leftovers will have a thicker consistency. If you want it more "soupy" just add a mixture of ½ broth and ½ sauce until you get the desired consistency.
Keywords: vegetarian lasagna soup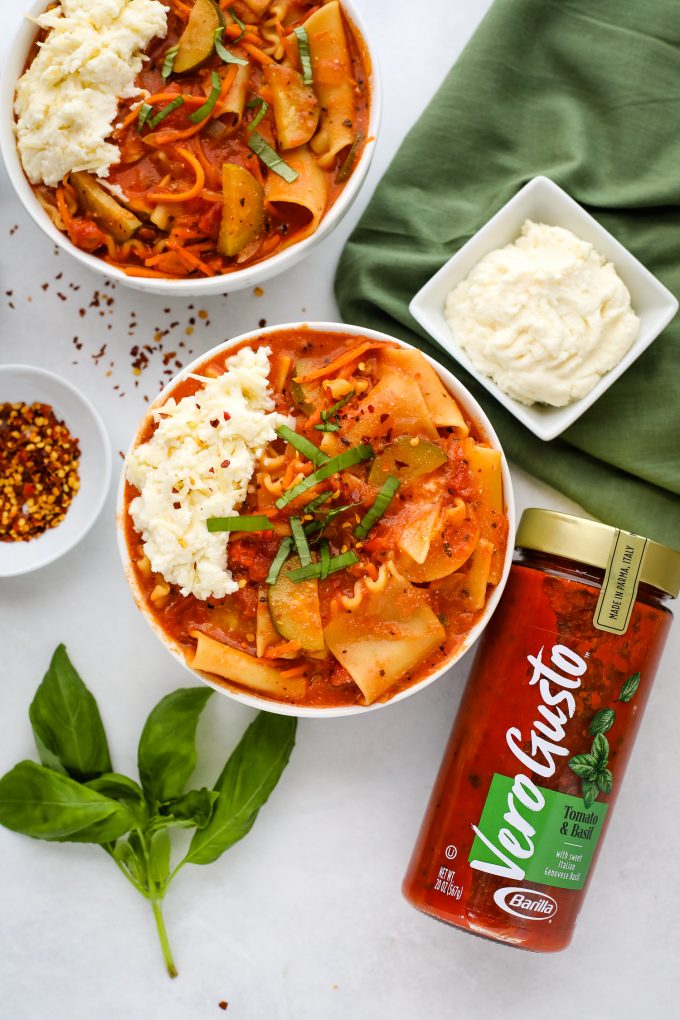 Looking for the perfect side dish to pair with this soup? Here are a few of my favorites:
I hope you give this soup recipe a try! It's a great way to satisfy a lasagna craving with a lot less work!