3 Things I Learned at an (Unofficial) Tone It Up Retreat
I spent this past weekend in Sandbridge, Virginia in a house with 15 other girls. I knew 2 of the girls already but the other 13 were strangers who quickly became friends. Let me back up.
I've talked about Tone It Up a lot on this blog. I have no affiliation with them and I have no incentive to encourage you to join, except for the fact that I think it's a great program and most of it is free!
While Tone It Up hosts their own retreats, it was out of the budget for a lot of us so we decided to have our own! I carpooled down with a couple of girl friends from Richmond and we talked, laughed, and snacked the whole way down! (I packed some of these Keep Healthy bars and they were a hit! We had the chocolate covered mango and chocolate covered pineapple flavors!) One very sweet girl, Michelle, took a chance on all of us and planned an
One very sweet girl, Michelle, took a chance on all of us and planned an amazing weekend! We had a craft night, we ran a 5K, we did yoga on the beach, and we spent hours and hours just talking and getting to know each other. So here's what I learned at this unofficial Tone It Up retreat.
1. Making health & fitness a priority isn't easy for anyone.
We had a diverse mix of ladies this weekend. An ER nurse, a couple of attornies, a realtor, an audiologist… you get the picture. These girls had jobs, boyfriends, husbands, kids, and a whole host of other responsibilities that require lots of time and energy. I think it's easy to forget that we all have reasons to skip a workout or go through the drive-thru for dinner, but it was inspiring to spend time with a group of girls who are making health a priority.
2. Everyone's fitness journey is different.
Some of the girls were training for marathons and some were training for motherhood. Some were barre experts and some were yoga newbies. It was refreshing to spend time with people who were in all different places in their fitness journey. The point is, it doesn't matter where you are as long as you're heading in the right direction!
3. Accountability is so important.
All of us talked about how the community is what kept us going on the challenges. There are plenty of workout videos and exercises classes out there- what kept us motivated was the encouragement from each other. When I don't feel like doing the daily workout, I scroll through Instagram and see all the positive inspiration from others in the community. When I'm having a less-than-confident kind of day, I know I can count on the community for encouragement. That's what this weekend was all about.
The next Tone It Up challenge starts October 1st (and it's only 31 days, so it's a great one to start with!) so I'm looking forward to new workouts and new recipes! If you've been thinking about giving it a try, sign up! I'll be sharing my meals, favorite workouts, and overall journey along the way!
Here are a few of my Tone It Up posts from the past: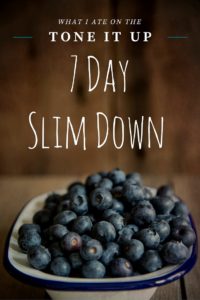 My recap of the 7 Day Slim Down (my very first Tone It Up challenge!)
My results on the Tone It Up Bikini Series (from this year's challenge!)
Here's what a full day of eating looks like on the Tone It Up nutrition plan.
Have you ever gone to a fitness retreat?