Since I've been raving about Halo Top on Instagram & Snapchat, I thought it deserved a proper post. I've gotten so many questions about the new flavors I've tried so I wanted to give you me thoughts. Just to be clear, this is NOT a sponsored post and although I wish Halo Top was shipping me pints of ice cream, I bought all of these with my very own moolah. So let's talk about Halo Top.
If you're not familiar with it at all, you can read my original Halo Top review here (way back in summer of 2015). I've been eating this stuff for a while and I LOVE IT. I've tried a lot the healthy ice creams out there… Arctic Zero, Wink, etc. And this stuff is not like the other guys. It legitimately tastes like ice cream. I've had plenty of taste testers give this stuff a try and they all agree- it's pretty dang good. Halo Top just rolled out a whole bunch of new flavors so I thought I'd share which ones are my favorite and which ones I wouldn't necessarily buy again.
Halo Top has had a variety of flavors out for a while. They started with vanilla, chocolate, strawberry, birthday cake, and lemon cake. Of those flavors, chocolate and birthday cake are my favorites but I know that many people love lemon cake. I'm more of a chocolate dessert person rather than a fruit person, but if you love fruit flavored things, give lemon cake a try.
Then they released Mint Chip (which I haven't tried) and Chocolate Mocha Chip which is quite delicious. I like that one a lot because it has little chips in it! You usually don't find that kind of texture in "healthy" style ice creams. I'm not a mint chocolate chip fan so I'm going to skip that one.
A few weeks ago, they released TEN new flavors. TEN. That's a lot of taste testing that needed to be done. But fear not, I've done it for you. Admittedly, there are four flavors I haven't tried, but I'll rank the first 6 for you here!
My Favorite Halo Top Flavor: Peanut Butter Cup
This one is the overall winner. The texture is amazing, the flavor is incredible, and it has actual SWIRLS of peanut butter-y goodness. This legitimately tastes like 100% regular ice cream. Granted, it's slightly higher in calories than some of the others. This one has 320 calories per pint but you could still eat the whole pint for the same amount of calories as ONE serving of Ben and Jerry's. So yeah.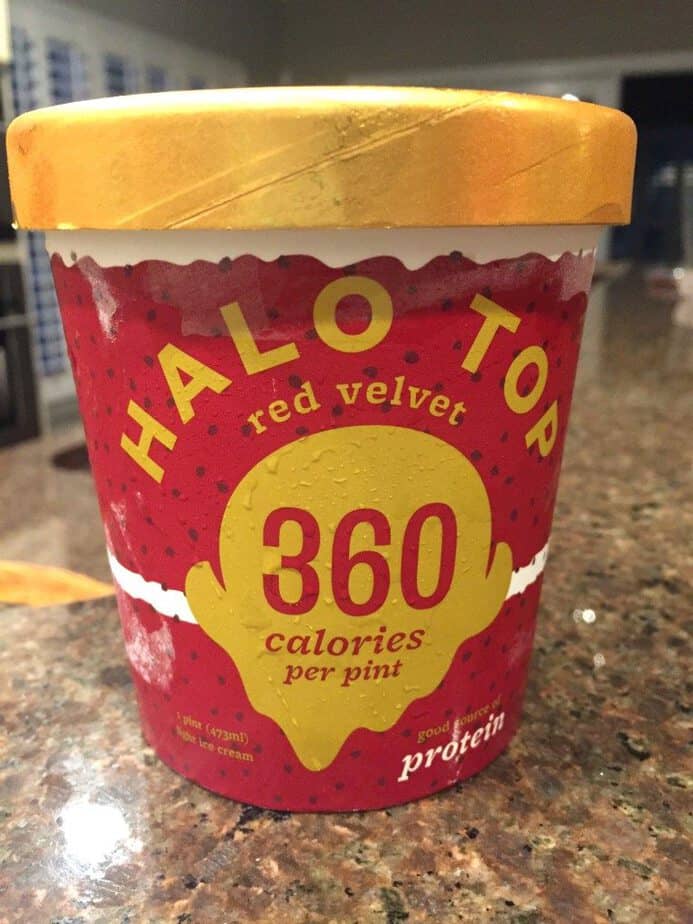 Runner Up Halo Top Flavor: Red Velvet
If you like red velvet things, then you won't be disappointed. It's sort of like the birthday cake flavor (but obviously with more of a red velvet flair) but this one has little chunks of… fudge? I'm not even sure what the chunks are but they're delicious. They kind of taste like cookie dough.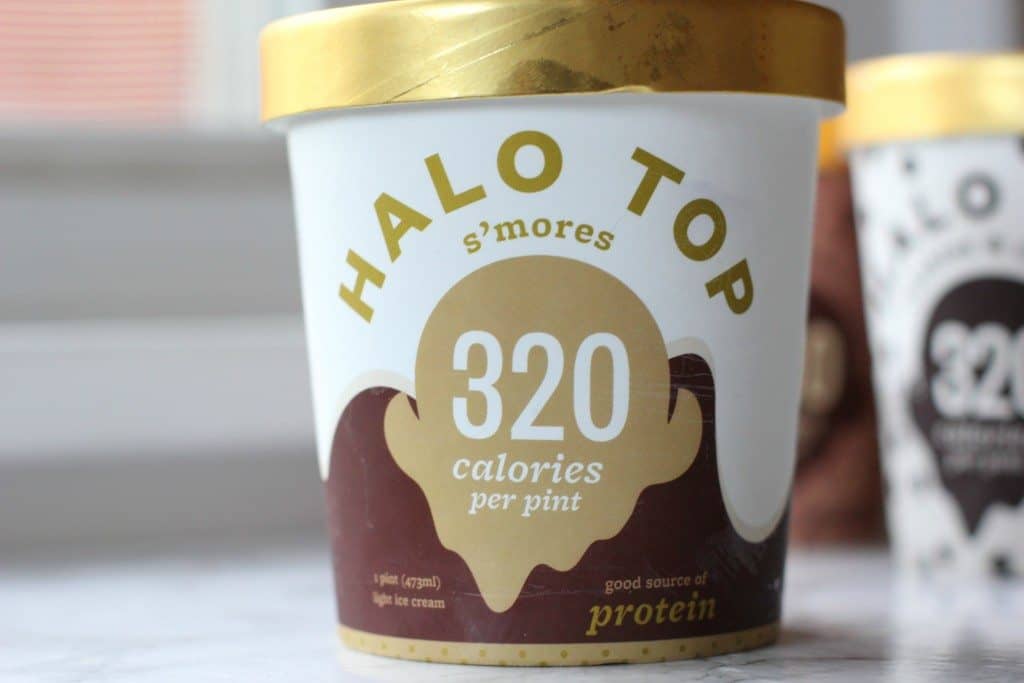 Flavors I'd Buy Again
Chocolate Chip Cookie Dough– This one sort of tastes like the Birthday Cake flavor with little cookie dough bits in it. The cookie dough bits were really yummy but even the plain ice cream was good. It's pretty sweet but not overwhelmingly so.
S'mores– I'm not a big marshmallow person but luckily that wasn't the main flavor. This tasted like vanilla with a hint of graham cracker plus little chocolate chips. It's definitely more interesting than plain vanilla so it's nice for something different. I probably wouldn't buy it regularly but it's a solid choice.
Oatmeal Cookie– This one was ok. It tasted like a cinnamon oatmeal cookie so if you like cinnamon, you might like this one. It had actual oatmeal pieces in it which was a little weird (I mean, it's just raw oats) but after a few bites I kind of enjoyed the texture. I'm not a huge cinnamon person so this wouldn't be my go-to but it was nice.
Flavors I Wouldn't Buy Again
Chocolate Almond Crunch– I was disappointed in this one. To me, it tastes like chocolate covered cherries. And I don't like chocolate covered cherries. I honestly checked the lid like 4x to make sure I hadn't accidentally grabbed the cherry one. I can't really explain it other than to say it didn't taste like chocolate. The crunchy almond pieces were nice but nothing special. This was just alright.
Cookies and Cream– This one tastes artificial to me. Maybe it's because it tasted like Arctic Zero's cookies and cream from back in the day, but whatever the reason, it just felt a little fake. I thought there would be cookie pieces but it was more like completely blended. So while there were cookie pieces, you couldn't really taste them. It was like cookie dust.
The Flavors I Haven't Tried
I haven't tried Pistachio, Sea Salt Caramel, & Black Cherry on purpose. I don't like those flavors in general so I'm pretty confident I wouldn't enjoy them in Halo Top form. (I might try them if the opportunity arises, but this stuff isn't cheap so I'm not wasting my money on flavors I won't like!)
So there you have it, my favorite Halo Top flavors! *phew* that was a long post. Someone hand me a pint.
Which flavor would you like to try?