5 Ingredient Creamy Goat Cheese Pasta
This creamy goat cheese pasta uses a simple sauce with just a few ingredients. It's a quick and easy dinner idea but you'd never know it from the taste!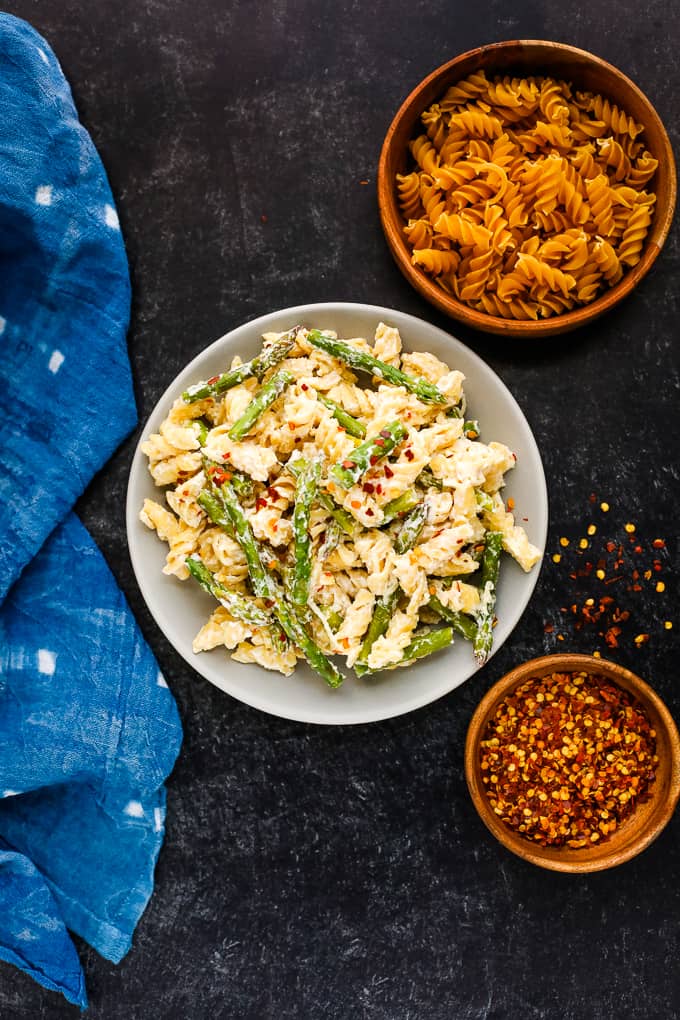 Not surprisingly, I cook a lot. And sometimes a recipe turns out fantastic but I know I'll never make it again because it was just too complicated. There's something satisfying about tackling a difficult recipe, but once you've done it… it's not as magical to do it again. However, when something turns out fantastic and it's super easy then I know it's going to be a regular feature at the dinner table. When I took a bite of this goat cheese pasta I couldn't believe it was so easy. Seriously, get excited.
Goat Cheese Pasta Ingredients
Pasta– For the best results, use regular or whole wheat pasta, not gluten-free pasta. The starch of the pasta helps thicken the sauce. If you do make this with chickpea pasta or another type of pasta, your sauce might be a bit thin.
Goat Cheese– Because we're using so few ingredients, it's important to use high quality goat cheese.
Asparagus– Fresh asparagus adds a lovely texture to this dish and it's an easy way to add vegetables to your plate!
Olive oil– A little olive oil helps make the sauce creamy.
Best Pasta to Use
I've made this recipe with regular pasta, whole-wheat pasta, and chickpea pasta. All of them will work, but I did find that the pasta water from the chickpea pasta made the sauce just a tiny bit thinner than when I used the pasta water from regular pasta. I still like using chickpea pasta for this recipe since it has so much protein and fiber, but it does produce a slightly different sauce.
Tips for Creamy Goat Cheese Pasta
This goat cheese pasta is best served right away. I don't recommend saving leftovers and reheating, because the texture of the sauce can get a bit dry after it's been cooled and reheated. Feel free to cut the recipe in half if you're just making dinner for two!
I'd recommend getting a high-quality goat cheese since the flavor really shines in the sauce. We have a local vendor here in Richmond that sells fresh goat cheese at the farmer's market and it's perfect in this sauce.
Adding your asparagus and pasta into the same pot means you only have one pot to wash when you're done! It's also faster because you only have to boil water once!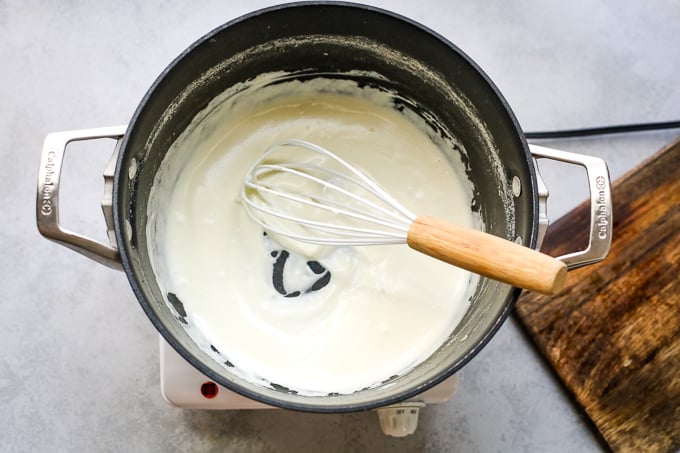 Substitution Ideas
Feel free to swap in other vegetables! I love making this with peas or broccoli. You can also use spinach, just wait to add it until you're mixing the sauce. The spinach will wilt slightly when mixed with the warm pasta.
I usually make this with plain goat cheese but I've also used a garlic and herb flavor that was delicious as well!
How to Store and Reheat Leftovers
If you have leftovers, store them in the fridge in an airtight container for up to 4 days. When reheating, drizzle with a little olive oil, then microwave on 50% power for 3-4 minutes, stirring every minute until heated through. The sauce may dry out a little, which is why a drizzle of olive oil is recommended.
What to Serve with Goat Cheese Pasta
Looking for the perfect side dish to pair with this recipe? Try this Lemon Kale Salad recipe, topped with avocado to add more greens to your plate. Don't miss this list of delicious side dish recipes to serve with pasta!
Print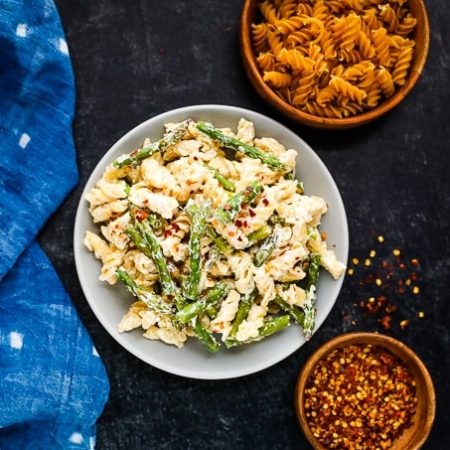 5 Ingredient Creamy Goat Cheese Pasta
Author:
Prep Time: 5 mins
Cook Time: 10 mins
Total Time: 15 mins
Yield: Serves 4
Category: Dinner
Method: Stovetop
Cuisine: Pasta
---
Description
This creamy goat cheese pasta uses a simple sauce with just a few ingredients. It's a quick and easy dinner idea but you'd never know it from the taste! If you love the tangy flavor of goat cheese, you'll love this recipe!
---
8 oz whole wheat rotini pasta
5 oz soft goat cheese
1/2 pound fresh asparagus, trimmed and cut into 1 1/2″ pieces
2 tablespoons olive oil
1/4 teaspoon crushed red pepper flakes
Salt and pepper to taste
---
Instructions
Bring a large pot of water to a boil.
Add the pasta to the boiling water. When there are 4 minutes left in the cooking time, add the asparagus to the pot of pasta and cook until the pasta al dente and the asparagus is tender.
Reserve 1/2 cup of pasta water and then drain the rest of the water from the pot.
Add the pasta water, olive oil, and goat cheese to the now-empty pot.
Cook over low heat, whisking until the cheese is melted and the sauce is smooth.
Add the pasta and asparagus and stir until evenly coated.
Keywords: Goat Cheese Pasta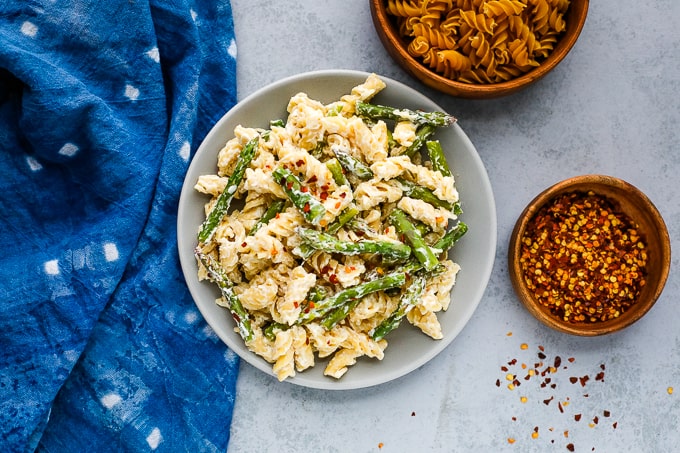 Looking for more ways to enjoy goat cheese? Try this goat cheese pizza with caramelized onions! The recipe only takes 60 minutes from start to finish, including making the pizza dough! Or you can use a pre-made flatbread and enjoy this goat cheese flatbread! If you have a little leftover goat cheese and you're not sure what to do with it, try it in this strawberry goat cheese salad!
What's your favorite goat cheese recipe?