21 Healthy Holiday Recipes
If you're like me, you're already bookmarking holiday treats and getting ready for dessert season. While I love making sweet treats, I also try to keep things healthy when I can. That's why I've pulled together 21 healthy holiday dessert recipes!
From tasty truffles to decadent pie, this list has you covered with plenty of delicious holiday desserts!
Dark Chocolate Avocado Truffles
As the name suggests, these truffles are made with avocado for a creamy, but healthy treat! Trust me; no one would ever guess there is avocado in there!
Chocolate Peppermint Truffles
Speaking of truffles, these chocolate peppermint truffles have a doughy center that is coated with a crunchy chocolate shell. These are a satisfying, healthy holiday dessert for under 100 calories.
Cinnamon Carrot Pie
Vegetables in a pie? Why not! This sweet pie is similar to pumpkin or sweet potato but made with carrots.
Cinnamon White Chocolate Cheesecake
If you love white chocolate, this cheesecake is for you! Plus, this cinnamon, white chocolate cheesecake, is vegan, gluten-free, and no-bake! No one would ever guess this cheesecake is made from only 6 ingredients. It's so delicious and easy.
Almond Butter Cookie Dough Bites
These vegan and gluten-free Almond Butter Cookie Dough Bites are a tasty no-bake, refined sugar-free treat filled with chocolate chips and rolled in shredded coconut.
Homemade Sugar Plums
It would be impossible to find a more festive holiday dessert than homemade sugar plums! This Christmas classic is made with dried plums, warming spices, a bit of orange, and coating of sugar.
Caramel Apple Cheesecake Brownies
These cheesecake brownies are made with caramel apples for a dessert that is vegan, gluten-free, and so delicious. Indulgent brownies are covered with a lemon cream, covered with homemade caramel, and finally topped with baked apples!
Pumpkin Pie Truffle Bites
These pumpkin pie truffle bites have a creamy middle and a hard outer dark chocolate shell. They are gluten-free and can be dairy-free and vegan! These pumpkin pie bites make an excellent dessert for parties and holidays.
Oatmeal Chocolate Chip Cookies
These cookies are made with whole grains and rolled oats for a healthier cookie. There's still plenty of chocolate for this to be a tasty dessert, so no one will know it's secretly healthy!
Christmas Meringues
These minty Christmas meringues get their distinctive flavor and pops of magenta from a classic candy cane. These 5 ingredient cookies are light and crisp with chewy bits of mint that are positively addictive.
Chai Spice Cake with Orange Cardamom Frosting
This cake is an easy holiday dessert that's dairy-free and vegan. And with all the warming spices of fall, this spongy cake served with a light, and citrusy coconut whip is sure to be a crowd-pleaser.
Healthy Holiday Granola
This Healthy Holiday Granola is a great gift that is vegan, customizable, and delicious. It's the perfect DIY Christmas gift that fits in a mason jar. This Healthy Holiday Granola is a great gift for co-workers, family members, or neighbors.
Dark Chocolate Avocado Cookies
These dark chocolate avocado cookies are so rich and fudgy; you'd never guess they're made with avocado! If you love chocolate, these are a must-make.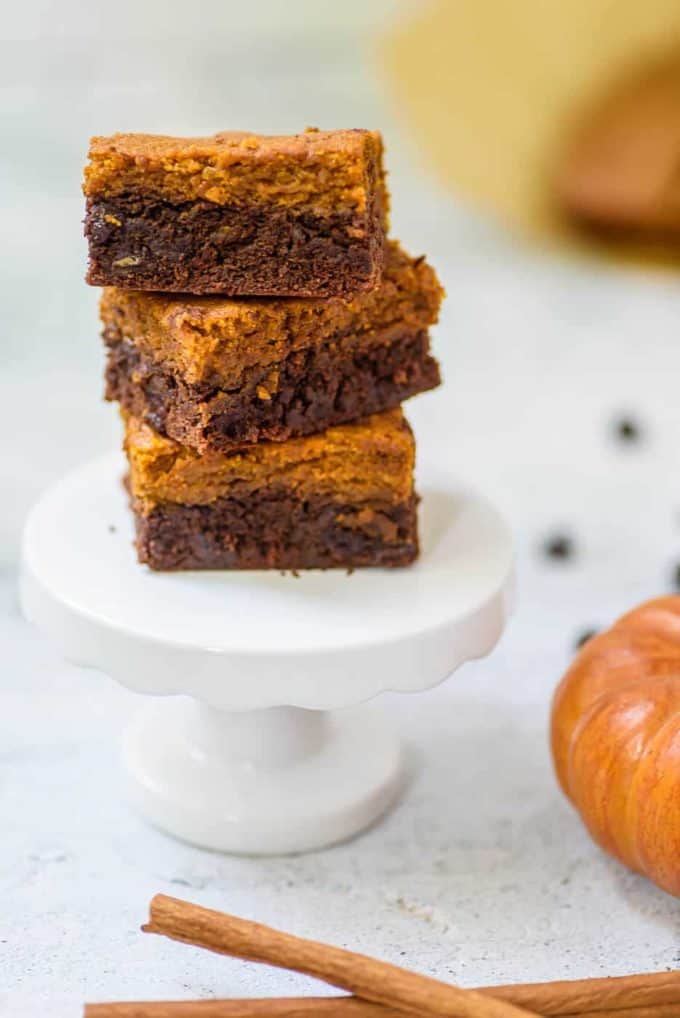 Healthy Layered Pumpkin Brownies
Can't decide between pumpkin and chocolate? Why not enjoy both? These layered pumpkin brownies are not only fudgy, chocolatey, and decadent, but they're healthy too! Only 15 minutes of prep time, less than 150 calories per serving, and the perfect fall dessert!
Vegan Pumpkin Dip
You only need 4 ingredients for this super simple pumpkin dip! It's so creamy, and it's perfect for any pumpkin lover! Serve it with graham crackers or apples for a healthy treat!
Cranberry Orange Bread
This amazing fat-free Cranberry Orange Bread combines the sweet and tangy citrus of orange with the tart pop of cranberries. The result – the best, most moist cranberry bread ever! It is perfect for the holidays and makes wonderful gifts too!
Healthy Peanut Butter Cookies
You can't go wrong with a classic peanut butter cookie. These are made without refined sugar or flour for a healthy treat you can feel good about!
Dark Chocolate Cranberry Bundt Cake
This cake is pretty enough to be a centerpiece, which is why this Dark Chocolate Cranberry Bundt Cake is the ultimate holiday dessert. It's decadent and fudgy and studded with dark chocolate chips and tart fresh cranberries. It's also made with wholesome ingredients and comes together in just one bowl! Use vegan chocolate chips to keep this dessert dairy-free and vegan.
Easy Pear and Gingerbread Parfait
Looking for a quick and easy no-bake Christmas treat? This parfait is your answer! The warming spices in the thick yogurt contrast beautifully with the crushed gingerbread cookies. Chopped juicy pear adds a fragrant, tasty extra flavor.
Crustless Pumpkin Pie Cupcakes
These Gluten-Free Crustless Pumpkin Pie Cupcakes are a great make-ahead dessert for holiday gatherings. They are a cross between pumpkin pie and a cupcake. Skeptical? You'll have to taste to believe it!
Vegan Pumpkin Chocolate Chip Cookies
These cookies are my all-time favorite pumpkin recipe. I love pumpkin with chocolate, and these cookies are so soft, they're almost like a muffin top!
What's your favorite holiday dessert? Share your ideas in the comments!