Chocolate Avocado Cookies
Did you know you can use avocado instead of oil in baked goods? These double chocolate cookies use avocado instead of oil for a deliciously fudgy texture.
It all started with these avocado muffins. It was the perfect way to use up a leftover avocado that was on the verge of being thrown out. When you buy a whole bag, sometimes it's hard to use them all up before they go bad, so I started using them in baking recipes. They're such a perfect, healthy swap for butter or oil, so I decided to turn them into a cookie! If you're looking for other cookie recipes that have a unique twist, try my chickpea cookies or these matcha cookies!
Chocolate Avocado Cookie Ingredients
Avocado– The avocado makes these cookies super moist, without the need for any oil!
Egg– The egg helps these cookies bind together.
Vanilla– A little vanilla extract adds sweetness.
Coconut sugar– I used coconut sugar, but you can substitute it for brown sugar if you prefer.
Salt– A pinch of salt enhances the sweetness.
Baking soda– Baking soda helps with leavening and browning.
Whole wheat pastry flour– I like using this type of flour because you get the health benefits of whole wheat flour but with a softer texture. If you don't have this, you can use all purpose flour.
Cocoa powder– This adds a chocolatey flavor.
Chocolate chips– Obviously, the more chocolate, the better! If you wanted to keep this recipe dairy free, be sure to use vegan chocolate chips.
Substitution Ideas
If you don't have coconut sugar, you can substitute it with light or dark brown sugar.
If you don't have whole wheat pastry flour, you can substitute with all-purpose flour. I have not tested these with gluten free flour.
You could use white chocolate chips or peanut butter chips for a different twist. Or you could add your favorite chopped nuts like walnuts or pecans.
I have not tested these to be sugar free, but if you wanted to try a sugar free option, I'd try granulated monk fruit or another sugar substitute that measures 1 to 1 for granulated sugar.
How to Bake with Avocado
Avocado can be a great substitute for oil or butter in certain recipes. Be sure to blend the avocado completely, as you don't want any visible pieces in your cookies. You want to use a ripe avocado, as it will be softer and easier to blend. Do not use an avocado that is overly ripe or mushy. Overly ripe avocados will give your baked goods an off flavor, and you may taste a bit of a banana flavor.
When buying avocados, look for firm ones that aren't ripe yet. If they're already ripe in the store, they're likely to be bruised. To ripen avocados quicker, keep them in a bowl with bananas. The ethylene gas released from the bananas will help soften the avocados faster. Once the avocados are soft, put them in the fridge. This will keep them at their peak of ripeness for much longer!
Essential Tools for Baking Avocado Cookies
Unlike most chocolate cookie recipes, this recipe does require a food processor or blender. You'll need to blend the avocado, egg, vanilla, and sugar until completely mixed. You don't want any visible pieces of avocado. This can be done in a food processor or blender. I have the Cuisinart Elite 14 Cup Food Processor which is incredible, but if you're looking for a cheaper option, the Hamilton Beach Big Mouth Duo Food Processor is great for a budget friendly option! You can also make this in a blender, but it might take a bit more time to blend.
I prefer to use a rimmed baking sheet for baking cookies. These help ensure even baking. To prevent sticking, line the baking sheet with parchment paper or use one of these silicone baking mats. A cookie spatula can also come in handy! These small, thin spatulas make it easy to lift cookies off of a baking sheet or to get brownies out of a cake pan.
It can also be helpful to have an oven thermometer to be sure your oven is calibrated. You may be surprised that your oven runs much hotter or much cooler than you thought! This can be a very handy tool if you do a lot of baking.
Tips for the perfect avocado cookies
Do not overbake these cookies. It can be hard to tell when they're done since they're already dark in color but follow the bake time. If possible, use an oven thermometer to ensure your oven temperature is accurate!
Make sure your cocoa powder isn't lumpy. It can help to sift it into the batter, so you don't have dry lumps of cocoa powder.
Avocado is an excellent source of healthy fat, and whole wheat pastry flour is a good source of protein and fiber. While these avocado chocolate chip cookies are still a treat, you can feel good knowing that there are some hidden benefits in these cookies!
Print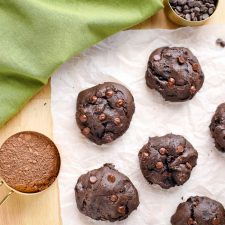 Chocolate Avocado Cookies
Author:
Prep Time: 10 mins
Cook Time: 10 mins
Total Time: 20 mins
Yield: 10–12 cookies 1x
Category: Cookies
Method: Baking
Cuisine: Dessert
---
Description
These chocolate avocado cookies are made without any butter or oil, but they're just as rich and chocolatey as a classic cookie! Try this healthy recipe for a tasty dessert.
---
1 ripe avocado, pitted and peeled (about 1/2 cup mashed)
1 large egg
1 teaspoon vanilla
1/2 cup coconut sugar (or brown sugar) firmly packed
1/4 teaspoon salt
1 teaspoon baking soda
1/2 cup whole wheat pastry flour or all purpose flour
1/2 cup cocoa powder
1/4 cup mini-chocolate chips
---
Instructions
Move your oven rack to the middle position and preheat the oven to 350 degrees.
Line a baking sheet with parchment paper.
In a food processor, combine the avocado, egg, vanilla, and sugar. If you don't have a food processor, you can use hand mixer, but be sure to blend until the avocado is completely smooth.
Stir in the salt, baking soda, flour, and cocoa until there are no streaks.
Stir in the chocolate chips until combined.
Drop rounded tablespoons onto the baking tray, leaving 2 inches between cookies.
Bake for 8-10 minutes. Do NOT over bake them!
Remove from the oven and let them cool for 1 minute, then transfer to a cooling rack.
---
Keywords: Avocado Cookies
How to Store Avocado Cookies
Once the cookies are completely cool, store them in an airtight container at room temperature for up to 4 days. You can also store these cookies in the freezer for up to 1 month. Keep in a zipper-top freezer back, then let them thaw for 30 minutes at room temperature before eating.
Looking for other ways to bake with avocado? Try these chocolate avocado muffins!
What's your favorite kind of cookie?
This post was originally published in June 2014. Updated February 2020.