These healthy peanut butter cookies are soft and chewy and they're made without any refined sugar or flour!
To be totally honest, I don't bake very often. I enjoy cooking but I prefer recipes that don't have to be exact. Working on the cookbook was quite a different experience since I had to measure every single ingredient precisely. (You should have seen me getting out the food scale, leveling off my measuring cups. I was a whole new person.) But this is my kind of cookie recipe because these not only are these cookies a bit healthier than most, they're also super easy to make! I've made them a bunch of times and I promise, they're hard to mess up. No coconut sugar? Don't worry, you can use brown sugar. Not sure where to buy oat flour? You can make your own in seconds!
Are you ready to try this healthy peanut butter cookie recipe? Let's do it.
Print
Healthy Peanut Butter Cookies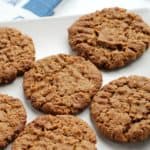 These healthy peanut butter cookies are deliciously chewy with no refined sugar or flour. They're also gluten-free and vegan.
Ingredients
1 cup creamy salted peanut butter (see note)
1 cup coconut sugar (see note)
2 teaspoons vanilla
1 cup oat flour (see note)
1 teaspoon baking soda
1/8 tsp salt or more to taste, if using unsalted peanut butter
Instructions
Preheat the oven to 350 degrees.
Line a baking sheet with parchment paper.
In a large bowl, stir together the peanut butter, coconut sugar, and vanilla until combined.
Stir in the oat flour, baking soda, and salt until well mixed.
Scoop heaping tablespoons of dough into balls and roll. Flatten with a fork to make a criss-cross pattern on top of each cookie.
Bake for 8-10 minutes until lightly browned. These cookies can easily burn on the bottom so I recommend baking in the middle of the rack for 7 minutes and then moving to a top rack for the last 2 minutes of baking. Every oven is different, but that works best for my oven!
Notes
I find that creamy no-stir peanut butter works best in this recipe. If your peanut butter is too dry, as natural peanut butter can sometimes be, the cookies may be too crumbly. I've used Whole Foods Organic Creamy Peanut Butter and Aldi's Organic Creamy Peanut Butter and both worked well. If you're using natural peanut butter, be sure to stir it well before using.
If you don't have coconut sugar, you can substitute brown sugar.
To make 1 cup of oat flour, add 1 cups of oats to a blender or food processor and pulse for about 30 seconds or until crumbly. It doesn't have to be super fine.
Since this healthy peanut butter cookie recipe doesn't require any eggs, it's easy to make a half batch or a double batch without having to worry about any fancy conversions. I made a half batch over the weekend and it'll be plenty of cookies for us!
I do want to mention that just because coconut sugar is a less refined sugar doesn't mean you should go crazy with it. Like any sugar, you should enjoy it in moderation! I like these cookies because they're a bit healthier but they taste like a regular cookie. Back in college, I was totally one of those "diet-desserts" girls. (Did those 100 calorie packs of fake cookies ever leave anyone satisfied?) Looking back I wish I could smack those franken-foods out of my hands and give myself some real dessert. These days, I feel much more satisfied having a regular cookie rather than trying to fool myself into eating low-calorie versions of the foods I really want. Oh, how things change! Can anyone else relate?
Now if you'll excuse me, I'm going to go enjoy one of these deliciously chewy peanut butter cookies!
What's your favorite kind of cookie?