2 Ingredient Pizza Crust Recipe
Did you know you can make pizza crust with just 2 ingredients? Whip up this crust and add any toppings you like! Pizza night is just a few minutes away! This recipe is perfect for a weeknight dinner with the family!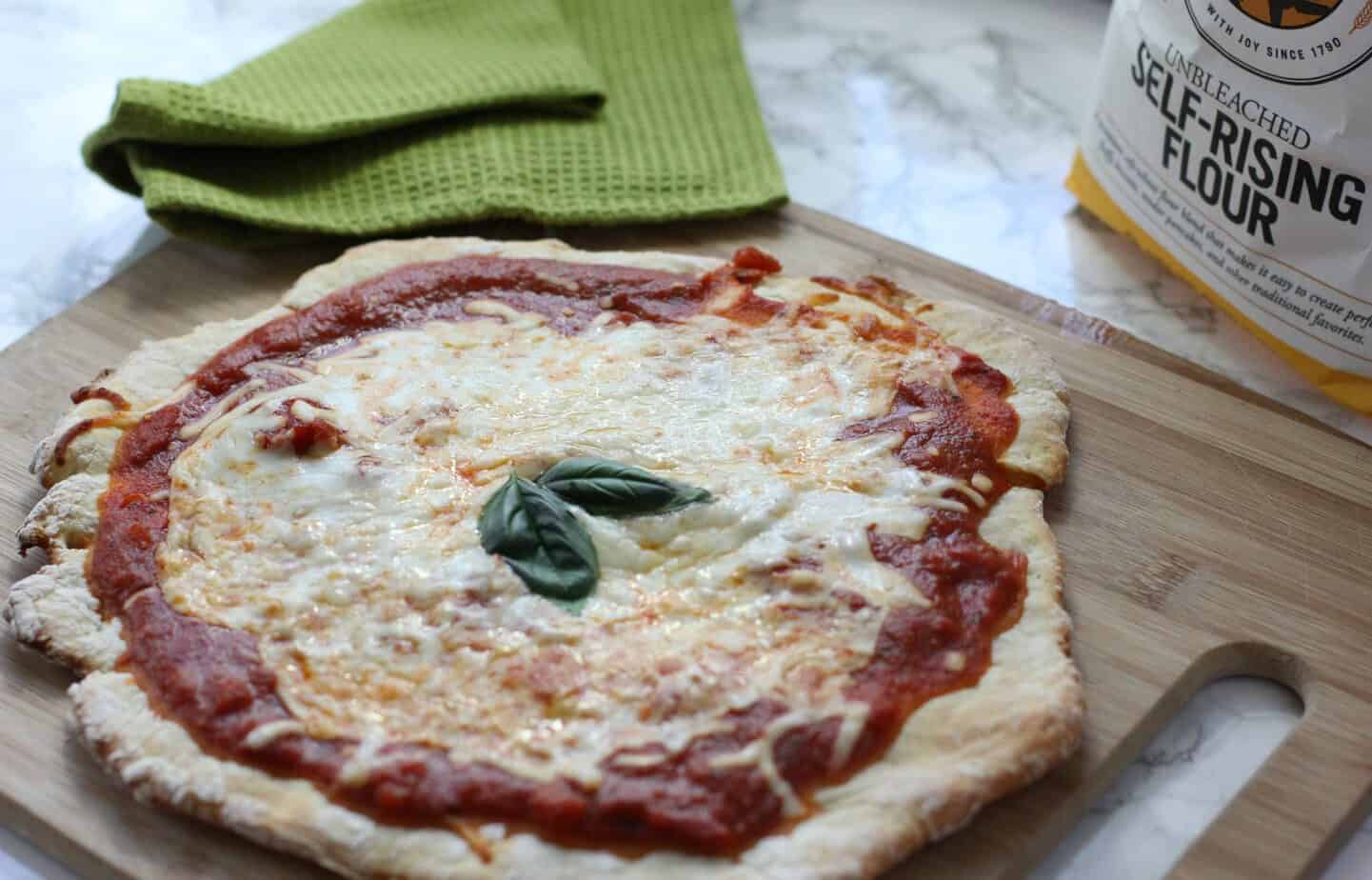 Can you really make pizza crust with just two ingredients? Yes! This chewy, crispy crust is easy to make and you can customize it with your favorite toppings.
Why I Love This Recipe
This recipe only requires two ingredients, Greek yogurt and self rising flour, so it's an easy one to make, even when your pantry is looking a little bare. You don't have to let the dough rest or rise, so you can get pizza in the oven in just minutes. Plus, since this recipe is made with Greek yogurt, it has more protein than a typical pizza crust!
What is Self Rising Flour?
Self-rising flour is a mix of all-purpose flour, baking powder, and salt. This allows baked foods to rise without the need for yeast. It can be used for everything from pizza crust to biscuits! It's great when you're low on other ingredients in your pantry, but you still want to make something delicious!
How to Make Self Rising Flour
If you don't have a bag of self-rising flour, you can make your own! The ratio is 1 cup of all-purpose flour mixed with 1 1/2 teaspoons of baking powder and 1/4 teaspoon of salt. This makes slightly more than 1 cup of self-rising flour, which is all you'll need for this recipe.
How to Make 2 Ingredient Pizza Crust
Combine the Greek yogurt and self-rising flour in a bowl. Start by mixing with a spoon but as it thickens, it may be easiest to knead it with your hands. The dough will be slightly sticky.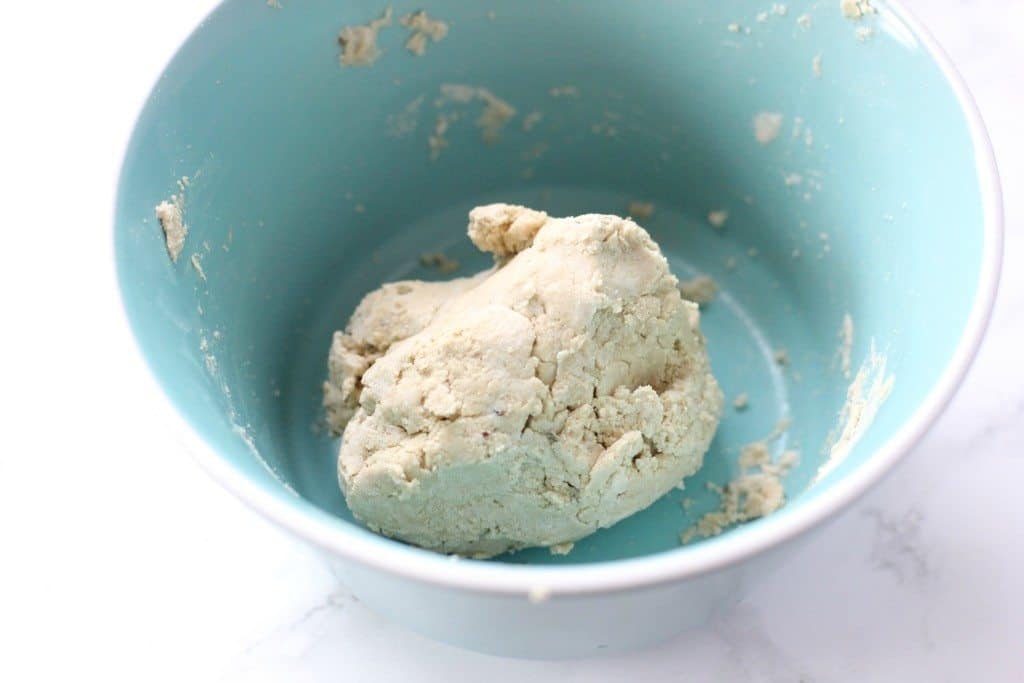 Roll the dough as flat as possible using a rolling pin. This crust will be a moderately thick crust, so don't stress about getting it super thin. Then place in on a greased baking sheet.
Bake the crust for about 5 minutes until just lightly browned. Add your favorite toppings to the dough. I kept mine simple with a little marinara sauce and shredded mozzarella cheese. Then bake again until the cheese is melted and the crust is golden brown.
Remove from the oven and let it cool slightly, then slice and enjoy!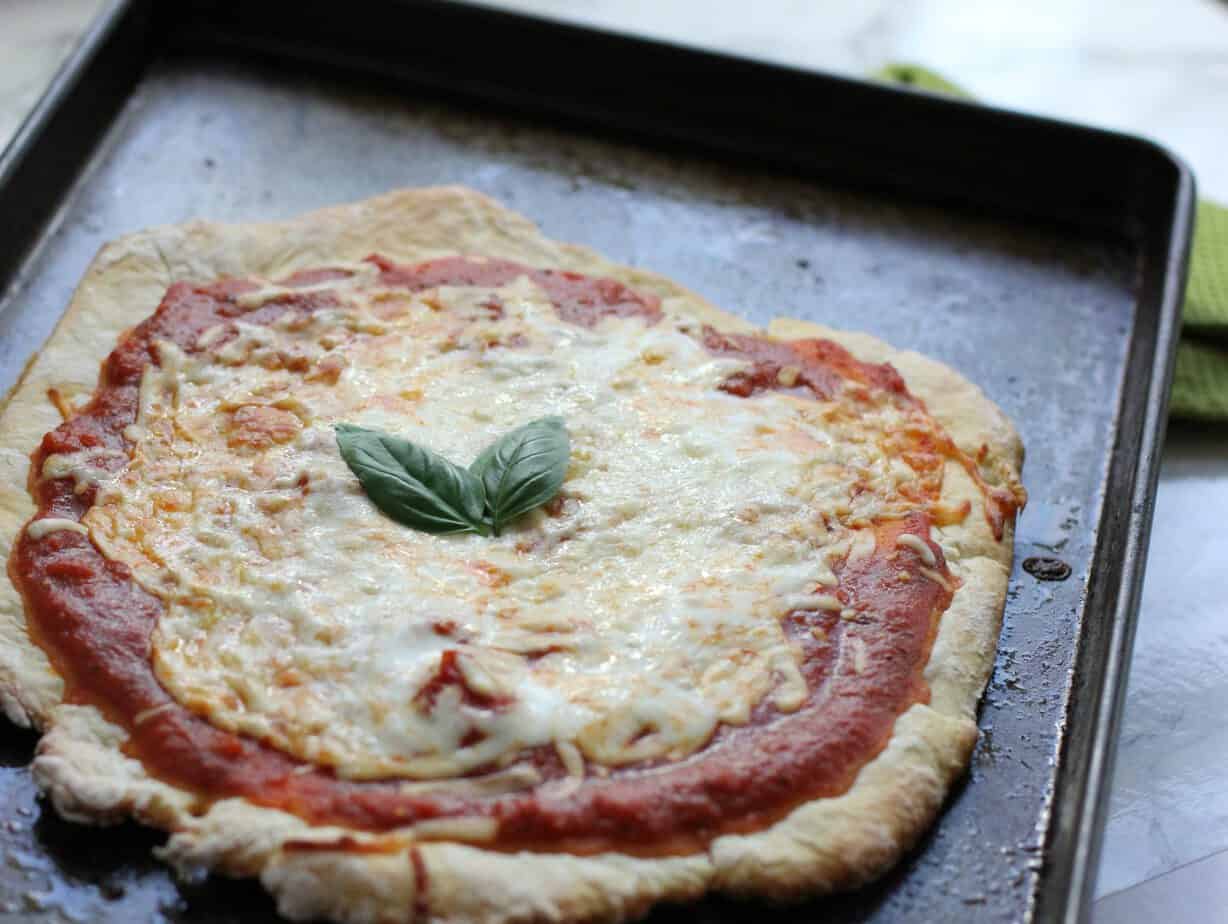 It's hard to believe how simple this recipe is, but it really makes an amazing pizza crust! You could add other toppings if you like. Since this crust is thicker, it can stand up to quite a few toppings without getting soggy.
My Favorite Pizza Topping Ideas
Shredded mozzarella or fresh mozzarella
Ricotta cheese
Thinly sliced zucchini
Hot honey
Cherry tomatoes
Fresh basil
Do you have a traditional pizza crust recipe?
Yes! This pizza crust recipe is great for a thinner, flatbread-style pizza. If you have a pizza oven, try my Ooni pizza dough recipe which is perfect for a Neopolitan style pizza!
Or, you can make my beer pizza dough which uses beer instead of yeast. It gives you a thin, crispy crust with just a hint of hoppy flavor. Don't worry, the alcohol cooks out in the oven so it's safe for the whole family.
Print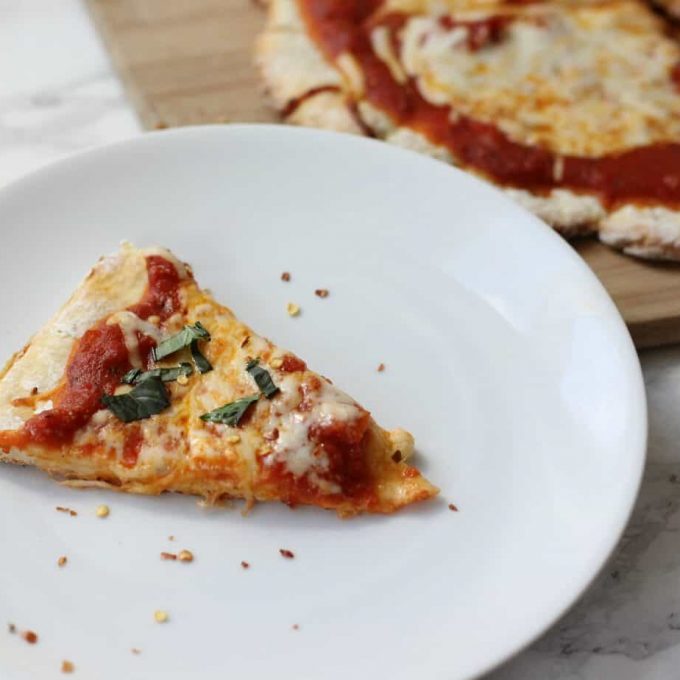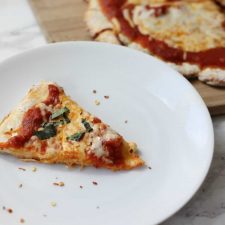 2 Ingredient Pizza Crust Recipe
Author:
Prep Time: 10 mins
Cook Time: 20 mins
Total Time: 30 mins
Yield: 2 Servings 1x
Category: Dinner
Method: Baking
Cuisine: American
Diet: Vegetarian
---
Description
This 2 ingredient pizza crust can be customized with whatever toppings you like!
---
1 1/4 cup self-rising flour + more for dusting
6 oz plain Greek yogurt
1/2 cup pizza sauce
1 cup shredded mozzarella
Optional: Basil, red pepper, or parmesan.
---
Instructions
Preheat the oven to 450 degrees.
Spray a baking sheet with non-stick spray and set aside.
Mix the flour and the Greek yogurt in a large bowl, until combined. You'll may need to knead it with your hands.
Use a rolling pin to spread out the dough on the prepared baking sheet until it's between 1/2″ and 1/4″ inches thick.
Bake the crust for 5 minutes until lightly browned.
Remove the pizza crust from the oven and top with sauce, cheese, and any additional toppings.
Put it back in the oven for about 7-8 minutes minutes
Turn the oven to broil and cook for 2-3 minutes, keeping a close eye on it to make sure it doesn't burn!
Serve immediately.
Keywords: 2 Ingredient Pizza Crust
Looking for a more classic pizza crust? Try my Ooni Pizza Dough recipe! It's perfect for making Neapolitan style pizza in an Ooni Pizza Oven or your home oven!
Or try making a naan pizza for an easy single-serving pizza recipe!
Have you ever made your own pizza crust?