Vegan Cheesy Broccoli and Rice
This vegan "cheesy" broccoli and rice casserole is the ultimate plant-based comfort food! The cheese sauce is unbelievably creamy but it's made with vegetables!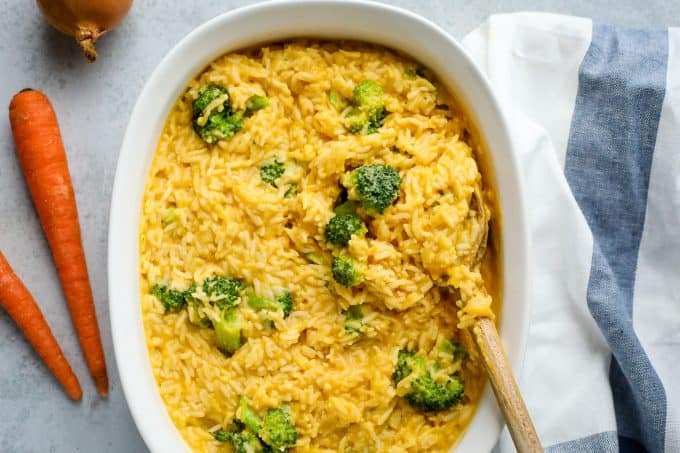 Being from the Midwest, broccoli and cheese go hand in hand. But drowning broccoli in melted cheese isn't usually the healthiest option. When I found myself licking the spoon while stirring my vegan macaroni and cheese sauce, it occurred to me that this sauce shouldn't be limited to just pasta! So I adapted my vegan macaroni and cheese recipe into another midwestern comfort food staple!
This vegan cheesy broccoli and rice is super easy and you can make it on the stovetop with just one pan. (Ok two pans if you want to cook the rice at the same time!)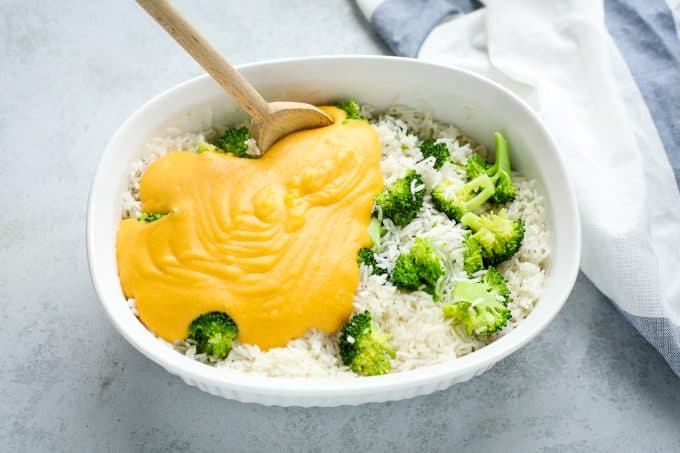 The key to this recipe is the vegan cheese sauce, so here are my tips to make sure you end up with a velvety, smooth cheese sauce.
Tips for the Perfect Vegan Cheese Sauce
Be sure to boil the vegetables until completely soft. The potatoes should practically fall apart when poked with a fork.
Blend the cashews, oil, mustard, and garlic with the cooking water before adding the vegetables.
If you don't have a high powered blender, soak the cashews in water for a few hours. Drain the water before adding the cashews to the blender. This will help them blend into a smooth consistency.
Once you add the vegetables, blend blend blend! You may need to blend for up to 3 minutes to get it completely smooth. This works best with a high powered blender but it should get creamy with a regular blender, eventually.
You can speed up this recipe by cooking the rice in a separate pot while preparing the rest of the vegetables. If you have a rice cooker, this is a great hands-off way to prepare this dish a bit faster.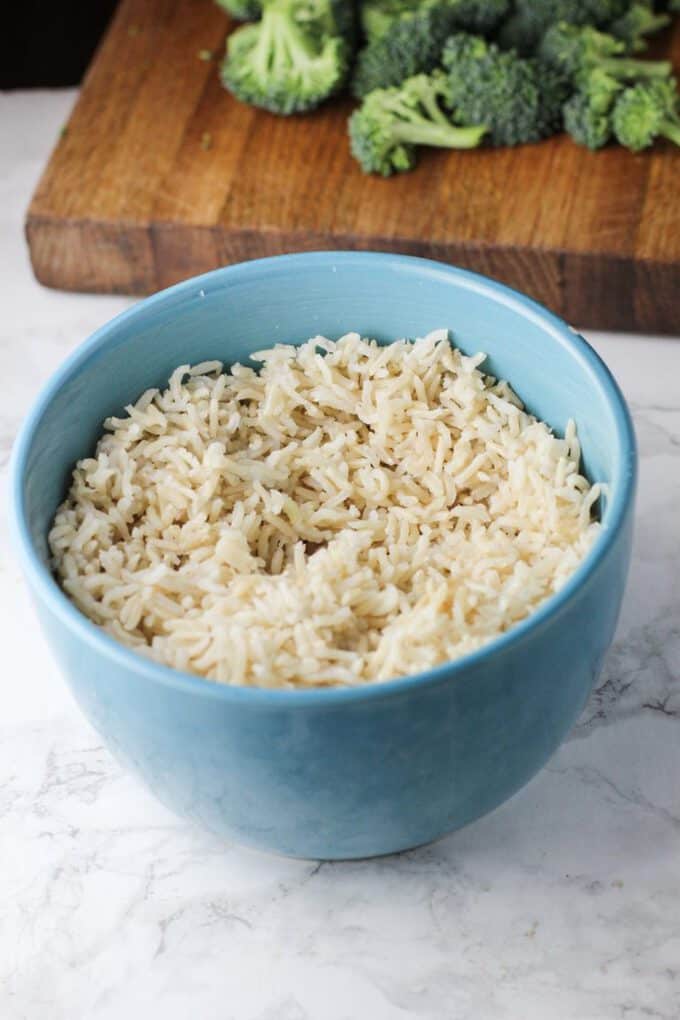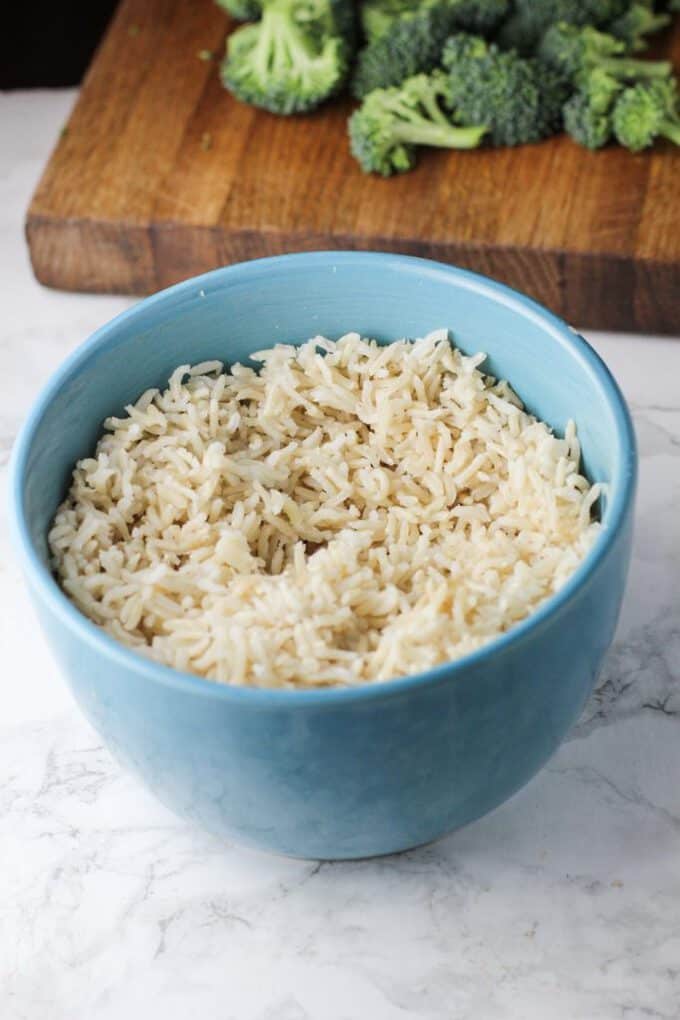 You can make this recipe with white or brown rice. I prefer brown because it has more protein and fiber. This is comfort food you can feel good about!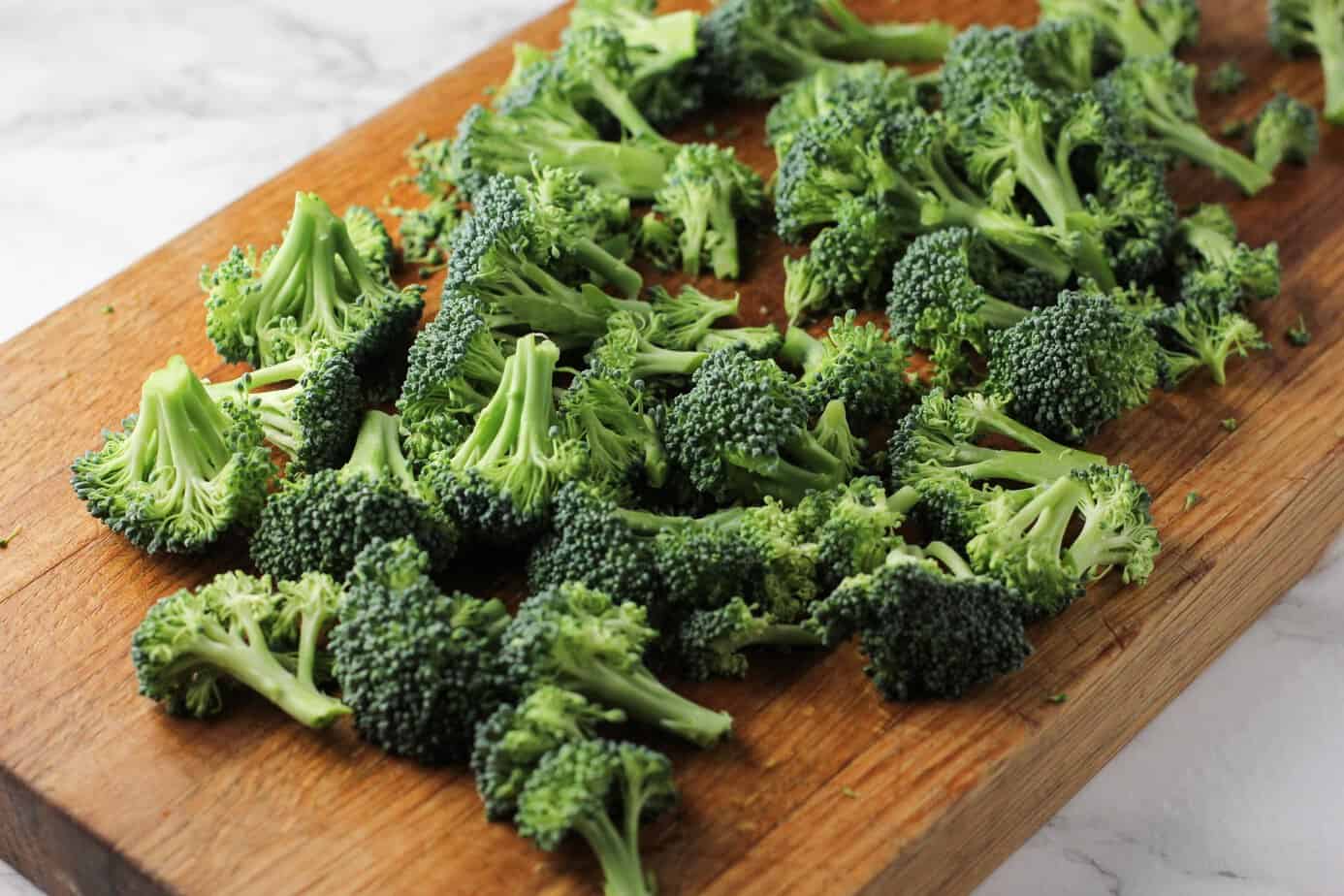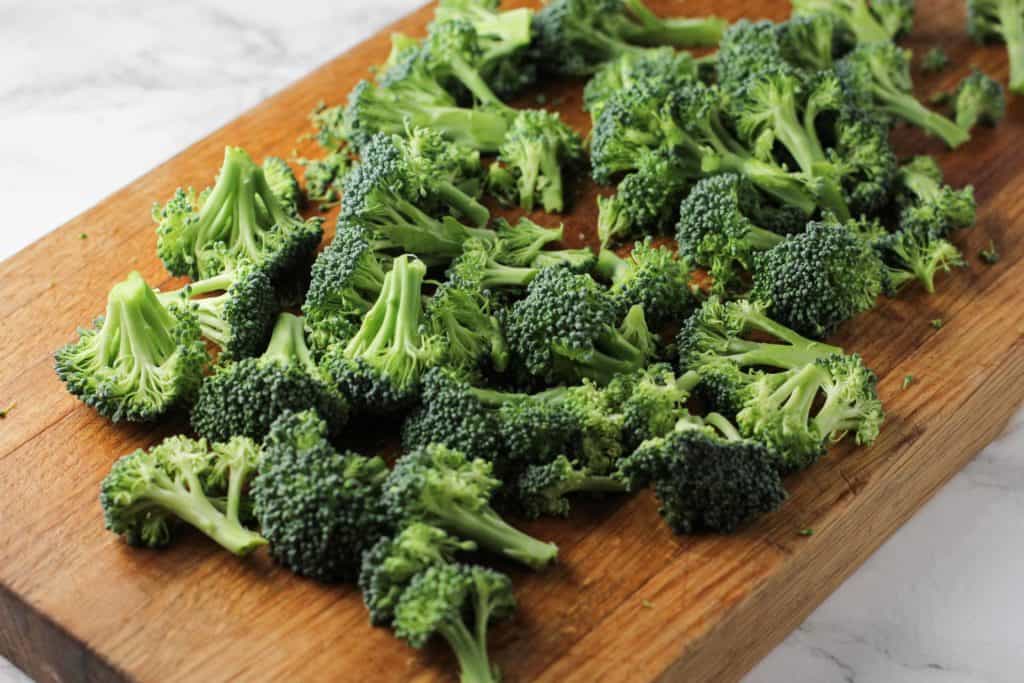 Make sure you cut your broccoli into similar-sized pieces so that it cooks evenly. You'll cook the broccoli until it's bright green.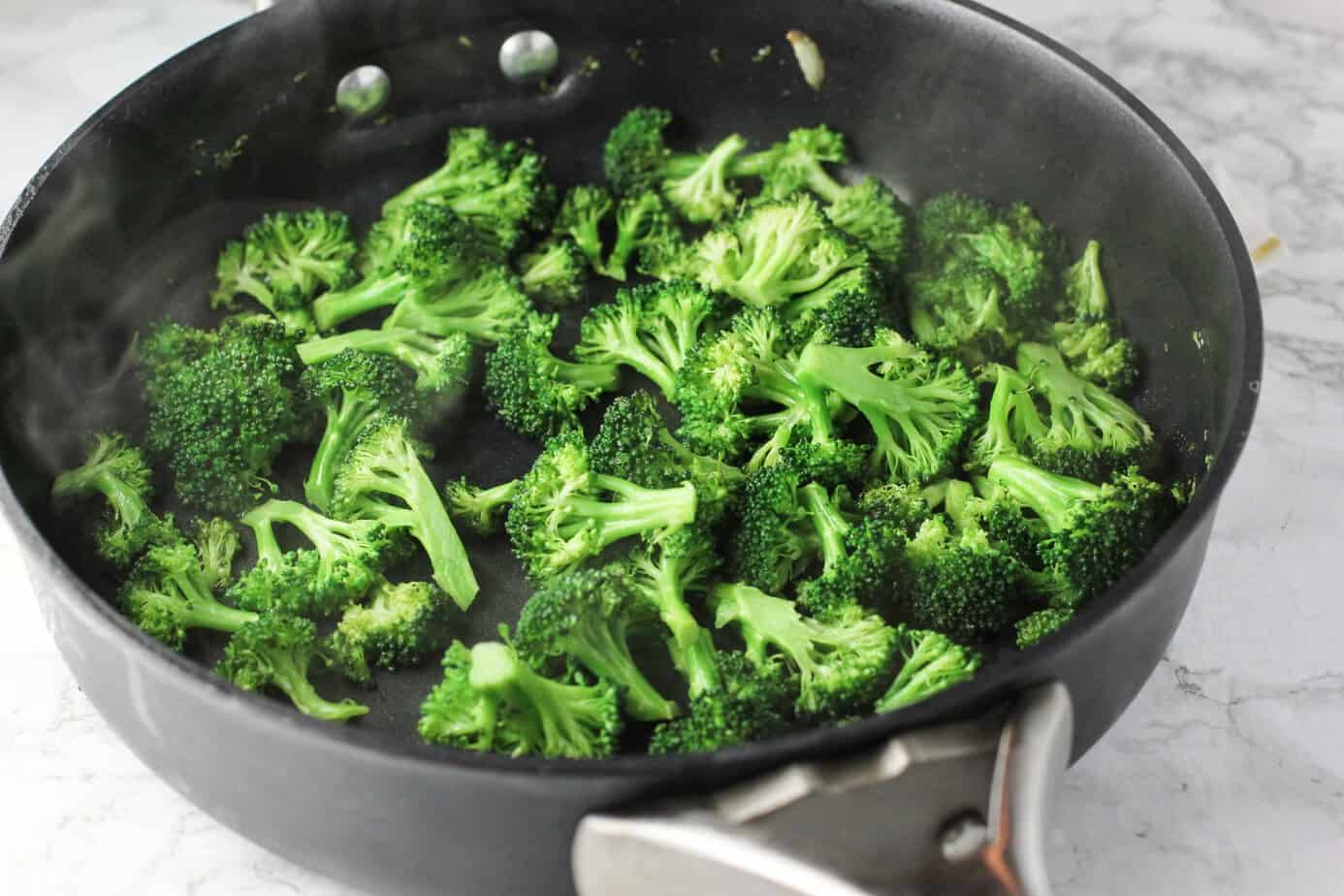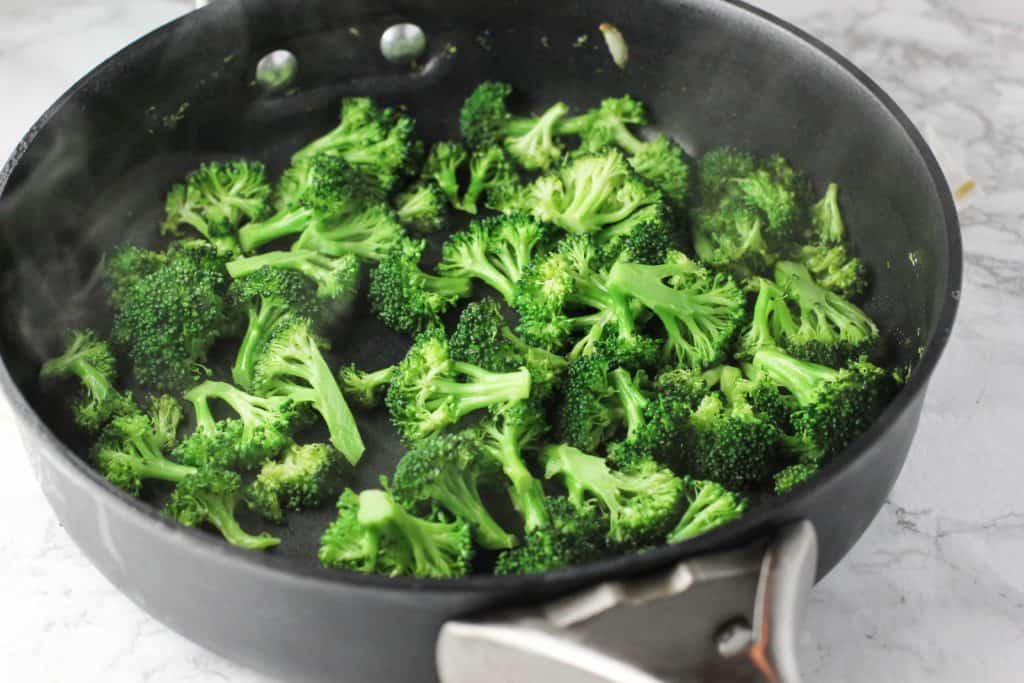 How to make this recipe advance
The cheese sauce can be stored in the fridge for up to three days, so you can prepare the sauce ahead of time if you like. This recipe also reheats well. Just pop it in the microwave for a few minutes and stir every 30 seconds until it's heated through. This makes a great lunch!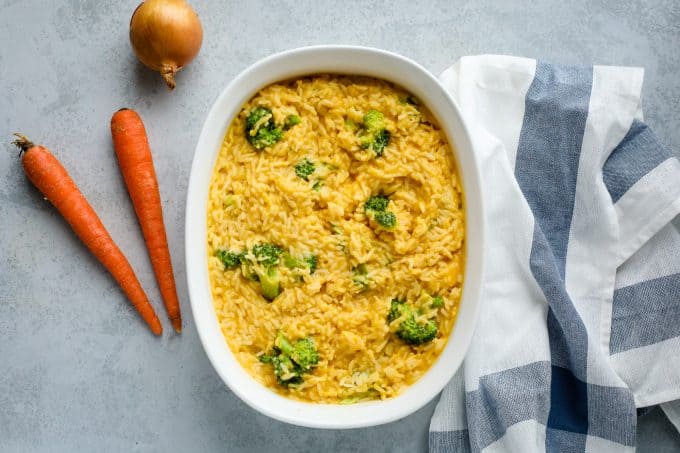 How to Store Leftovers
These leftovers will keep in the fridge for 3-4 days. You can also freeze the cheese sauce separately, if you want to make a double batch and save some for later! Store in a a glass container for up to 3 months. When you're ready to use it, thaw it in the microwave and stir. It may separate slightly while thawing, but you can easily stir it together.
Print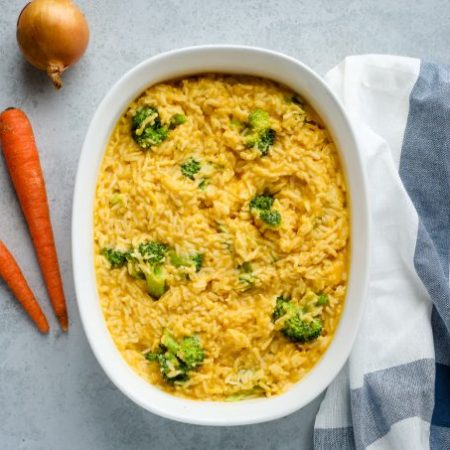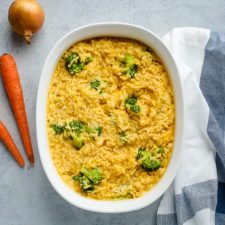 Vegan Cheesy Broccoli and Rice
Author:
Prep Time: 15 minutes
Cook Time: 45 minutes
Total Time: 1 hour
Yield: 6 cups 1x
Category: Dinner
Method: Stovetop
Cuisine: American
---
Description
This vegan "cheesy" broccoli and rice casserole is the ultimate plant-based comfort food! The cheese sauce is unbelievably creamy but it's made with vegetables!
---
2 cups brown rice, dry
2 broccoli crowns, chopped into 1" pieces
1 medium onion, roughly chopped
2 large russet potatoes, peeled and chopped into 1" cubes
2/3 cup chopped carrots
2 cups cooking water, reserved
2/3 cup cashews
1 teaspoon salt (or to taste)
3 cloves garlic, peeled
1/2 teaspoon dijon mustard
1/4 teaspoon black pepper
2 tablespoons nutritional yeast (optional)
---
Instructions
In a wide, lidded saucepan, cook 2 cups of brown rice according to package directions. Fluff with a fork, remove from the pan and set aside.
Fill a large bowl with ice water and set aside.
Bring a large pot of water to a boil.
Add the broccoli and cook for 2 minutes.
Using a slotted spoon, carefully transfer the broccoli to the bowl of ice water to stop the cooking process.
Empty the pot, then add the onion, potatoes, and carrots and cover with 2 inches of water.
Bring to a boil and simmer for 15-20 minutes or until the vegetables are soft.
Add the vegetables, 1 cup of cooking water, cashews, salt, garlic, dijon, black pepper, and nutritional yeast, to a blender.
Be sure to allow steam to escape from the top of the blender. Blend until completely smooth.
Add the broccoli and rice back into the skillet. Cover with cheese sauce and stir until combined.
---
Keywords: vegan cheesy broccoli and rice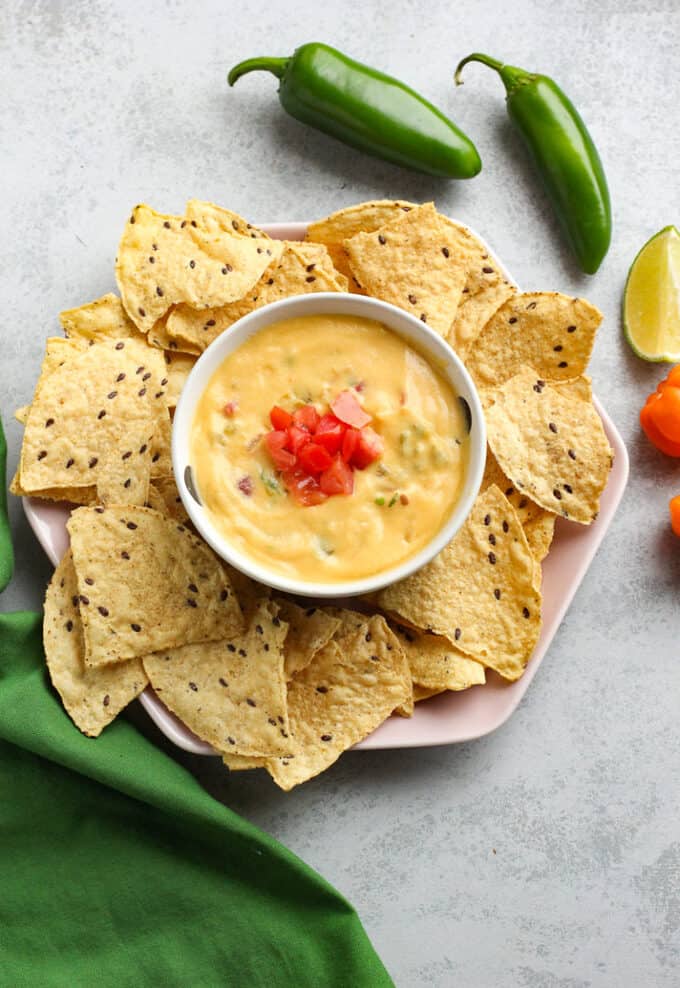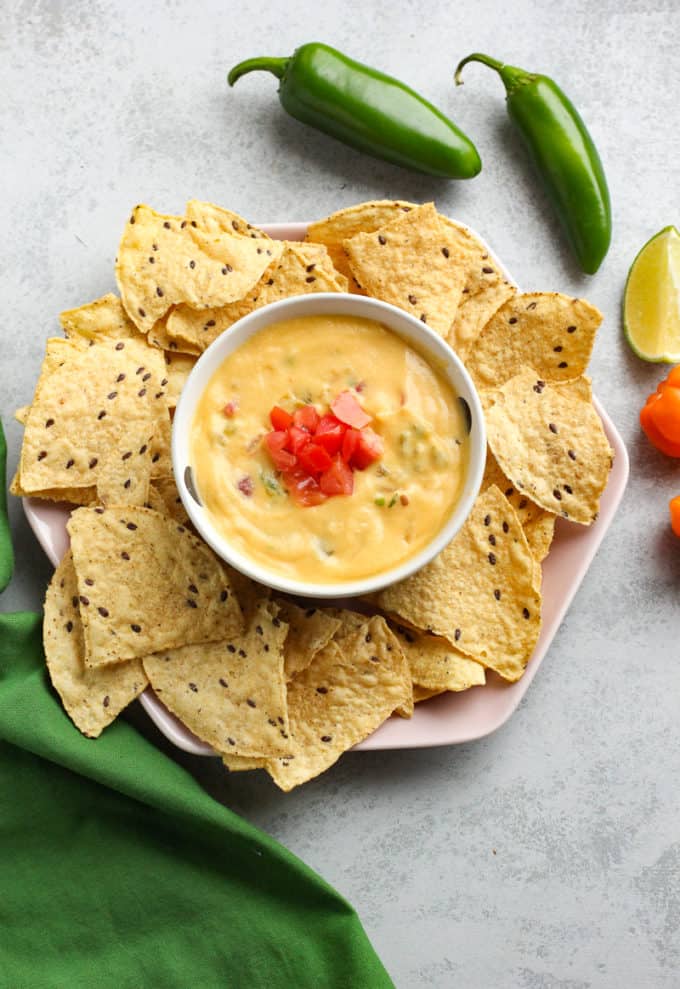 Looking for other ways to use this cheese sauce? With a few tweaks, you can turn it into a delicious vegan queso!
Or try this creamy vegan macaroni and cheese!