Last week, I wrote about finishing the 7 day slim down and I was really happy with the results! The Tone It Up plan has a slightly less intense longer term plan, so I've been trying to loosely follow that. It's a lot of the same principles (planned out meals, less starches in the evening, etc.) which I think have been working well for me.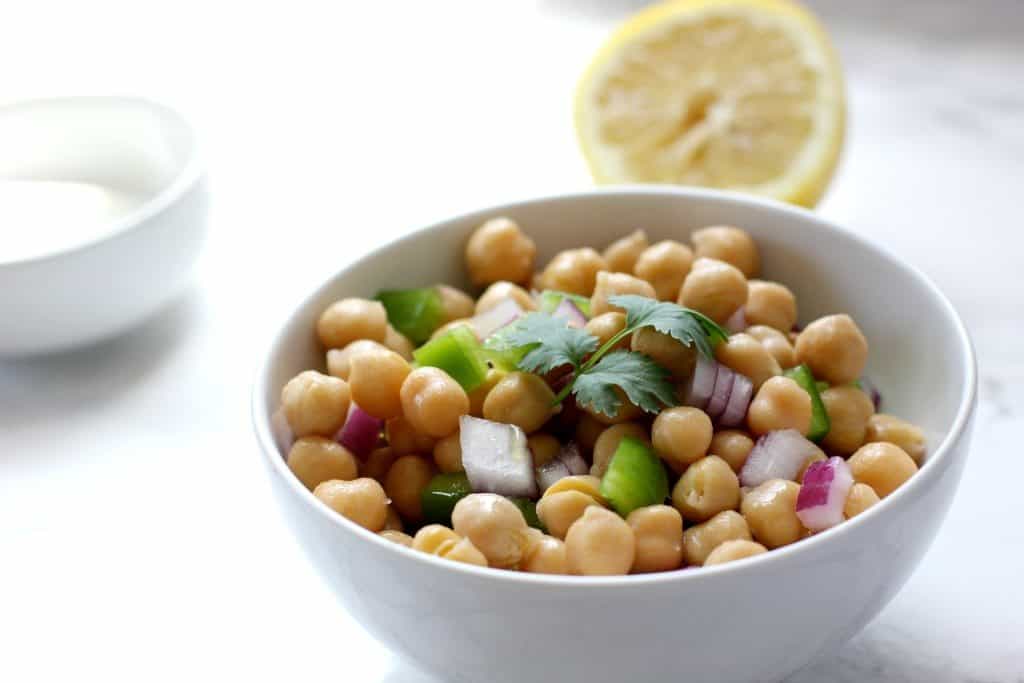 In order to stay on track, I've tried planning out my meals a little better. Not only does that make grocery shopping easier, but it prevents me from having to eat something I don't want (or isn't so great for me) simply because I don't have things on hand. Breakfast is usually just a protein smoothie, and lunch is often a salad from the cafeteria but dinner can be a little trickier.
I picked up a few packages of frozen veggie burgers, to use in a punch. And I also grabbed plenty of black beans and chickpeas, which can easily be transformed into a protein and fiber packed dinner. Since I had chickpeas on hand last night, I whipped up this super simple chickpea salad, which I'll throw together with a kale salad for dinner tonight.
Simple Chickpea Salad
Simple Chickpea Salad
Ingredients
2 cups chickpeas (about 1 can)
¼ cup red onion
½ bell pepper
1 clove of garlic, minced (or ½ tsp garlic powder)
1 tbsp olive oil
2 tbsp lemon juice (about ½ lemon)
½ tsp coarse sea salt
Handful of fresh cilantro or parsley (optional)
Instructions
Rinse and drain your chickpeas and set aside.
Peel and dice a red onion (I used a mandolin slicer for tiny shreds) and dice a green pepper.
Mince a clove of garlic, and toss everything into a large bowl.
Coat with olive oil and lemon juice, then sprinkle with salt and seasonings.
Top with cilantro or parsley!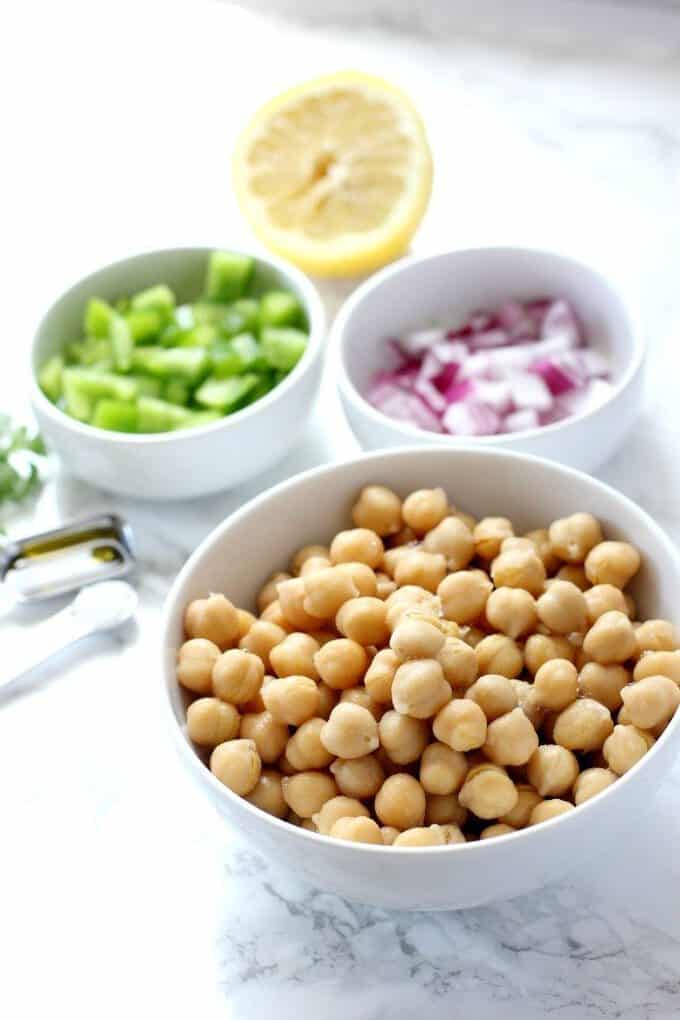 I'm thinking this dish would also be good with crushed red pepper and  paprika. Basically, I don't think you can mess this up. I love eating this on a bed of spinach, but it's also delicious on its own. And hey, if you're not into cold chickpeas, you could always roast them instead.
After I made a batch of this, I immediately portioned it out into little containers, so I can grab them on the go if needed. (It also helps with portion control. Always a good thing.)
So that's what I'll be eating this week!
For more about the Tone It Up Nutrition Plan, see what I eat on a typical day!
What meals do you have planned this week?