Yogurt Fruit Dip
You only need 3 simple ingredients to make this deliciously creamy Yogurt Fruit Dip recipe! Serve this dip with all your favorite fruits for the perfect snack or healthy dessert.
Why I Love This Recipe
This yogurt fruit dip is perfect for dipping berries, bananas, apple slices, and more. It's such an easy recipe, I almost didn't even share it. But easy recipes are the best, aren't they? And this one can be adjusted to your tastes and there are plenty of substitutions so you can make it work with what you have on hand.
This dip is also a great way to satisfy your sweet tooth in a healthy way. It elevates fruit to dessert status and it's a great side dish or snack for a party or potluck. Best of all, you only need three simple ingredients and a few minutes to make this recipe! The versatile flavor of this dip pairs beautifully with tons of different dippers, from fruit to cookies!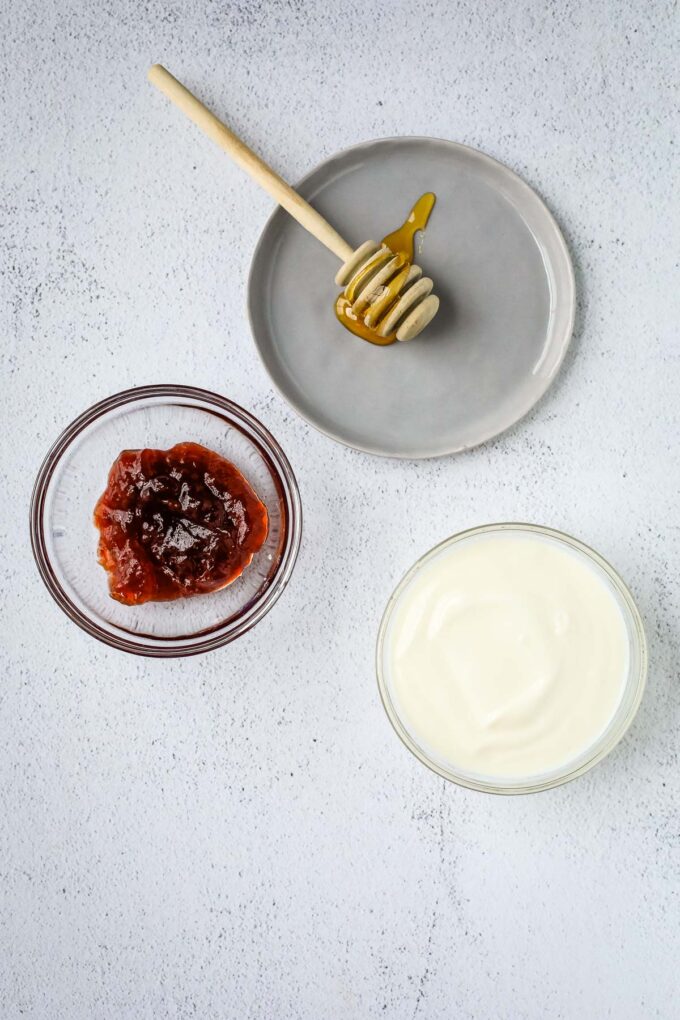 Ingredients & Substitutions
Yogurt– You can use plain or Greek yogurt for this recipe. If you're using a sweetened yogurt, you may not need any additional sweetener. If you're using plain yogurt, you may want to add a drizzle of honey.
Jam or Fruit Preserves– I used strawberry jam to give this dip a fruity, sweet flavor. Feel free to use any kind of jam you like!
Honey- I used honey but you could also use maple syrup — I recommend you add sweetener to taste!
How to Make Yogurt Fruit Dip
Can This be Made in Advance?
Absolutely~ In fact, you can make this recipe ahead of time and store it for up to two days. This makes it a great recipe to have on hand for the next time you need to satisfy your sweet tooth! It's also a great option if you plan to have friends or family over later and want to prep the dip in advance. It makes such a wonderful appetizer or dessert! I should mention that you can double this recipe if you like.
Whether you're making this yogurt fruit dip ahead of time or simply can't finish an entire batch in one sitting, be sure to store the leftovers in an airtight container in the fridge. You can also cover the serving bowl with plastic wrap if that's easier.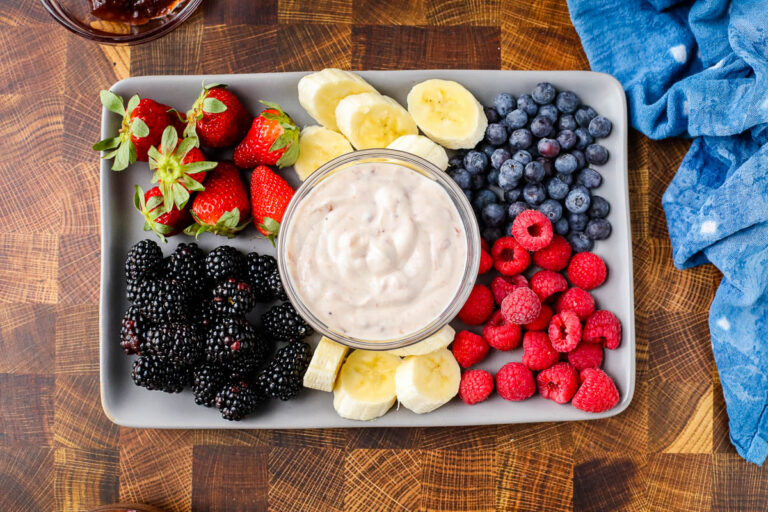 The Difference Between Jelly, Jam, and Preserves
Curious about the difference between jelly, jam, and fruit preserves? They're similar but the difference is mostly in the texture. Jelly is made with just strained fruit juice, so there are no pieces of fruit. Jam is made with mashed fruit, so it has a slightly chunky texture. And fruit preserves contain larger pieces of fruit. I recommend using jam or preserves in this recipe because it adds a little more texture.
The Best Jam for Yogurt Dip
Look for jam or fruit preserves that are made with real fruit without too many added sugars. Check the ingredients list to see what's really in the jar! I really like Stonewall Kitchen's Blueberry Jam for a sweet and slightly tart flavor or Eden Foods Apple Butter for a sweet and creamy twist.
Substitutions and Variations
Try out different types of jam! From blackberry jam to apple butter, there are plenty of ways you can spin this.
If you love chocolate, try a sprinkle of mini chocolate chips on top!
You can also add fruit to the dip like mashed raspberries or finely chopped strawberries.
For a peanut butter and jelly twist, try adding a drizzle of peanut butter or your other favorite nut butter on top!
What to Serve Yogurt Dip
Berries- Strawberries, blueberries, blackberries, and raspberries are all delicious with this dip! Serve them on toothpicks for easier dipping.
Bananas– Banana slices or banana chunks make a great dipping option.
Apples– Apple slices are perfect for this dip! Spritz with lemon juice to prevent browning.
Graham crackers – I love dipping pieces of graham crackers into this dip. Try it with cinnamon graham crackers, too!
Cinnamon Chips– These homemade chips are made from flour tortillas and sweetened with cinnamon and sugar for a perfect dipper!
More Sweet Dip Recipes
Print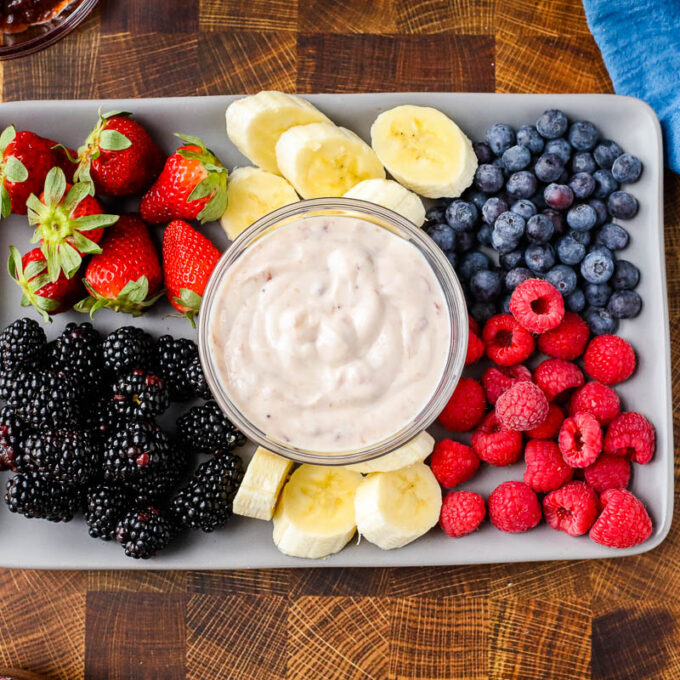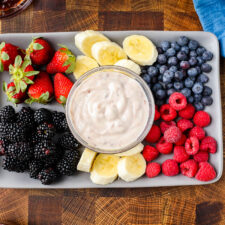 Yogurt Fruit Dip
Author:
Prep Time: 5 minutes
Cook Time: 0 minutes
Total Time: 5 minutes
Yield: 1 cup 1x
Category: Snack
Method: Blended
Cuisine: American
Diet: Vegetarian
---
Description
You only need 3 simple ingredients to make this deliciously creamy Yogurt Fruit Dip recipe! Serve this dip with all your favorite fruits for the perfect snack or healthy dessert.
---
1 cup yogurt (plain, Greek, low-fat, or whole milk)
1–2 teaspoons honey (to taste)
2 tablespoons strawberry jam or fruit preserves
---
Instructions
Add all of the ingredients to a bowl and stir until smooth.
Adjust sweetener to taste.
If you're not serving this immediately, then store it in the fridge in an airtight container until you're ready to enjoy it.
---
Notes
Nutritional information based on using fat-free yogurt and 1 teaspoon of honey.
Keywords: yogurt fruit dip