Vegetarian White Bean Chili
This rich and creamy white bean chili is made with cannellini beans, chickpeas, and salsa verde for a flavorful yet simple dish! By blending some of the beans into a broth, we create a hearty texture that makes this chili super satisfying.
Why I Love This Recipe
This white bean chili is delicious, and one of the reasons I love it so much is that it's effortless to make. There's just a bit of chopping required, and then you'll have this soup simmering in no time. Blending some of the beans into the broth is a great trick for creating a chili that tastes thick and creamy but is still healthy. I added a touch of cream cheese to tame the spice and make this chili taste extra decadent. But it's still relatively low in fat and high in protein and fiber! This recipe is also great for meal prep because it reheats well! I wouldn't recommend freezing it, but it'll last a few days in the fridge so it can be great for lunch leftovers!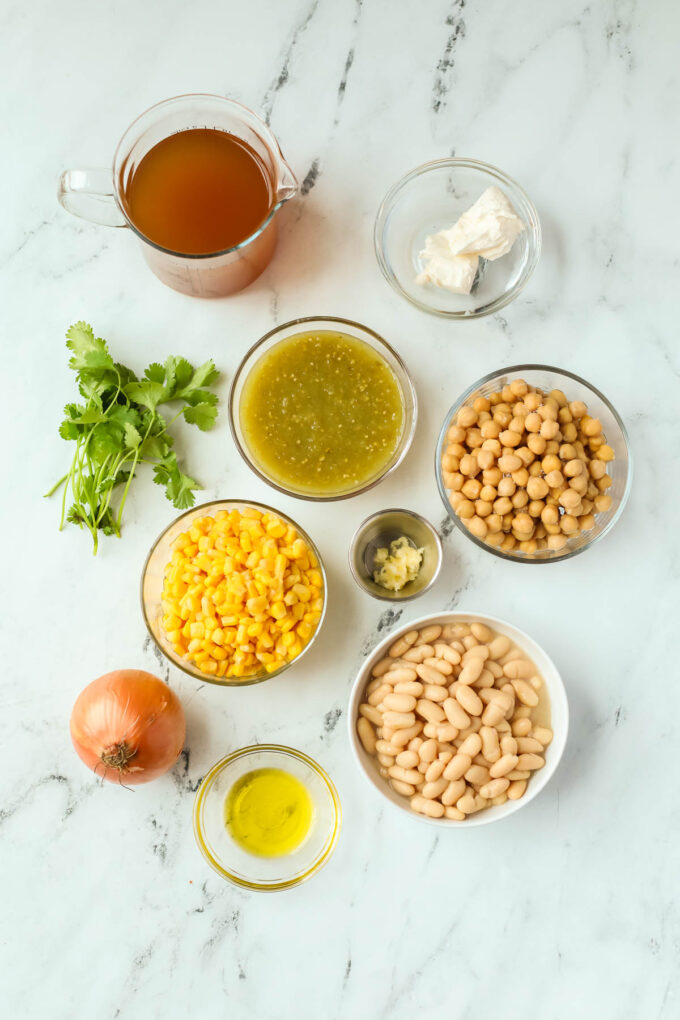 Ingredients & Substitutions
Olive oil– A little olive oil helps enhance the flavor while softening the onion.
Onion– This helps build the base of the soup and add flavor.
Garlic– I love the added flavor of garlic to this broth, but you can use garlic powder if necessary.
Salsa verde– This is the backbone of the flavor, so be sure to use a high-quality brand. I like Herdez.
Vegetable broth– I prefer a "not chicken" style broth like the kind from Edward & Son's. Watch the sodium, as broth can already be high in salt.
Sweet corn– This is a great way to balance out the spicy flavor of the salsa. Canned or frozen is fine. Be sure to drain the corn before adding it.
Cannellini beans– These creamy white beans are my favorite for this chili, but you can substitute them with white navy beans.
Chickpeas– Chickpeas add a source of plant-based protein, but you can double the cannellini beans instead of using chickpeas if you prefer.
What is Salsa Verde?
Salsa verde is a Mexican sauce made from green Tomatillos, chili peppers, and various herbs and spices. The sauce has a bright, acidic flavor and a slightly thicker consistency than other salsas. It is typically made by blending cooked and peeled Tomatillos, chili peppers, onion, garlic, cilantro, and lime juice. It's a fantastic way to add lots of flavor to this chili!
My Favorite Salsa Verde Brands
My very favorite salsa verde is by Herdez. The salsa is sold in glass jars or cans at many grocery stores. Trader Joe's and Frontera also make excellent salsa verde. I was not a fan of the Whole Foods 365 salsa verde, but it can work in a pinch.
How to Make White Bean Chili
White Bean Chili Toppings
Looking for a few more topping ideas? Here are some of my favorites: Shredded cheese, sour cream, avocado, guacamole, diced red onion, fresh cilantro, lime juice, hot sauce, crushed tortilla chips, or sliced jalapeño.
What to Serve with White Bean Chili
Not sure what to pair this recipe with? Try serving it with tortilla chips and my 4 ingredient guacamole, or a simple salsa. If you wanted to serve this as a side dish, you could pair it with my black bean and corn quesadilla or my 4 ingredient black bean tacos.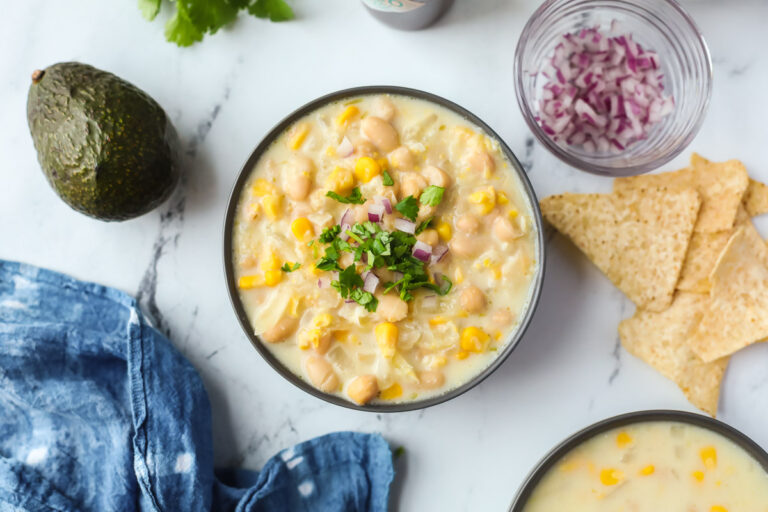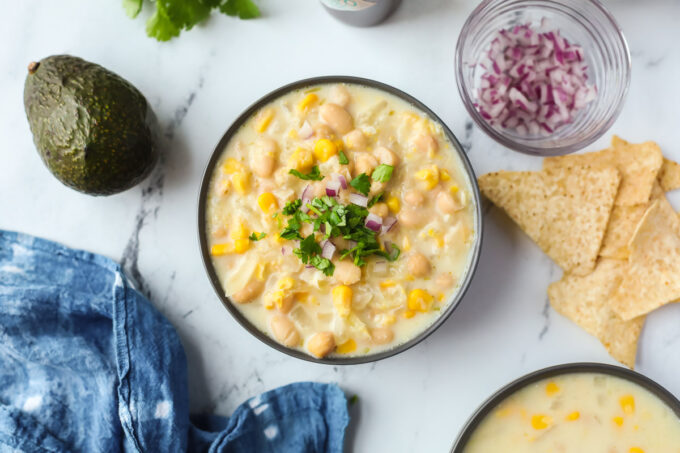 Frequently Asked Questions
Can I make this recipe vegan? Yes! Use dairy-free cream cheese or skip the cream cheese altogether. The soup will still be rich and hearty!
Is this recipe gluten-free? Yes, all these ingredients should be naturally gluten-free, but check the packages to be sure!
Is this recipe healthy? Yes! Each cup of this soup has 15g of protein and 10g of fiber! That means this soup will really keep you satisfied.
How do I reduce the sodium? Use low-sodium vegetable broth and look for cans of beans and corn with no salt added. Salsa verde does tend to be high in sodium, so double-check your salsa and look for a lower sodium brand if necessary.
Print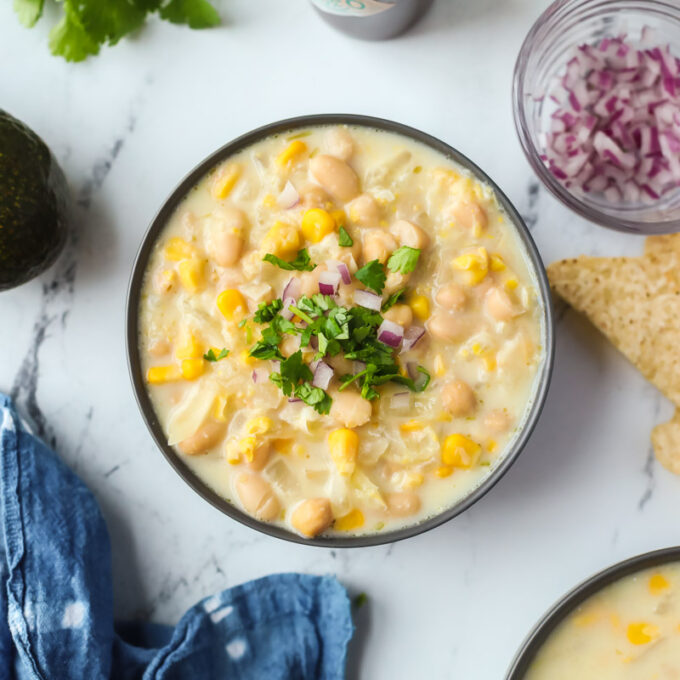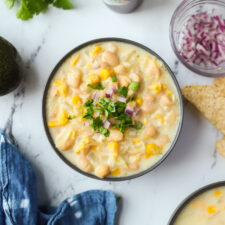 Vegetarian White Bean Chili
Author:
Prep Time: 5 minutes
Cook Time: 25 minutes
Total Time: 30 minutes
Yield: 4 cups 1x
Category: Soup
Method: Stovetop
Cuisine: American
Diet: Vegetarian
---
1 tablespoon olive oil
1 yellow onion, diced
3 cloves minced garlic
1 cup salsa verde
2 cups vegetable broth
1 (15oz) can cannellini beans, drained and rinsed
1 (15oz) can chickpeas, drained and rinsed
1 (15oz) can sweet corn, drained
2oz cream cheese
Optional toppings. Diced red onion, jalapeño, avocado, cilantro, crushed tortilla chips etc.
---
Instructions
In a large pot, heat the olive oil over medium heat for 30 seconds.
Add the onion and sauté for 5 minutes until the onion is slightly translucent.
Add the garlic and continue to sauté for 1 minute.
Add the salsa verde, vegetable broth, white beans, chickpeas, and corn.
Bring to a boil then reduce heat to medium-low and simmer for 15 minutes.
Transfer 1 cup of soup to a blender, add the cream cheese, and blend until smooth. Be sure to allow steam to escape from the top of the blender. See note for tips for blending hot soup.)
Add the blended soup back to the pot and stir to combine.
Divide into bowls and top with cilantro, red onion, jalapeño, or avocado.
Notes
When blending hot soup, it's important to allow steam to escape. Most blenders have a vent plug on the lid. Allow steam to escape and cover with a kitchen towel to prevent splattering. Blend on a low speed until mostly smooth. Do not blend hot soup in a bullet-style blender.
Keywords: vegetarian white bean chili
More Vegetarian Chili Recipes