Vegetarian Tortellini Soup
This tortellini soup is loaded with vegetables cooked in a flavorful broth for a simple vegetarian meal that is filling and delicious!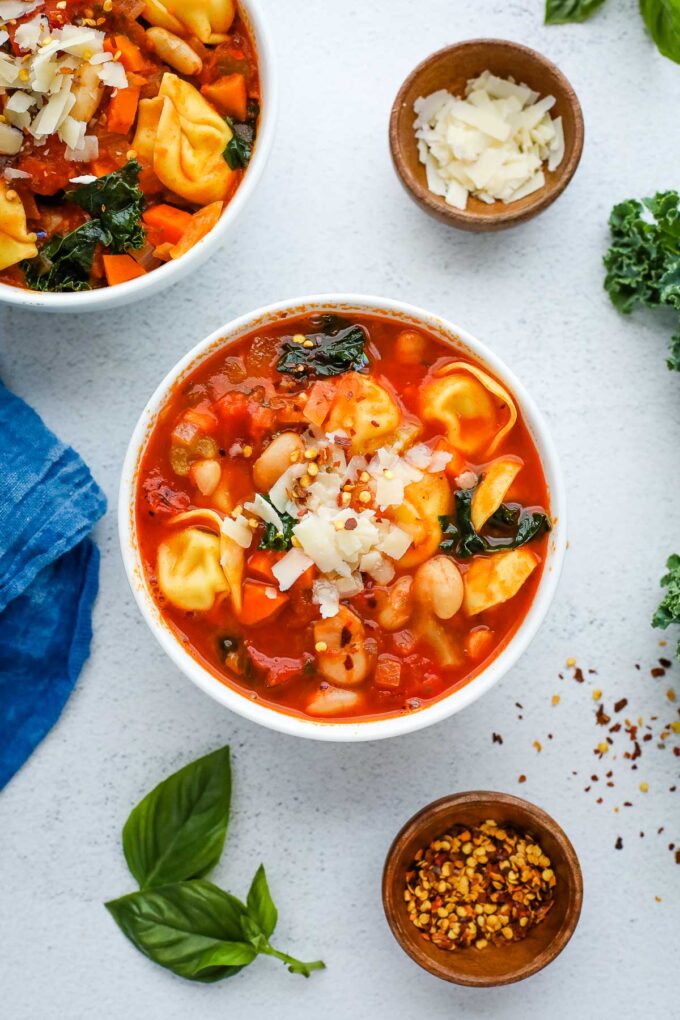 It's officially soup weather and I love soup weather. I decided to combine my love for pasta and my love for soup and make vegetarian tortellini soup. It's perfect for a quick and easy meal because premade tortellini creates a quick and easy shortcut to dinner!
Why I Love this Tortellini Soup
I love tortellini but I find that the portions are fairly small — and I'm often still hungry if I'm just eating pasta. This soup is great because it's packed with lots of vegetables so you can enjoy a large portion, which makes it extra satisfying. The marinara sauce adds lots of flavor to the broth and this recipe reheats well, so the leftovers are great for lunch the next day.
Tortellini Soup Ingredients
Olive Oil– This helps soften the mirepoix and adds flavor to the soup.
Mirepoix– The traditional combination of celery, carrots, and onions creates a savory flavor in the soup. It's an easy way to fill your bowl with vegetables.
Garlic– I prefer fresh garlic but you can use minced or garlic powder.
Vegetable broth– My favorite is Edward & Son's "Not-Chicken" style broth, which is vegetarian.
Marinara sauce– See below for my tips on the best sauce.
Diced tomatoes– Look for fire-roasted diced tomatoes which have more flavor. You can substitute with diced tomatoes if needed.
White beans– I used cannellini beans, but white navy beans are fine too.
Cheese tortellini– See below for my picks on the best tortellini.
Kale- Adding in a few handfuls of kale adds color and a nutritional boost to this recipe.
The Best Marinara for Tortellini Soup
Because this recipe uses just a handful of ingredients, it's important to choose high-quality items. The sauce will largely determine the flavor of this soup, so don't skimp on the sauce! I like Rao's Tomato Basil or Barilla's Vero Gusto Tomato Basil sauce. Both have tons of flavor and will make a great base for your soup! If you're looking for a homemade recipe, try my meatless spaghetti sauce! It's made with mushrooms for a hearty flavor.
The Best Tortellini for Soup
You can use fresh or frozen tortellini for this soup recipe! I recommend using cheese tortellini, but you could also use mushrooms or any other vegetarian tortellini. I typically use the Buitoni brand, which you can often find in the refrigerated section of the grocery store. But you can also use shelf-stable brands like the Archer Farms brand from Target.
How to Make Tortellini Soup
How to Store Leftover Soup
This soup can be stored in an airtight container in the fridge for 2-3 days. Simply reheat in the microwave when you're ready to enjoy any leftovers. I do not recommend freezing this recipe, as the pasta tends to get gummy if frozen and reheated.
What to Serve with Tortellini Soup
Looking for the perfect side dish to pair with your soup? Here are a few of my favorites:
More Soup Recipes
Print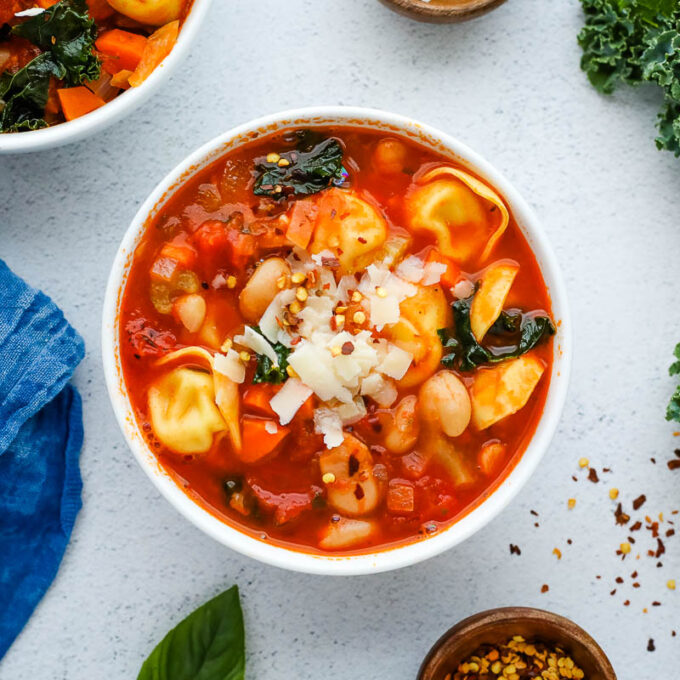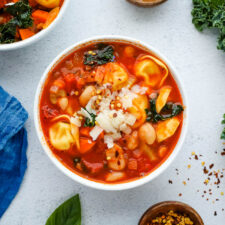 Vegetarian Tortellini Soup
Author:
Prep Time: 15 mins
Cook Time: 40 mins
Total Time: 55 minutes
Yield: 8 cups 1x
Category: Soup
Method: Stovetop
Cuisine: Soup
Diet: Vegetarian
---
Description
This tortellini soup is loaded with vegetables cooked in a flavorful broth for a simple vegetarian meal that is filling and delicious!
---
1 tablespoon olive oil
1 small yellow onion, diced
2 large carrots, diced
2 stalks celery, diced
2 cloves garlic, minced
4 cups vegetable broth
2 cups marinara sauce
1 (14oz) can fire-roasted diced tomatoes
1 (15oz) can cannellini beans
10 oz package cheese tortellini (fresh or frozen)
2 cups kale, destemmed and torn into pieces
Parmesan cheese, basil, and red pepper flakes for garnish (optional)
---
Instructions
In a large pot, add the olive oil, onion, carrots, and celery. Cook over medium heat for 7-8 minutes until the vegetables have softened.
Add the garlic and continue to cook for 1 minute.
Add in the vegetable broth, marinara sauce, diced tomatoes, and white beans. Bring to a boil then reduce heat and simmer for 10-12 minutes.
Add the tortellini and cook for 3-4 minutes.
Add the kale and continue to cook for 2-3 minutes until the pasta is al dente.
Remove from heat and add Parmesan cheese, basil, and/or red pepper flakes if desired.
Keywords: vegetarian tortellini soup