Tuscan White Bean Soup
This creamy Tuscan white bean soup is filled with vegetables and cannellini beans for a hearty soup that is healthy & delicious!
I recently found myself with a pantry full of cannellini beans and while I'd normally use them in this vegan chickpea chili recipe, I wanted to try something new. I was craving a creamy tomato-based soup, so I decided to make a Tuscan white bean soup! While this might not be an authentic recipe, I was inspired by this recipe from America's Test Kitchen and decided to put my own spin on it. I love how it turned out!
Why I Love This Recipe
This soup is made with a whole bunch of healthy ingredients, so it's an easy way to add lots of vegetables to your dinner routine. It also reheats really well, so it's perfect for a meal prep recipe. This recipe is also a really budget-friendly meal, so if you're trying to keep your grocery costs down, give this one a try! I also love the way the egg and bean liquid create a lusciously creamy texture without any actual cream!
Tuscan White Bean Soup Ingredients
Onion– I used a small yellow onion but you can substitute it with white onion, if needed.
Celery– Celery adds additional flavor and texture to the base of the soup.
Carrots– Carrots add an earthy sweetness to this recipe.
Garlic– A little garlic adds depth to the flavor of the broth.
Olive oil– The oil helps soften the vegetables and enhance the flavors.
Diced tomatoes– Tomatoes create a rich, flavorful broth and help thicken the soup.
Red pepper flakes– I love the spiciness this adds to the soup but you can leave it out if you want to keep the flavor mild or if you wanted to keep this recipe kid-friendly!
Vegetable broth– Look for a low-sodium vegetable broth so you can control the saltiness of the soup.
Cannellini beans– These small, creamy beans are sometimes called white kidney beans. We will also use the liquid from the beans to create a thick broth.
Egg- Whisking an egg into the bean liquid and then stirring it into the broth creates a luscious texture.
Escarole– This leafy green is added at the end of cooking so it softens slightly.
What are Cannellini Beans?
Cannellini beans are small, creamy white beans that are sometimes called white kidney beans. They're often used in Italian cooking. This recipe also uses the liquid from the beans to create a thick broth, so I recommend looking for low-sodium or no-salt-added beans. You can use dried cannellini beans in this recipe, but you'll miss out on the liquid needed to thicken the broth. It can still be delicious, it just won't be quite as creamy.
Substitution Ideas
If you wanted to keep this recipe vegan, you can skip the egg and Parmesan cheese. Or try this vegan white bean soup recipe! You can substitute kale or spinach in place of the escarole. If you're using kale, remove the stems and tear the leaves into small pieces before adding them to the pot. You can use whole canned tomatoes instead of diced tomatoes. Just chop the tomatoes in a food processor before adding them to the soup. If you don't like the idea of adding the egg to the broth, you can skip it! Feel free just to add the bean liquid. The egg adds an additional creaminess to the soup, but it's not mandatory.
How to Make This Soup
What to Serve with Tuscan White Bean Soup
This soup makes a great side dish to your favorite pasta recipe! Try it with my 3 ingredient Ravioli Lasagna or this Vegetarian Crockpot Lasagna recipe! If you wanted to make this soup the main dish, pair it with a loaf of crusty bread and serve it with a simple salad like this Spicy Kale Salad.
More Soup Recipes
Print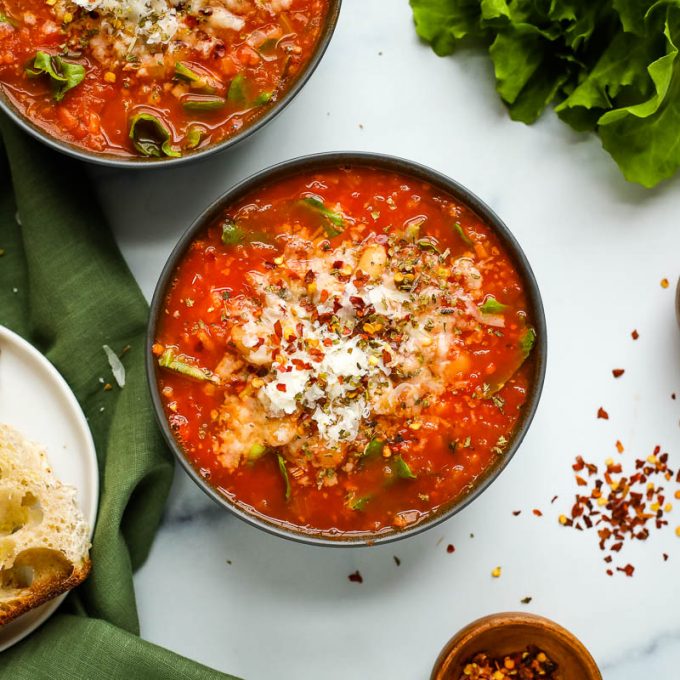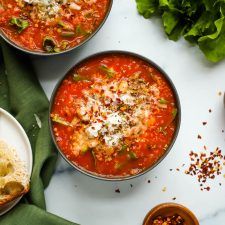 Tuscan White Bean Soup
Author:
Prep Time: 15 minutes
Cook Time: 35 minutes
Total Time: 50 minutes
Yield: 8 cups 1x
Category: Soup
Method: Stovetop
Cuisine: Italian
Diet: Vegetarian
---
Description
This creamy Tuscan White Bean Soup is filled with vegetables and creamy cannellini beans for a flavor-packed soup that is healthy & delicious!
---
1 yellow onion, roughly chopped
2 stalks celery, roughly chopped
2 large carrots, roughly chopped
4 cloves garlic
2 tablespoons olive oil
28oz diced tomatoes
1/2 teaspoon red pepper flakes
2 15oz cans cannellini beans (reserve the liquid)
2 cups vegetable broth
1 egg yolk
1 cup chopped escarole
1/2 cup shredded Parmesan cheese
---
Instructions
Add the onion, celery, carrot, and garlic to a food processor and pulse until chunky.
Add the vegetable mixture to a large dutch oven and drizzle with olive oil.
Heat over medium-high heat for 10-12 minutes until softened.
Add the tomatoes and red pepper flakes and continue to cook over medium-high heat for 8 minutes, until the mixture is thickened.
Drain the cannellini beans, reserving the liquid in a small bowl. Add the beans and vegetable broth to the pot and continue to cook for 8-10 minutes.
Whisk the egg yolk into the bean liquid until smooth.
Remove the soup from heat. Add the egg mixture to the soup and stir until combined.
Stir in chopped escarole. Let sit for 5 minutes before serving.
Top each bowl with Parmesan cheese.
---
Keywords: Tuscan White Bean Soup
If you have questions or you need substitution ideas, leave a comment below!