Vegan Flatbread Pizza
This vegan flatbread pizza is topped with a rainbow of vegetables and a flavorful pesto, then drizzled with balsamic glaze for an irresistible meal!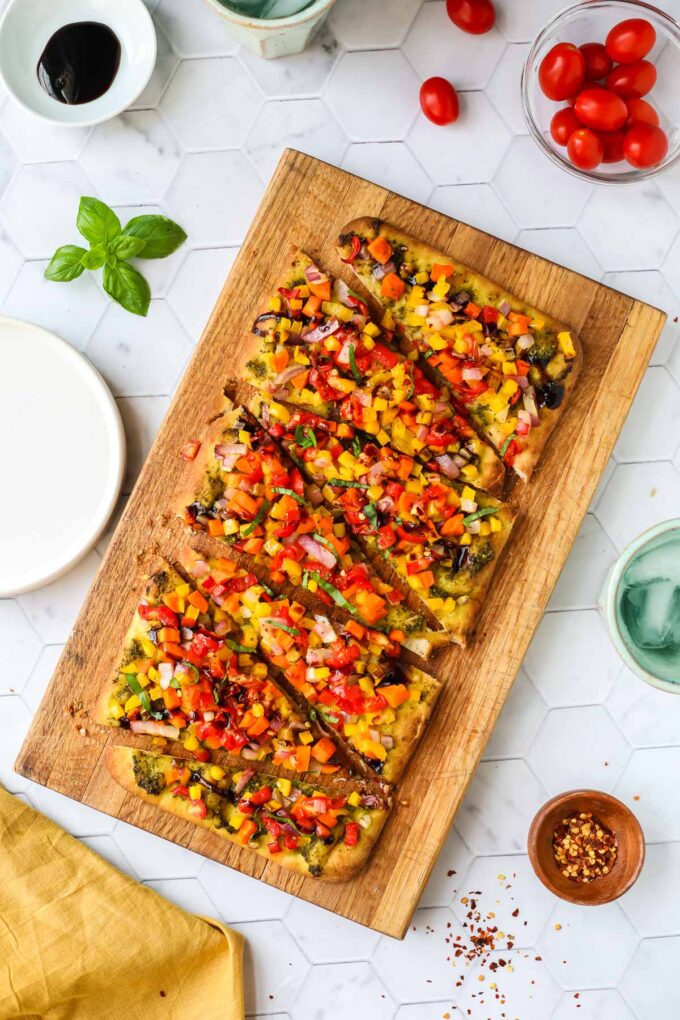 The Best Flatbread for Pizza
Technically, flatbread was a term used for dough without yeast, producing a very flat cracker-like flatbread. But as they became trendy, we now see the term flatbread used for all kinds of crusts. I used a pre-made 4×8" flatbread and it was perfect. If you want to make flatbread from scratch, you can use my easy flatbread recipe! Just be sure to par-bake it before adding the toppings.
Ingredients & Substituions
Flatbread– I used pre-made flatbread. I like the Stonefire Kitchen artisan flatbreads and Aldi has a similar version that works great. These can be stored in the freezer and baked from frozen. I also have a recipe for an easy flatbread if you want to make your own from scratch.
Pesto– I recommend the vegan pesto from Trader Joe's, but if you don't want to use pesto you can substitute marinara sauce or pizza sauce instead.
Vegetables– I used a combination of diced red onion, bell pepper, carrots, and tomatoes. You can use any color bell pepper and you can swap out any vegetables you're missing with zucchini, peas, or asparagus.
Balsamic Glaze- Normally, I'd say the balsamic glaze is optional but for this particular recipe, I really recommend it. It adds an umami flavor that really shines on this flatbread. If you don't have a bottle of balsamic glaze, you can make your own using balsamic vinegar by following the steps below.
How to Make a Balsamic Glaze
Pour 1/2 cup balsamic vinegar into a small pot.
Bring the vinegar to a boil and then turn it down to a simmer.
Stir the vinegar occasionally, and simmer until it becomes thicker. It should take about 10 minutes and it should stick to the back of a spoon.
Remove from heat and let it cool for 5 minutes. It will continue to thicken into a syrup.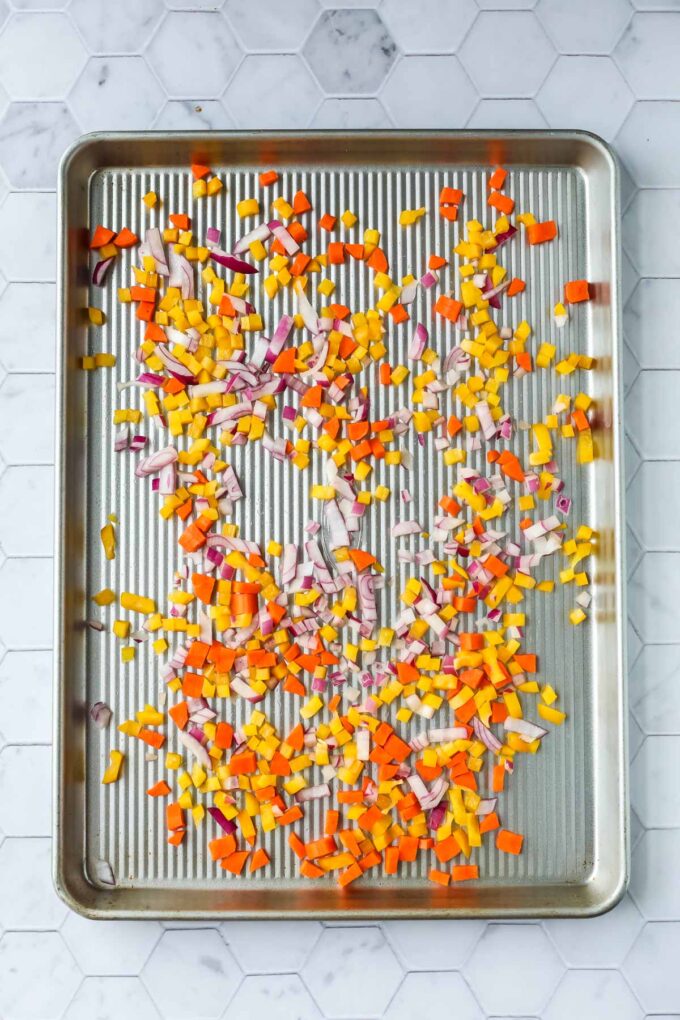 Frequently Asked Questions
Where can I find vegan pesto? I like the vegan pesto from Trader Joe's, but you could also make your own vegan pesto.
Can I substitute something else for pesto? I love the pesto in this recipe, but if you don't have any on hand or you can't find vegan pesto, you could use a traditional pizza sauce or just add a drizzle of olive oil and a sprinkle of Italian seasoning on the flatbread, before topping it with vegetables.
How should I store leftovers? Store any leftover flatbread in an airtight container in the refrigerator. Store in a single layer or divide with parchment paper to avoid the crust getting soggy. To reheat, preheat the oven to 400 degrees and place the leftover flatbread on a baking sheet. Bake for 3-5 minutes or until the flatbread is heated through.
More Flatbread Recipes
Print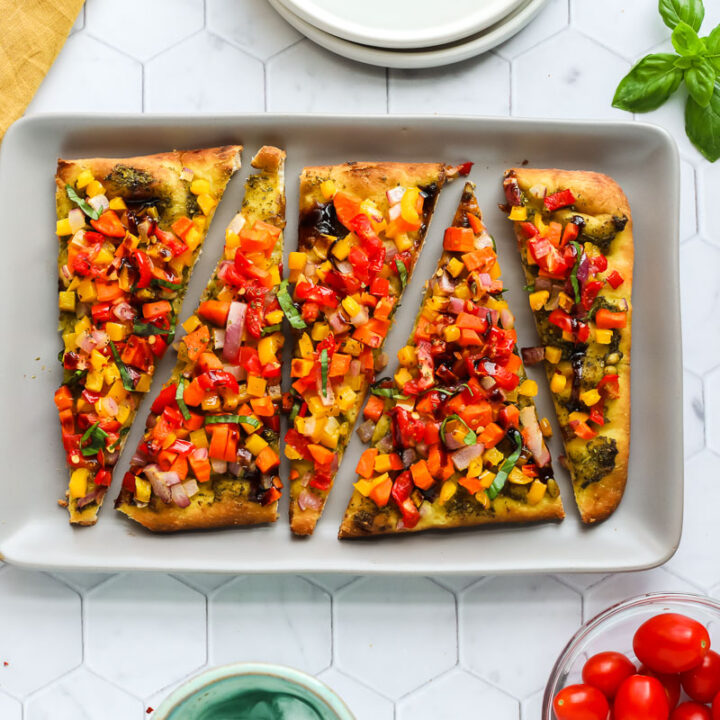 Vegan Flatbread Pizza
Author:
Prep Time: 15 minutes
Cook Time: 15 minutes
Total Time: 30 minutes
Yield: Serves 2
Category: Dinner
Method: Oven
Cuisine: American
Diet: Vegan
---
Description
This vegan flatbread pizza is topped with a rainbow of vegetables and a flavorful pesto, then drizzled with balsamic glaze for an irresistible meal!
---
1 prepared flatbread (about 4×18") or 1 prepared homemade flatbread
2 tablespoons pesto
1 teaspoon olive oil
1 yellow bell pepper, diced
1/2 red onion, diced
1/2 cup carrots, diced
6 cherry tomatoes, diced
1/4 teaspoon oregano
1/4 teaspoon crushed red pepper flakes
1 tablespoon balsamic glaze
Salt to taste
---
Instructions
Preheat oven to 450 degrees.
Spread the bell pepper, onion, and carrots in a single layer on a baking sheet and drizzle (or spray) with the olive oil.
Roast the vegetables for 6 minutes.
Spread the pesto in a thin layer across the flatbread, then top with roasted vegetables, tomatoes, and oregano.
Bake for 10-12 minutes or until the crust is browned.
Remove from the oven, drizzle with balsamic glaze, and sprinkle with crushed red pepper and salt to taste.
Keywords: vegan flatbread, vegan pizza