My Morning Routine
This post is sponsored by Alive! Multivitamins. As always, all opinions are my own and I only work with brands I know and love!
Over the past 6 months, my morning routine has changed quite a bit so I thought I'd share what the start of my day looks like now! Years ago, I would have considered myself a night owl. Part of the reason I found myself staying up late was simply that I was a terrible sleeper. Some nights it would take me hours to fall asleep. And while it still takes me somewhere between 30 minutes and an hour to fall asleep, I've gotten into a much better routine. Honestly, I credit my better sleep to a mix of stress management and my morning routine!
I typically try to wake up between 6:30 and 6:45. It can be hard in the colder months when the sun doesn't come up until later, so we use an alarm clock that has a built-in "sunrise" light. We have it set to gradually get brighter for 5-10 minutes before our alarm goes off. This means I'm usually woken up by the light rather than sound. That might sound silly but it makes SUCH a difference. It's so calming to be woken up that way! Plus I find it easier to get out of bed when the room is bright.
I've been trying to knock out my workout in the morning 3-4 times a week. Our evenings are often busy so it's nice to squeeze in a workout before the day gets crazy. Lately, I've been using the Tone It Up app which provides a different workout every day that takes 30 minutes or less. It's perfect for getting my heart rate up in a short amount of time!
After my workout, I shower and get myself ready for the day. If I've washed my hair, I'll let it air dry as long as possible. Once I'm dressed for the day, I usually head downstairs for a cup of coffee. I use a Keurig to make a single cup to sip on while I'm prepping for the day.
I started using a physical planner from Lucy Celebrates and I love it. It has space every day for journaling, prayer, and celebrations. I try to use that space to get my thoughts in order and start things on a happy note! I also use the to-do list to write down the main things I want to accomplish every day. There's something about writing things down and crossing things off that is so satisfying!
If I'm hungry, I'll make breakfast right away but other times I'll wait until later in the morning to eat. I usually have a smoothie bowl, a yogurt bowl, or some kind of toast. (Current favorite toppings: peanut butter or avocado.) I also try to drink a glass of ice water with a shot of apple cider vinegar in it. My friend Brittany wrote a great post about the benefits of ACV if you're curious! Then I'll take a multivitamin with my breakfast.
I don't take a lot of supplements but I do take Alive! Premium Women's Gummy multi-vitamins a few times a week. I eat a pretty healthy diet by most standards, but it can be hard to get Vitamin B12 as a vegetarian. I also love gummy vitamins because let's be honest, that's the most fun way to take a supplement. And my fellow vegetarian friends will appreciate that these vitamins are made without gelatin.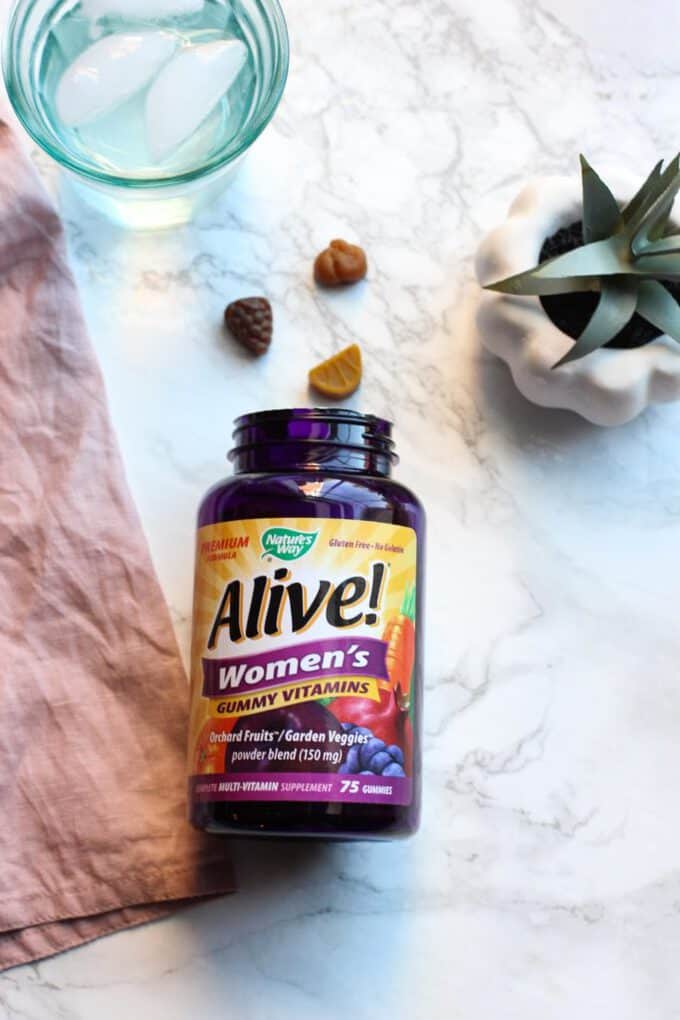 I'm still not sure I'd call myself a morning person, but I've definitely created a routine that I look forward to. Starting on a positive, healthy note really sets the tone for the rest of the day! Finding a balance between movement and stillness can be a little tricky but I'm learning to go with the flow.
If you're still trying to convince yourself to wake up a little early, check out my tips for becoming a morning person! Having a productive but relaxing morning routine has made a huge difference in my stress levels and it keeps me feeling great for the rest of the day!
P.S. If you want to order Alive! Multivitamins on Amazon, you can get 15% off with the code 15ALIVE1.
What does your morning routine look like?