Vegan Vodka Sauce
This simple vegan vodka sauce is rich and creamy, making it the perfect sauce to toss with your favorite pasta! This plant-based recipe is delicious and satisfying.
The first time I had vodka sauce, I was shocked at how deliciously creamy it was. The pink hue was an indicator of the amount of cream that went into the dish but after the first taste, I was hooked. Naturally, I started thinking about how I could make this recipe a little healthier and I decided to try to make a completely plant-based vodka sauce. I was thrilled with how this recipe turned out!
Although it's vodka sauce, I want to let you know that the vodka is optional. This isn't traditional vodka sauce either way (since it doesn't have cream), but flavor-wise I didn't notice a huge difference between adding vodka or not. I'd skip it unless you want to make this as close to vodka sauce as possible.
Ingredients and Substitutions
Pasta– I used whole wheat pasta, but you can use any kind you like. You'll get the best results with a wheat-based pasta as the starchy water is used in the sauce. But if you use chickpea pasta or another gluten-free pasta, it'll still work. The sauce will just be slightly thinner.
Cashews– This is what you'll use to make cashew cream which creates the creamy consistency and replaces the dairy in traditional vodka sauce. I don't recommend substituting cashews for any other nut. Raw cashews are ideal, but roasted cashews work just fine.
Olive oil– I like to use a little olive oil to sauté the garlic but if you wanted to keep this recipe oil free, you can substitute the garlic for garlic powder and skip the sauté step.
Garlic– I used fresh garlic but as I mentioned, you could use garlic powder instead.
Tomatoes– I like the flavor of fire-roasted diced tomatoes, but you can use any diced tomatoes. You could also substitute with your favorite marinara sauce if you're short on time.
Vodka– Obviously vodka sauce is made with vodka but if you want to leave it out, that's totally fine. You could also use non-alcoholic vodka like the spirits from Seedlip.
Nutritional yeast– This adds a savory, slightly cheesy flavor. Although vodka sauce doesn't typically contain cheese, I think this adds a nice umami flavor to the sauce.
Balsamic vinegar– A splash of balsamic vinegar helps balance out the flavors with a little acid.
How to Make Vegan Vodka Sauce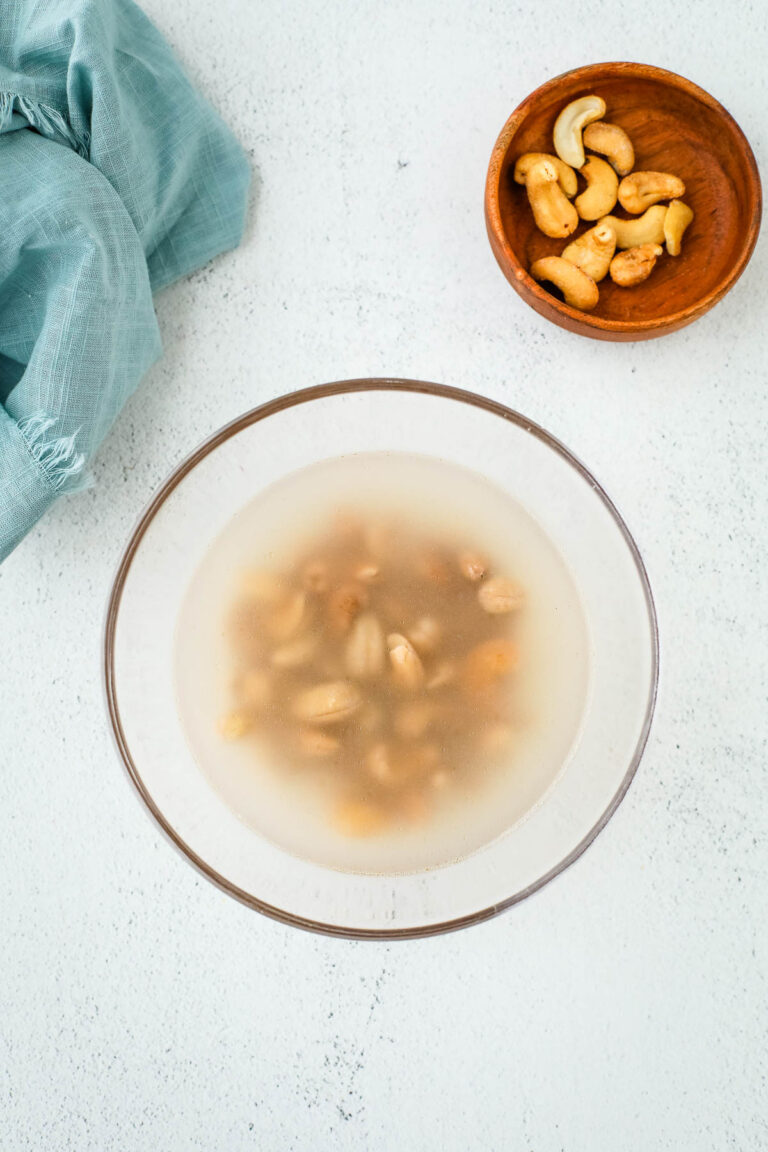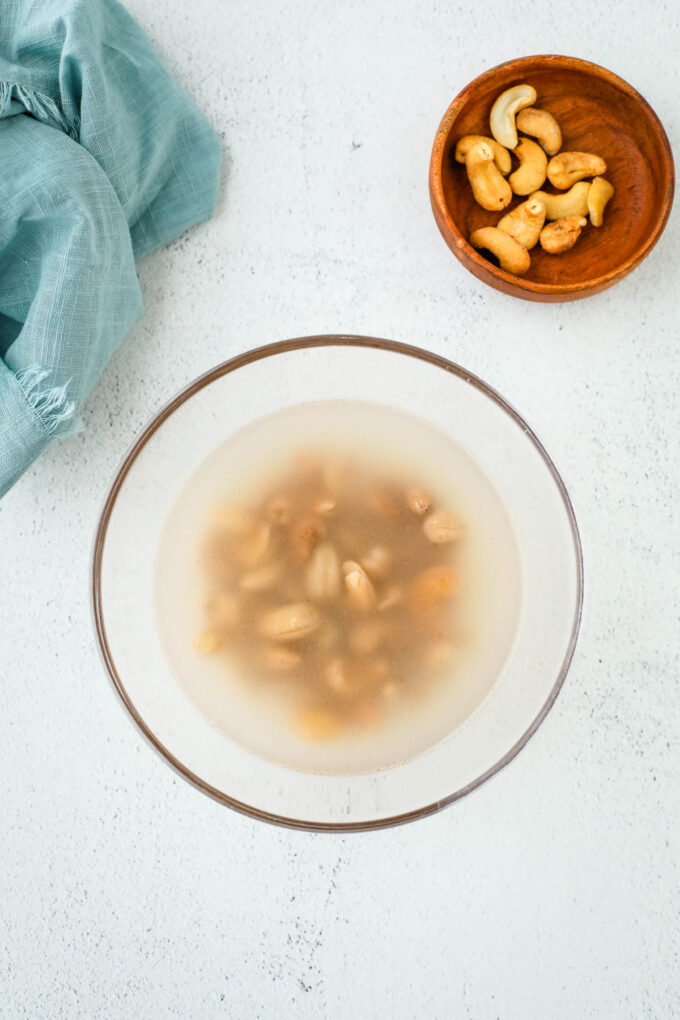 Is there alcohol in vodka sauce?
The short answer is yes. When vodka sauce is cooked, some of the alcohol in the vodka will evaporate, but not all of it. The amount of alcohol that remains in the sauce will depend on factors such as how long the sauce is cooked, the temperature at which it is cooked, and the amount of vodka used in the recipe.
The amount that remains in a single serving of vodka sauce is generally small and unlikely to cause any noticeable effects. Nonetheless, if someone needs to avoid alcohol entirely for health, religious, or personal reasons, they may want to avoid vodka sauce altogether or seek alternative recipes that don't contain alcohol. You can either leave the vodka out completely or you can use a non-alcoholic vodka. Learn more about the cooking process of alcohol here.
Frequently Asked Questions
What's the best pasta shape for vodka sauce? There are several pasta shapes that go well with vodka sauce, but my favorite is penne. Penne is a tube-shaped pasta that has ridges on the outside, which helps the sauce cling to the pasta. I use Barilla protein plus pasta, which has lots of fiber and protein. Other good options for this vodka sauce include rigatoni, fusilli, and farfalle.
More Vegan Pasta Recipes
If you're in the mood for more vegan pasta recipes, try my one-pot red lentil pasta, where the pasta cooks in the sauce! Or if you're looking for a great meal-prep option, try my vegan pasta salad, which makes a great cold lunch!
Print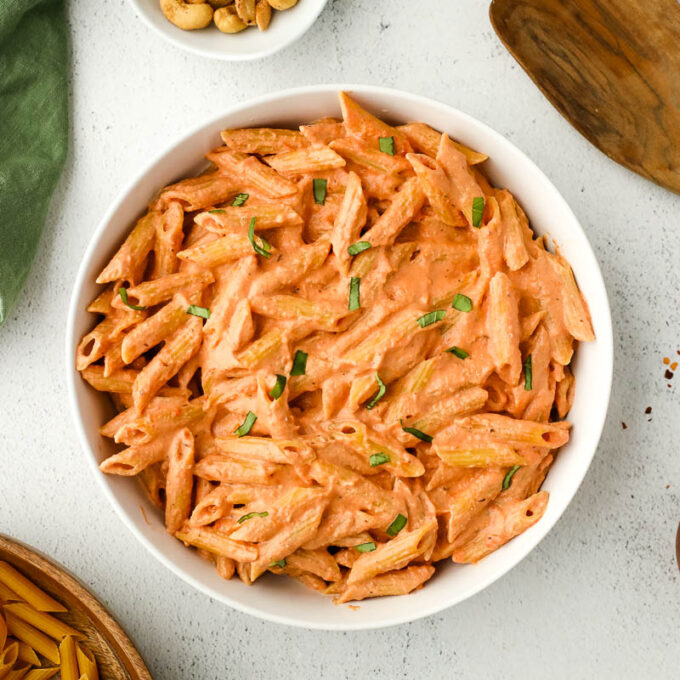 Vegan Vodka Sauce
Author:
Prep Time: 5 minutes
Cook Time: 15 minutes
Total Time: 20 minutes
Yield: Serves 4
Category: Dinner
Method: Stovetop
Cuisine: American
Diet: Vegan
---
Description
This simple vegan vodka sauce is rich and creamy, making it the perfect sauce to toss with your favorite pasta! This plant-based recipe is delicious and satisfying.
---
8oz pasta
1/2 cup cashews
1 tablespoon olive oil
3 cloves garlic, minced
1 15oz can fire-roasted diced tomatoes
1/4 cup vodka (optional, see note)
1/4 cup nutritional yeast
1 teaspoon balsamic vinegar
1/2 cup pasta water
1/4 teaspoon salt
---
Instructions
Cook the pasta according to package directions and reserve one cup of pasta water.
Place the cashews in a heat safe bowl. Cover the cashews with boiling water and then cover the bowl with a plate. Let the cashews soak while you prepare the pasta.
In a large saucepan, add the olive oil and garlic and sauté over medium-low heat for 3 minutes.
Add the tomatoes, and vodka. Simmer over medium-high heat for 10-12 minutes or until the tomatoes have thickened and the vodka has evaporated.
In a blender, add the soaked cashews, olive oil, nutritional yeast, pasta water, and blend until smooth. Add the tomatoes and continue to blend until smooth.
Combine the pasta with the sauce and enjoy!
---
Notes
I've tested this both with and without the vodka. And while to make this a "real" vodka sauce, it would require vodka, I didn't find it necessary. Keep in mind that not all of the vodka will evaporate during cooking. Read more here.