Sun-Dried Tomato Pasta
This deliciously creamy sun-dried tomato pasta is full of flavor but it's so simple to make. This recipe turns basic pantry staples into a crave-worthy meal in just 15 minutes.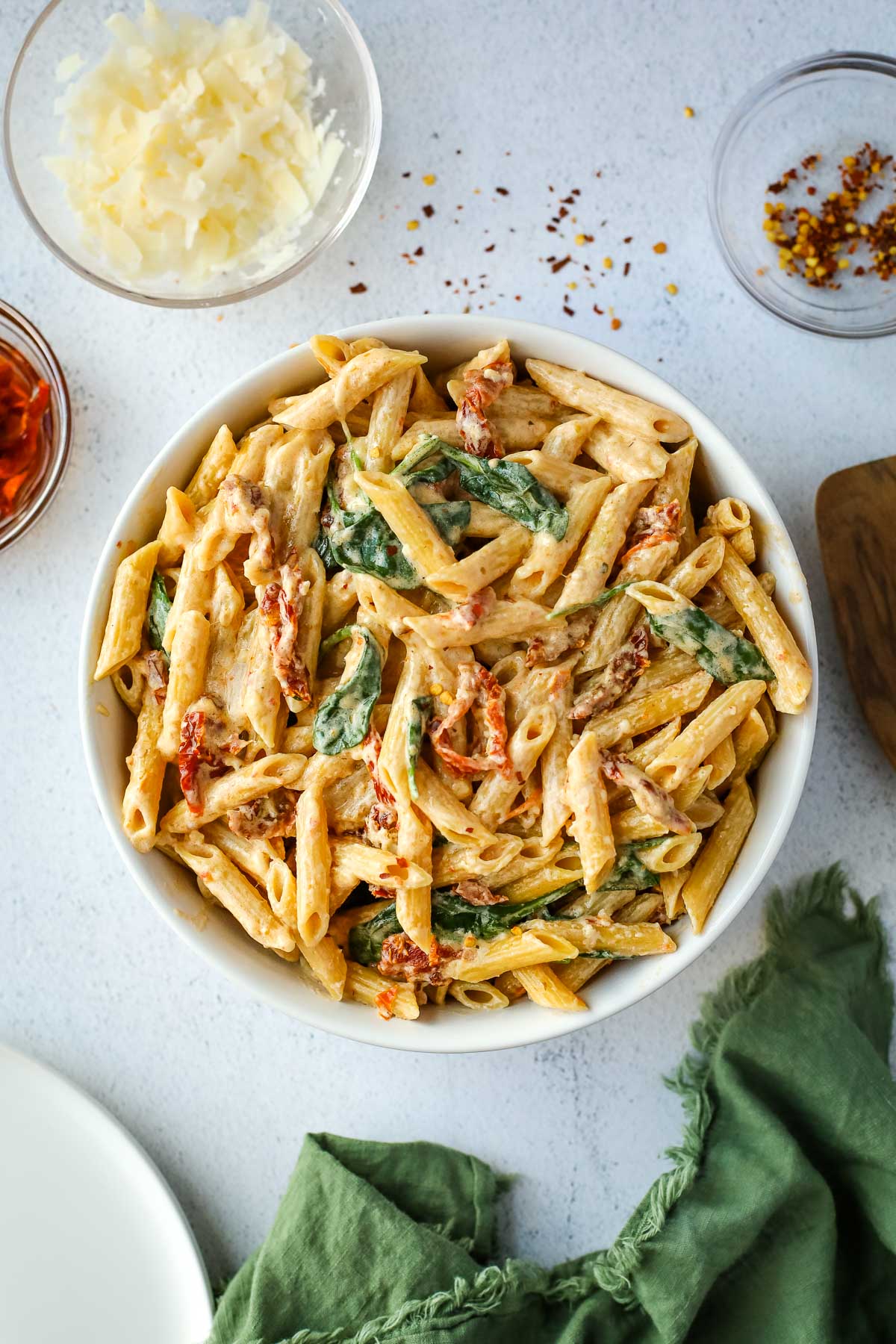 I love this sun-dried tomato pasta recipe because it tastes like it would take a long time to prepare, but it's ready in a flash! Plus, you only need a handful of ingredients, so this recipe is excellent when your fridge and pantry look a little bare. If you're missing some ingredients, I've included substitution options below. This flavorful sauce makes a delicious recipe the whole family will love!
Ingredients and Substitutions
Pasta– I recommend using whole wheat penne pasta for protein and fiber. I like the Barilla Protein Plus brand. I don't recommend using chickpea pasta or gluten-free pasta, as the starch from the pasta water helps create a thick sauce and this doesn't work without a wheat-based pasta.
Extra virgin olive oil- This helps add a velvety texture to the sauce, but if you want to cut down on the oil, you can skip it and sauté the garlic in the oil from the sun-dried tomatoes.
Sun-dried tomatoes– Be sure to use tomatoes packed in oil. These have the best flavor and texture.
Garlic– Fresh garlic adds lots of flavor to the creamy sauce. Do not substitute with garlic powder. You can use pre-minced garlic if you prefer.
Cream cheese- You can use low-fat cream cheese if desired. You can also substitute for heavy cream, if necessary. Looking for a dairy free pasta recipe? Try my vegan vodka sauce!
Parmesan– I highly recommend freshly grated Parmesan cheese rather than buying pre-grated cheese, which doesn't melt.
Spinach– This is an easy way to add greens to the dish. I recommend baby spinach which is more mild and tender than regular spinach.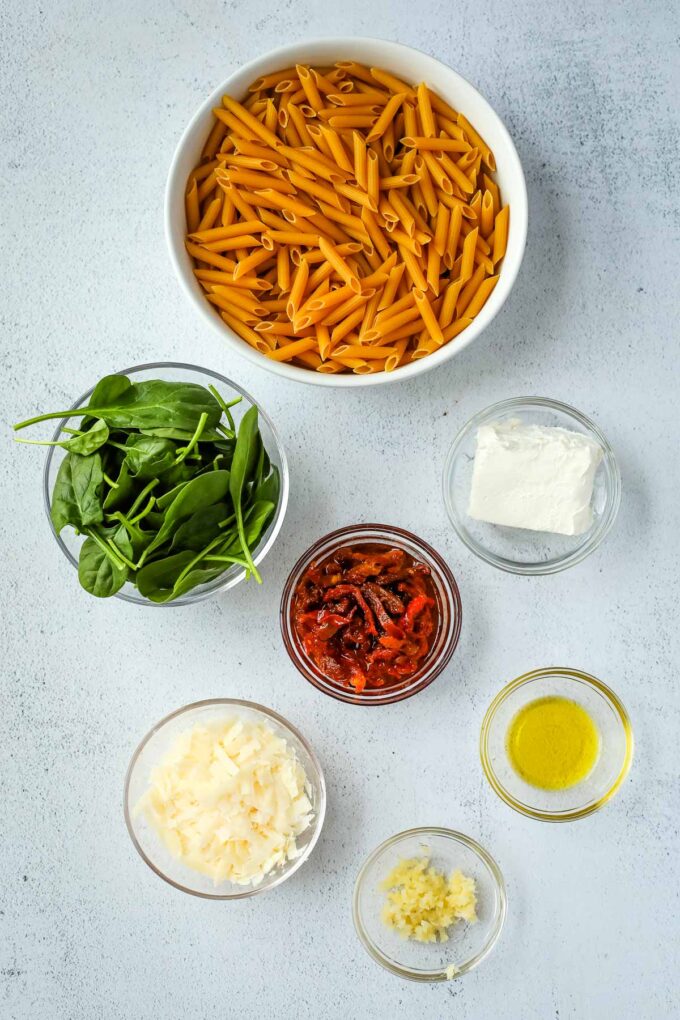 Types of Sun-Dried Tomatoes
There are two main types of sun-dried tomatoes: dry-packed and oil-packed.
Dry-packed sun-dried tomatoes are made by leaving fresh tomatoes out in the sun to dry until they have lost most of their moisture. They are then packed and sold without any additional liquid. Dry-packed sun-dried tomatoes have a chewy texture and a concentrated tomato flavor. They are usually rehydrated in water or oil before being used in recipes.
Oil-packed sun-dried tomatoes are made by soaking fresh tomatoes in oil and herbs before leaving them out to dry in the sun. They are then packed in the same oil and herbs in which they were soaked. Oil-packed sun-dried tomatoes have a softer, more tender texture than dry-packed sun-dried tomatoes and are often used as is in recipes without the need for rehydration. They also have a more intense, savory flavor due to the oil and herbs in which they are packed. For this recipe, you'll need oil-packed tomatoes.
Are Sun-Dried Tomatoes Healthy?
Sun-dried tomatoes can be a healthy addition to your diet. They are a good source of lycopene, an antioxidant that has been linked to a number of health benefits, including reduced risk of heart disease and certain types of cancer. Sun-dried tomatoes are also a good source of vitamins A and C, potassium, and iron.
However, it's important to note that sun-dried tomatoes packed in oil do contain more fat and calories than those that are dry-packed or rehydrated in water. It's worth it for the added flavor and texture, but be mindful of portion sizes. It's also worth noting that sun-dried tomatoes are often high in sodium due to the salt used in the drying process.
But the great thing about sun-dried tomatoes is that a little goes a long way in terms of flavor. So although oil-packed sun-dried tomatoes are a bit higher in fat and calories, we're only using one ounce per serving.
How to Make Sundried Tomato Pasta
Frequently Asked Questions
Do sun-dried tomatoes need to be soaked? Since we're using oil-packed sun-dried tomatoes, they do not need to be soaked.
Can I make this recipe vegan? Yes! I recommend using the Kite Hill vegan cream cheese to make this recipe vegan. Skip the Parmesan and add a pinch of salt to taste.
Can I add fresh basil? Yes! I love the flavor of fresh basil. I recommend chopping it into thin strips and sprinkling on top of the fresh pasta. Another option is to add 1/2 teaspoon of Italian seasoning to the sauce to enhance the flavor.
Can I make it spicy? Try adding a pinch of crushed red pepper flakes on top to add a spicy kick.
More Ways to Use Sun-Dried Tomatoes
If you have leftover sun-dried tomatoes, don't let them go to waste! Here are a few ways to use them:
Add them to salads or sandwiches for a burst of flavor and texture.
Purée sun-dried tomatoes in your favorite hummus or dip for even more flavor.
Use them as a topping for pizzas, flatbreads, or bruschetta.
Mix sun-dried tomatoes into scrambled eggs or omelets for a tasty breakfast.
Tips for Reheating Leftover Pasta
If you plan to store leftover pasta, I recommend saving a little bit of extra pasta water which can prevent the pasta from drying out. Store the leftover pasta in an airtight container in the fridge. Store the extra pasta water in a small jar or container. Add a splash of the pasta water to each portion before reheating in the microwave or on the stovetop. Stir to combine.
Print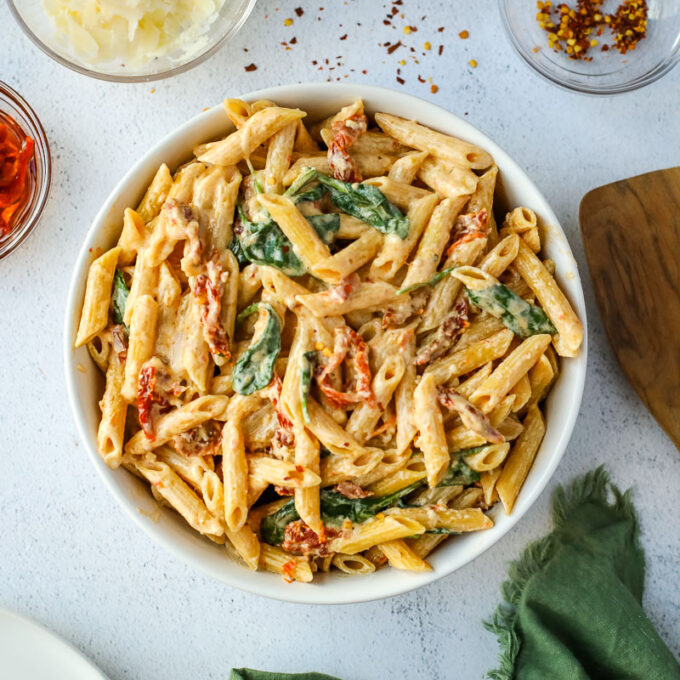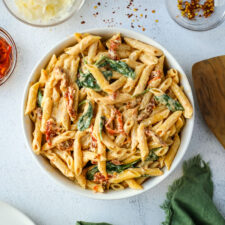 Sun-Dried Tomato Pasta
Author:
Prep Time: 5 minutes
Cook Time: 10 minutes
Total Time: 15 minutes
Yield: 8 cups 1x
Category: Dinner
Method: Stovetop
Cuisine: American
Diet: Vegetarian
---
Description
This deliciously creamy sun-dried tomato pasta is full of flavor but it's so simple to make. This recipe turns basic pantry staples into a crave-worthy meal in just 15 minutes.
---
12oz whole wheat penne pasta
1 cup reserved pasta water
1 tablespoon olive oil
4oz (about 1/2 cup) sun-dried tomatoes packed in oil
4 cloves garlic, minced
4oz cream cheese
2oz (about 1/2 cup) grated Parmesan cheese
2 cups loosely packed baby spinach
1/4 teaspoon crushed red pepper flakes (optional)
---
Instructions
Cook the pasta according to the package directions. Reserve one cup of pasta water, then drain the pasta.
In a large skillet, heat the olive oil over low heat and add the garlic and sun-dried tomatoes. Sauté for 2 minutes, stirring frequently.
Add the cream cheese and ¾ cup of pasta water and stir over low heat until the cream cheese is melted.
Add the Parmesan cheese and spinach and whisk until the cheese is mostly melted.
Toss the pasta in the sauce until the pasta is evenly coated. Add additional pasta water if the pasta is too dry. Top with additional Parmesan cheese and red pepper flakes, if desired.
Keywords: sun dried tomato pasta
More Easy Pasta Recipes
Spinach Artichoke Pasta– If you love spinach artichoke dip, this pasta is for you!
Penne Rosa– This Noodles & Co copycat recipe is a family favorite, and it's easy to make.
Red Lentil Pasta– Skip the dairy and make this one-pot plant-based pasta recipe. It's so creamy, you'd never guess it's vegan!